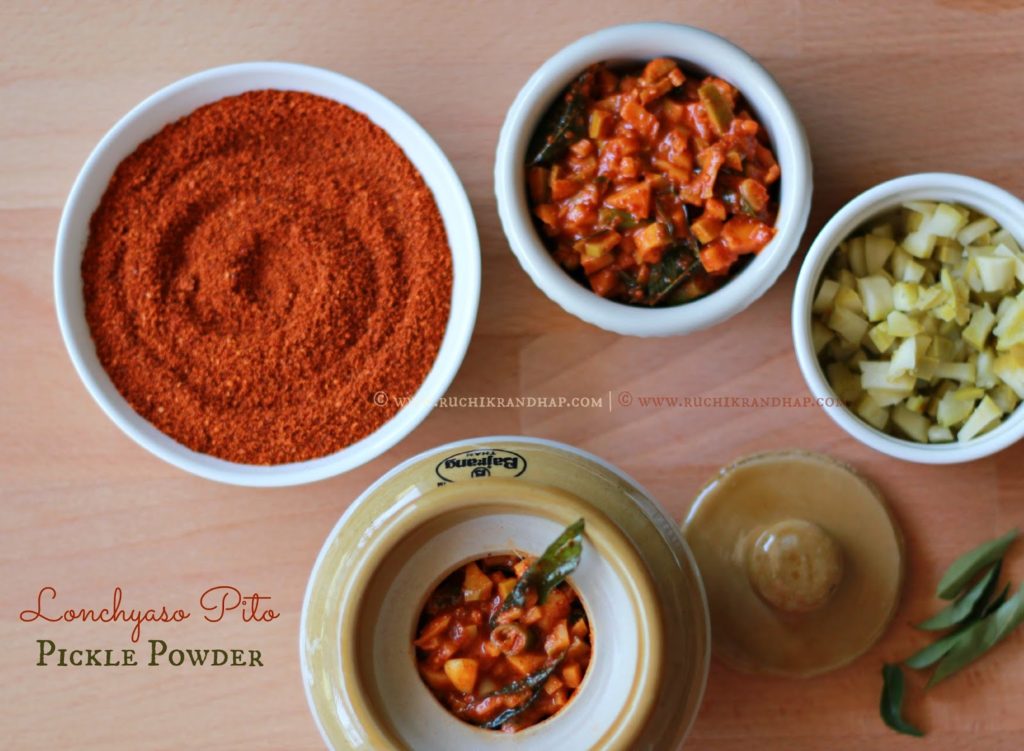 The summer season in India is a time to enjoy the season's bounty. Mangoes, jackfruits, jamoons and a whole variety of seasonal fruits make their appearance in the local markets. Given that there is plenty of sunshine which allows you to dry anything you wish in a few minutes or hours a lot of food preserving is indulged in. Pickles are the first thing that come to one's mind when we talk about preserving foods.The preparation of pickles is a tradition handed down from generations for over thousands of years in India and every region has its own range of pickles made from a whole lot of ingredients. What makes each type of pickle different from the others is the spice blend that is used to create the gravy base or the 'masala' that further enhances the flavour and aroma of the salted ingredients. While most spice blends include the quintessential Indian dried red chillies, the variety of which varies from region to region, some may make use of the fresh green chillies. So the colour of the pickle greatly depends on what goes into the spice blend.
Today's recipe is the typical pickle powder or spice blend for pickles that is used to prepare a host of pickles in Catholic homes in Mangalore. I say Catholic homes because every community in Mangalore has their unique way of preparing their basic spice blends and this is how we prepare our pickles. The recipe below is the basic one which can be used to prepare the Kosrache Lonche (Shredded/Finely Chopped Raw Mango Pickle) or Fodinche/Phodinche Lonche (Chunky Raw Mango Pickle) or Tendli-Carrotache Lonche (Ivy Gourd & Carrot Pickle). In my upcoming posts I will provide the recipes for the various type of pickles.Thank you Aunty Jessie Castelino for this recipe!
New here? Subscribe to my free newsletters with my latest recipes!
If you give this recipe a try do leave a comment on this post down below and don't forget to give it a star rating! It will really help more readers discover my recipes! Don't forget to check out my latest videos on my YouTube channel. If you like what you see, do give me a thumbs-up (like), share & comment and subscribe to my channel so that the gods of YouTube (a.k.a algorithms) recommend my channel to a wider audience with similar tastes and more & more people can discover my videos!
And while you're here, do follow me on Instagram, Pinterest,  Facebook and Twitter. If you'd like to say hello or have detailed queries do send an email at [email protected]. I'd love to hear from you!
Do check out the video of how to use this powder!! I hope you enjoy it!</p>
Lonchyaso Pito | Pickle Powder | Mangalorean Catholic Style Spice Blend for Pickles
A classic, versatile pickle spice blend prepared by almost every Mangalorean Catholic household
Print
Pin
Rate
Ingredients
1/4

kg

dry red chillies

long (Bedgi and short (Harekala) chillies mixed) * see note#1

200

grams

mustard

large grains

2

tablespoons

cumin seeds

1

tablespoon

peppercorns

1

tablespoon

fenugreek seeds/methi * see note#2

4

tablespoons

white sesame / til

1

" piece of dried turmeric

or approx 1/2 teaspoon of turmeric powder
Instructions
Place all the ingredients on large steel platters and dry in the sun for 2-3 days - this is done to remove any traces of moisture in the ingredient and will help increase the shelf life of the pickles. * See note#3 for alternate method for drying spices if sunshine is not available.

Heat a tawa/skillet and dry roast the cumin seeds, peppercorns, fenugreek seeds and white sesame one by one. Do not roast the chillies, turmeric and mustard. Transfer onto a plate and once the roasted spices have cooled down grind to a fine powder. See note#4

Store in an airtight container and use as mentioned in the pickle recipe.
Notes
1. If you are preparing this spice blend for shredded mango pickle (kosrache lonche) then use more number of long red chillies (Bedgi/Byadge).
2. Reduce the fenugreek seeds if you want the pickles slightly less bitter. However, do not increase it beyond 1 tablespoon.
3. If it is not possible to sun dry the ingredients you can dry them in your oven. Simply spread out the spices evenly on baking sheets and place them in a preheated oven on the lowest temperature (we placed it for 5 mins in a temperature of 50 degrees C). If you keep it for too long the spices will roast instead of drying and the aroma and flavours will completely change so be careful.
4. Make sure that each of the ingredients are dry roasted on a medium heat and care should be taken not to burn them. The sesame seeds should be lightly roasted, don't wait till they begin to pop on the tawa.
5. Prep time: 2 days (for sun drying) + 15 mins | Yield: Sufficient for pickles made from 25 raw mangoes (Bellary variety)
Disclaimer
The nutritional values are only indicative.
Tried this recipe?
Please leave a comment & rate the recipe below or share a photo on Instagram and tag me @ruchikrandhap