Pin
Sometime last month during the festival of Vishu our supermarket was flooded with tender jackfruits. Kadgi as we call it in Konkani is a favourite at home but we don't buy it often as finding the perfect size of the fruit has always been a challenge. Then comes the cleaning which is a bigger task by itself, perhaps a deterrent why so many people don't bother to cook it at all. However, since we are die hard lovers of traditional Mangalorean food, we make it a point to buy the raw jackfruit at least once every year. Our go to recipe is the kadgi sukhi  which is raw jackfruit sauteed with garbanzo beans (black chana). This time I decided to search for some new recipes and found the Konkani style gashi (curry) recipe in many food groups on Facebook. I referred to many recipes & tips shared by members and adjusted the ingredients according to their availability. The outcome was brilliant and we so thoroughly enjoyed our meal that day!
Pin
I noticed that most recipes called for half a raw jackfruit, however, for the sake of accuracy I decided to try using 2 cups of the already shredded raw jackfruit. Had I read the recipes before shredding I would have used cubed jackfruit instead, so if you have a choice, please use the cubed version. Secondly, these days canned raw jackfruit is easily available in most Western countries as it is a great meat replacer and a lot of vegans like to cook it in the place of pork and other red meats, especially in dishes such as pulled pork.
My son who is half vegetarian was initially very averse to trying out this dish. I then convinced him that it was the 'in-thing' in the culinary world today and a preferred ingredient by most vegans. He half willingly took a serving of this curry and a pickle made from raw jackfruit (the recipe will follow) and loved it. I am so glad that now I can plan to cook it more frequently and can actually invest in a bigger portion of the fruit which I can steam partially and freeze.
Coming up next is the pickle recipe which is super simple and so delicious! So stay tuned!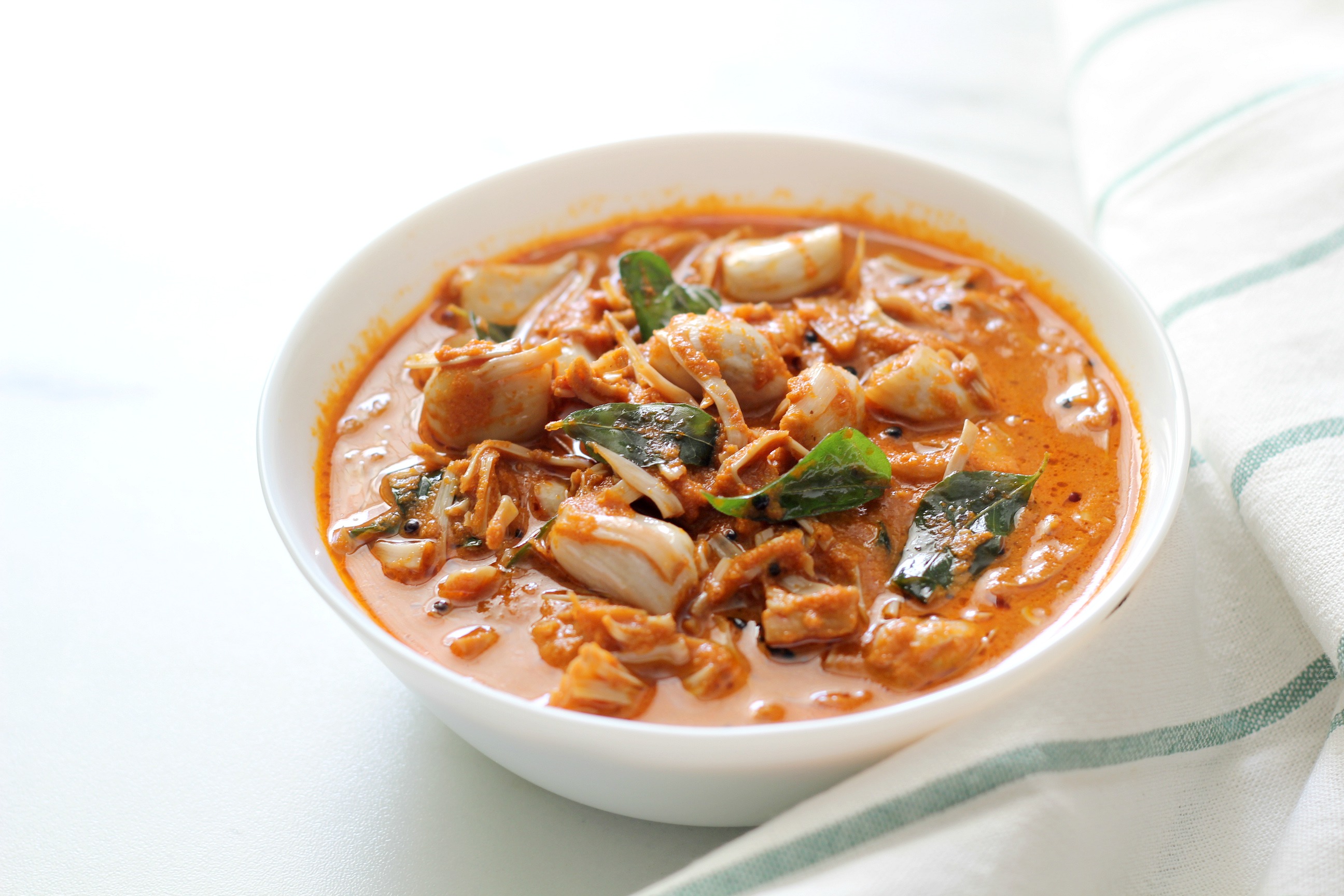 Pin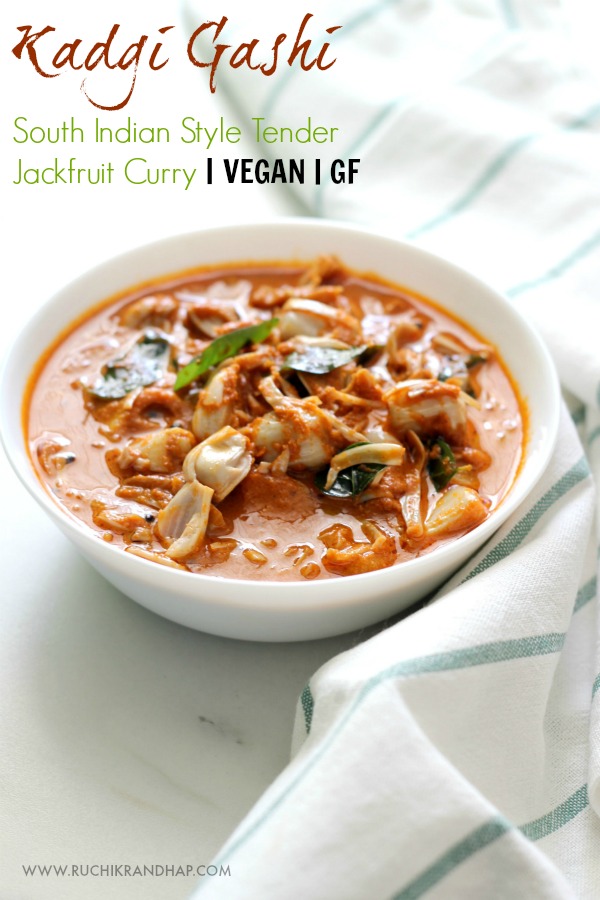 Pin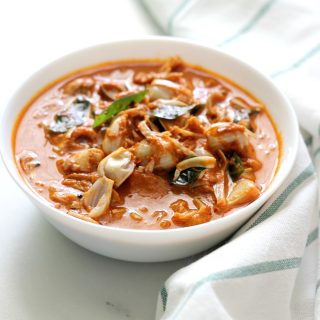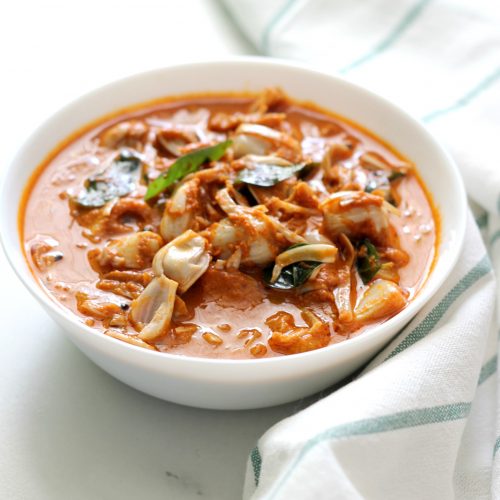 Kadgi Gashi
A lip smacking tender (young) jackfruit curry that is full of nutrition and one that tastes best with piping hot rice! It's vegan too!
Print
Pin
Rate
Ingredients
2

cups

raw jackfruit

cleaned & shredded

salt to taste
For the masala
6-7

long dry red chillies

preferably Byadge

1

cup

grated coconut

1/4

teaspoon

mustard seeds

1

marble size ball of tamarind

3-4

sichuan peppers (teppal) optional

* see notes

2

teaspoons

coconut oil
For the tempering
1

tablespoon

coconut oil

1/2

teaspoon

mustard seeds

1

sprig of curry leaves

1/4

teaspoon

asafoetida powder or 1/2 teaspoon dissolved asafoetida water
Instructions
If you are not using pre-cleaned raw jackfruit, please refer the notes.

Place the raw jackfruit in a muslin cloth and steam it for 12-13 minutes. You can also pressure cook it using just enough water to cover the pieces, however, if you are uncertain of the tenderness of the raw jackfruit you may end up overcooking it. The steaming technique helps retain nutrients too. Keep aside once done.

In a frying pan, heat the coconut oil and roast the red chillies for a few minutes till they slightly change colour. Ensure that they don't burn. Alternatively you can even dry roast the chillies, ie. there is no need to add the oil to fry them. Remove and allow them to cool

Grind the roasted chillies, grated coconut (without roasting), mustard seeds and tamarind to a fine paste. Add the sichuan peppers and grind it again.

Transfer the masala to a pan and rinse the mixer jar with 1/2 cup of water. Add this water to the pan and stir. Adjust the consistency to yield the desired thickness of the gravy. Remember not to dilute the gravy too much especially if you have pressure cooked the raw jackfruit as the cooking stock (from the pressure cooker) will need to go into the gravy and this can further dilute it.

Once you have got the desired consistency of the gravy, bring it to a rolling boil. Add salt to taste. The gravy will thicken after 2-3 minutes. Add the steamed (or pressure cooked) raw jackfruit pieces and mix. Adjust the salt or tamarind if required. Bring the curry to a boil and then simmer for 1-2 minutes. Remove the pan from heat and keep aside.

To prepare the tempering, heat the coconut oil in a small pan, add the mustard seeds and whey they stop spluttering, add the curry leaves. Once they fry a little, add the asafoetida (powder or dissolved water). Pour this tempering over the curry. Cover the pan immediately to trap the aroma.

Serve hot with rice or chapathis
Notes
Sichuan peppers are sun dried and before using them the inner seed needs to be discarded. Use only the petal/outer husk. If you intend to buy an uncut and/or uncleaned raw jackfruit, this is the process to be followed to clean it. Cover your working space/kitchen counter with plenty of old newspapers and keep extra handy to be used to clean off the ever-oozing sap. Keep bowls to collect the cleaned fruit (in one or more bowls) and the discarded pith and peel (in another bowl) Place coconut oil (or any cooking oil) handy in a small bowl to dip your fingers into. Sharpen your knife before you begin and rub its blade with some oil. Then proceed to oil your hands very well. Holding the raw jackfruit firmly down on the old newspapers cut off the stem and then the fruit vertically to yield two portions. Immediately a thick sap will begin to ooze out of the fruit. This sticky, white sap is what necessitates the coconut oil to be applied. Rub off as much as possible with some old newspaper bundled up into a ball. Proceed to cut the fruit into quarters and slice off the pith (the centre, hard white portion) leaving a thin layer that will hold the segments in place beneath. You will notice that the seeds are tender too. Slice off the outer poky/spiky peel off and discard. Cut the cleaned fruit into chunks or shreds depending on what kind of recipe you will be using it for. Large chunks are easier to store and suitable for curries, smaller cubes are ideal for pickles and shreds are great for sautes.
Disclaimer
The nutritional values are only indicative.
Tried this recipe?
Please leave a comment & rate the recipe below or share a photo on Instagram and tag me @ruchikrandhap