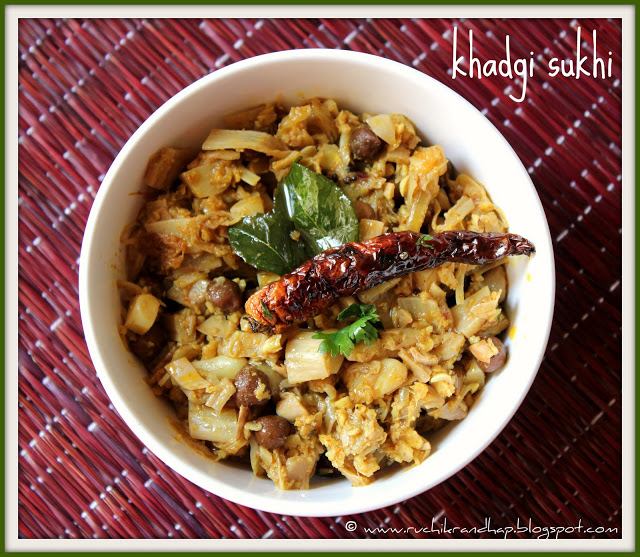 Pin
Can you think of some Mangalorean specialities that you were probably never interested in when you lived in Mangalore (assuming you were born & brought up there) but now that you live outside Mangalore/India you have found a sudden liking towards this dish? I can think of many such dishes – Pathrade for example or the Ponsache Patholi (Steamed Jackfruit & Rice Cakes) – I was never really fond of them during my growing up years. Somehow I felt that these were two unavoidable delicacies which were done to death during the Summer. Every household had some saved up ESPECIALLY for you if you happened to visit them. "Patholi kelya…zai gi?" (Made some Patholi…. would you like to have some?) would be the first question hurled at you and it was hard to politely decline even if you had stuffed yourself with one or two whole Patholis for tea that evening (I know, I know have always been a glutton :-)). It was always the in-your-face (and in your fridge too) kind of foods which you had to have a bite of whether you liked it or not just because it was being religious & abundantly prepared during the season. I would always run miles away from the Jackfruit Patholis and the Haldikolyanche Patholis (Rice & Jaggery Cakes Steamed in Turmeric Leaves) were the more bearable variety.Sigh! Today I can only dream about them. It's probably only the older generation (mommies & grandmas) that can still make them the authentic way, cuz I havent seen too many people from my age group who know to make it or who have the inclination to make this time consuming & tedious fare.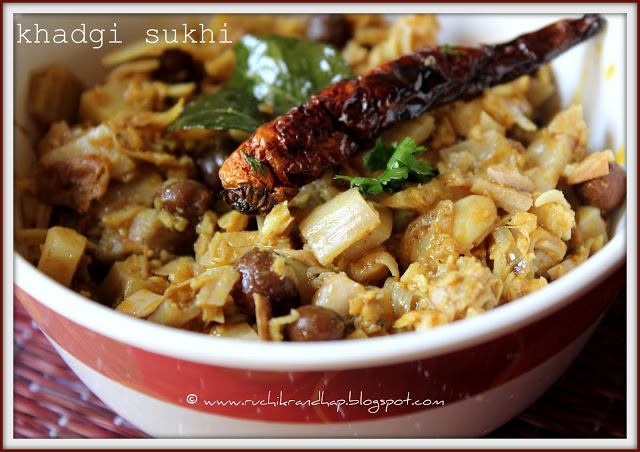 Now that I am away I crave for these goodies all the more. The sole purpose of starting this blog with a focus on Mangalorean cuisine is to revive the lost & forgotten (or soon to be forgotten) and dying flavours of our cuisine. I know, I know, sometimes Mangy food can be a big chore when you have to to cook up a meal in a jiffy. Who has the time to slave over grating coconuts & grinding them along with a thousand ingredients into a perfect masala? And how do you find all those rare ingredients when in a foreign land? Totally agree, which is why even I abandoned making some of these delicacies at some point when I was turning into a Mumbaikar. But my roots came a-calling when my son was born & I slowly transitioned into being a dutiful stay at home mom & wife (ha!). I felt that the least I could give my child during his growing up years is a part of his cultural heritage which he would otherwise miss out on if I dont even make the effort. Ofcourse, I do all this when time permits & when ingredients are available. Also, its wonderful to learn all the techniques of making Mangalorean food and pass them on to die hard Mangies who would kill for some delicacies and may want to try their hand at it themselves but dont know how to or havent got the right sources for learning.
Last but not the least, a certain article that came in the newspaper captured my attention. It was called the Global 'Slow Food' movement which as per Wikipedia is being "promoted as an alternative to fast food, it strives to preserve traditional and regional cuisine and encourages farming of plants, seeds and livestock characteristic of the local ecosystem".
So now you know why I even thought of trying my hand at raw jackfruit (and getting my hands all sticky) when it was easier to call for a big Mac for less than 30 bucks in less than 30minutes! – Fast food may be a form of instant gratification but never a healthy option!
Similar to the Coconut Tree, the Jackfruit Tree is found in almost all Mangalorean gardens/backyards. Hence people make the most of these two trees. The Jackfruit is best enjoyed when it is ripe – the pods in a lovely yellow give out a fragrance that marks the beginning of Summer. Just as how one would associate the Mango and its fragrances with Summer elsewhere in India. The Jackfruit is surprisingly the national fruit of Bangladesh – should have been the national fruit of Mangalore :). The seeds of the Jackfruit called as 'Bikna' in Konkani are often roasted & eaten or added to gravies. Mangies will know that the Bikna are also the butt of many jokes :). The leaves of the Jackfruit tree are used to make little pockets in which idli batter is poured & steamed and is called as the 'Kottige' in Mangalore.
Khadgi (sounds like 'Curd'-'ghee' said quickly without stressing on the 'urd' of the curd) phew! as it's called in Konkani, the tender/raw Jacfruit often finds itself in savoury dishes like gravies. This particular recipe is the favourite of my dear Hubby and so I let him do the major part of cooking the dish the way he loves it.
Cooking the Raw Jackfruit 
Before
After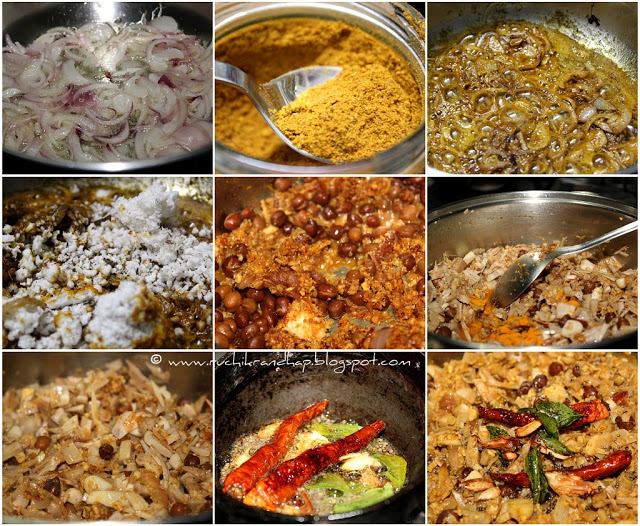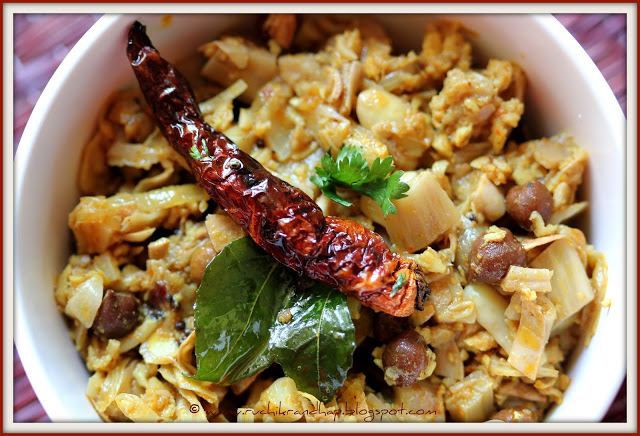 Save this recipe on Pinterest!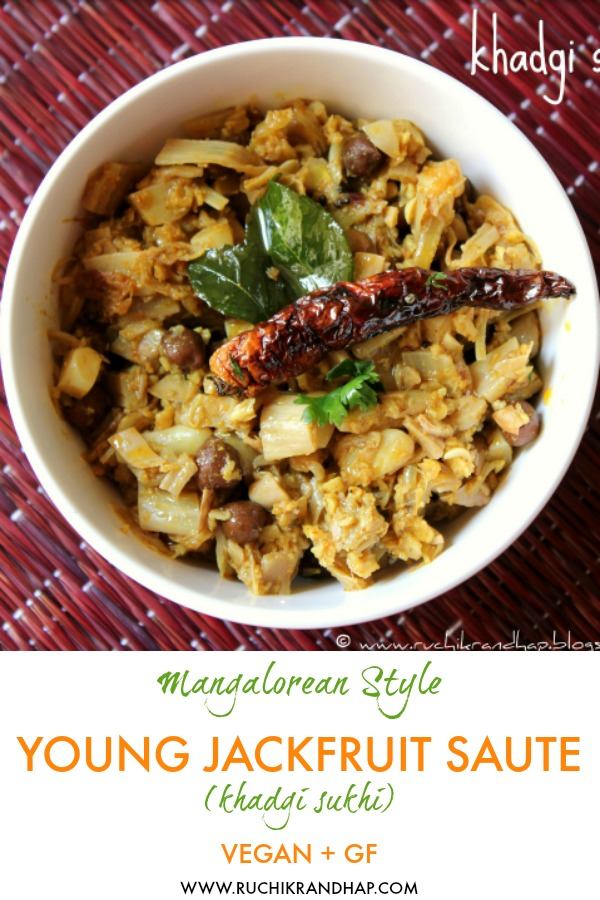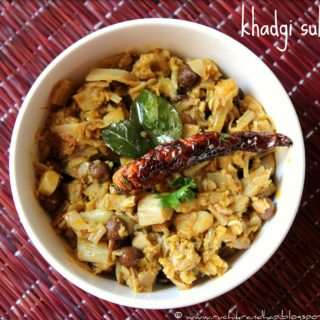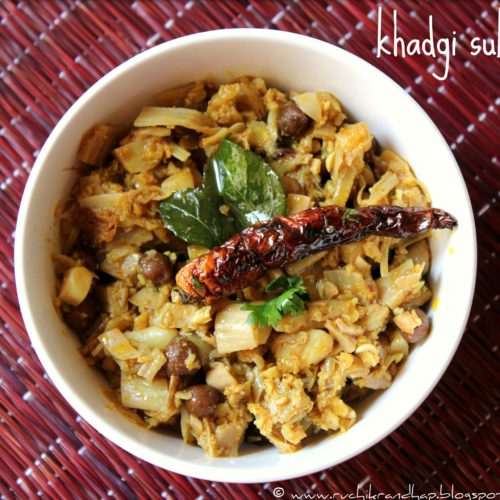 Young Jackfruit Saute (Khadgi Sukhi)
Raw jackfruit is the best alternative to meat and this dish along with the garbanzo beans tastes very good with rice or chapathis
Print
Pin
Rate
Ingredients
500

gms raw jackfruit

cleaned of its skin & pith

1/2

cup

Black Chana

Kadala/Chickpea/Bengal Gram/Garbanzo soaked overnight

2

tsp

vegetable masala powder

1

tsp

jeera/cumin powder

2 

tbsp

tamarind juice

extracted from about 1 lime size ball of tamarind soaked in 2 tbsp water for 15mins

1

handful grated coconut

1

medium onion finely sliced

salt to taste

oil for frying
For the tempering
4-5

curry leaves

kadipatta

2

long dry red chillies

1/4

tsp

mustard seeds

2

cloves

garlic

1

tbsp

chopped coriander for garnishing

optional
Instructions
Remove the skin, pith (called as mav or mau in Konkani) & seeds of the raw jackfruit. Take care to see that you oil your hands using coconut/vegetable oil while handling this as the whole process can get messy with the sticky white gum (sap) oozing out of the Jackfruit that can be hard to get rid of. Shred the cleaned chunks of jackfruit and soak the shreds in water mixed with a little tamarind juice immediately or else it will turn black.

Pressure cook/boil the black chana with a little salt till well cooked. Retain the stock (even if you dont utilize this stock for this preparation, never throw away stock in which vegetables have been cooked. You can convert them into a delicious & nutritious broth/soup.

Pressure cook the Jackfruit shreds with a little salt & water (sufficiently upto the level of the jackfruit - not more as you are just preventing the jackfruit from getting burnt) for about 10-15minutes. Use a weight (whistle) and count about 5 whistles. Let the weight loosen up before you open the cooker to mix the contents well .

In a large wok/pan heat some oil & fry the sliced onion to golden. Add 2 tsps of vegetable powder & fry on slow fire. Add the jeera powder & fry some more.

Toss in the grated coconut and fry till you get a nice aroma. Add the tamarind juice and the Chana & Jackfruit along with the stock of each. Mix well and adjust salt if required (remember - both the vegetables have been pressure cooked with salt, so you wont really need to add again)

Cook on slow fire for about 10 minutes, stirring every now & then and adding. Ensure that the water has been absorbed by the vegetables and the gravy has thickened. Turn off the flame.

For the tempering - heat some oil in a smaller pan & add the mustard seeds. When they begin to splutter, add the curry leaves and stir quickly for about 2-3 seconds before tossing in the red chillies. Fry till you get a fantastic flavour (my most favourite!) but dont let the chillies burn! Add the garlic cloves slightly mashed up. Let the garlic blend along with the rest of the ingredients. Immediately add this to the vegetable. Garnish with chopped coriander.

Serve hot with rice (preferably boiled rice). Enjoy!
Disclaimer
The nutritional values are only indicative.
Tried this recipe?
Please leave a comment & rate the recipe below or share a photo on Instagram and tag me @ruchikrandhap