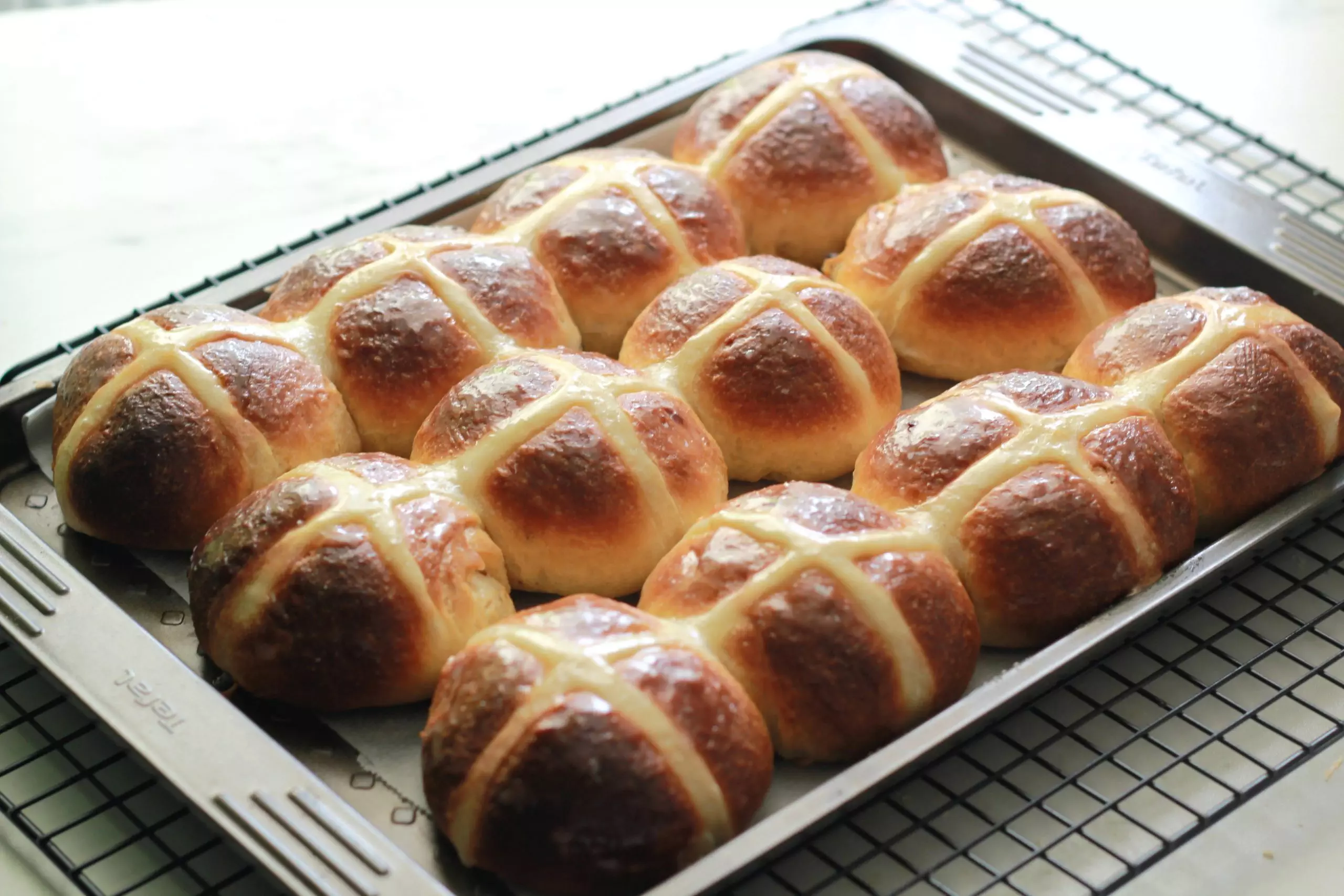 Pin
Hot Cross Buns! Haven't we all grown up to the rhyme that went "one a penny, two a penny, hot cross buns. If you have no daughters, give them to your sons"?. Well, I've lived my entire childhood salivating over hot cross buns and the closest we got to eating hot buns (minus the crosses) was the ones my dad used to buy from the bakery in the neighbourhood. Since baking was not a thing at my household in those years I took to this skill much later in life. Bread baking is something I learnt more recently but as much as I love this activity I am always apprehensive about the process. What if the yeast doesn't bloom? What if I am unable to shape the dough properly? What if the bread does not rise as expected? Worse still, what if the recipe I have picked is not good? It is with these apprehensions that I have tried many a bread recipe including a couple for hot cross buns. Either the buns turned out too dense or too buttery & rich but then I eventually found a recipe by Chef John on YouTube that I have loved. Today's recipe is an adaptation of his lovely recipe. I have tweaked it here & there and also proved the dough both times for much longer than he recommends. This resulted in buns that were oh so soft & fluffy and did I say buttery?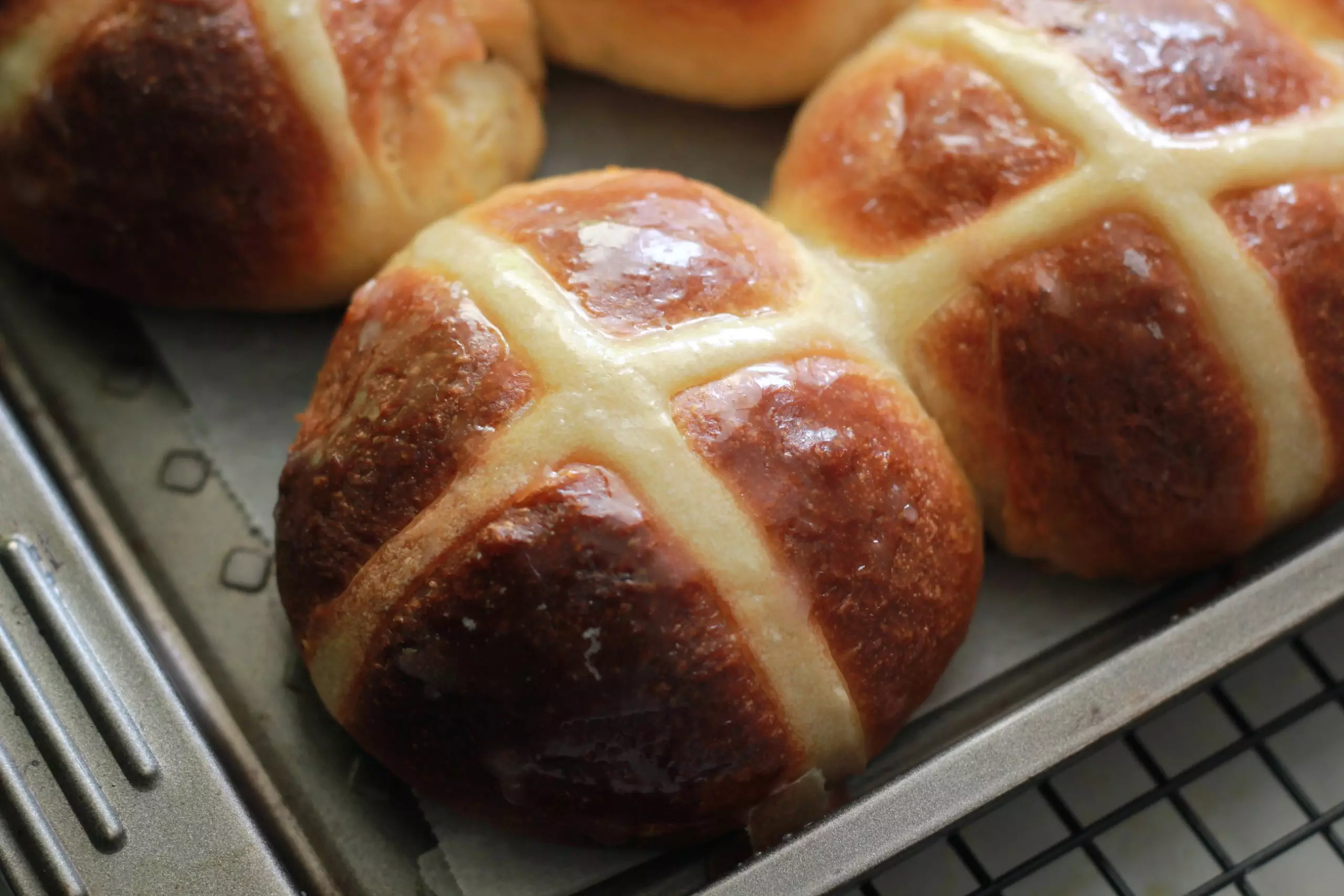 Pin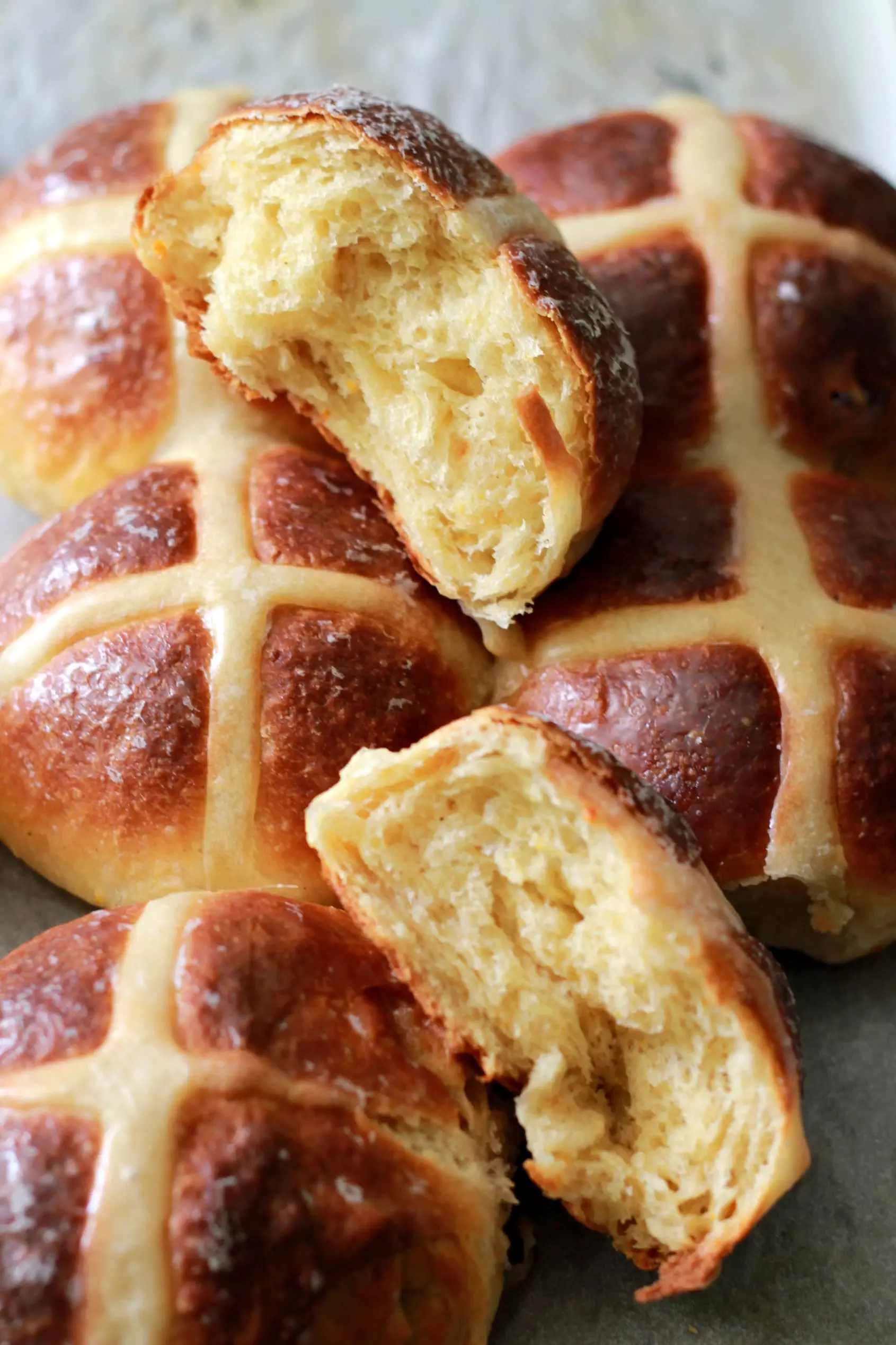 Pin
These buns are incredibly delicious because they are so melt in the mouth when still warm. The mild sweetness is enhanced by the glaze on top and the dried fruit hidden inside. If you don't wish to use the sugar syrup for a glaze, you can also use a mixture of apricot jam and water and brush this on top. Alternatively, use plain milk or butter as soon as the buns come out of the oven. This helps give that shine but won't add to the sweetness.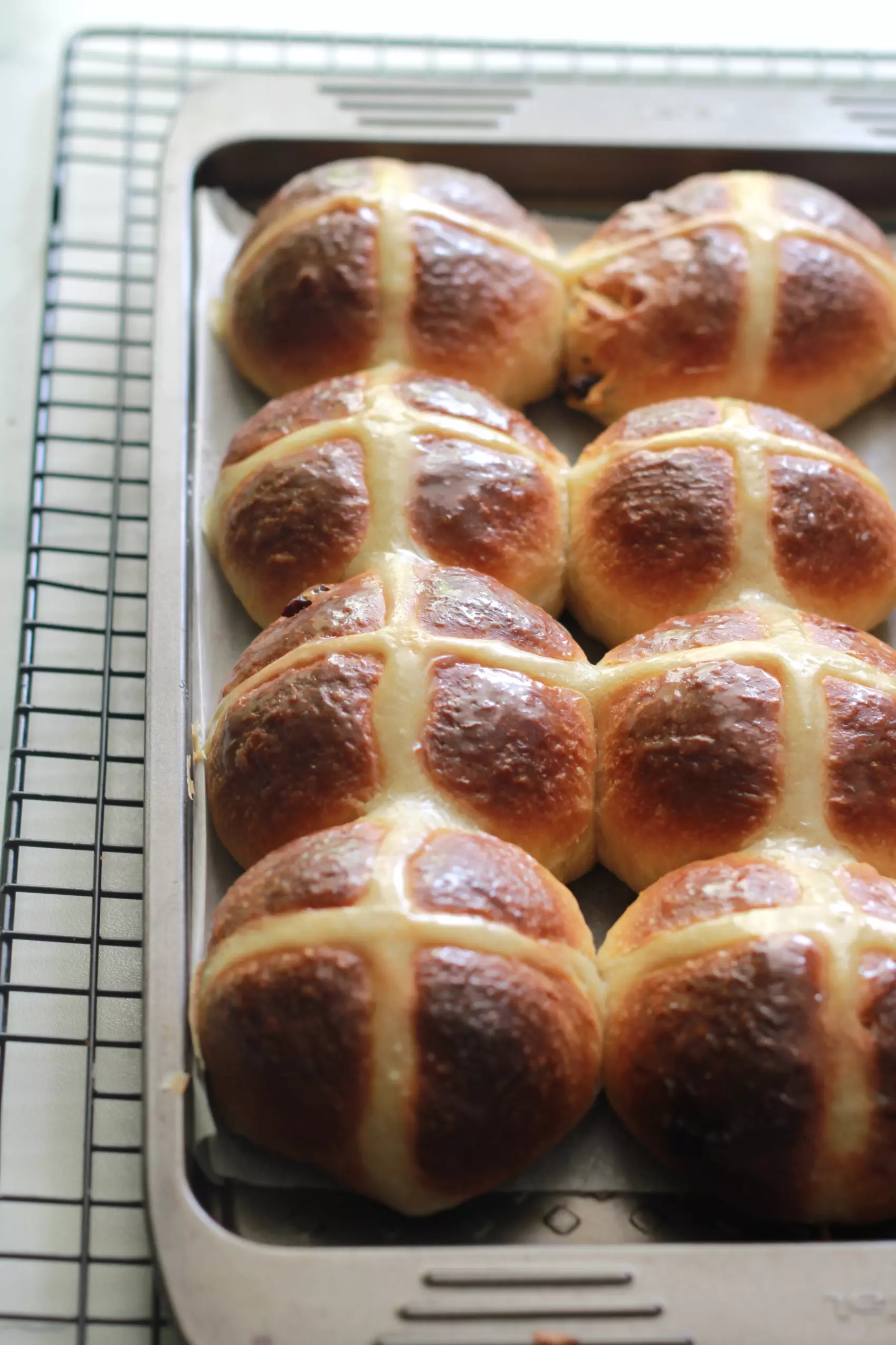 Pin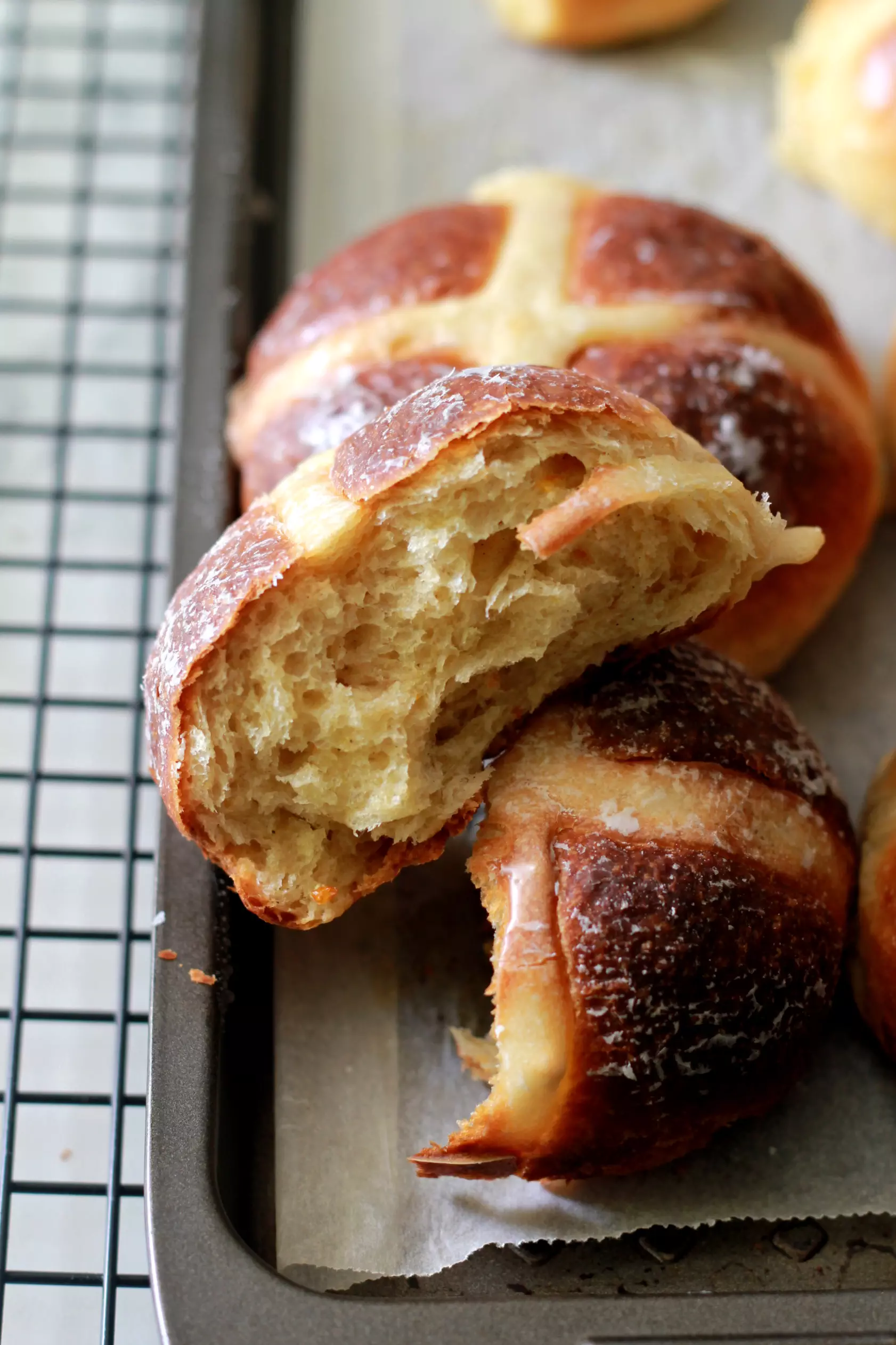 Pin
What's best about these buns is that you can be a complete novice at kneading and shaping dough. Honestly, when I am patient with dough I can design it very well. When I shoot a video I want to get things done as quickly as possible to make the most of the natural light in my kitchen so I did not knead the dough too much and decided not to overdo with the shaping bit either. After all, I was not making pao (dinner rolls) or anything fancy. The improperly shaped buns give it a rustic, vintage charm that somehow reminds me of Victorian times, so fret not all ye beginners!
While you're here, do scroll down all the way to the bottom of this post to view the video!
Take care folks, stay safe and let us pray that our merciful God tides us through this very difficult time. For those of you who are celebrating, I wish you a blessed Maundy Thursday, Good Friday & a joyous Easter!
Pin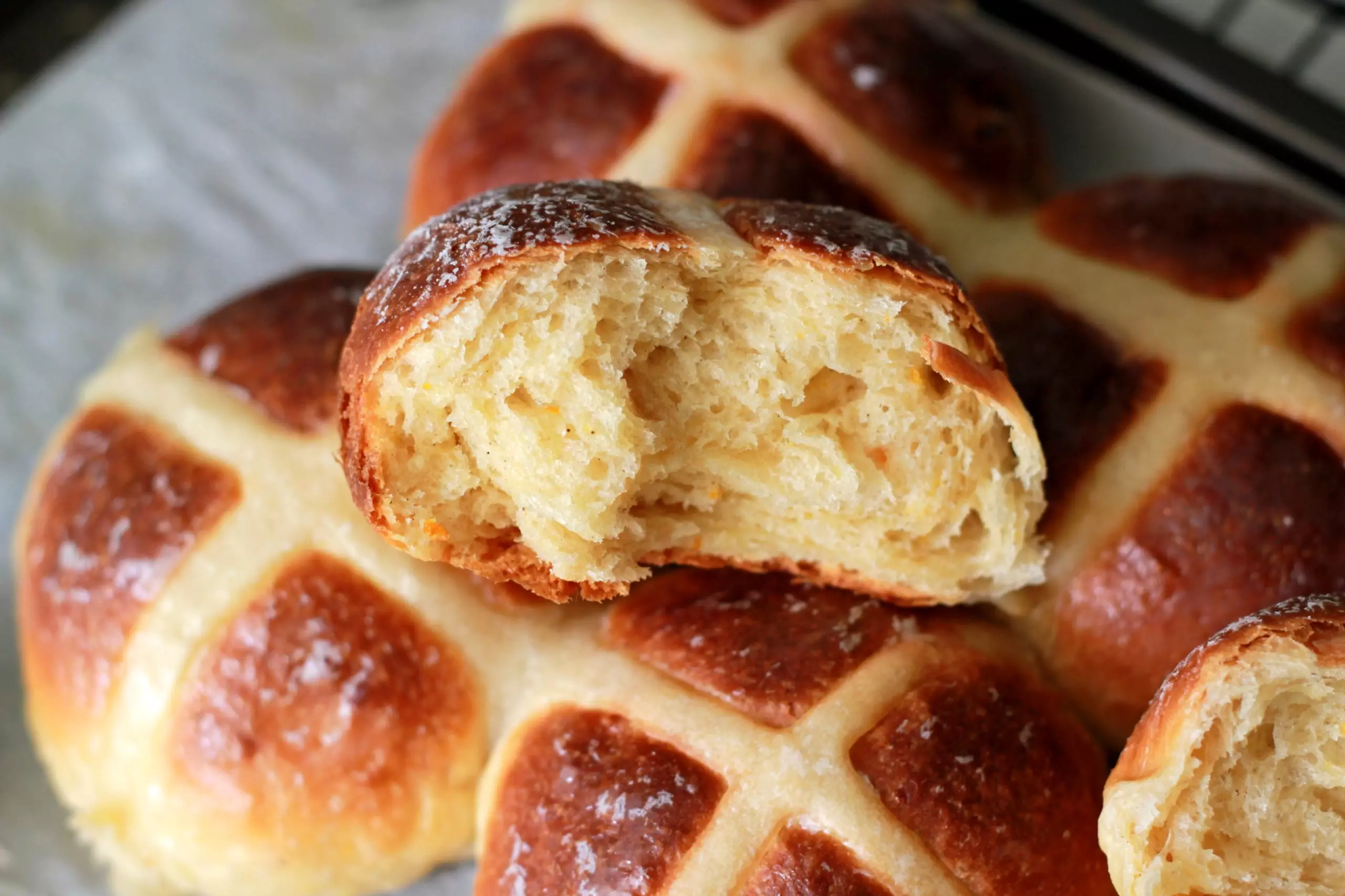 Pin
Love these rolls? Try these other varieties
New here? Subscribe to my free newsletters with my latest recipes!
If you give this recipe a try do leave a comment on this post down below and don't forget to give it a star rating! It will really help more readers discover my recipes! Don't forget to check out my latest videos on my YouTube channel. If you like what you see, do give me a thumbs-up (like), share & comment and subscribe to my channel so that the gods of YouTube (a.k.a algorithms) recommend my channel to a wider audience with similar tastes and more & more people can discover my videos!
And while you're here, do follow me on Instagram, Pinterest,  Facebook and Twitter. If you'd like to say hello or have detailed queries do send an email at [email protected]. I'd love to hear from you!
Hot Cross Buns
Delicious, fluffy & melt in the mouth hot cross buns that are a treat anytime of the year. Make these this Holy Week!
Print
Pin
Rate
Ingredients
For the dough
375

grams

(3 cups) all purpose flour plus extra to dust & knead

1/2

teaspoon

salt

1/2

teaspoon

cinnamon powder

1/2

teaspoon

cardamom powder

1/4

teaspoon

nutmeg powder

1/4

teaspoon

all spice powder

zest of 1 lemon

zest of 1 orange

60

grams

(5 tablespoons) white sugar

7

grams

(2 teaspoons) instant yeast

250

ml

(1 cup) lukewarm milk

1

egg

lightly beaten

105

grams

(7 tablespoons) unsalted butter, melted

1/3

cup

50 grams dried fruit (black currants, cranberries or black raisins)
For the crosses
1/3

cup

flour

3

tbsp

water
For the glaze
1/4

cup

sugar

1/8

tsp

water
Instructions
Sift the flour, mixed spice powder and salt into a bow. Add the sugar, instant yeast & zest. Mix everything together and make a well in the centre. Then add the lukewarm milk, the lightly beaten egg & the melted butter. Bring everything together to form a sticky mixture

Dust flour on a clean working surface and transfer the sticky mixture on it. Knead into a smooth, pliable dough, for about 5-7 minutes. Dust flour as required to help knead it.

When the dough is smooth, flatten it into a round shape and sprinkle the dried fruit all over the surface. Fold into thirds and form it into a log. Then fold again into thirds to form a square after which you can shape it roughly into a ball

Grease a bowl with butter or oil and place this dough ball into it. Cover with cling film and keep it in a warm place of your kitchen for about 1 hour or till the dough doubles in volume.

When the dough has doubled, punch out the excess air gently and turn it out on a clean surface dusted with some flour. Knead it gently and then shape it into a log again

Divide the log into 4 equal parts and further divide each part into 3 portions. You should have a total of 12 portions. You may use a weighing scale to get portions that weight the same too. Just weigh the whole dough ball first & divide the weight by 12 and then portion them weight wise accordingly

Line a baking tray with parchment and keep it ready. Take each portion of the dough and tuck the ends underneath so that the surface is neat and smooth. Place each of these balls on the baking tray spaced well apart.

Grease a piece of cling film with butter or oil and cover the dough balls and let them prove for another 30-40 minutes or till doubled in size. When done, preheat oven to 200 degrees C.

While the dough is proving, prepare the piping for the crosses. Mix the flour & water together in a bowl and whisk until you get a smooth, lump free paste. The consistency should neither be too stiff nor too runny, so adjust the water accordingly. Transfer the flour paste into a piping bag or into the corner of a ziplock bag. Secure the mouth of the bag and snip the tip of the bag. Pipe the paste in the centre of the buns to form crosses.

When the oven is ready, pop the tray inside and bake the buns for 15-20 minutes or till golden brown. Mine were ready in 18 minutes but do keep an eye out after 15 mins or so

When the buns are baking prepare the glaze. Place the sugar & the water in a small saucepan and bring it to a boil on a medium high heat. Simmer gently for a minute or two till the syrup turns slightly sticky, then remove it from heat. Cover the pan to keep the syrup warm

When the buns are baked, remove from the oven and place the tray on a wire rack. Let them cool for about 5 minutes. Then brush them all over with the glaze.

When the glaze has cooled down enjoy them nice & warm with some butter or jam or just as they are.
Video
Disclaimer
The nutritional values are only indicative.
Tried this recipe?
Please leave a comment & rate the recipe below or share a photo on Instagram and tag me @ruchikrandhap