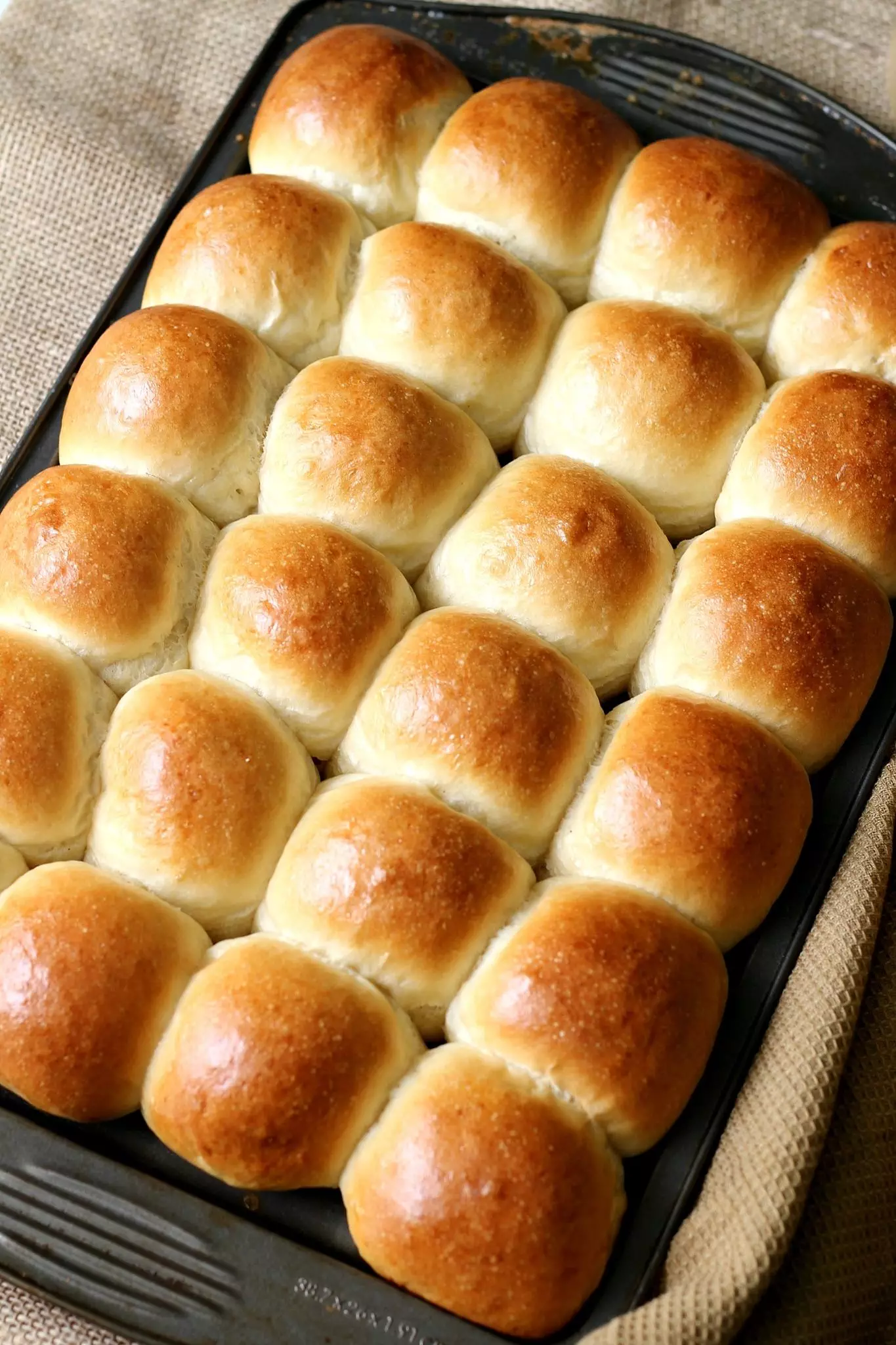 Pin
Folks! I can't stop raving about this recipe! I am so over the moon today as I type this post. After several failed attempts (and I mean way too many attempts!) I managed to create the perfect pao. Pao is also spelt as Pav and is synonymous with the famous pav-bhaji, a quintessential Mumbai style street food that has been a pocket-friendly meal for thousands of people on a shoestring budget and over the years has found its way into fine dining restaurants too.
Making my own pao at home was not going to be that simple or easy I thought. You see, I had given up even before I started. Creating mounds of fresh, spongy bread from a blob of dough took a lot of hard work I thought. Well, the secret lies in the recipe, no? And of course the technique of doing the right thing. On my initial few attempts at baking pao at home I didn't quite use the technique properly. Either I didn't knead the dough properly, or I didn't shape it properly so I ended up with hard lumps which could be termed as 'pao ke naam pe dhabba' (in a very Hindi TV serial way of speaking) or simply put, an apology of a pao. I will admit that making 24 paos will take some patience and time but only if you are obsessed about neatness and perfection like I am. I like to weigh each dough ball and ensure that they are all of equal weight. Shaping them then becomes a delight and not to mention, a pleasing sight when baked.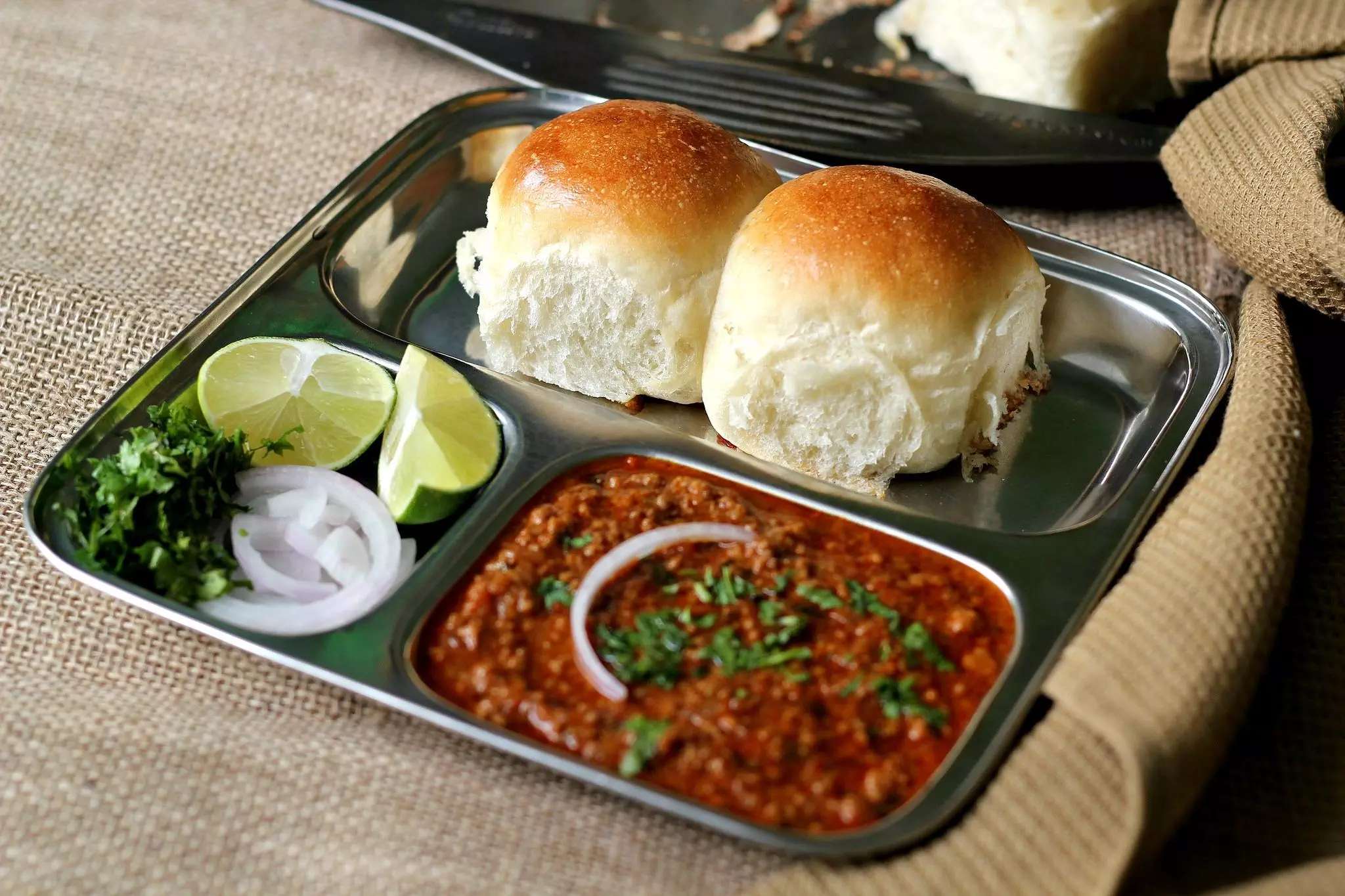 Pin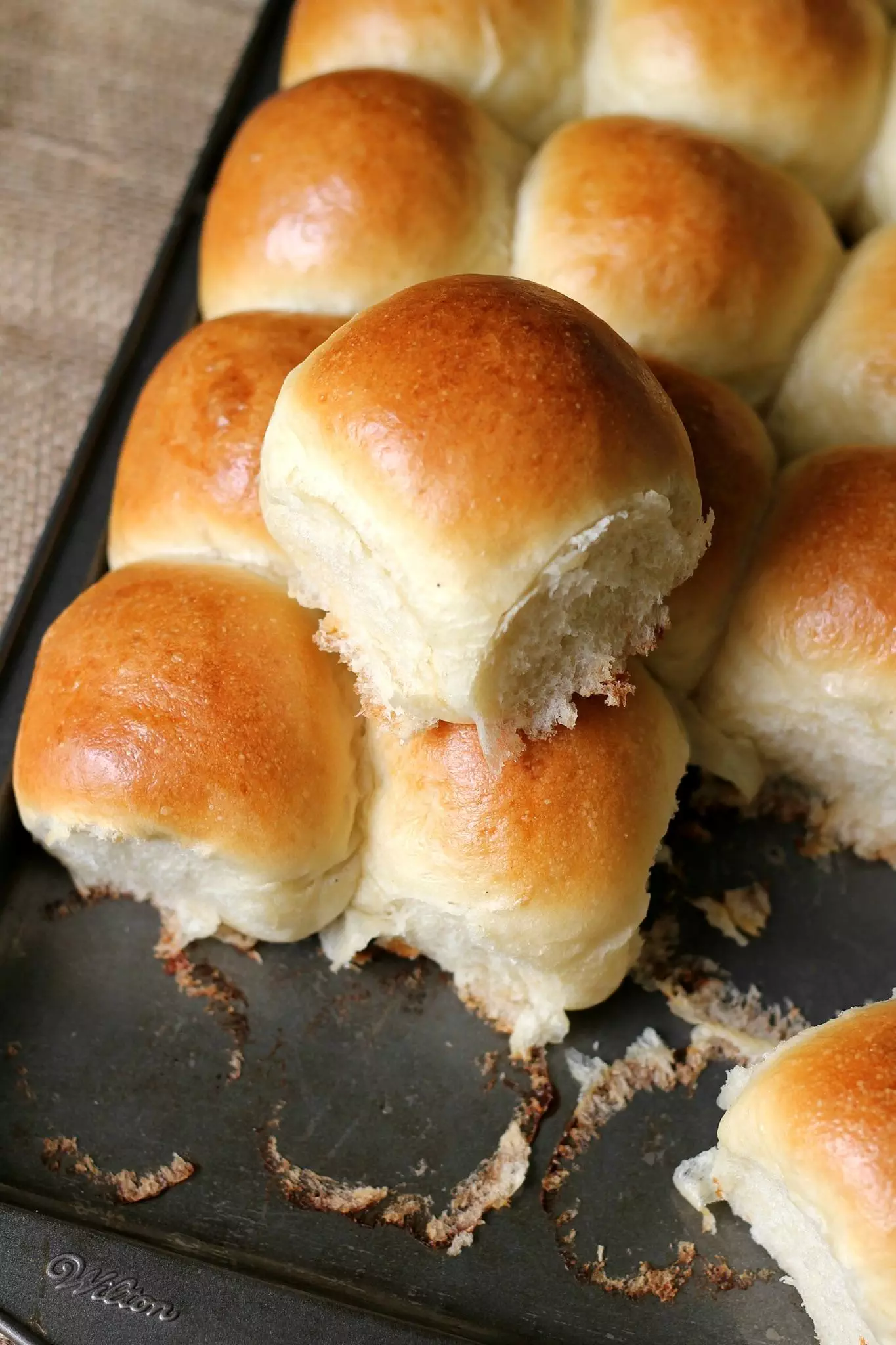 Pin
My joy knew no bounds when the pao appeared out of the oven. They looked like a honeycomb – beautifully golden and symmetric in some strange sort of way. I couldn't stop taking pictures and I was amazed that despite the very dull and cloudy weather outside last week I got some beautiful shots. The only thing I missed to do was take a shot of the bread when torn open. Maybe I'll do that when I take pictures of the 'Keema Pao', another recipe that I tried that day which is simply mouthwatering to say the least.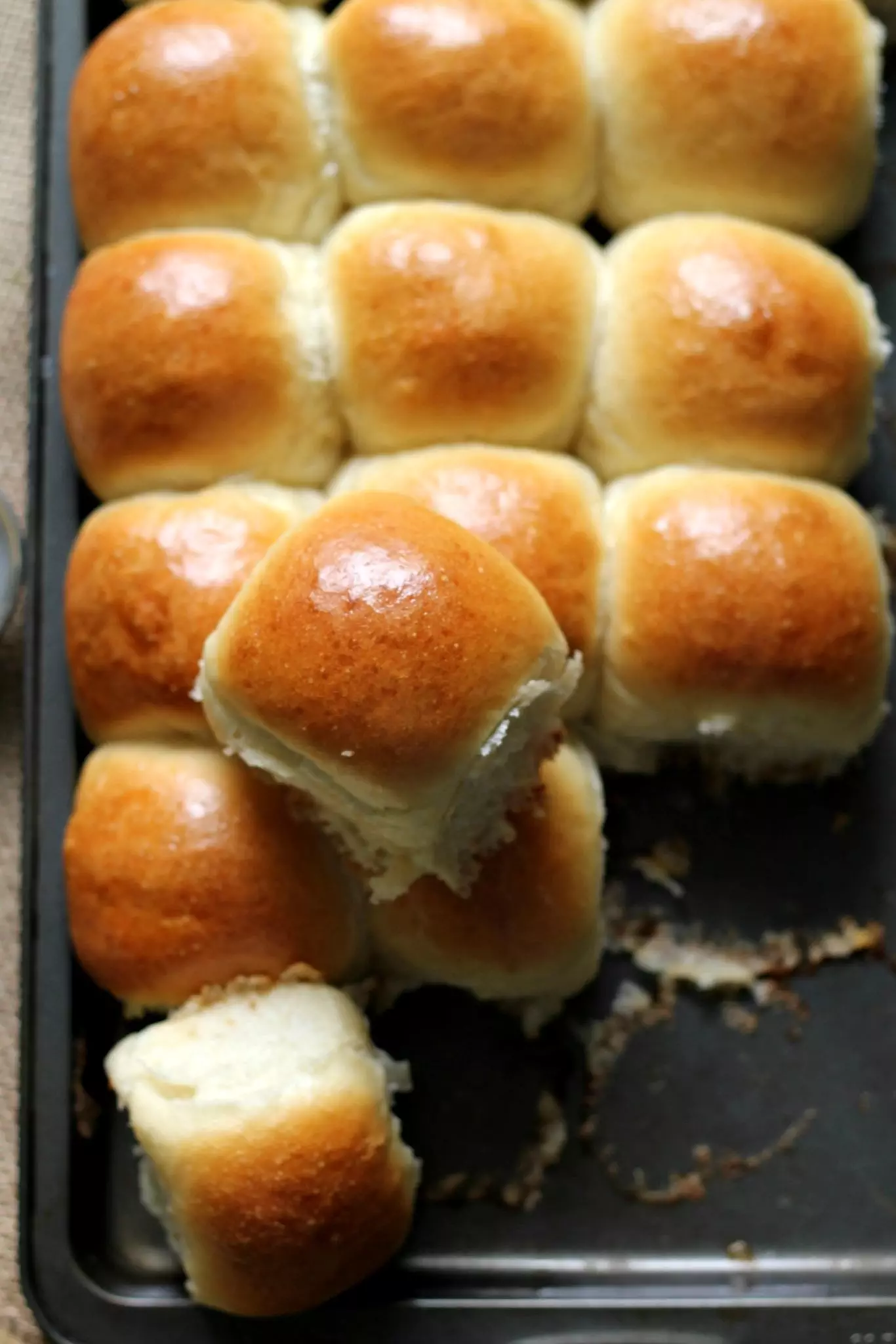 Pin
I adapted this recipe from the blog Dustie's Foodie Adventures where David shares some delectable recipes for Goan food! (Thanks a million David!). Do note that his pao recipe calls for whole wheat flour (not your usual chapati flour though) and I used all purpose flour (maida) and hence it required some tweaking to make the dough pliable and smooth. Next time I plan to try out the whole wheat version. Will share my experience soon! For now, if you have been hesitant about making your own pao at home, look no further. Try this recipe and let me know how they turned out!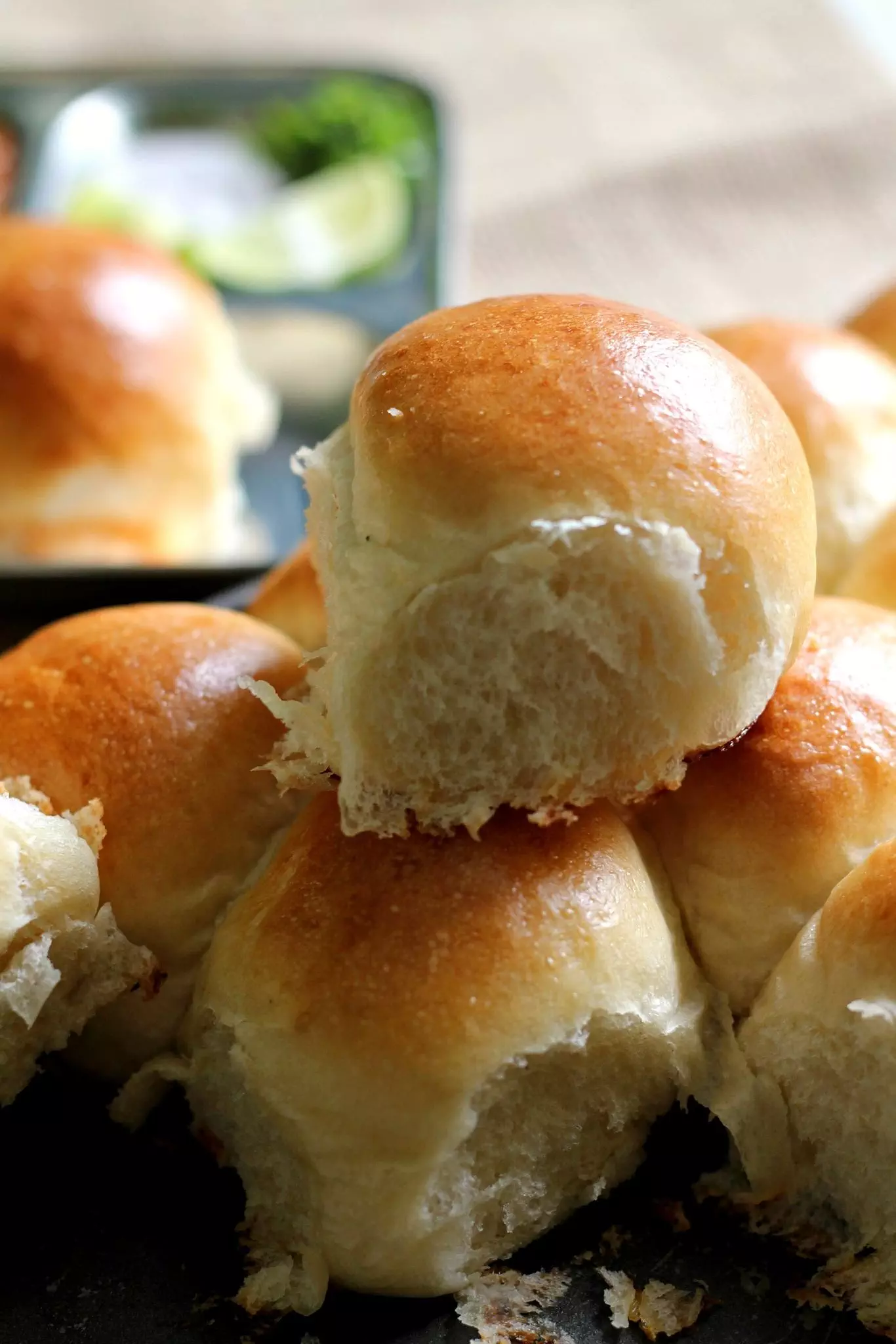 Pin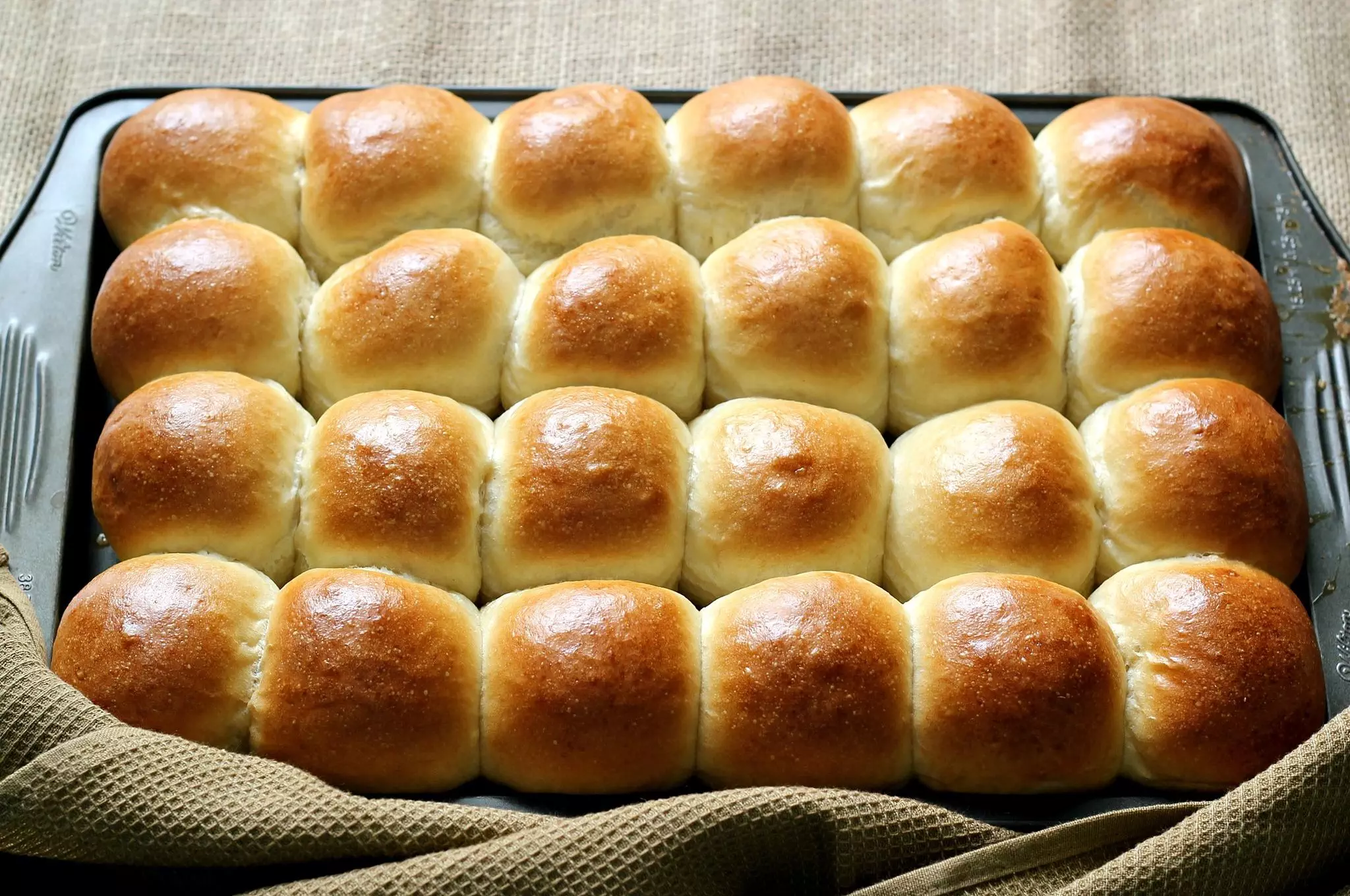 Pin
Pao (Pav) ~ Dinner Rolls
Cottony-soft & spongy dinner rolls that are a match made in heaven when served with Mumbai style potato & mixed vegetable mash (Pav Bhaji) or even with spicy minced meat (Keema Pao). They taste delicious with some butter or even when eaten plain with a cup of hot tea!
Print
Pin
Rate
Ingredients
6

cups

(720 grams) all-purpose flour (maida)

2

tablespoons

instant yeast

3

tablespoons

sugar

2

teaspoons

salt

1/3

cup

olive oil

or any odourless vegetable oil

2

cups

lukewarm water * see notes
For the egg wash
1

egg

lightly beaten

1

tablespoon

water
To brush on top of the paos
2

tablespoons

milk or unsalted butter at room temperature
Instructions
First, we will activate the yeast. In a large mixing bowl place the yeast, 1/2 cup of flour (60grams) and 1 cup of the lukewarm water and mix together. Cover and keep in a warm place for about 10-12 minutes or until the mixture turns frothy and doubles up. This is to test your yeast. If the yeast does not froth up it is probably old (expired or nearing expiry). Discard the mixture and start again with a new package. If the yeast has nicely frothed up you are good to go.

To the yeast mixture add 4 cups (480 grams) flour, sugar, salt & olive oil and the remaining water (**see notes first) and mix everything together. You will get a dough that is very sticky. Tip the dough on a clean working surface dusted with a little flour. Add the extra 1-1/2 cups (180 gms) of flour in parts and knead until you get a soft and pliable dough. You may need to knead it for a good 10-12 minutes to achieve a soft dough that is not sticky but one that will leave a light dent if you poke it and spring back up slowly.

Grease a bowl with some oil and transfer the ball of dough into it. Flip it around till it is well coated with the oil. Cover the bowl with cling wrap and keep in a warm place in your kitchen for about 1-1/2 to 2 hours or until the dough has doubled in volume.

Once the dough has doubled, gently punch it down to deflate. Then using a kitchen scale weigh the dough. You should get approximately 1200 grams of dough which you will then divide into 24 equal parts of 50grams each. This is for the sake of precision in the shape and size of each pav. Alternatively, you can simply pat out the deflated dough into a rectangle and then roll into a log and cut it into 24 equal portions. But remember, uniformity is a beauty.

Grease and/or line a 38x26 cm tray (14x10 inches) with butter. You can dust the tray with some flour for easy removal. 

Roll each portion into a ball. You can cup the dough ball between both your palms and stretch the dough using the sides of your thumbs and tuck the excess dough underneath. Gently roll between your palms to form a smooth, crack-free surface. Place these dough balls on the buttered tray, about 1/2" apart. Cover with cling wrap or a clean, damp kitchen towel and keep in a warm place for about 30-40 minutes or until doubled.

When you are ready to bake, preheat the oven to 200 degrees C. While the oven is preheating, gently brush the tops of the dough balls with the egg wash (or milk if you are not using egg). Take care not to press the brush too hard or you will deflate the pav. Pop the tray into the oven and bake for 10 minutes. Then drop the temperature to 180 degrees C and bake for another 8-10 minutes or until the surface looks golden.

Remove the tray and quickly brush the pav with some milk or butter. Transfer the tray to a wire cooling rack and let the pao cool for 10-15 minutes. Do not rush to pull them apart when still hot as the steam needs to leave the centre of each pav naturally. Cutting hot bread can make them soggy on the inside.

Serve with tea or coffee or as an accompaniment to Mumbai style vegetable & potato mash (pav-baaji) or with minced meat (keema pav) or any side dish of your choice. Paos keep well for upto 2 days at room temperature if you live in cooler temperatures or have central AC
Notes
If you wish to make a smaller batch, simply halve the recipe. 
It is important to use lukewarm water. Hot water will kill the yeast, cold water won't activate it. If you live in a home with central AC or in colder temperatures, cover the bowl in which you activate the yeast with cling film and place this bowl in another bigger bowl of warm water to maintain the temperature. Pop this whole apparatus inside the oven or microwave (just remember not to turn them on!)
When you add the remaining water to the flour you may want to add it in parts. Depending on the texture of the flour used (how finely your flour has been ground) you may not require all of 2 cups as given. The first cup is used to activate the flour and the second cup can be added in parts. Reserve a little (like 1/4 cup from the second cup of water) to be used only if required. 
Recipe of pav bhaji
Disclaimer
The nutritional values are only indicative.
Tried this recipe?
Please leave a comment & rate the recipe below or share a photo on Instagram and tag me @ruchikrandhap