Hello everybody! I am back after a long break from blogging. For all those who have been wondering if I've vanished into thin air making reappearances only to participate in the Blog Hop Wednesdays, well, the past two weeks or so have passed by so quickly in activities that range from falling sick, recovering, packing, travelling, returning & of course handling the post travel aftershocks (piles of laundry, a dusty house & parched plants). However, I did keep my commitments of blogging at least on the alternate Wednesday but before it becomes a habit (to resurface only on Wednesdays), I thought it was high time I posted one of my recipes that have waited long enough to see the light of day.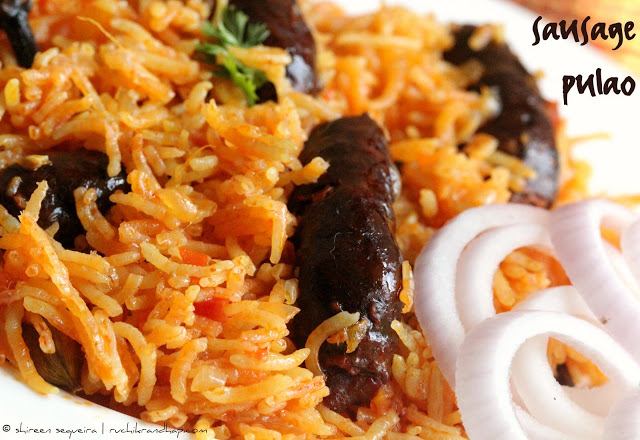 99% of Mangalorean Catholics love pork. The remaining 1% don't technically exist (just kidding!) – well, they are possibly those who have given up eating it because of health reasons. However, you may be surprised to note that pork fat is said to be a form of good cholesterol. Pork was always of bad repute because its lard (fat) was considered to be unhealthy, however lard has less saturated fat, more unsaturated fat and less cholesterol than an equal amount of butter by weight
While every Mangalorean I've known has loved Pork in its most popular form in Mangalore, the Dukra Maas (Bafat Style Pork), there are other delicacies too, ranging from Sorpotel, Kaleez Ankiti, Vindaloo, Indad, Pork Salad & of course the Coorgi Pork (Pandi Curry) that are some local favourites made with the meat (often fresh). However, a few pork preparations are made with Linguiça (pronounced as 'lingis') or Chorizo (terms used interchangeably) that are popular among the Mangalorean Catholic community as well although not everyone cooks it – only those fortunate enough to obtain it from Goa would also be the privileged ones to savour this delicacy.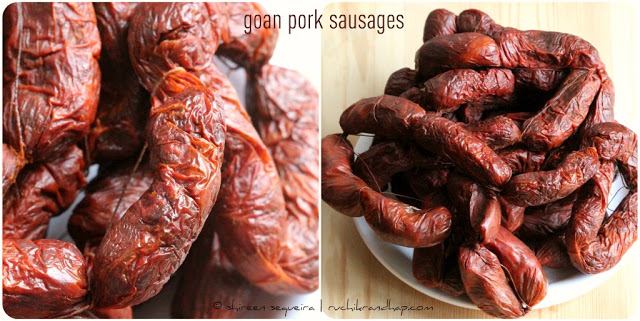 Linguiça or Chorizo commonly called as Goan Pork Sausages by tourists are typically sausages strung together with a thick thread and are usually sold by the kilo if you purchase them fresh off a butcher. Branded sausages however are available in packs of a quarter kilo onwards. While I used an unbranded string of sausages, some of the well known branded ones in Goa are Joao's & Costas. In Mumbai you can find them in Jude Cold Storage in Pali, Bandra
When I visited some relatives in Goa this May, I was technically reintroduced to the flavourful Sausage Pulao which is so simple to put together & tastes simply awesome. I adapted the recipe from
Hilda's Touch of Spice
. For the sake of the pictures and also to retain a mild flavour of the rice I did not break the sausages as many people do before cooking them. My cousin suggested that the sausages be retained whole and one could always tear into them & dig in during the meal. If you cut up the sausages in advance they will crumble and become unidentifiable. For those who are unfamiliar with the Goan sausages, let me tell you that these sausages have a more crumby/coarse texture unlike regular tinned (cocktail/hot dog) sausages the texture of which is compact & can be neatly sliced.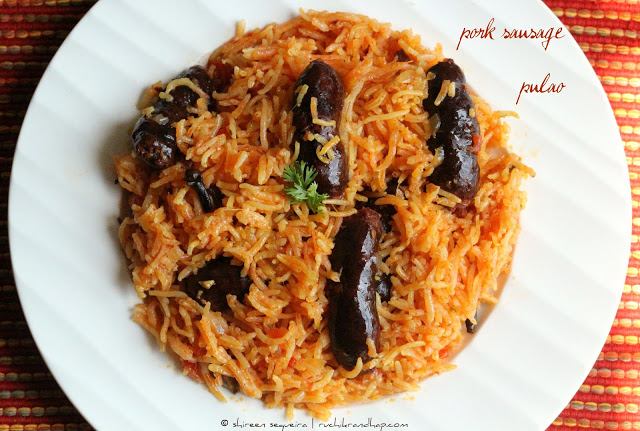 If you have never tried cooking Goan sausages, you must know that they are the handiest kind of ingredient to be stocked in your pantry. You can prepare a simple masala of
Bafat powder
& loads of chopped onions & tomatoes and serve it as a simple side dish or put together a flavourful & fragrant pulao in a jiffy (may I warn you that you need to have an acquired tasted for it!) These sausages that are coarsely ground & cooked with a lot of spices are packed with flavour & spice and so you don't need to add too many things to make the pulao. I hope you get to make this pulao & enjoy it just as much as we did. It's the perfect Sunday meal when you are too lazy to make anything elaborate
Goan Pork Sausage/Chorizo Pulao
Serves 3
You Need:
1-1/2 cups (300gm) Basmati rice
250gm Goan pork sausages/chorizo
1 capsicum de seeded & diced (I skipped this)
1/4 tsp turmeric powder
1 tbsp ginger garlic paste
2 bullion/stock cubes
2 medium onions chopped fine
2 small tomatoes finely chopped
1 green chilli slit
salt to taste
1 tbsp oil or ghee
a dash of sugar
Whole spices (garam masala)
4 cloves (laung)
4 peppercorns (kalimirch)
1 inch cinnamon stick (dalchini)
1 bay leaf (tej patta)
1 star anise (badiyan)
1 green cardamom (elaichi)* see note
1 black cardamom (I skipped this)
For garnishing (optional)
Method:
1. Wash the basmati rice 2-3 times and soak it in sufficient water for 15-20 minutes. Drain & keep aside.
2. In a heavy bottomed pan heat some oil or ghee and toss in the whole spices one by one, fry them on a slow flame.
3. Throw in the chopped onions and sauté till they turn pale. Toss in the ginger garlic paste and fry till the oil separates. Add the tomatoes and let them cook till they turn mushy.
4. Toss in the turmeric powder, slit chilli, diced capsicum, sugar and crumbled stock cube and fry well. Add the sausages and sauté them well. (I only removed the strings that bound each one together but left the skin on & gave a slit in the centre of each sausage – you may skin & cut them if you wish)
5. Add the drained rice, give it a mix and fry on a slow flame for half a minute. Pour in 2-3/4th cups of  freshly boiled water (see note) and bring it to a boil on a full flame. Check salt to taste & add pepper powder if required.
6. Cover the pan with a well fitting lid, place a weight on it if required to avoid the steam from escaping, reduce the flame completely & cook for 8 minutes without opening the lid. Turn off the flame, open the lid, fluff up the rice gently, cover & leave it to cook in its steam for a couple of minutes or till done.
7. Garnish with chopped coriander & serve hot with a simple raitha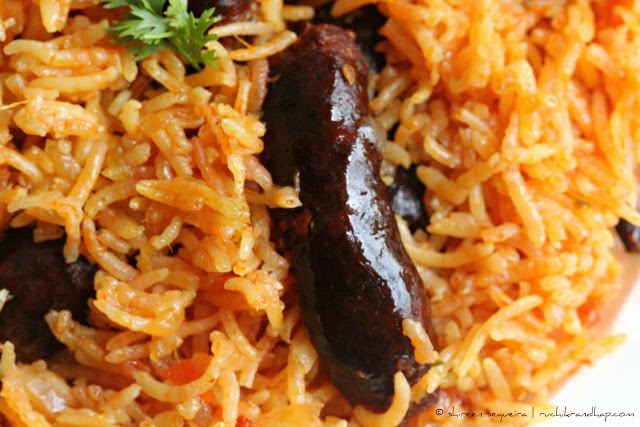 Notes:
This recipe works well with minimal oil & spices, so go easy on both – the pork sausages will let out a lot of oil & spice.
It is a good idea to slightly bruise (crush or open up) the cardamom as it tends to pop when it starts to sizzle in hot oil or ghee – you don't want hot oil spluttering on your face if that happens.
You may add exactly double the quantity of water in the ratio of 1:2 if you are using aged rice, but I prefer to add a little less than double the quantity of water especially for this pulao where the sausages are precooked. The quantity of water used largely depends on the quality, age & type of rice used and the technique of cooking it (pressure cooking, steam cooking or on slow fire in a regular pan) – so use the method that you are comfortable with.