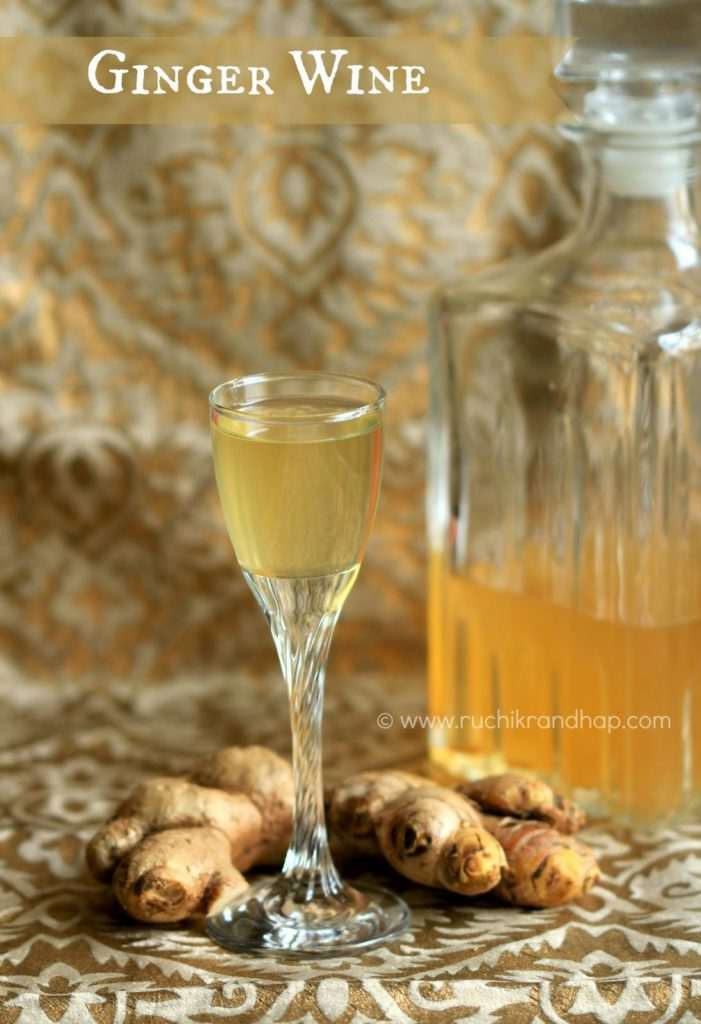 'Tis the season to be jolly! Fa la la la la, la la la la!!
So how many of you have gotten into the Christmas mood already? Did I hear you say "me!". Well, I am in the mood for sure and I can't wait to play some Christmas carols and put up the tree & decorate it. Wow! Even the thought of Christmas puts a smile on my face. Now that my little one has reached an age where he can understand a lot of things, I think it is the right time to start some Christmas traditions at home. Things that he will fondly remember all his life. So I thought to myself, what better than to start early with some 'Christmassy' things – like making our first batch of home made wine?? Perfect!
Come October and my kitchen saw a lot of me – busy & excited to jot down recipes, gather the ingredients and kick start the preparations. While I am still preparing the rest of the Christmas goodies and the recipes will be posted in the run up to Christmas, I thought posting the ginger wine recipe would be helpful to all those who want to try making some home made wine.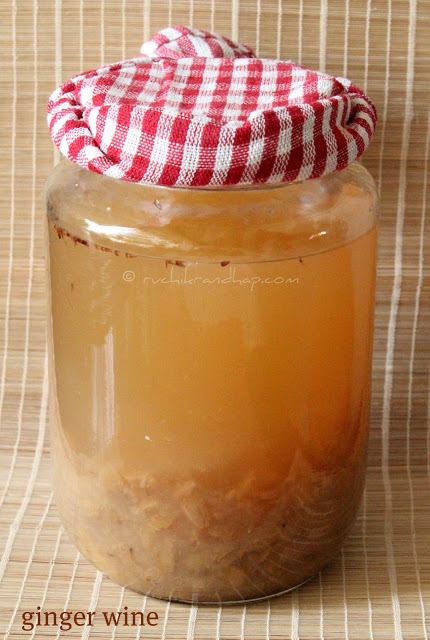 Pin
I had mentioned earlier that I wasn't a lot into making wines, preserves & pickles, but then my first attempt at making home made grape wine was a huge success and now well, the wine making bug has gotten into me. A couple of months before Christmas every year my cousin and I discus the number & type of goodies each of us would be preparing. We have tried making Christmas cakes (click here for the recipes) & other traditional Mangalorean goodies called as the 'Kuswar' (recipes to follow). This time I thought of taking a shot at preparing the ginger wine as well along with her.
Ginger wine in my opinion sounds like the perfect beverage to be served during the festive season especially because it helps to get the digestive juices flowing ~ we'll need that especially after all that festive binging that we'll be indulging in! Home made wines tend to be sweet & if served freshly made taste as good as a mildly fermented fruit juice. It is only when the wine ages that the heady spirits can make you feel extra good! So if you make this right away you will have a lovely batch ready to be tasted during the Christmas season and most importantly, ready to be served along with your gala Christmas lunch or dinner.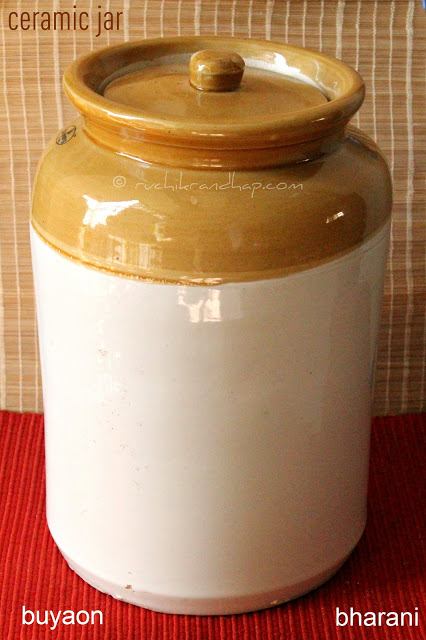 Pin
When I made this recipe I did not have a ceramic jar famously known as a 'buyaon' in Konkani which is also used to store pickles and salt in Mangalore. Ceramic or glass jars are what you need to make wine as it is not safe to use plastic and steel.
On my recent trip to Mangalore I went on a mad hunt for ceramic jars. Luckily I found one in a whole sale shop (H. Manjunath Laxman Nayak, Opp Town Bank, Car Street) and took ages to decide which size to buy. Eventually I settled for size# 10 which fills up to 5 litres of liquid. Perfect! The next task was to lug it back to Mumbai without breaking it. I packed it snugly into my cabin bag. However, the airport security at Mangalore asked me to open the bag & were rather amused to see the jar. So out came each & every item from the Pandora's box ~ 3 types of rice, 2 types of jaggery and Christmas goodies made by MIL etc. much to my embarrassment & their amusement! Cost of the jar – Rs 162, excess baggage charges Rs 600, the look on my face ~ priceless!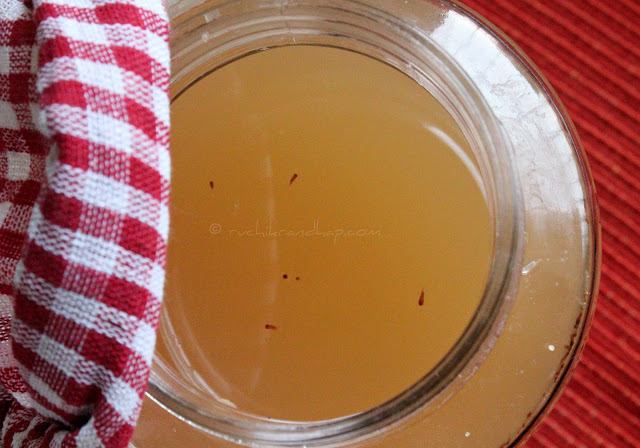 Pin
Anyway, the buyaon has been my most treasured purchase till date, so I don't regret the airport fiasco. My buyaon is already on its way to becoming my wine making companion in the years to come! I am in love with home made wines now!
A big hug & a thank you to my cousin Prema for the inspiration, guidance & tips to help me make this ginger wine. I had so much fun making this wine from scratch – discussing & deciding the quantity of ingredients and size of the jars with her, sharing its progress on a daily basis, reminding each other to stir the contents and clicking & sharing pictures of the wine. Technology has definitely revolutionised the way we share our lives with our loved ones hasn't it?
Prema, I guess we should say cheers & clink our glasses with some 'Blackberry' wine soon 😉 what say?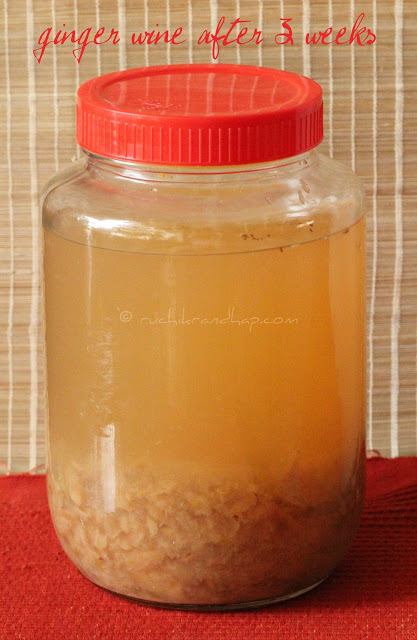 PS: I will update this post with the pictures of the bottled wine in another month or so because currently I have left it alone untouched in the glass jar, in a corner of my kitchen. Do check this post sometime around mid December for some more pictures.
Equipment
a large thick bottomed pan for boiling the liquid

a clean & dry 3 litre glass or ceramic jar ('buyaon' in Konkani/ 'bharani' in Kannada)

a long spoon or spatula to stir the contents

a clean & dry empty wine or liquor bottle

a clean & dry funnel to pour the wine into the bottle
Ingredients
2-1/4

litres

2250 millilitres water

40

gm ginger * see notes

700

gm sugar * see notes

juice & zest of 1 lime

or lemon

juice & zest of 1 orange

100

gm raisins

preferably golden

1/2

tsp

dried yeast

I used DCL

40

ml

brandy
Instructions
Zest (grate the outer rind/skin) the orange & lime and remove their seeds & extract the juices of both the fruits and set aside in the refrigerator. Clean raisins, wash, dry & set aside

Place the ginger in the thick bottomed pan and crush/poke the ginger with a fork, add the water, sugar & zest of lime & orange and bring the water to a rolling boil. Reduce the flame and simmer it for 30mins and then turn off the flame.

Allow the liquid to cool down. When it is tepid (lukewarm) pour the contents into a jar/buyaon. Add 1/2 tsp yeast & cover the mouth of the jar with a thick cloth and tie a knot at the neck of the jar. Keep overnight.

Next morning add the orange/lime juices (at room temperature) & raisins and stir once with the wooden spoon. Cover with the thick cloth & place in a warm dark place for 2 weeks.

You are required to stir the contents daily - ideally use a wooden spatula if you don't intend squeezing the puffed up raisins that remain on the surface with your fingers - this is just to get all the juices out of the raisins.

On completion of 2 weeks you will notice that the sediment has settled down & no longer floats at the surface. Add the brandy, give it a stir, cover & keep for another 2-3 days after which you can strain it into the empty wine/liquor bottle and cork it lightly. I left it for another week untouched (unfiltered). I plan to bottle it just before serving.
Notes
1. You may add extra ginger if you prefer a stronger wine. However, ginger wine can get really spicy so I have added only 40 gms which when combined with the sugar gives out a lovely sweet taste with a hint of spiciness & alcohol.
2. I added an extra 50gm of sugar (total of 750gm), however I think 700gm is perfect as it gives out a delicately sweet wine.
3. All equipment used should be sterile ie washed clean and completely dry with no traces of moisture. You may dry the ceramic jar/bottle & the wine bottle in the sun (preferably) or just dry it out in the shade for a longer time.
Disclaimer
The nutritional values are only indicative.
Tried this recipe?
Please leave a comment & rate the recipe below or share a photo on Instagram and tag me @ruchikrandhap