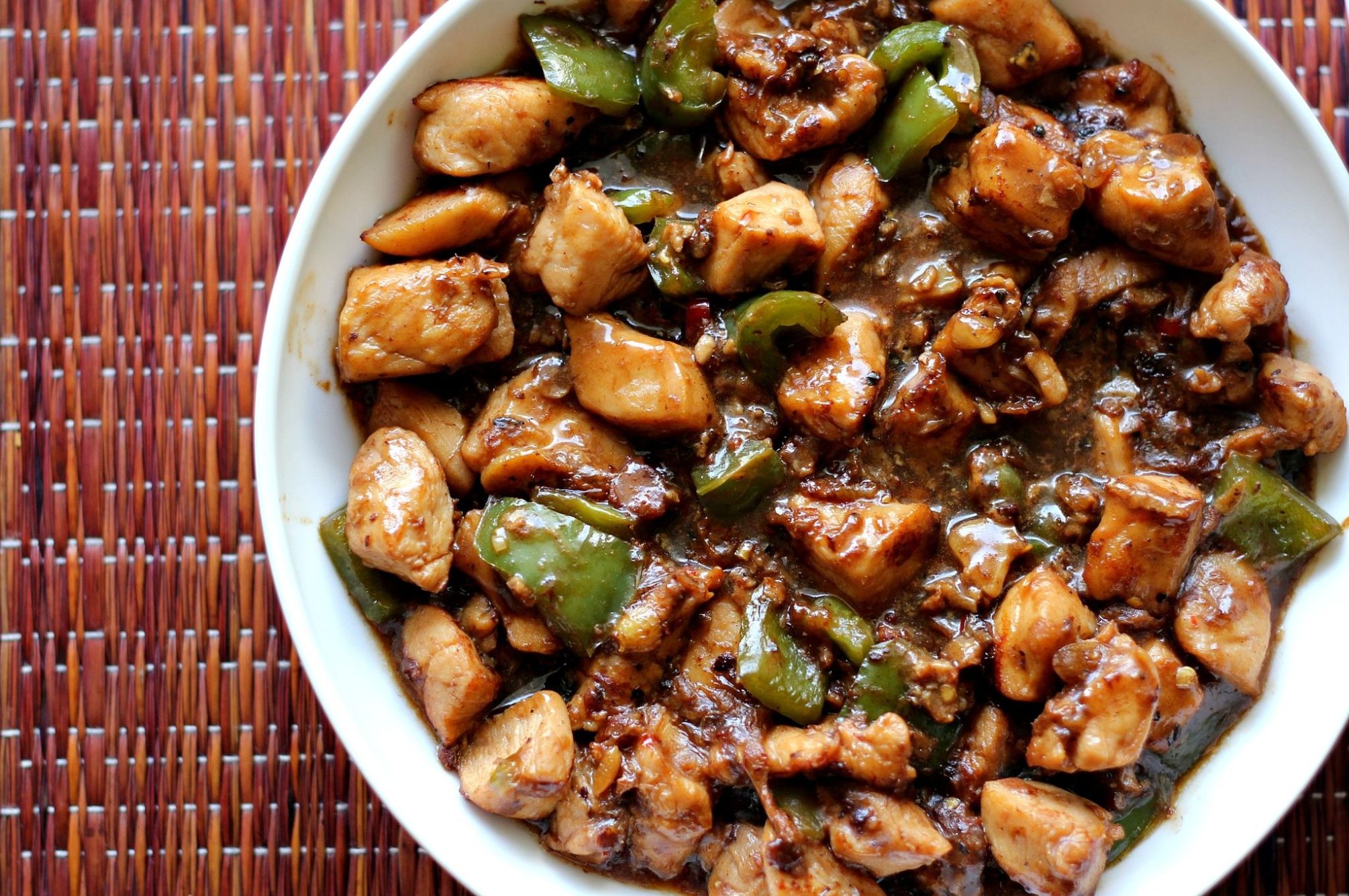 Pin
Garlic & Capsicum Chicken -a stunning accompaniment to fried rice or noodles. I am such a huge fan of Indo-Chinese food that I often try to dabble in some recipes in order to recreate the magic of restaurant food at home. In the past, I failed several times but over the period of time I have come to realise that to make good Chinese food at home, you need to have the basic bunch of condiments and ingredients and some time and patience to prep them up. The final cook time will barely take any time and the food is ready in minutes which is best eaten fresh and hot. What takes time is the chopping up of ingredients. However, if you consider how time-consuming our Indian cuisine can sometimes be, making Chinese food at home can be a breeze.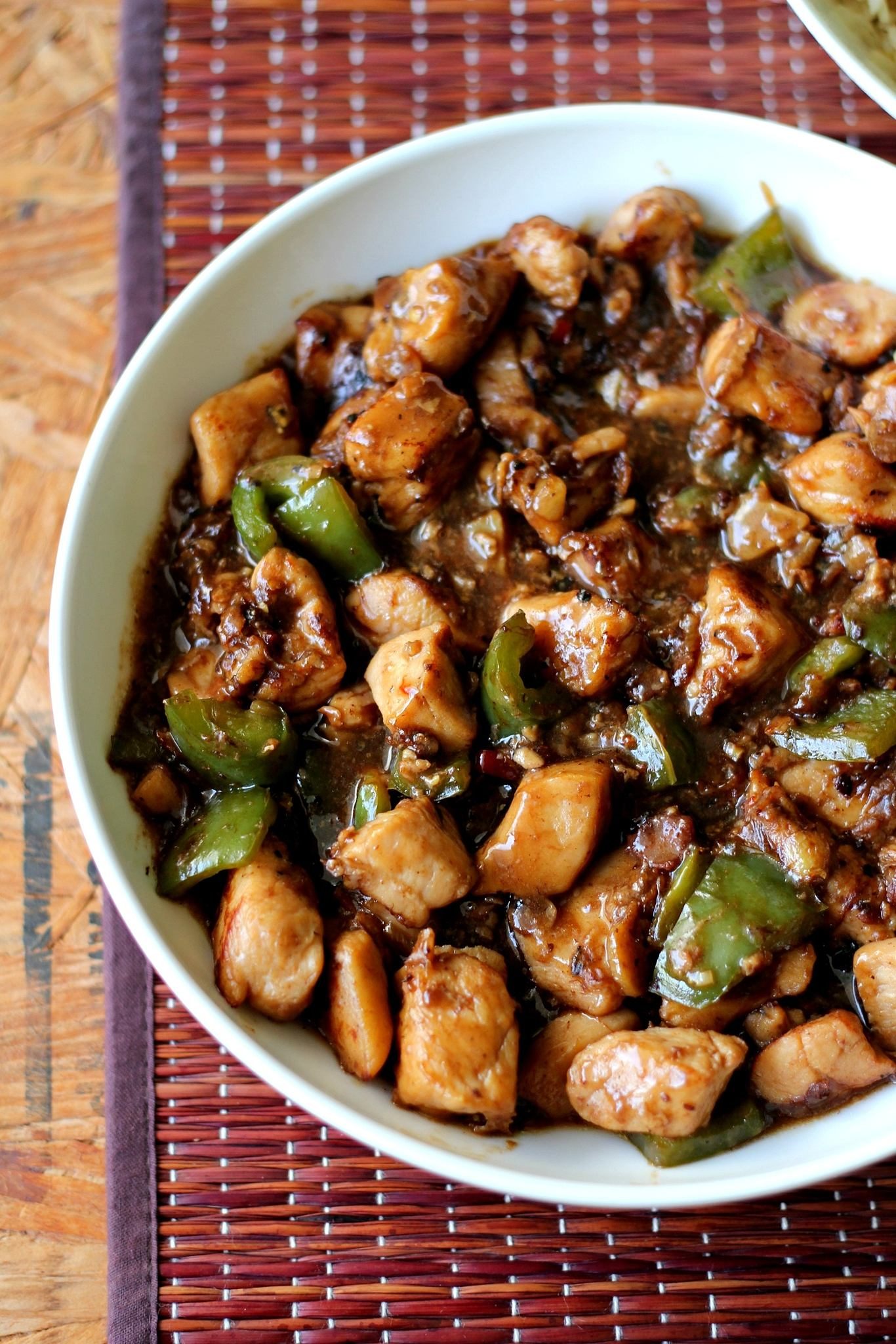 Pin
Since three of us at home love Indo-Chinese food I try out some new recipes every month. Sometime in January, I made the ginger fried rice that I paired with this lovely garlic & capsicum chicken. I generally make fried rice whenever I have some leftover white (cooked) rice in the fridge and since a day old rice works best for fried rice all I have to do is rummage through the fridge for some eggs and whatever veggies languish in there. Since I grow my own spring onions (I just plant onions that begin to sprout) I don't have to make a mad dash to the grocery store to buy any. Since I don't like adding Ajinomoto to my Chinese dishes I can safely assume that cooking at home is far better than eating out although I don't make a regular practice of either.
While the recipe below calls for basic sauces and condiments, please feel free to skip the addition of the red wine and replace the rice wine vinegar with your regular white vinegar. If you want to add some pizzaz to your boring everyday meal do consider making this dish and just pair it with some egg fried rice or simple white rice.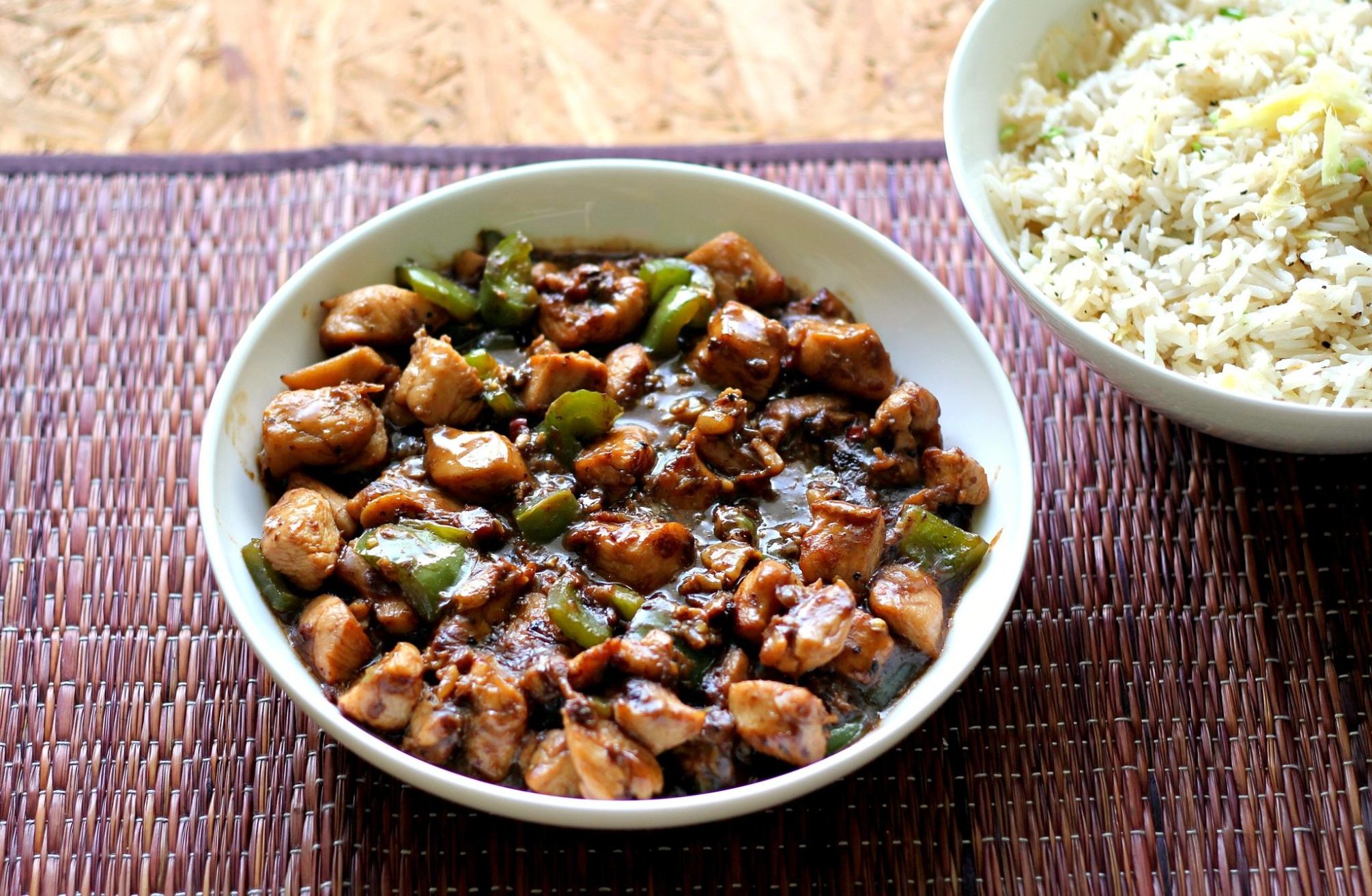 Pin
Save this recipe on Pinterest!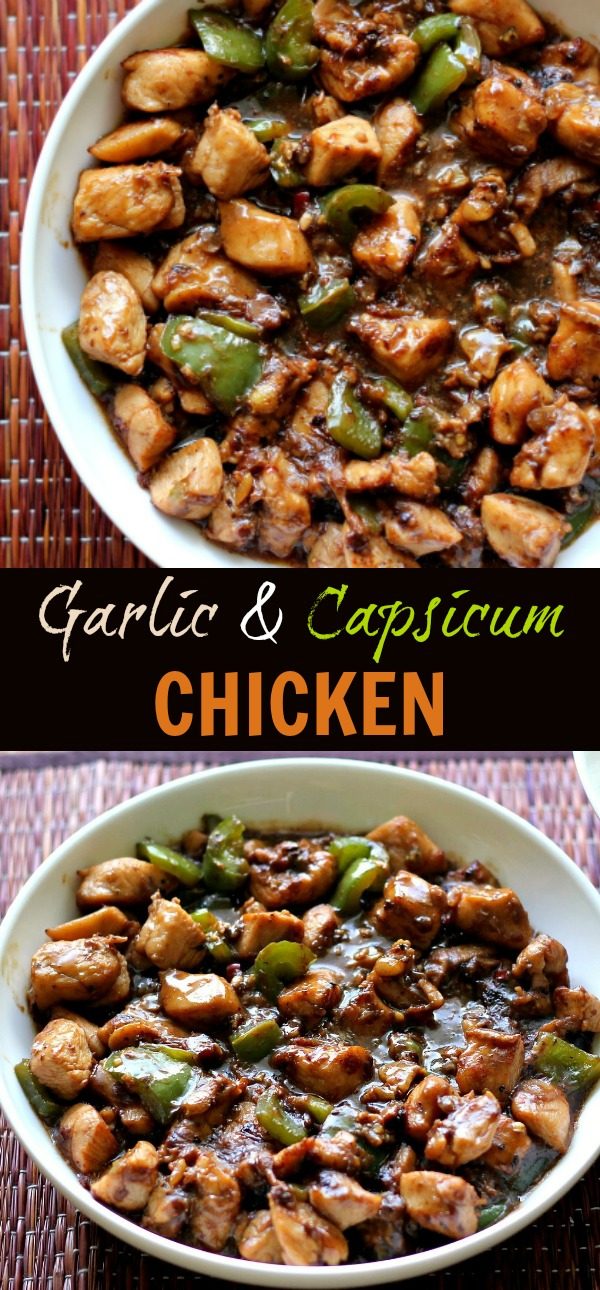 Pin
Garlic & Capsicum Chicken
Garlic & Capsicum Chicken is a perfect accompaniment to plain rice, fried rice or noodles. Perfect for those who love garlic & capsicum!
Ingredients
To be marinated
500

grams

boneless chicken

1

egg

lightly beaten

1

tablespoon

light soy sauce

2

teaspoons

sesame oil

1

teaspoon

cornstarch

cornflour
Other ingredients:
4-5

fat cloves of peeled garlic

sliced thinly (horizontally)

1-2

fresh red

bird's eye or green chillies (adjust to taste), chopped

1

medium sized capsicum

green bell pepper, deseeded & cubed

2-3

tablespoons

vegetable oil or as required
For the seasoning:
2

teaspoons

light soy sauce

1

teaspoon

dark soy sauce

1

teaspoon

rice wine vinegar

1

tablespoon

rice wine or red wine

regular grape wine will do * optional but recommended

1/2-1

teaspoon

sugar

1

teaspoon

cornstarch dissolved in 2 tablespoons water

at room temperature

1

teaspoon

sesame oil

salt to taste

if required

6-7

peppercorns crushed

1/4

cup

water * optional

only if you require more gravy
Instructions
Wash the chicken, pat dry and then cut into bite-sized (small) pieces. Marinate it along with the other ingredients mentioned under 'To be marinated'. Keep aside for 10-15mins

Cut the garlic horizontally into thin slices.

Heat oil in a heavy based wok and fry the marinated chicken pieces on a high heat for approx 2 minutes. Fry the pieces in batches, do not overcrowd the wok or they will get steam cooked. Do not overcook the chicken beyond 3 minutes or the pieces will turn chewy. Remove the pieces using a slotted spoon and keep aside.

Give the wok a quick wipe if you find any burnt remnants of the chicken, otherwise, add some extra oil and fry the sliced garlic till golden. Add the chopped red or green chillies and fry them for 10-15 seconds on a medium high heat.

Add the cubed capsicum and stir-fry for a minute on high heat. Return the cooked chicken back to the wok

Add the seasonings - light & dark soy sauce, rice vinegar, red wine, sugar, cornstarch solution, crushed pepper and water (add in parts). Bring the mixture to a gentle boil while mixing everything.

Take the pan off the heat and serve hot with fried rice or noodles