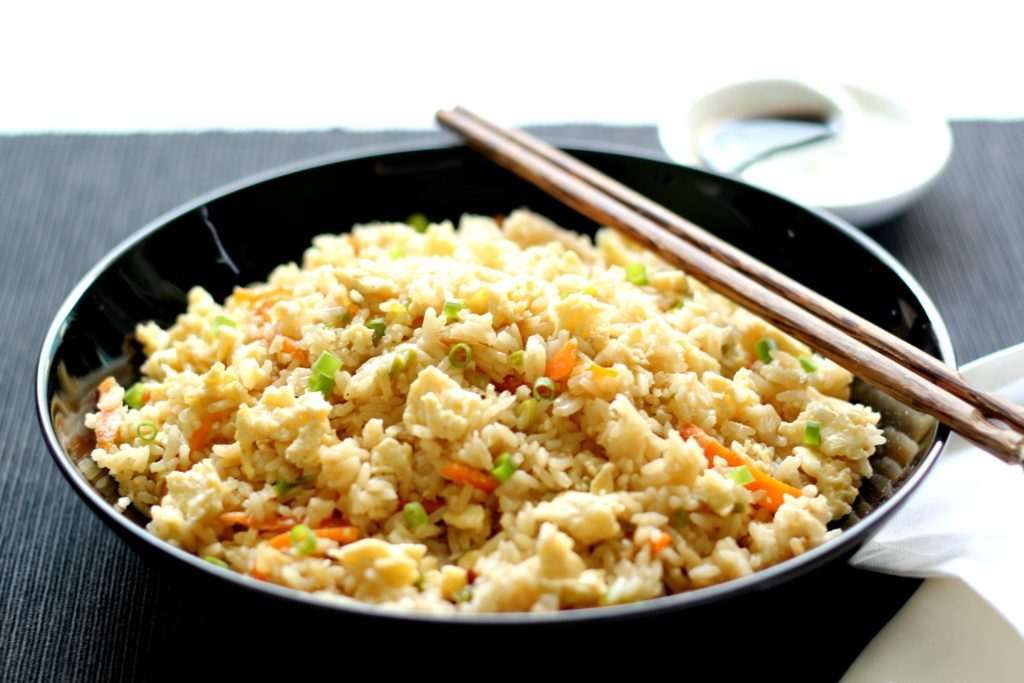 Pin
Is there anything more satisfying than a one pot meal? Being a die hard rice lover I am always on the lookout for simple recipes that are not just easy to make but also nutritious and satisfying. For a mom with kids who are picky eaters this Egg Fried Rice is a perfect saviour! I have been making this fried rice for the longest time but never thought of posting it as I would not go by any real recipe. The outcome of my experiment would also largely depend on how much leftover rice I had in the fridge, plus or minus veggies on hand and some eggs to complete the dish. When my son was little I used to make this a lot more often as he would return from school super hungry but would sulk at the sight of regular meals cooked at home, so yes, I am guilty of making him his favourite meal separately. Sometimes it was the dal khichdi (rice & lentils cooked to a mushy consistency) or curd rice (overcooked rice mixed with yogurt and tempered with seasonings). Over the years I have experimented with tons of one-pot meal recipes that feature rice in some way or the other. I almost always include veggies of some sort as I believe that they not just increase the nutritive value of the dish but they also make the dish taste a lot better. The entire collection of one pot meals is here if you want to give it a dekko.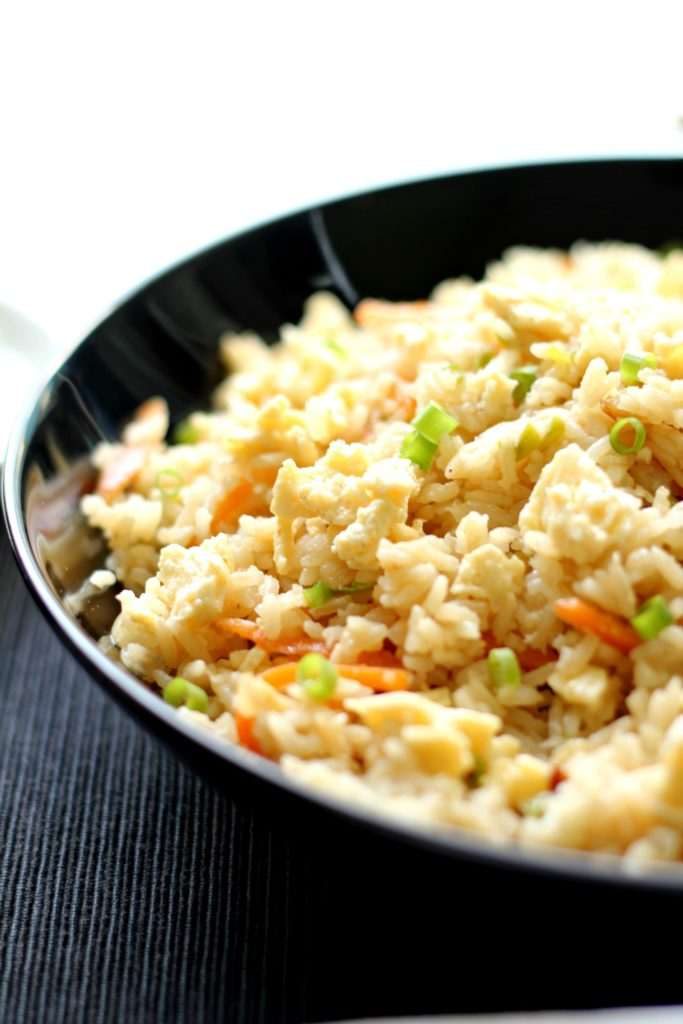 Pin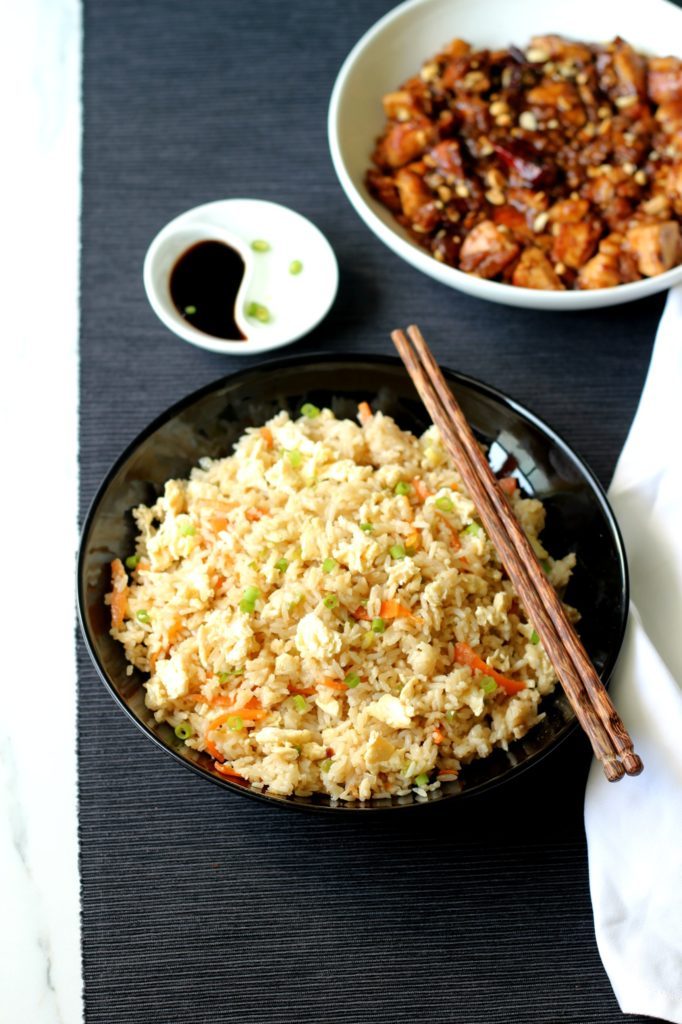 Pin
Coming back to today's recipe, for the longest time I have been apprehensive about my cooking skills when it comes to making oriental dishes. As an Indian, I am like any other who loves Indo-Chinese food. I have literally grown up enjoying it at various eateries, from fine dining to the average restaurant to street food shacks that served the yummiest fare. Having hopped cities during my time in India, finding an Indo Chinese joint was easier than finding the local sabziwala (vegetable vendor) and so my taste buds crave for this cuisine every now & then. However, once kids came my way I refrained from eating out too much as the MSG scare took over my life and I now limit eating out to a minimum. The first time I tried making Chinese food at home was when I was still in Mumbai. The dish flopped badly after which I literally gave it up. The hubby was better at it and so I outsourced the job to him 🙂 Just recently my son insisted that I make him some dish that he had seen in a book and that's how my re entry into the 'Indo-Chinese food cooking world' happened. Okay, its about time that I stopped talking gibberish and let you check out the recipe!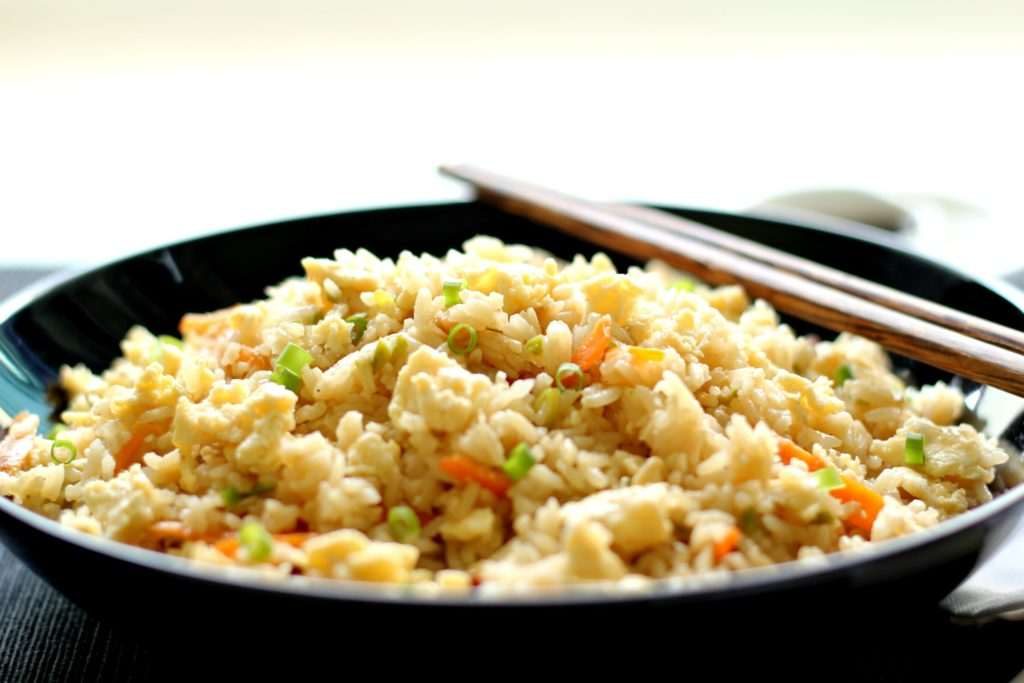 Pin
If you are a die hard fan of oriental cuisine how about trying out these recipes?
Egg Fried Rice
Delicious egg fried rice that goes with any oriental, veg or non-veg side dish. It can also be eaten plain. This simple, satisfying and nutritious one pot meal makes for a great party or lunchbox item too!
Ingredients
4

cups

cooked rice

*see notes

5

eggs, (4 egg whites and 1 egg yolk)

1

med onion, finely chopped

1/3

cup

capsicum, finely chopped

about 1/2 a green bell pepper

1/2

carrot, cut julienne

optional

4

fat cloves garlic, finely chopped

2-3

teaspoons

light soy sauce

1

tablespoon

spring onion greens, chopped

1

tablespoon

sesame oil (meant for Chinese cooking)

1

tablespoon

vegetable oil
Instructions
Separate the eggs - place 4 egg whites in a bowl and to it add 1 whole egg. Basically, we will use more of egg whites and less of egg yolks. This is just to eliminate the strong eggy smell. You may use 5 whole eggs if you please. Whisk the eggs with a little salt to taste (don't add too much salt as the soy sauce will have it)

In a heavy based wok/kadai heat half of the sesame oil and vegetable oil. Pour the egg mixture and fry them over a medium-low heat. Sprinkle pepper and scramble them lightly, and cook for just a minute or two. Do not overcook, the scrambled eggs must be nice, soft and juicy. Remove into a plate

To the same wok add more sesame oil and vegetable oil. Increase the heat to a medium-high and fry the garlic and onions. Add the carrots and fry for 20-30 seconds, then add the capsicum and fry for a few seconds, do not overcook it. 

Add the pre-cooked rice, salt & pepper to taste, light soy sauce and mix well on high heat until everything is well incorporated. Add the scrambled eggs and mix. Garnish with chopped spring onion greens and serve hot
Recipe Notes
To make 4 cups of rice, you can cook 1 cup of jeerakasala rice or basmati rice. Short grain rice is preferred but any rice that doesn't turn mushy will do. Leftover rice that was cooked and refrigerated for 1-2 days work very well too

Pin