The most common definition of 'Dal' is 'thick stew prepared out of dried pulses (lentils, peas or beans) and eaten across India, Sri Lanka, Nepal, Pakistan and Bangladesh. Dal as a dish (or side dish) is probably more famous in its 'thick' form where the lentils are cooked until mushy and then mashed to arrive at a thick consistency. However, to the South Indian, this humble Dal usually made watery thin, seasoned with mustard, curry leaves and garlic and called a 'Saar' is a close cousin of the Rasam. 'Saar's can be of various types depending on the ingredients that go into it. In local language, Soppu Saar is the one that has leafy greens in it while Bele Saar is the one with lentils and Tomato Saar is made of pureed Tomatoes. Bele Saar is what is called as 'Daliso Saar' in Konkani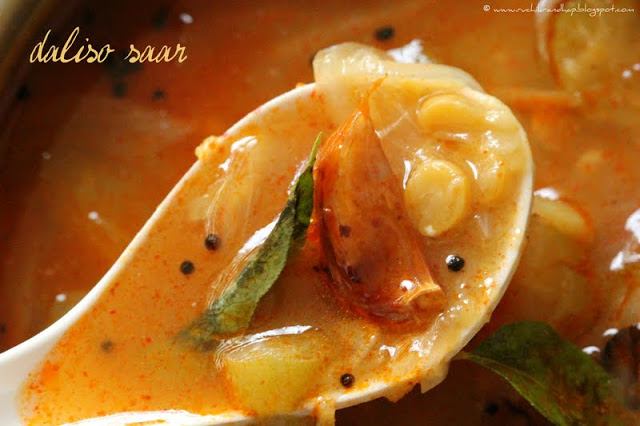 In Mangalore, since we have an abundance of
Bilimbi
Trees (at least one tree per backyard), 'Bimblies' – small oblong sour fruits often find themselves in our Dal preparation as the souring agent. Alternatively even tomatoes are used to prepare the 'Daliso Saar'. The Bilimbi commonly known as the Bimbli/Vilimbipuli in local language across South India is a close cousin of the Carambola (commonly known as 'Carmbaal' or Star Fruit) and is said to have originated in Tropical America and spread to other parts of the world especially South Asia. So often the term 'Daliso Saar' is interchanged with 'Bimblyanso Saar'.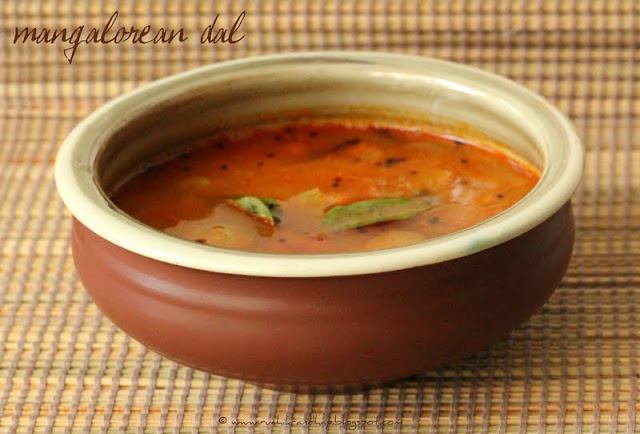 Dal is probably one of the most versatile dishes forming an essential item on the every day menu of thousands of households across India. Dal being one of the best sources of protein is what the vegetarians heavily bank on as this is one of their few inexepensive yet rich sources of protein. While in North India, the thick dal is eaten along with rotis (flat bread) if you travel down South, it is more watery in consistency and is eaten with rice and vegetables. Well, I know a lot of North Indian friends who shriek at the sight of so much water that forms the base of our 'Dals' but then call it 'Lentil Clear Soup' if you please, you will still find this fragrant concoction irresistible & satisfying – especially when you have it along with steaming hot boiled or white rice with a side dish of any vegetable made 'Thel Piao' (Thoran) style with a nice chunky piece of spicy fish fry for company. Divine!!
Irrespective of how you make it, Dal is Dal – eat it in any form and with any thing, it will never fail to satisfy you. I couldn't agree more with my friend Michelle who says that every household in India will have their own version of dal and naturally everybody's mum cooks the perfect one which outshines yours anyday. Even in Mangalore we have several versions of the Dal and every die hard Dali Tove (also called as Dalitoy) fan will claim theirs is the best version. I will post the recipe of that as well, but for now it's the Daliso Saar – a favourite in most Mangalorean Catholic households and definitely my husband's favourite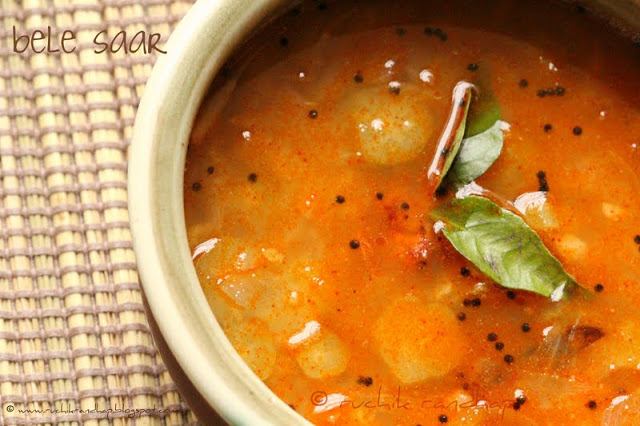 Daliso Saar/Bele Saar
Serves 4


You Need:
1/2 cup toor dal (split pigeon peas)
2 cups water (or more)
1 inch ginger chopped
2 cloves garlic chopped
2 green chillies
1 medium size onion sliced fine
5-6 medium size bimblies sliced into thick rounds or 1 small tomato sliced
2 tbsp coriander leaves roughly torn (optional)
salt to taste
2-3 drops of oil
For the tempering
1/2 tsp mustard
2 cloves garlic crushed
4-5 curry leaves
1/2 tsp bafat powder or chilli powder
2-3 tsp oil
Method:
1. Wash the lentils 2-3 times (or till the water runs clear) and pressure cook them for about 2-3 whistles with 2 cups of water, a little salt & 2 drops of oil (which speeds up the cooking). When the weight (whistle) turns loose, remove the lentils and keep aside and put the water into a pan. The lentils should be 90% cooked (they will break across the edges) – this is if you want to eat whole lentils instead of them turning too mushy. If you prefer mushy, cook the lentils a little longer
2. Add the sliced/chopped ingredients – onion, ginger, garlic, green chillies into the lentil water, check salt & add more if required. You can even add some more water if you prefer it watery. When the ingredients are almost cooked, add sliced rounds of bimblies and boil for another minute or so.
3. Add the cooked dal which was kept aside and give it one boil. Now the 'Saar' is ready for seasoning
4. For the seasoning, keep the bafat or chilli powder handy in a small round ladle. Heat some oil in a small pan and toss in the mustard, when it splutters add the crushed garlic and reduce the flame. Toss the garlic about till it turns pale brown and add the curry leaves and immediately add this mixture to the bafat powder – this way you can avoid the masala powder from burning. Add the entire seasoning to the 'Saar'. Turn off flame, toss in the coriander leaves, cover the vessel and serve hot with rice.