Chocolate & Avocado smoothie ~ a perfect after-school drink for growing kids! How I wish I had such fancy things to enjoy during my growing up years! Well, to be honest, my mum did serve us some delicious stuff like the bread pudding, sheera and beetroot bonda. We had a host of other yum stuff to gorge on – most of which I am yet to recreate in my own kitchen here. Very occasionally she would put together a quick bowl of Maggi instant noodles – something that was considered to be 'healthy' in those days and something that we greatly relished. She would throw in some veggies sauteed together with onions & tomatoes for good measure. Today we all know that instant noodles are only meant as an occasional indulgence or an emergency food option. At least that is how I treat it. 
Avocado, on the other hand, has been my most favourite fruit of all time. When I was little, my mum would scoop out the fruit and mash it up well with some granulated sugar and I would thoroughly enjoy it. We called it the butter fruit as its texture resembled butter – bland. I think that's how we Mangaloreans know it. Over the years I have tried a couple of vegan recipes using this fruit. Avocado popsicles are a perfect treat to beat the summer and Guacamole is a delicious dip that tastes great with tortilla chips.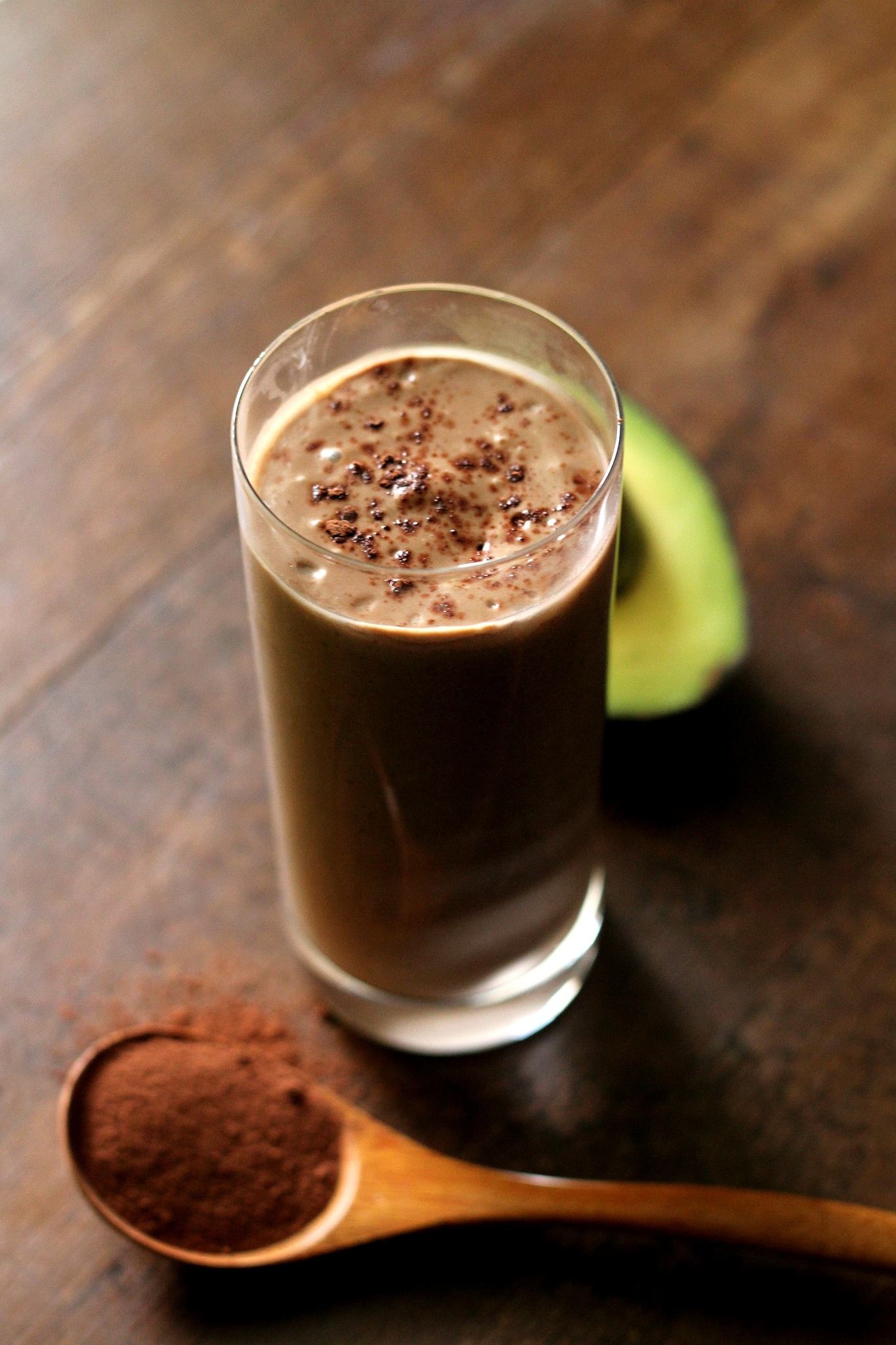 Anyway, ever since I discovered that the avocado could be wisely disguised in the form of this lusciously delicious chocolate smoothie, my life has been sorted (at least as far as serving my kids something nutritious and easy). You know, chocolate is such a powerful flavour that it can mask or dominate the flavour of most things and undoubtedly the avocado is but a gullible & mere accomplice to this scheme of mine. For the longest time, my kids didn't figure out the taste of avocado and gulped down cupfuls of this delicious concoction until the day I decided that it was about time I shared the recipe on the blog. When they saw the avocado placed next to the glass as I was shooting the pictures they were flabbergasted and couldn't fathom the idea of drinking something with a fruit in it. After a bit of coaxing and promising them that they would love the taste as it was something they had been drinking & enjoying all along, they did and loved it too. So I am a happy mother now.
If you are a mom looking to serve your kids something really nice, do give this smoothie a try. If you like you can add a few chunks of papaya or chickoo (sapota) or even half a banana to make it more nutritious (I do that whenever I feel wicked 🙂 ) In the end it's all about trying to get our little ones to eat something healthy, isn't it?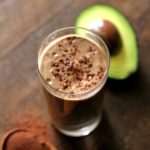 Chocolate & Avocado Smoothie ~ With Vegan Options
Chocolate & Avocado Smoothie ~ With Vegan Options is a super delicious beverage to enjoy during summer. It is perfect for kids as an afterschool smoothie/snack as it is very filling and nutritious too
Ingredients
1/2

of a ripe avocado

1-1/2

cups

milk

regular or vegan milk of your choice

2

teaspoons

unsweetened cocoa powder

1

tablespoon

muscovado or demerara sugar

adjust to taste

1

teaspoon

nut powder

optional * see note

1/2

teaspoon

flax seed powder

optional
Instructions
Remove the stone from the avocado and scoop out the pulp from one half into the blender

Add the rest of the ingredients and blitz them together until everything has mixed

Pour into glasses and serve. You can drizzle chocolate sauce or dust some cocoa powder if you wish
Recipe Notes
You can use any dairy-free milk such as almond, cashewnut, soy, coconut, rice, hemp or teff milk