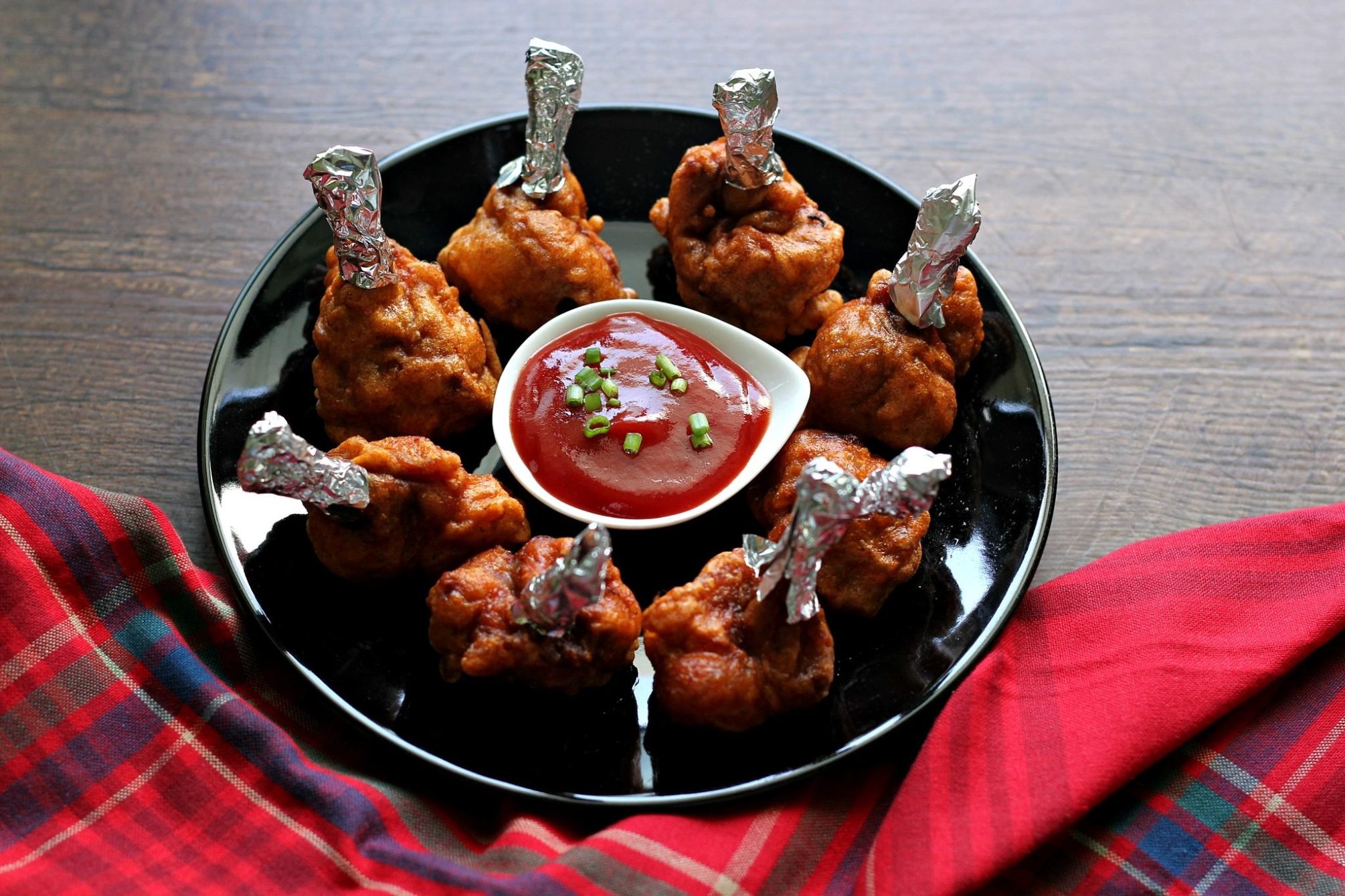 Pin
Chicken Lollipops – who doesn't like them? I haven't yet found a person who doesn't (Okay, I am exaggerating! My son doesn't like them but my daughter shrieks in delight at the sight of them). Chicken lollipops are essentially the wings of a chicken that are given a makeover. The wing is given a small slit at its base and the flesh bunched up towards one end of the bone thus resulting in two lollipops from a single wing. In India you will find chicken lollipops offered on every restaurant menu worth its salt. From the roadside dhaba (eatery) to the pish posh restaurant in your neighbourhood, everyone has their own version. From what I know, it was introduced by the bunch of folks who popularised Indo-Chinese restaurant in India but like I said before, everybody has their own story about its history. While some like their chicken lollipops to taste more Indian than Chinese, others like it served with some soy sauce and a super spicy dip on the side. The ones who serve it desi style are those who will also liberally garnish the lollipops with chaat-masala and serve it with a side of onion rings and lime wedges. If you are looking for that version here's the recipe of the desi style chicken lollipops for you. But if you like an Indo-Chinese twist to the pops, here's the right recipe for you!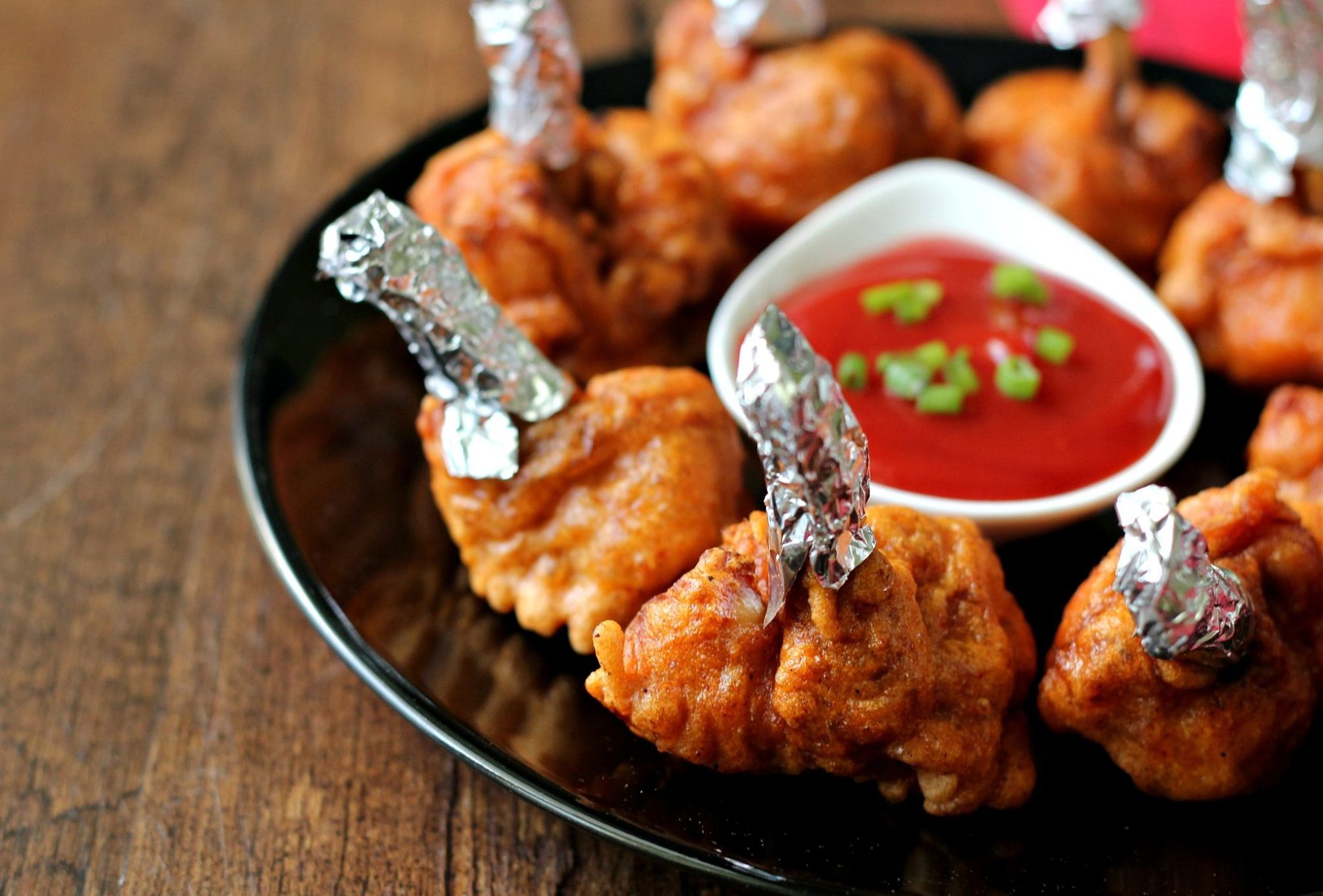 Pin
This recipe is loosely adapted from one of the Tasty style videos. Now, don't ask me which video because there are simply too many taking up our newsfeed on FB these days, no? They are a visual treat and I wish I could create magic like that but to be honest video shooting and editing (not to forget planning and prepping) is a very time consuming albeit satisfying job. I corrected the recipe to suit our taste buds as the original would've turned out supremely spicy and that is what we wanted to avoid keeping our little guests in mind.
Needless to say, the lollipops were a roaring hit. We fried them an hour in advance to save us from the last minute rush and just placed them in an oven proof tray covered with aluminium foil and popped the tray in the oven to keep warm until they arrived. They were at the perfect temperature when we served them and crisp on the outside and juicy inside as they are meant to be. The dip that you see is a store bought tomato-chilli-garlic sauce but you can use whatever you please. Do try these for your next Christmas or New Year party and drop me a line at [email protected] I'd love to hear from you!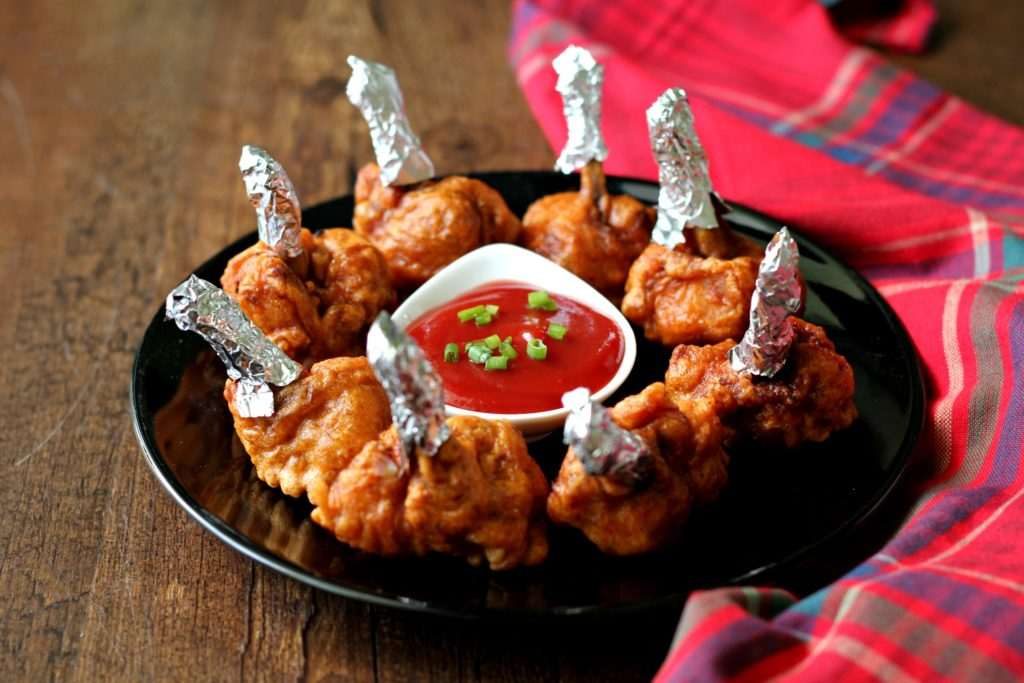 Pin
Click to save this recipe on Pinterest!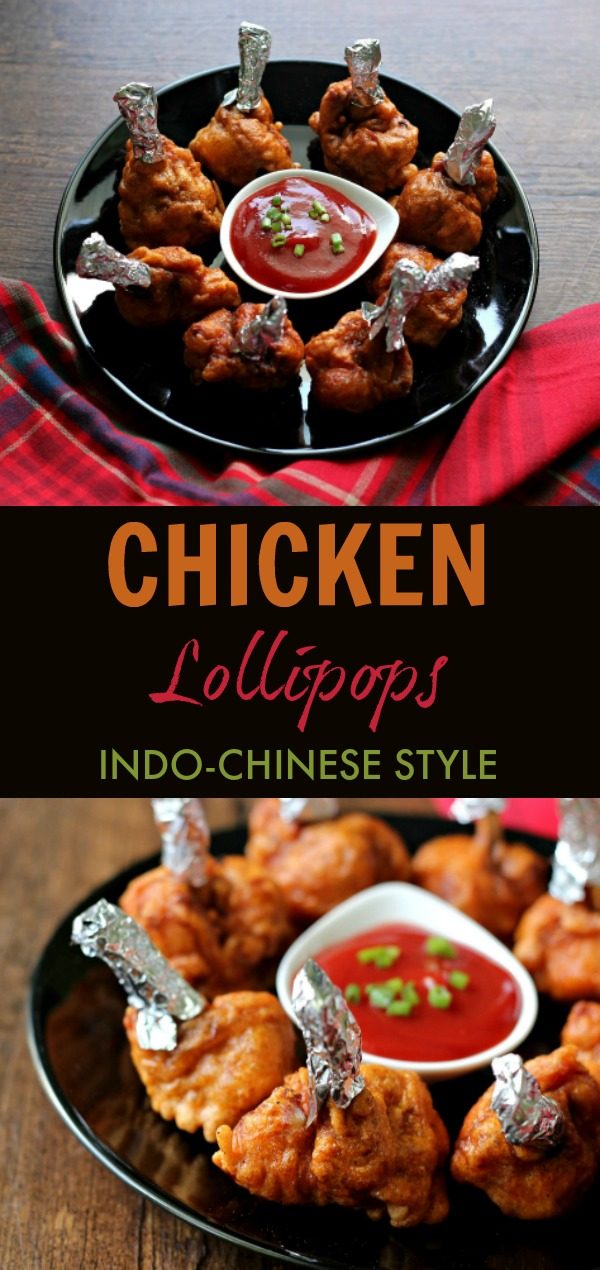 Pin
Chicken Lollipops ~ Indo-Chinese Recipe
A great option for a party appetizer, these lollipops are finger licking good! They are sure to win many hearts!
Ingredients
1.2

kg

chicken lollipops

approx 44-45 pieces

oil for deep frying
For the marinade:
1-1/2

tablespoons

red chilli powder

I used Kashmiri

3

tablespoons

ginger-garlic paste

1/2

teaspoon

pepper powder

1

teaspoon

salt

or to taste

4

tablespoons

soy sauce
For the batter (to coat the lollipops):
1

cup

120 grams all purpose flour (maida)

1

cup

120 grams cornstarch (cornflour)

2

eggs

1/2

cup

of water
Instructions
Wash the chicken lollipops in 2 changes of water and drain them in a colander. After most of the water drips away, transfer them on an absorbent kitchen tissue or a clean tea towel and pat the pieces dry.

Place all the ingredients mentioned under 'For the marinade' in a large wide based bowl and mix everything together. Add 2-3 teaspoons or just enough water to achieve a thick paste. Add the chicken lollipops to the bowl and mix until all the pieces are evenly coated with the marinade. Keep aside for at least 20 minutes, overnight for best results. You may marinate the chicken for upto 48 hours before frying them.

When you are ready to fry the chicken, prepare the batter to coat the pieces. For this, take all the ingredients except the 1/2 cup water mentioned under 'For the batter' in a bowl. Add the water in parts while continuously whisking the ingredients to achieve a smooth, lump free batter. The batter should neither be too thick nor too thin. If you drop it with a spoon from a height it should fall in a steady stream.

Heat the oil for deep frying in a kadai/deep saucepan. The oil should be medium hot, if it is too hot, the coating will burn too quickly leaving the chicken uncooked. The oil may take a while to arrive at the correct temperature so have patience. If the oil is not hot enough you will end up frying them for too long resulting in ultra-oily chicken lollipops that no one will want to eat. To test the readiness of the oil drop a little batter into the oil and it should bob up to the surface at the count of 8 or 9 and sizzle.

When the oil is ready, take the marinated chicken lollipops and dip them all into the batter - this is an alternate way of coating them. By placing all of them together they will all turn out evenly spiced. If you dip them one by one, when you get to the last few pieces of the lollipops, all the spice from the previously dipped lollipops will make the batter too spicy and you may get lollipops that range from mildly spiced to very spicy ones. However, you can use any method you like.

Drop as many coated lollipops into the hot oil, as the pan can comfortably accommodate. Do not overcrowd or it will mess up the temperature of the oil thereby taking longer and resulting in lollipops that may not be evenly cooked inside. Fry until the lollipops are golden in colour.

Using a slotted spoon/spatula take them out and transfer them onto an absorbent kitchen tissue. Serve hot with tomato ketchup or a dip or chutney of your choice