A couple of days ago my friend Rinku told me that if I wasn't going to start blogging again soon, I would forget what it was all about! She was so right. Ever since I returned from my Christmas holiday the home has beckoned me to tackle every possible thing that I didn't do while on vacation – doing the laundry, cooking, sorting, de cluttering and tuning myself back to a 'routine life' – things that sap the energy out of you and make you wish that you could take off on another vacation! So blogging has taken a back seat as I was trying to fit in the above mentioned mundane tasks and a fresh bunch of things I want to achieve this year – commonly called as 'new year resolutions'. To be honest I never make new year resolutions on the 1st of January – (I make & break new resolutions everyday – Ha Ha!)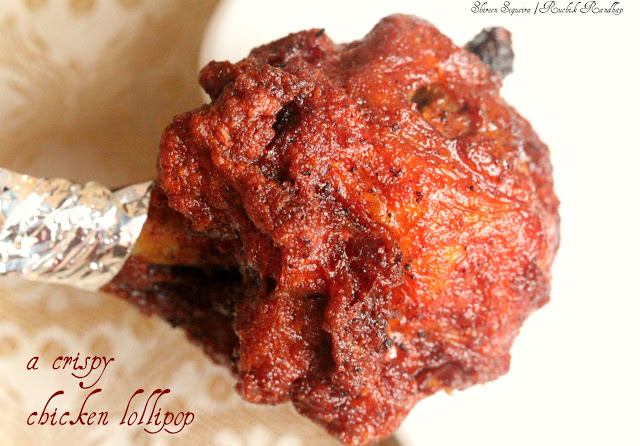 I didn't intend this to be a post on my achievements of the previous year or the things that I want to achieve this year. I'd rather write that post at the end of this year if and when I have achieved those things, but I realised that sometimes you have to think aloud to reinforce your intention of getting something done. It is like making a commitment in public that you are bound to honour lest you lose face if you don't complete it. So technically you can say that the reason behind not posting more than one recipe in the last15 days lies behind the very resolution for this year – to read more books – physical books that are falling off my book shelf for lack of space. Did I ever tell you that more than reading books I accumulate them with a hope of reading them 'soon'? That 'soon' hasn't come in years and all I have is piles of brand new books unread waiting to fulfil the purpose of their lives. I can't part with them either as I hate lending my books (they usually never come back – it's a universal truth) Neither to do I sell my books at the second hand shop because I intend keeping them for my son to read when he grows up. But with all the eBooks and Kindles and iPads I wonder if technology will get the better of him or if he will respect the piles of books his mother has lovingly collected for him all these years. So yes, coming back to my resolution – I tried to stay off the blog and read some books – I flopped myself on my couch and thoroughly enjoyed the experience of reading a real book – with real pages – pages you can touch and feel and burrow your nose into, taking in the fragrance of the books and letting even your senses enjoy the experience of reading – eBooks are devoid of this fabulously personal experience. So after having read a book cover to cover in 2 days I headed back to the bookstore and bought some more fat classics that should see me through till the end of March at least – so I am a happy girl now!
Pin
Since I consider 2011 to be one of the crappiest years of my life, I was really looking forward to 2012 – and I have decided to focus on someone who never got too much attention till date – Me! Yeah, it sounds selfish, but I think as moms we begin to neglect ourselves without realising it and put everything and everyone else ahead of us. So this year will be about taking care of my health (those seemingly insignificant things such as taking care of my feet, hair, nails and skin) and happiness (reading a lot of books, watching a lot of movies and blogging at leisure of course). Yeah, that's all – nothing over the top – I told you I don't make major resolutions. I think one needs to break down those major ones into baby steps and tackle them one by one lovingly. And even if I don't achieve all of these in this calendar year, it does not matter. Life is all about forming good habits that go a long way – not just something that has a start & end date like a project or course or even a bottle of medicine.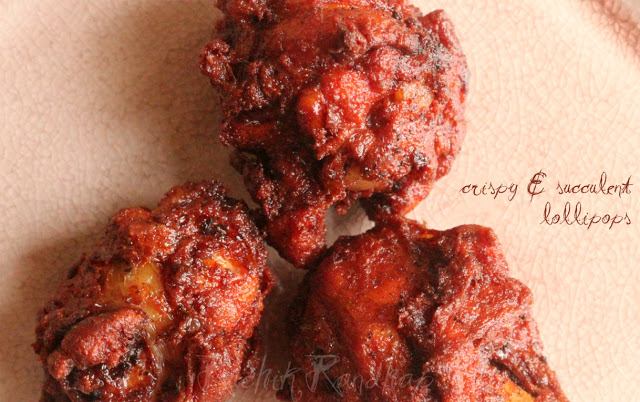 Another thing that I really want to do this year (not a resolution as such) is to make things from scratch  – that includes a whole range of things – from grinding my own masala powders to utilizing my kitchen waste to make organic compost that can be used for my plants. Compost? Well, will leave that for another post. For now, I am back with another recipe that will delight most readers. I say 'most' because unless you are a pure vegetarian or do not like deep fried foods, you simply cannot resist these irresistible chicken lollipops – the star attraction of most Indian parties. The young and the old will love them – a delicious appetiser. Crunchy on the outside and succulent on the inside these lollipops are best eaten fresh and piping hot with a sprinkle of chaat masala powder and served with onion rings and a dip, sauce or chutney of your choice.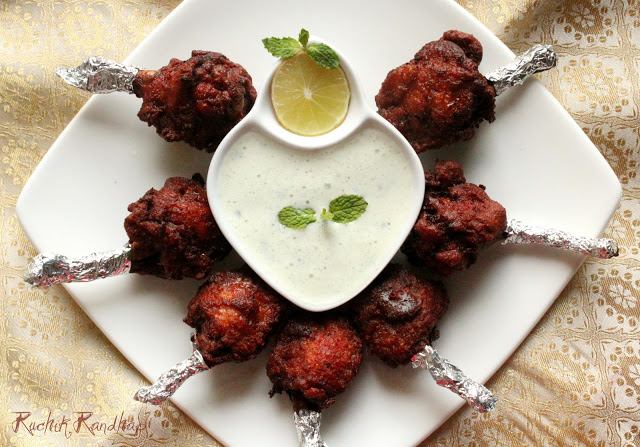 While using a store bought masala powder is the easiest thing to do if you are trying to make this appetiser for a bunch of guests who drop in on short notice, you can try the method of grinding your own masala and marinating the chicken a day in advance and refrigerating it. It will take your load off this extra task on the day of your party and you can focus on other things.
I keep improvising on the masala by adding a bit of this & a dash of that and the result is always satisfying. Do give it a shot when you are planning the menu of your next party!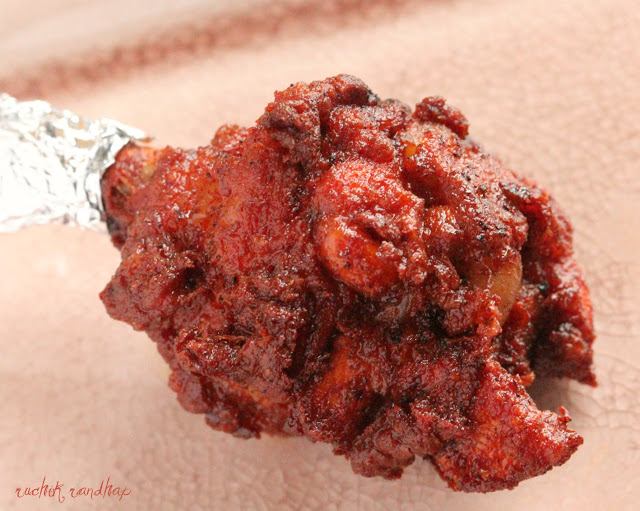 Ingredients
1

kg

chicken lollipops (approx 32-34 pieces)

oil for deep frying (about 1 litre

strips of aluminium foil to wrap the base of the lollipops
For the marinade
1/4

tsp

turmeric

1/2

tsp

coriander powder

1

tbsp

garam masala powder

1/3

cup

(30gms) cornflour (cornstarch)

1/3

cup

(30gms) all purpose flour

1

egg

juice of 1 small lime (optional - use this if you are not using sour curds)

1/2

tsp

amchur (dried mango powder - optional)

2

tbsp

finely chopped coriander
To be ground to paste
10

bedgi chillies *see notes

10

kashmiri chillies * see notes

a 3 inch piece ginger

10 -12

flakes

garlic without skin

2/3

cup

cup thick, sour yogurt (curds)

salt to taste (about 2 teaspoons)
For garnishing (optional)
2

sprigs coriander or mint leaves, chopped

lime rings or wedges

onion rings

a sprinkling of chaat masala powder
Instructions
Marinating the chicken

Wash the chicken lollipops and allow to drain completely on a colander. If you find traces of water, pat them dry with a kitchen tissue. Keep aside

Grind the ingredients mentioned under 'To be ground to paste' - use a little water only if required as the curds is sufficient to help grind the dry ingredients. Transfer the paste into a wide deep bowl, add the remaining ingredients mentioned under 'For the marinade' and mix well. Check the taste & adjust salt & lime juice as required.

Add the chicken lollipops and marinate the pieces well. Refrigerate for at least 4 hours. Ideally keep the chicken marinated for 8-12 hours before frying.Frying the lollipops

Heat oil in a deep heavy bottomed kadhai or wok. The flame needs to be on a medium high as a full flame will burn the lollipops on the outside and leave the insides uncooked. The oil is ready for frying when you drop a small piece of marinated meat and it comes up to the surface within 2-3 seconds. The oil should not to be too hot or else the outsides will brown too fast leaving the chicken uncooked.

Carefully drop 5-6 lollipops (or as many as your kadhai can comfortably accomodate) into the hot oil and fry for about 3-4 minutes until the colour deepens to a dull red/maroon. After a couple of batches of frying reduce the flame slightly if you feel that the outside is browning too fast.

Remove carefully with a slotted spoon, drain the pieces of excess oil by slanting the spoon against the sides of the kadhai. Transfer the lollipops onto an absorbent kitchen tissue.

Repeat the process to fry the remaining pieces.

Plating & serving

Wrap strips of aluminium foil around each lollipop bone and place on a serving plate.

Decorate the plate with onion rings and/or lime wedges or rounds.

Garnish with chopped coriander/mint leaves.

Serve hot with tomato sauce or a Mint & Yogurt Dip (Recipe to follow)
Notes
The chillies (10 bedgi & 10 kashmiri) may seem a lot, but for the above mentioned quantity of chicken lollipops it is moderately spicy. The combination of flour (maida) and cornstarch (cornflour) balances out the spice, however use your discretion and increase or decrease the quantity of chillies. Note that the Bedgi variety are for the spice and flavour and the Kashmiri chillies are low on spice but lend a beautiful colour - this eliminates the need to use any food colouring. You can use any variety of chillies that are spicy along with the Kashmiri variety.
Disclaimer
The nutritional values are only indicative.
Tried this recipe?
Please leave a comment & rate the recipe below or share a photo on Instagram and tag me @ruchikrandhap