The baking bug bites me every now & then, however I somehow cannot find the luxury of time to get baking these days. This is because cake baking calls for meticulous measuring out of ingredients as that is the very premise of how a cake turns out (this is how I do it)- unlike other techniques of cooking food that allow you to adapt to your requirement.
My stay in Mangalore saw me eat a lot of sponge cakes of all shapes & sizes from various bakeries. The typical one that I loved had caraway seeds in it. Simple yet flavourful. My dad used to make sure that he always bought me some from the erstwhile M. D'Souza & Sons bakery on Market Road.
They were small rectangular shaped sponges that were stacked high in their glass goodie display counter. I spent many a Saturday afternoon having them along with my evening tea before rushing to church for the 6pm mass.
Anyway, till about recently I didn't know that this simple sponge had a real name to it – the seed cake or the caraway seed cake. I found a mention of this recipe in one of my mum's recipe books which was in tatters so I had to google for a more accurate recipe and came across one by Nigel Slater which I have adapted.
If you notice, the title of this post also says 'the cake that survived' – well, when I started baking this cake I couldn't wait to taste it. Since I was using the gas oven (at my brother's place) I was in and out of the kitchen keeping an eye on the oven temperature. If you've worked gas ovens you will know that the oven temperature is usually not stable like the electric oven where you set the temperature and time and leave the oven to do its job, perhaps come to check on the doneness of the cake towards the end of the baking time. With a gas oven, you may need to monitor and adjust the flame if the temperature exceeds what's mentioned in the recipe. So 15 minutes into the baking time I noticed that something was wrong and the oven wasn't emitting any 'warmth' even when I stood close to it. To my dismay the gas had gotten over and we had to place an order for another cylinder. Now what do I do with my half baked cake? It was around 50% done and I was in no mood to chuck it into the bin as all of us were looking forward to it. I let it sit in the oven for almost an hour before I logged into Facebook and posed this SOS question to a group of foodies. I got many valuable suggestions about what I could do with a cake that was in a semi solid state. One of the suggestions was to freeze it and bake it later. So that's exactly what I did.
Just as I had expected, the gas cylinder delivery got delayed by a couple of hours instead of the usual 30 minutes. From being half baked to sitting in an oven slowly losing its temperature to being freezed, thawed and re-baked – this cake went through a lot of trauma yet survived!! Four hours after I had started this whole baking programme I popped the tin once again in a preheated oven and this time baked beautifully – rose as if it were destined to rise and tasted wonderful. It was such a great accompaniment to our evening teas for the next couple of days.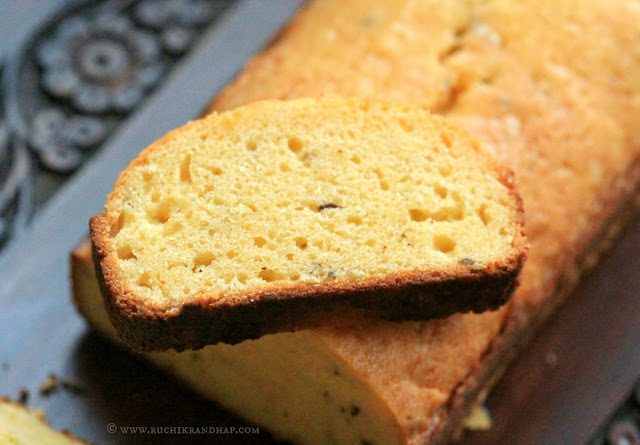 Pin
So I hope you can try this cake without any hiccups like I faced. And if any of you faces a similar problem with a gas fuelled oven or worse, a power outage when an electric oven is used, remember to cling wrap/cover and safely tuck the cake tin into your freezer for later use.
Seed Cake
A simple sponge cake with a interesting hint of caraway seeds that act like an instant pick-me-up!
Prep time: 10 mins | Bake time: 45-50mins | Yield : one 8×4 inch loaf pan
Ingredients:
175 grams all purpose flour (maida)
3/4th teaspoon baking powder
1/8th teaspoon salt
150 grams caster sugar
125 grams unsalted butter at room temperature
3 eggs
1 teaspoon vanilla extract
1 teaspoon lemon juice (optional)
1 teaspoon caraway seeds (black cumin/persian cumin/shahjeera)
2 tablespoons milk
Method:
1. Preheat the oven to 170 degrees C. Grease a 8×4 inch loaf pan and line it with baking parchment (butter paper). Sift the flour, baking powder and salt a couple of times and set aside.
2. In a bowl add the butter, sugar and whisk it till well incorporated. Add the eggs one at a time, beating well after every addition. Add the milk, vanilla extract and lemon juice if using and mix well.
3. Add the sifted flour mixture in parts and carefully fold. Do not overmix. Add in the caraway seeds. If the batter appears too thick add another tablespoon of milk and mix.
4. Pour the batter into the prepared baking tin and bake for about 45-50 mins to 1 hour or until the cake has risen and a skewer inserted comes out clean.
5. Place the tin on a wire rack and allow to cool for 10-15mins before inverting it on the same rack. Cool, cut and serve.