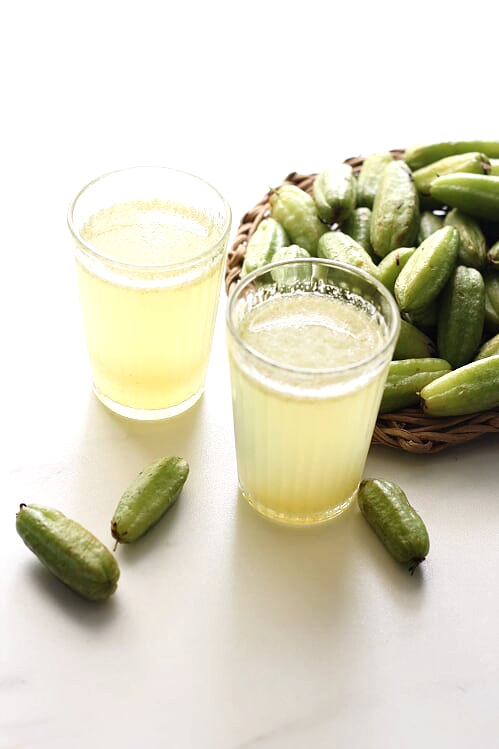 Pin
Sometime last month on his return from a short trip to Mangalore, my hubby brought with him a huge stash of the bilimbi fruit. While botanically it is called as the Averrhoa Bilimbi, in Mangalore it is called by the names bimbuli or bimbli. While it is popularly used as a souring agent, added to fish & vegetable curries, instead of or along with tamarind, there are other lesser known uses. Bilimbi is used in pickles when it is still small & tender and as it matures is used to make squashes, wines or instant drinks. As a child I loved plucking a few whenever my mum wanted to add them to curries and sometimes I would just pluck a few and dip them in a little salt before consuming. Most of the fruit just fell off and became one with nature only to be reborn as a new plant or perhaps nutrient rich soil for the very tree that bore it. Almost every house in Mangalore that had a yard/garden would have this tree, most often than not, neglected but thriving on its own as the tropical climate of the sleepy town suited it so well. Over the years I somehow managed to get this fruit and freeze it. This is the only fruit that we never got in the markets of Mumbai and now Dubai. Perhaps the very short shelf life is to be blamed. This fruit turns squishy when it withers away and does not last in its original form for beyond a day at room temperature.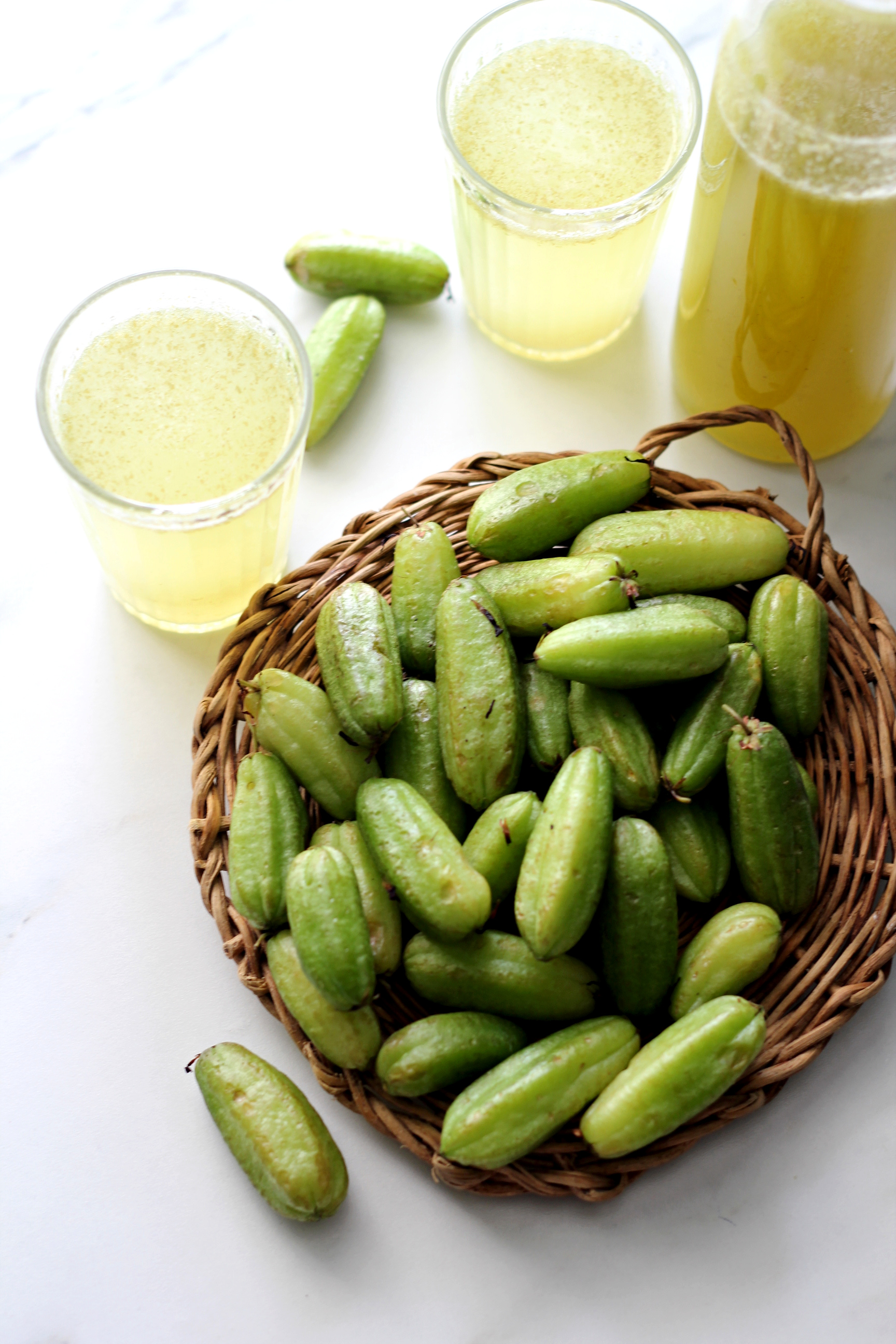 Pin
So when I got almost a kilo of this fruit I was in dismay. My freezer was already full of the fruit that I brought on my previous trip to Mangalore and I only use it when I make the daliso saar (watery lentils) because it is such a precious commodity in my kitchen that I am scared that I may run out of it too soon if I use it in every dish that calls for a souring agent. I decided to ask my food group on Facebook for some ideas and I got several suggestions that ranged from squashes to pickles. I decided to divide my loot into two and try two recipes before the fruit went bad. The squash was pretty easy to make and I managed to shoot a video too (link is down below). I also attempted to give it a voice over for the first time and I hope you like it.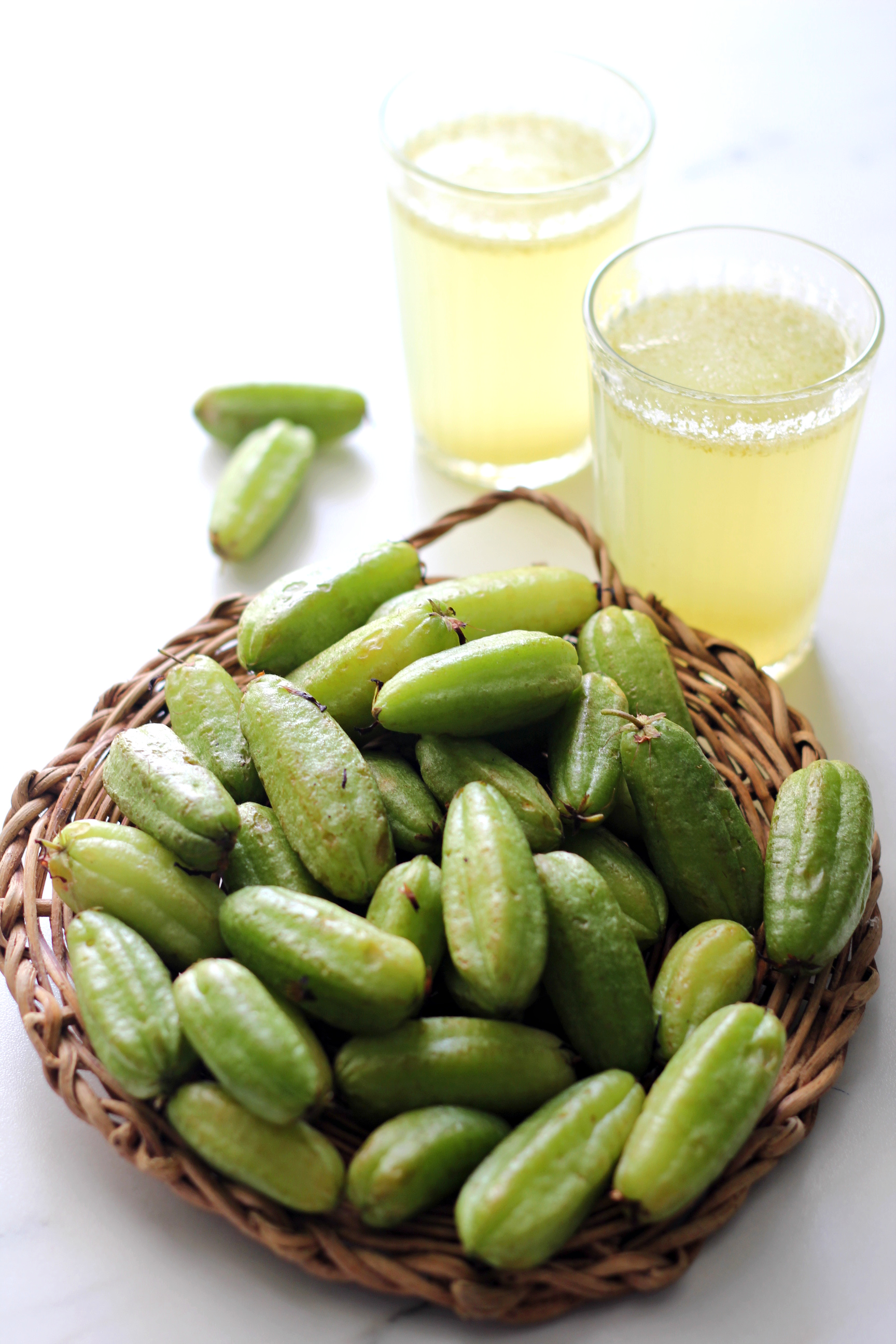 Pin
The juice was very refreshing and I think it is a must make this summer season. I hear that the mercury is rising in most parts of Southern India. For those of you who are blessed with a Bilimbi tree, please don't waste this fruit – ever! Freeze it if it is in abundance, you can use it all year through to flavour your curries. When the fruit is still small in size and firm, pickle it. When it has grown a bit and yellows a bit, juice it up and enjoy it nice and fresh. When you can't enjoy it all in one go, make a concentrate/squash and bottle it up. Better still, pour this squash into ice cube trays and freeze it. Remove and place in ziplock bags and then you can add a cube or two and dilute it with enough water to make your drink whenever you please. If you are the sorts who wants to enjoy it in a different form, try making a wine. I have a recipe for it which I tried on my last trip to Mangalore. I will share that shortly. Whatever you do, don't forget to enjoy and thank God for His wonderful gifts.
A quick Google search led me to a hundred different results that said that this fruit was an excellent aid to good health. From tackling a simple cough to battling against bad cholesterol there are a host of health benefits. Even the leaves of this tree are believed to be effective in curing a host of diseases. Thanks to this recipe, I ended up learning so much about this humble fruit. So if you are blessed with some fresh fruit all year long, do make the most of it!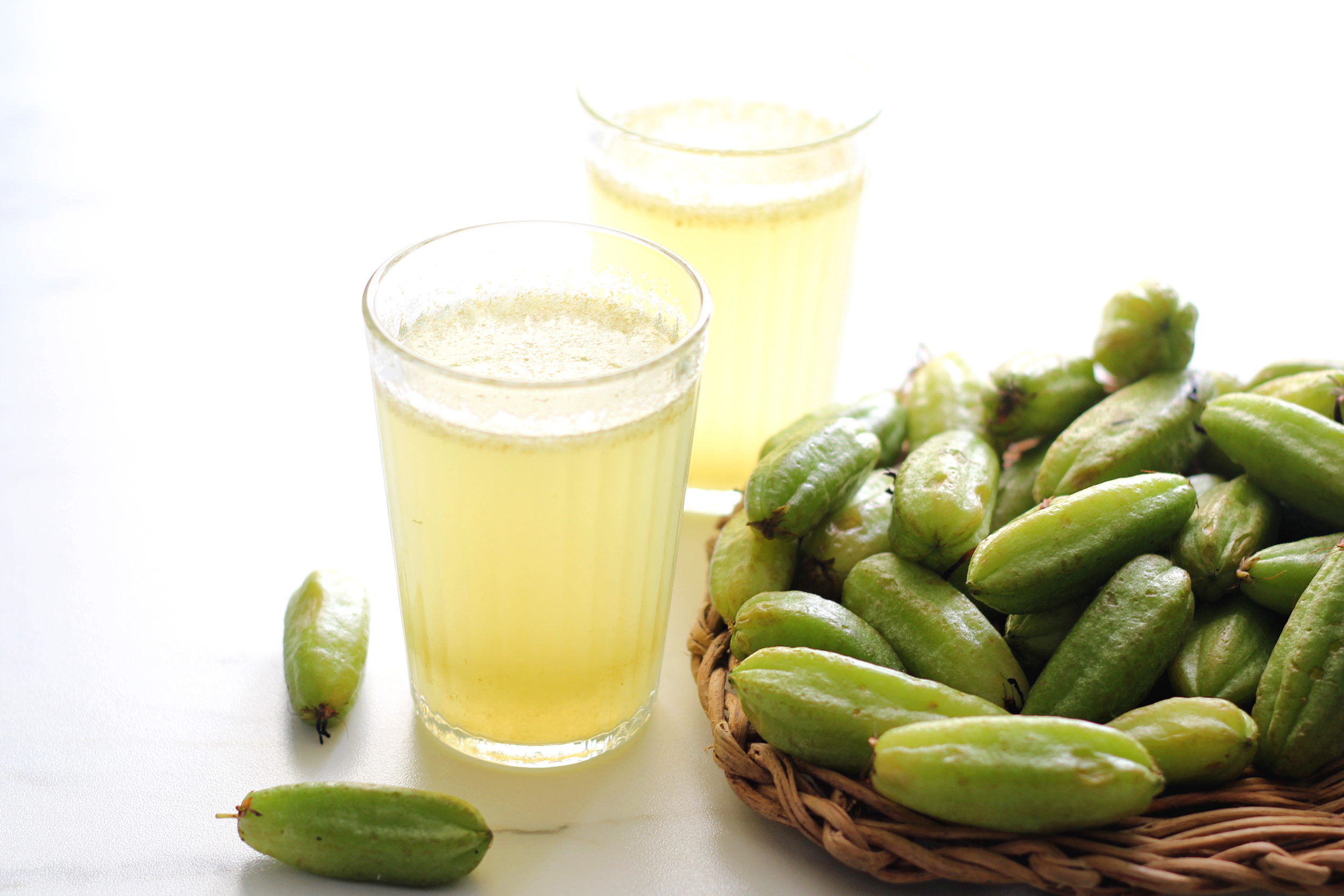 Pin
Do check out the video of how to make this drink! I hope you enjoy it!
If you liked this video please do subscribe to my channel! Also, like, share & comment on it! It will really really motivate me to shoot more videos!
Click to save this image on Pinterest!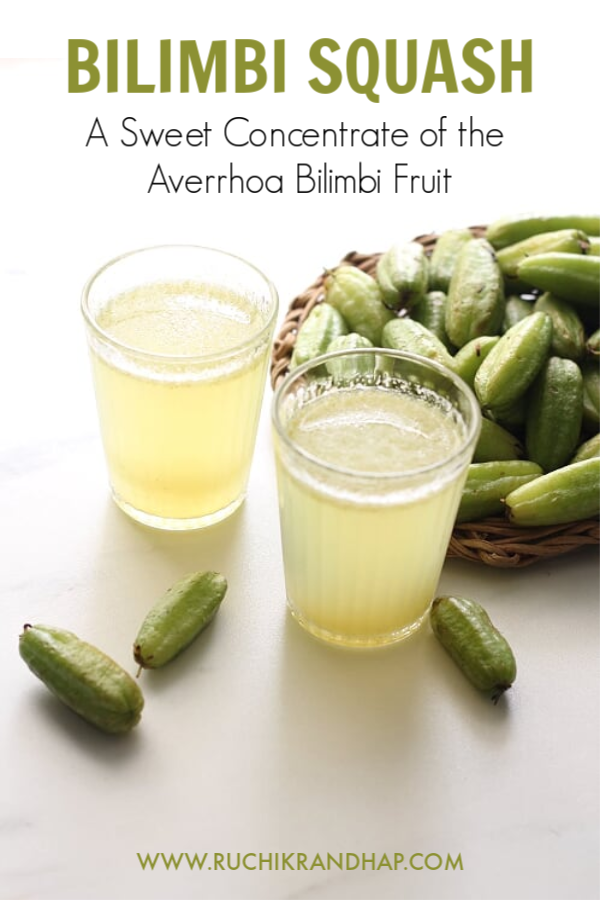 Pin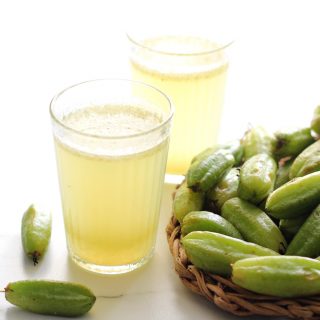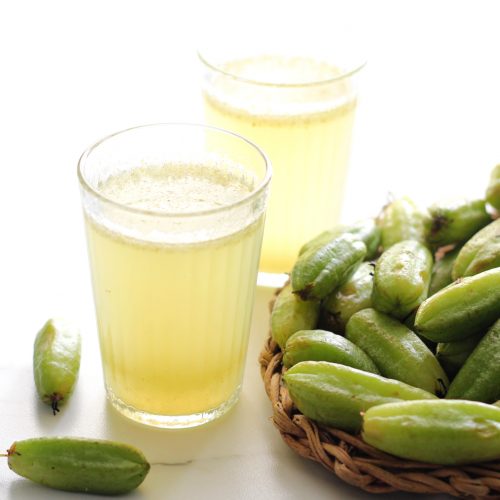 Bilimbi Squash
A delicious concentrate made out of the Bilimbi fruit is a quick fix for a refreshing drink to beat the heat!
Print
Pin
Rate
Ingredients
500

grams

bilimbi

2-3

drops of green food colour

optional

1

teaspoon

citric acid or salt

For the sugar syrup

sugar (see instructions)

water (see instructions)
Instructions
Remove the leaves and stems of the bilimbi fruit & wash in 2-3 changes of water.

Drain and then pat them dryWithout using any water, grind the fruit to a fine paste. You can chop the fruit if required.

Strain the paste into a bowl. Squeeze the pulp to extract as much juice as possible. You can grind the pulp again to remove more juice but it is not necessary.

Add 2-3 drops of the green food colour (optional) and stir.

Weigh the juice in grams using a kitchen weighing scale. We need to take an equal amount of sugar (in grams). I got approximately 350 grams of juice and I used 350 grams of sugar which is 1-3/4th cups. Now in the ratio of 1:1, take an equal amount of water (in volume = cups), so I used 1-3/4th cups of water.

To make the syrup, place the sugar & water in a saucepan and bring the mixture to a boil. Stir to dissolve the sugar and then let the mixture thicken on a medium low heat till you get a one string consistency. This process can take around 12-15 minutes so have patience. To check the consistency, take a drop of the syrup and cool it for a few seconds. Dab the liquid between your thumb and index finger and press them together. When you release the two fingers, a delicate thread should form between the fingers. When this consistency has been achieved, remove the saucepan from the heat and allow it to cool completely.

When the syrup cools down to room temperature, add the juice to it and mix well.

Store the mixture in a clean, dry & sterile bottle.

To prepare the drink, dilute 2 tablespoons of the mixture in 200 ml of water, plain or chilled. Stir and serve! You can also use sparkling water or unflavoured soda to give this drink a special twist!
Disclaimer
The nutritional values are only indicative.
Tried this recipe?
Please leave a comment & rate the recipe below or share a photo on Instagram and tag me @ruchikrandhap