Folks, I am having a super duper busy week ahead and this was the case for the past couple of weeks too! My thoughts wander to my blog every so often and I want to hop in here to tend to it but it just ain't happening. Got some draft posts that I need to clear so I've been trying to edit pictures every now and then (my laptop is permanently perched on my little breakfast table now so I check comments and other random things in between my kitchen chores). Today I leave you with this beautiful, vibrant and very flavourful brown rice that is packed with nutrition. When the Farmer's Market was on here in Dubai (it just closed for the season last Friday) I had picked up some lovely beets with their greens. I truly believe that there is nothing more wonderful than eating fresh and eating clean. It's like your whole system revels in it. This happens to me magically every time I visit the FM and buy farm fresh produce and enjoy the goodness in myriad different ways over the week. While the beet greens found their way into simple dal, I made this rice with the beets. Normally, we don't have any takers for beetroot. While the husband detests anything that remotely qualifies as 'sweet' the kids may or may not eat it depending on how sweet the beets happen to be. Too fussy, I know. So the best trick to get them to eat beetroot is to grate it and add it to salads, bake with them (they make for gorgeous red velvet cake, trust me) or add them to soups or make flavoured rice like I just did.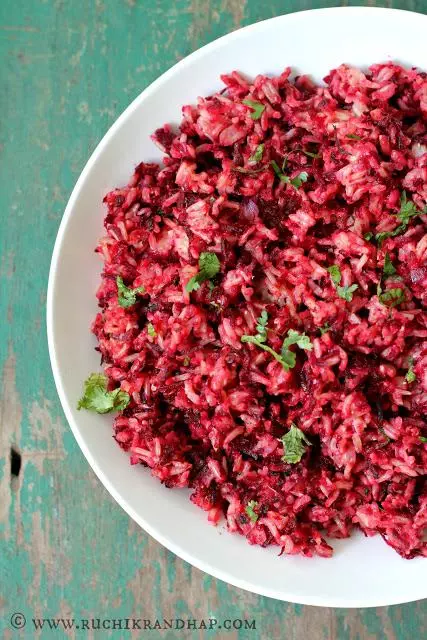 PinSince the time I bought a bag of brown basmati rice I've been passionately experimenting with it. Simple boiled brown basmati pairs up so beautifully with grilled salmon with some sauteed veggies on the side. It is my comfort food. Slowly I moved on to Chilli Coriander Brown Rice with Mushrooms which was a staple for many weeks before trying out the Pesto Bell Pepper Rice which was very well received at home as the kids love pesto sauce and enjoy it with pasta. This recipe is the third one in my repertoire and I am glad that it turned out good enough to be shared with you. I hope discover more flavour combinations as the weeks go by as brown rice is my absolute favourite.
This dish is perfect for those who are too lazy to cook elaborate meals. If you have a pressure cooker, put it to use (just to cook the brown rice) and your meal will be ready in a jiffy. However, if you want to make this one pot meal using regular white rice (any variety, basmati or not), be my guest. This recipe works well even if you have leftover rice that you want to upcycle.
New here? Subscribe to my free newsletters with my latest recipes!
Tried my recipe? Do leave a comment on this post down below and don't forget to give it a star rating! It will really help more readers discover my recipes! Do share a picture on Instagram and tag me @ruchikrandhap and I will feature your post in my stories!
Don't forget to check out my latest videos on my YouTube channel. If you like what you see, do give me a thumbs-up (like), share & comment and subscribe to my channel so that the gods of YouTube (a.k.a algorithms) recommend my channel to a wider audience with similar tastes and more & more people can discover my videos!
And while you're here, do follow me on Instagram, Pinterest,  Facebook and Twitter. If you'd like to say hello or have detailed queries do send an email at [email protected]. I'd love to hear from you!
Beetroot Chilli Garlic Brown Rice
A delicious, nutritious and visually pleasing bowl of rice is just what you need to break the monotony of everyday cooking!
Print
Pin
Rate
Ingredients
1

firmly packed cup grated

raw beetroot * see notes

1

cup

brown basmati rice

2-1/2

cups

of water

1/2

medium sized onion

finely chopped

2

fat cloves of garlic

minced

1

small green chilli

minced (adjust to taste)

1/4-1/2

teaspoon

plain red chilli powder

2

tablespoons

fresh coriander

chopped

juice of 1 lime

2

teaspoons

oil

salt to taste
Instructions
Wash the rice in 2-3 changes of water. In a pressure cooker bring the 2-1/2 cups of water to a boil and add the washed rice. Don't add any salt. Cover the cooker, place the weight and on full heat cook for 5-6 whistles. Reduce heat completely to a simmer and let the rice cook for 25 minutes. Turn off the heat and let the pressure cooker cool down. When the weight (whistle) comes off easily, open, fluff up the rice with a fork and keep aside.

Heat oil in a heavy based kadai/wok or wide based pan. Fry the garlic and green chilli for a few seconds before adding the chopped onions. Fry till they turn translucent.

Add the grated beetroot and saute on a medium-high heat for about 2 minutes.

Reduce the heat and add the red chilli powder and quickly add the chopped coriander and cooked rice, salt to taste and lime juice. Give it a quick mix. If you want to retain the dual shade of the grains then don't mix too much.

Garnish with chopped coriander and serve hot.
Notes
1 medium-large beetroot, peeled and finely grated
Disclaimer
The nutritional values are only indicative.
Tried this recipe?
Please leave a comment & rate the recipe below or share a photo on Instagram and tag me @ruchikrandhap