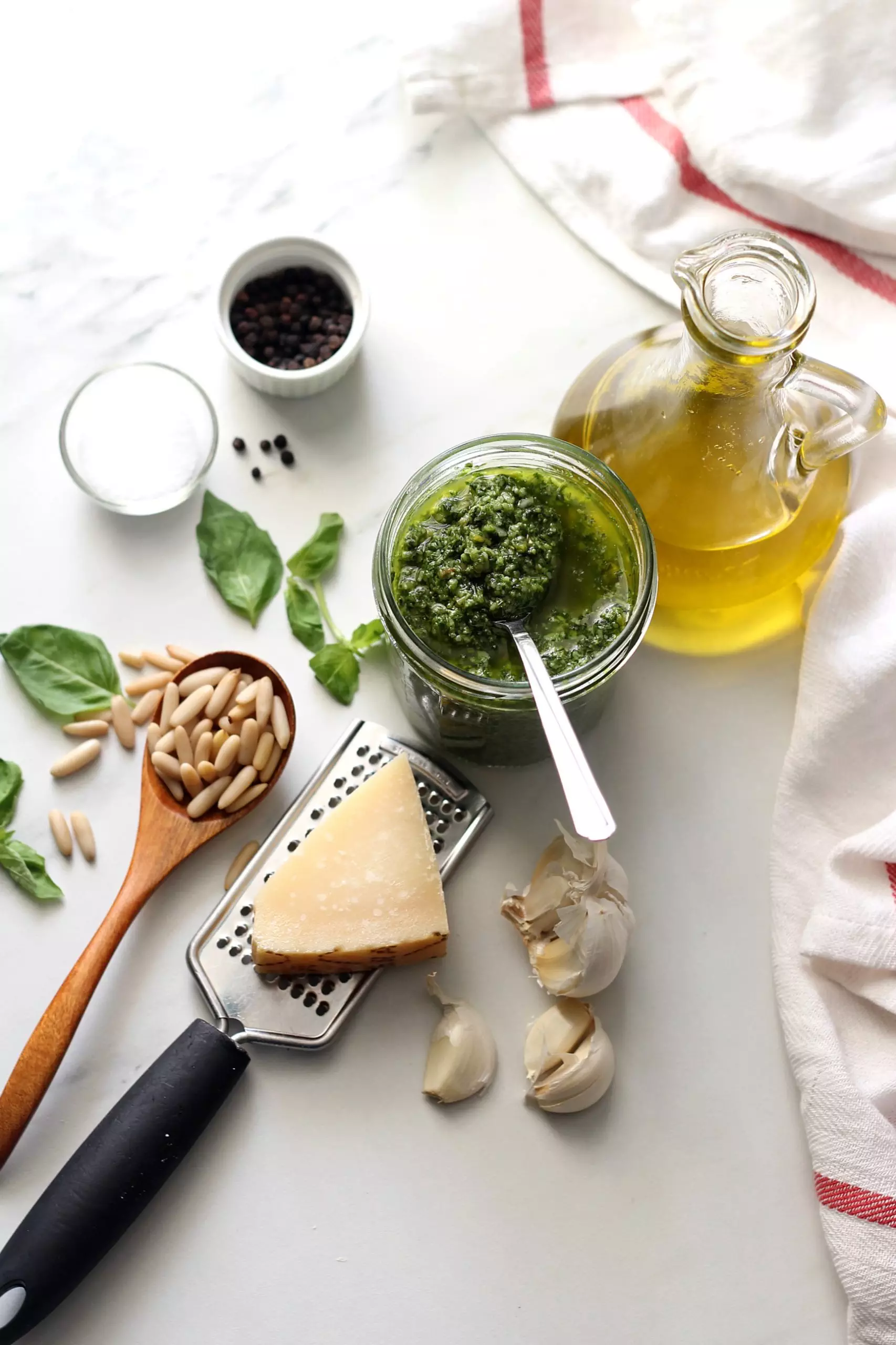 Pin
Homemade Pesto is perhaps the best thing you can make at home. Believe me, I've been making it every year since we moved to Dubai, mainly due to the availability of fresh basil especially during the winter. The farmers' market is a delight here. We get a lot of fresh, locally grown vegetables that taste really wonderful. Fresh basil is one of them along with other herbs such as rosemary and oregano. However, since I don't do much with the latter two I make sure that I buy only basil. Lots of it! I love making pesto and using it in pasta or rice to marinate chicken or paneer. Sometimes I add a little pesto when I fry vegetables such as mushrooms, bell peppers or spinach for breakfast. I then proceed to fry eggs in the same pan and scramble them. This results in beautiful, flavourful scrambled eggs that I so love to enjoy in the morning. Great way to kick start my day!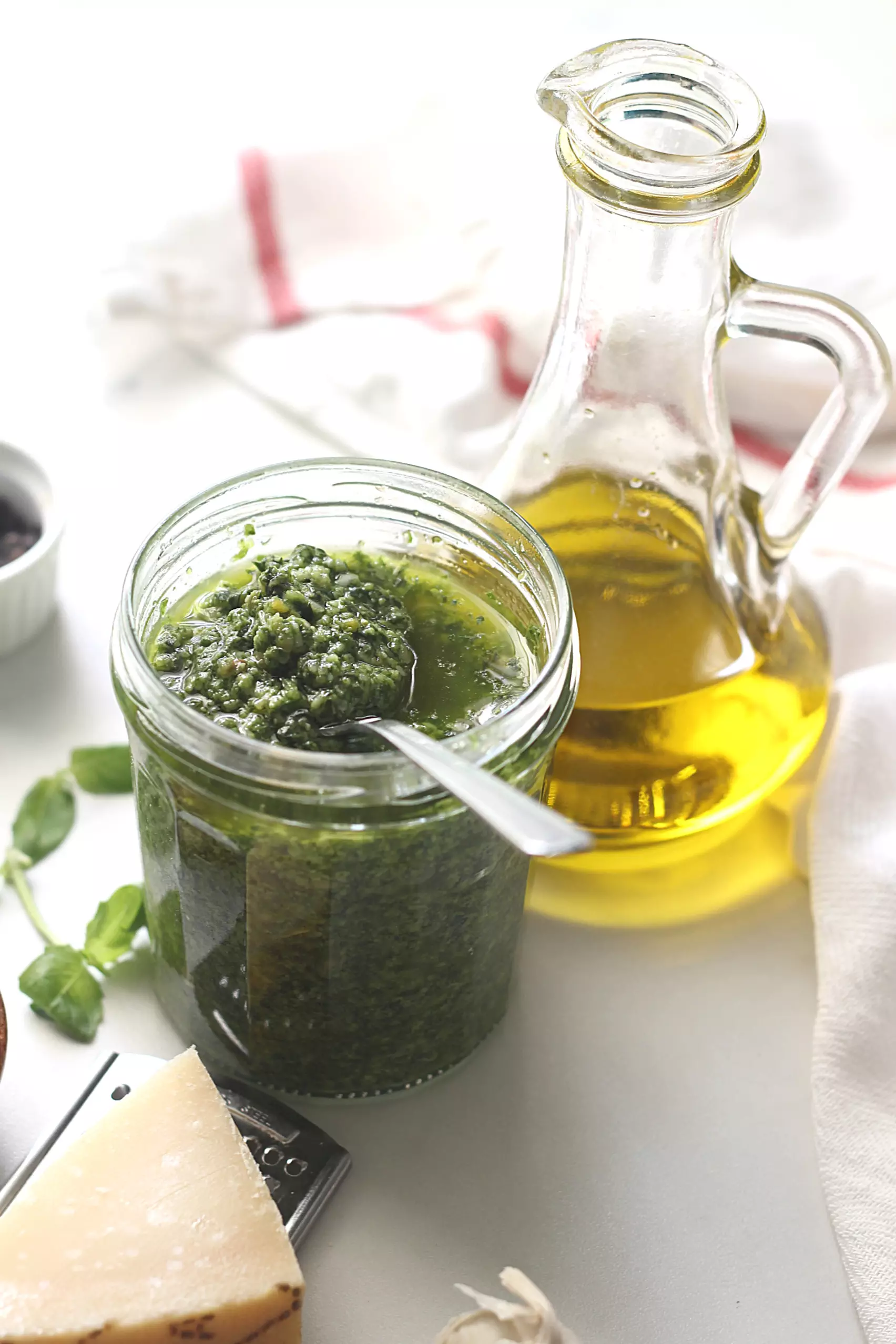 Pin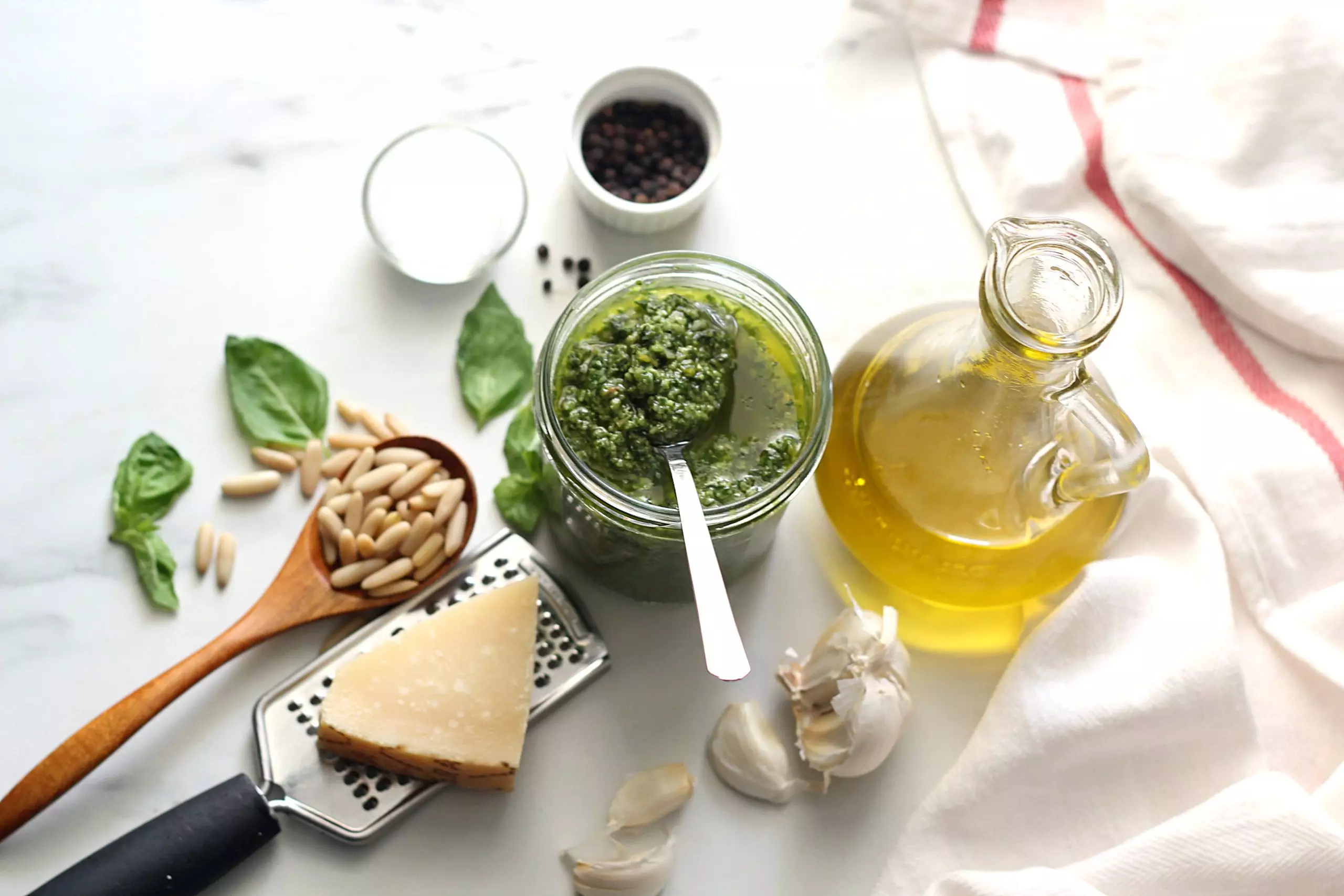 Pin
Basil pesto is best made fresh and in small batches. The aroma of the fresh leaves transcends into the blend taking it to a whole new level of deliciousness! While the classic way of making pesto is to pulse it just for 2-3 seconds, there are people who grind it finer, to a paste. I prefer the classic way which yields a sauce that is not ground finely and remains gritty because of the pine nuts. Either ways, it depends on what you want to use it for. If you like to use it as a 'masala' base to make flavoured rice then grind it fine by all means. If you want to add it to pasta then leave it coarse so that it retains its texture.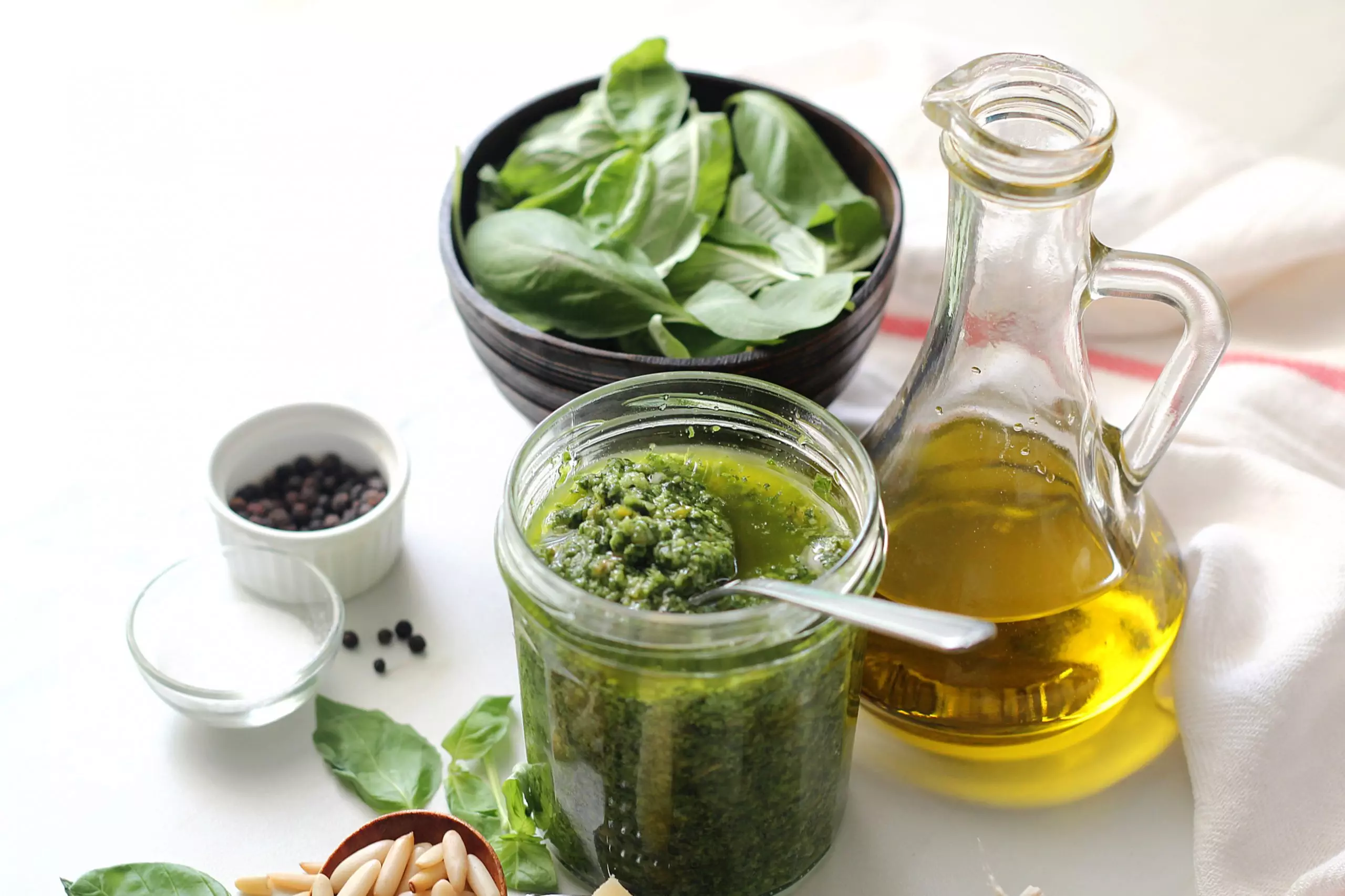 Pin
Recipes
where basil pesto can be used. Have you tried these recipes?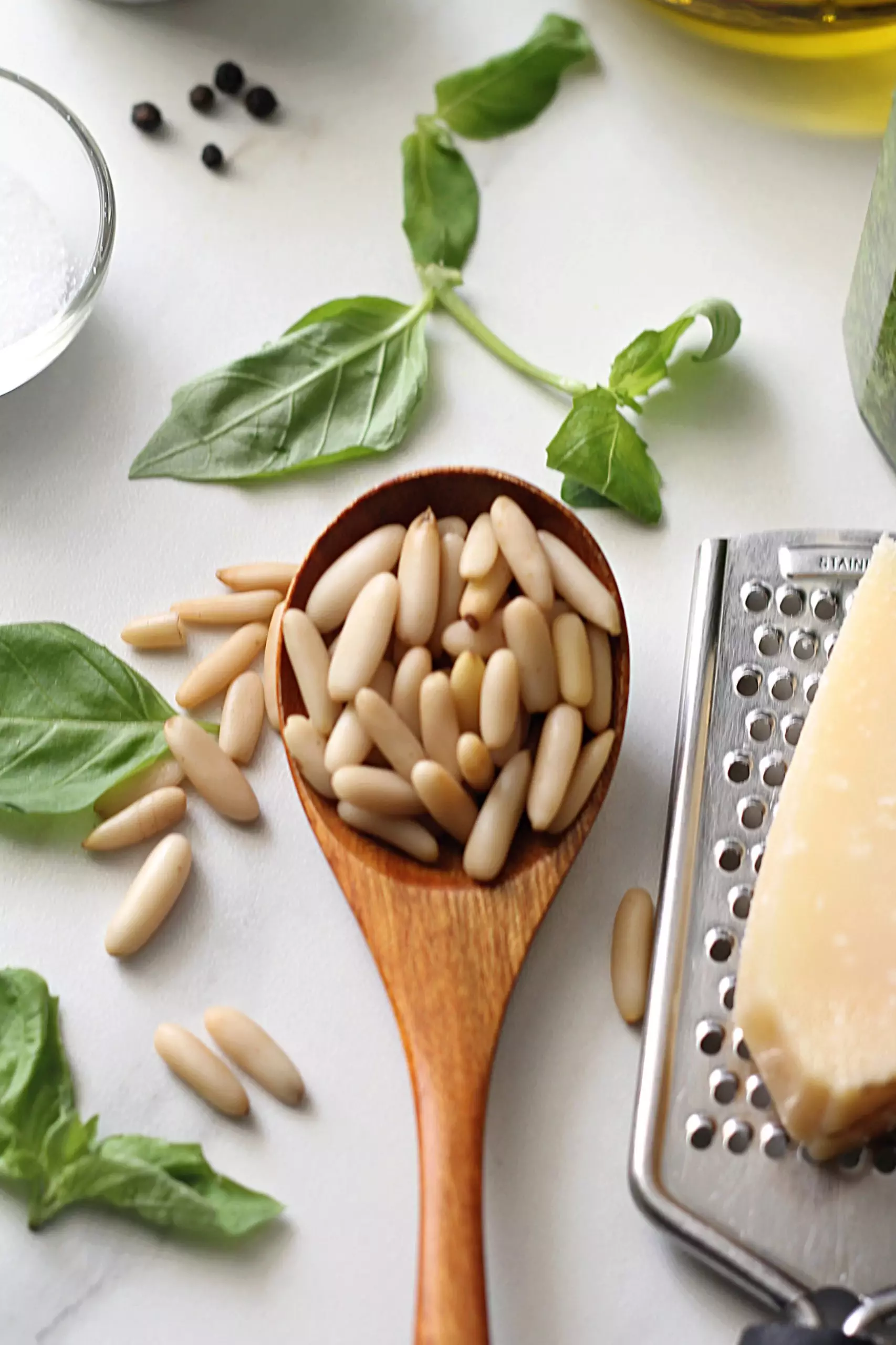 Pin
I found this recipe on simplyrecipes.com a few years ago and I have adapted it to my liking. There are times when I don't have pine nuts, I simply substitute them with walnuts. You may use regular, unflavoured oil if you don't have olive oil but it is preferable to use the right ingredients for the right flavour. If you do intend to use olive oil, you can pick between delicately flavoured extra virgin olive oil (if you know you won't use the pesto as a marinade or for foods that require high temperature for cooking) or the regular one. As far as the cheese is concerned, I use the real parmesan cheese (Parmigiano Reggiano) that we get here. You can tell if the parmesan is authentic by checking its rind (outer covering). If it has a stamp (dotted lines which denote the date of production & seal of approval of the Consortium) then it is authentic. Parmesan cheese has a particular aroma that is missing in other types of cheeses. If you are unable to get it and want to replace it with cheddar, you may, but again, if you don't use the same bunch of ingredients, you won't get the desired taste.
If finding basil is hard, then I will share alternatives to the classic pesto. Yes! pesto can be made using other herbs like fresh coriander, mint and also palak so do stay tuned for my upcoming recipes!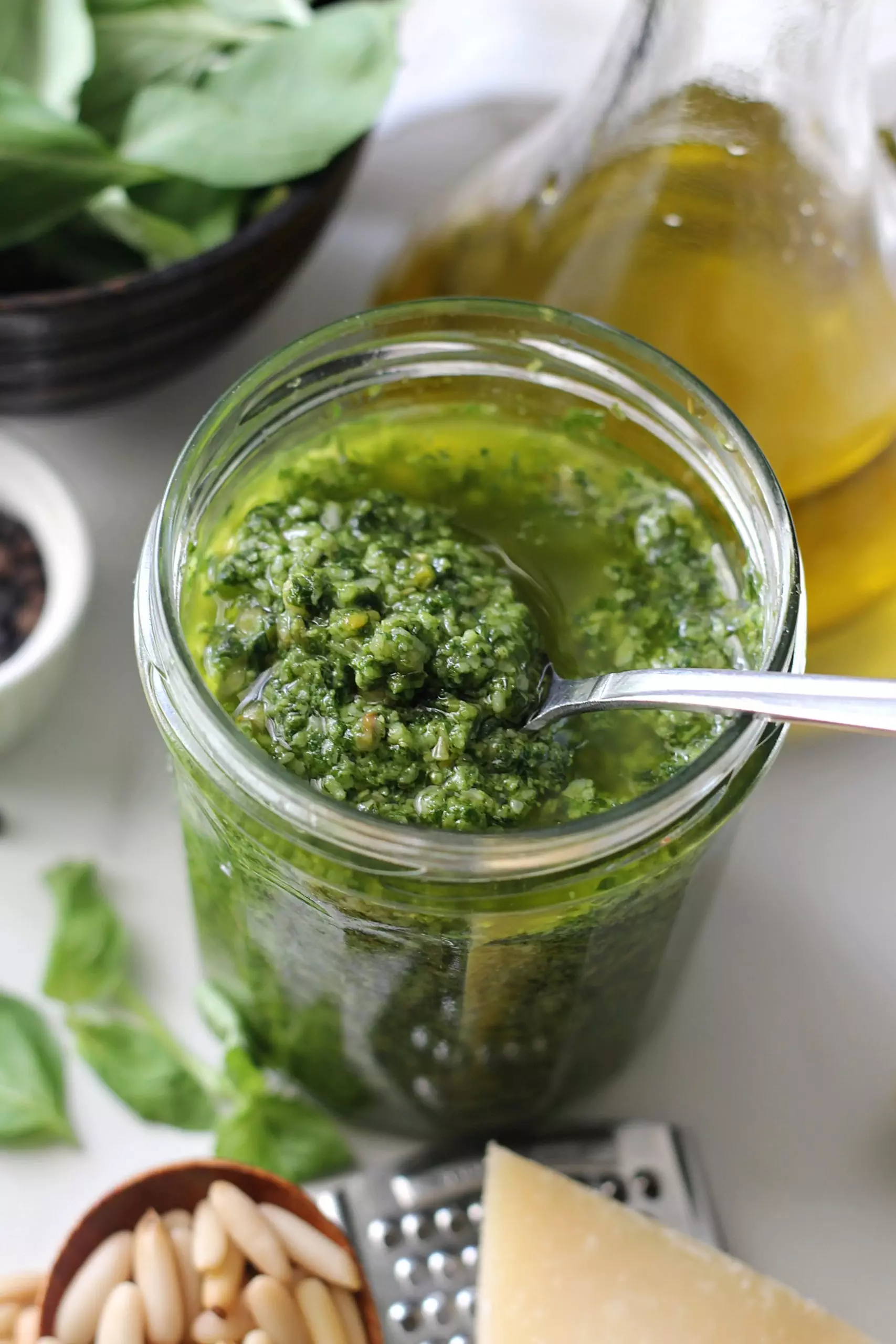 Pin
New here? Subscribe to my free newsletters with my latest recipes!
Tried my recipe? Do leave a comment on this post down below and don't forget to give it a star rating! It will really help more readers discover my recipes! Do share a picture on Instagram and tag me @ruchikrandhap and I will feature your post in my stories!
Don't forget to check out my latest videos on my YouTube channel. If you like what you see, do give me a thumbs-up (like), share & comment and subscribe to my channel so that the gods of YouTube (a.k.a algorithms) recommend my channel to a wider audience with similar tastes and more & more people can discover my videos!
And while you're here, do follow me on Instagram, Pinterest,  Facebook and Twitter. If you'd like to say hello or have detailed queries do send an email at [email protected]. I'd love to hear from you!
Basil Pesto
Traditional, freshly made basil pesto is a wonderfully aromatic condiment that flavours and acts as a base in a variety of dishes - from pasta, rice, soups, salads & marinades. Homemade pesto is cheaper to make and tastes so much better!
Print
Pin
Rate
Ingredients
2

cups

(70 grams) fresh basil leaves

1/3

cup

(55 grams) pine nuts

1/2

cup

(25 grams) parmesan cheese, grated

1

tablespoon

(3 fat cloves) garlic, minced

1/4

teaspoon

salt

1/8

teaspoon

pepper powder

1/2

cup

olive oil

mild flavoured extra virgin oil is ok + extra to top up later
Instructions
Wash the leaves and let them drain. Shake off excess water, pat dry and transfer to a grinder/food processor. Add all the other ingredients and grind coarsely. We need a gritty texture. You can use the 'pulse' mode of your mixie for just 2-3 seconds to achieve this texture. Anything more may result in a paste like pesto unless you prefer it that way

Transfer contents into a sterilised jar. Top up with some more olive oil to help preserve it. Cover and refrigerate it for 7-10 days at the most.

Use as required in pasta, rice, soups, salads & marinades. Please check for recipes on my website where you can use it
Disclaimer
The nutritional values are only indicative.
Tried this recipe?
Please leave a comment & rate the recipe below or share a photo on Instagram and tag me @ruchikrandhap