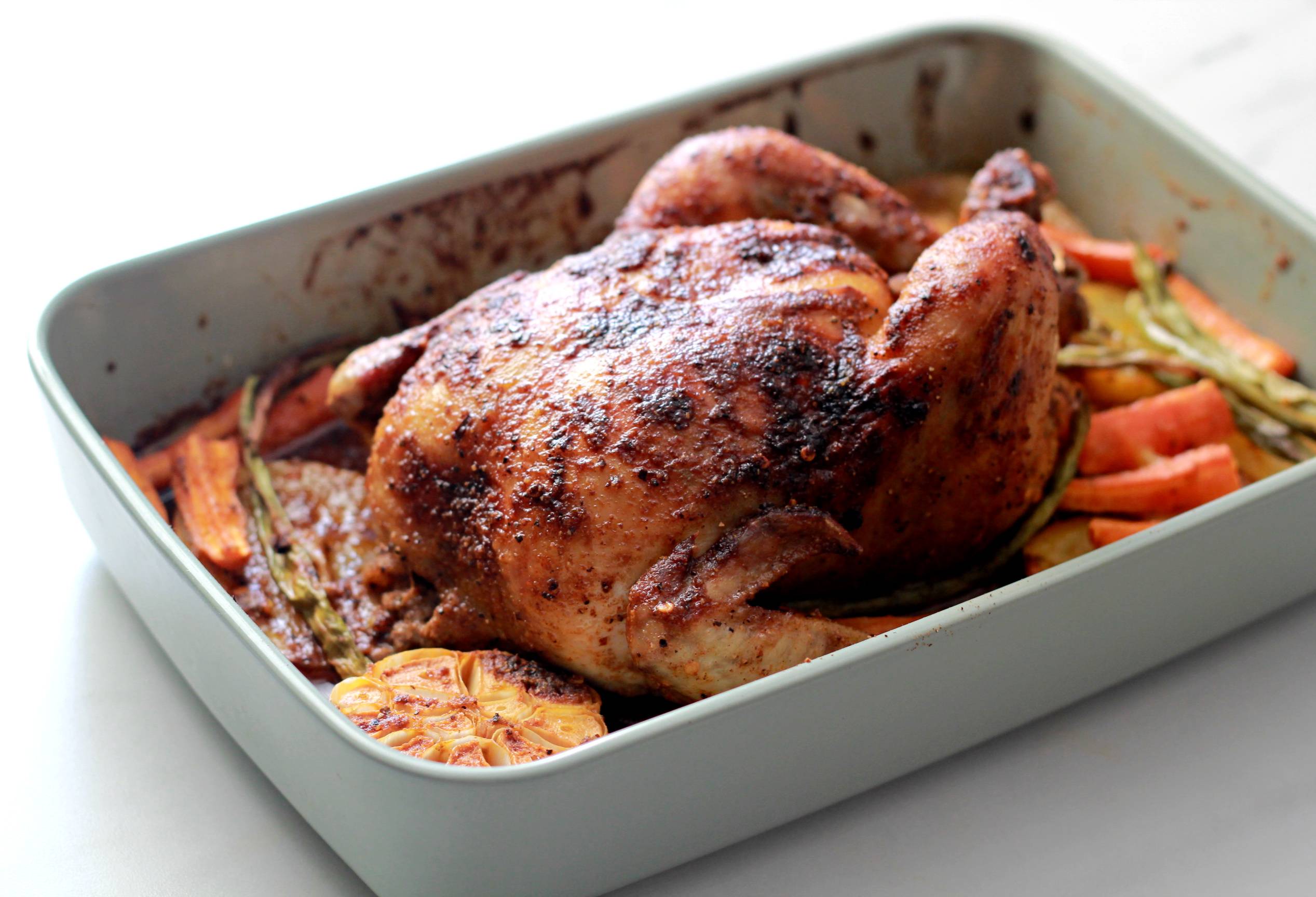 Pin
Barbeque Chicken with an Indian twist! Something just in time for Thanksgiving which is a huge celebration in North America. While turkey is the bird of the season, those who are less fortunate have to settle for chicken and I promise you that this recipe won't disappoint you!
Hello peeps! I am back after a really long break. I hope I was missed 🙂 Well, there were plenty of things that happened in my life since the last time I published a post. Things that range from health issues to simply needing a break to rejuvenate my senses and come up with fresh ideas. During the months that I was away from blogging and social media in general I was taking care of myself. I cooked the usual stuff at home but kept my eyes open for interesting recipes that I could try out for the festive season. I decided to reorganize my saved recipe collection to fish out recipes that I thought you would like as much as I did. I hope to share them in the upcoming weeks.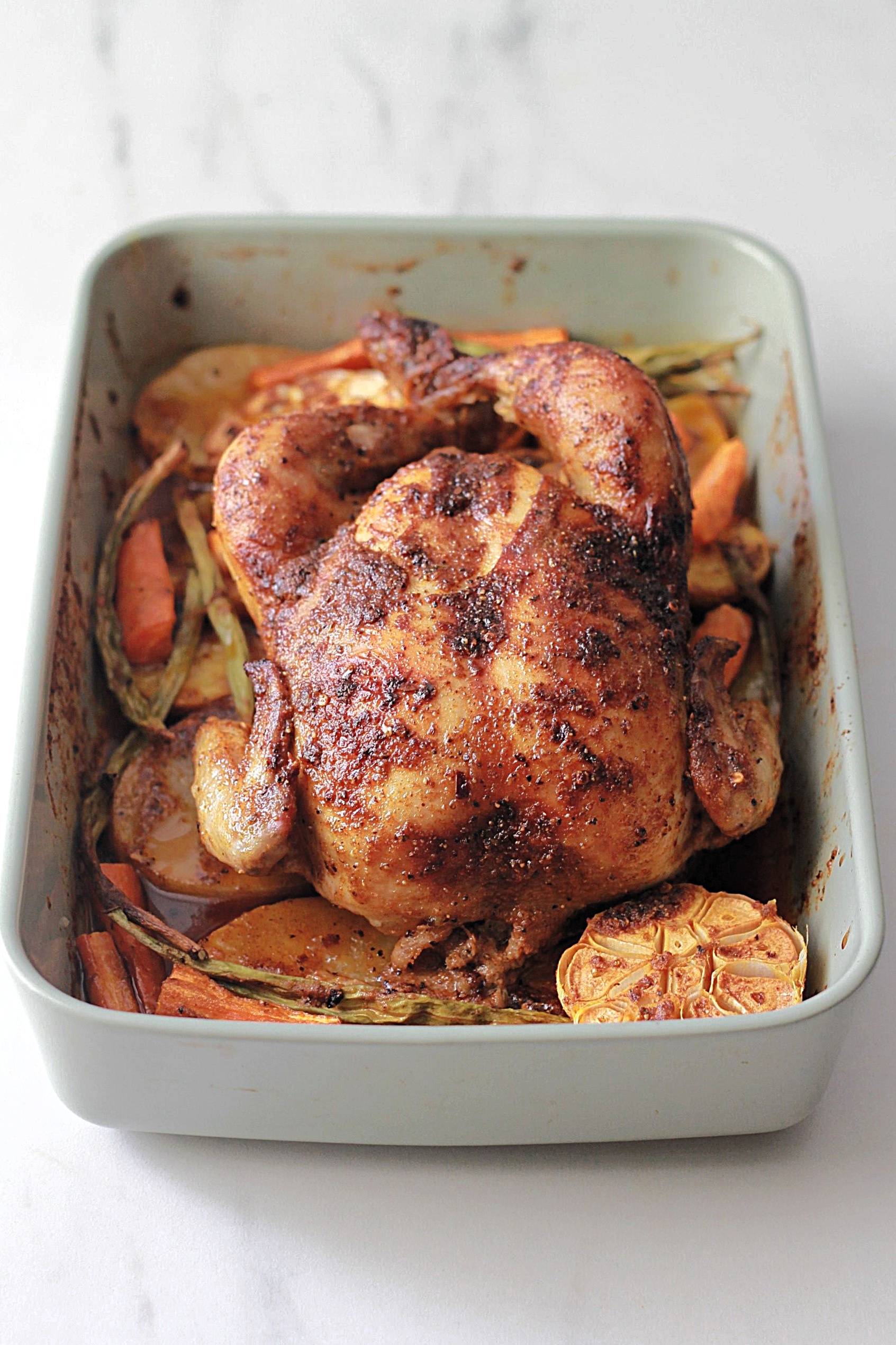 Pin
Now this recipe for barbecue chicken has a twist of Indian flavours, because, why not?! We the Sequeiras love chicken and we love a well made roast and we love our Indian flavours so we decided to combine everything into one wholesome dish.
Do I need to use BBQ Spice?
Well we used BBQ spice blend that was gifted to us and we really put it to good use in this recipe. So yes, in order to make this recipe you can use any brand of BBQ spice blend or you can make your own. You can also tweak the recipe to tone down the spice if you like as each blend may be different in terms of the spice levels.
What is the purpose of adding sugar? What type? Can I skip it?
The sugar lends the classic BBQ style sweetness to the chicken which complements the spice brought in by the Indian flavours so well. Brown sugar – light or dark muscovado is recommended as it has a deep flavour without being overtly sweet. Also, the colour that it lends is brilliant. However if you do not wish to add any, you may skip it. The final result will still taste good albeit not like how a BBQ glazed roast would 🙂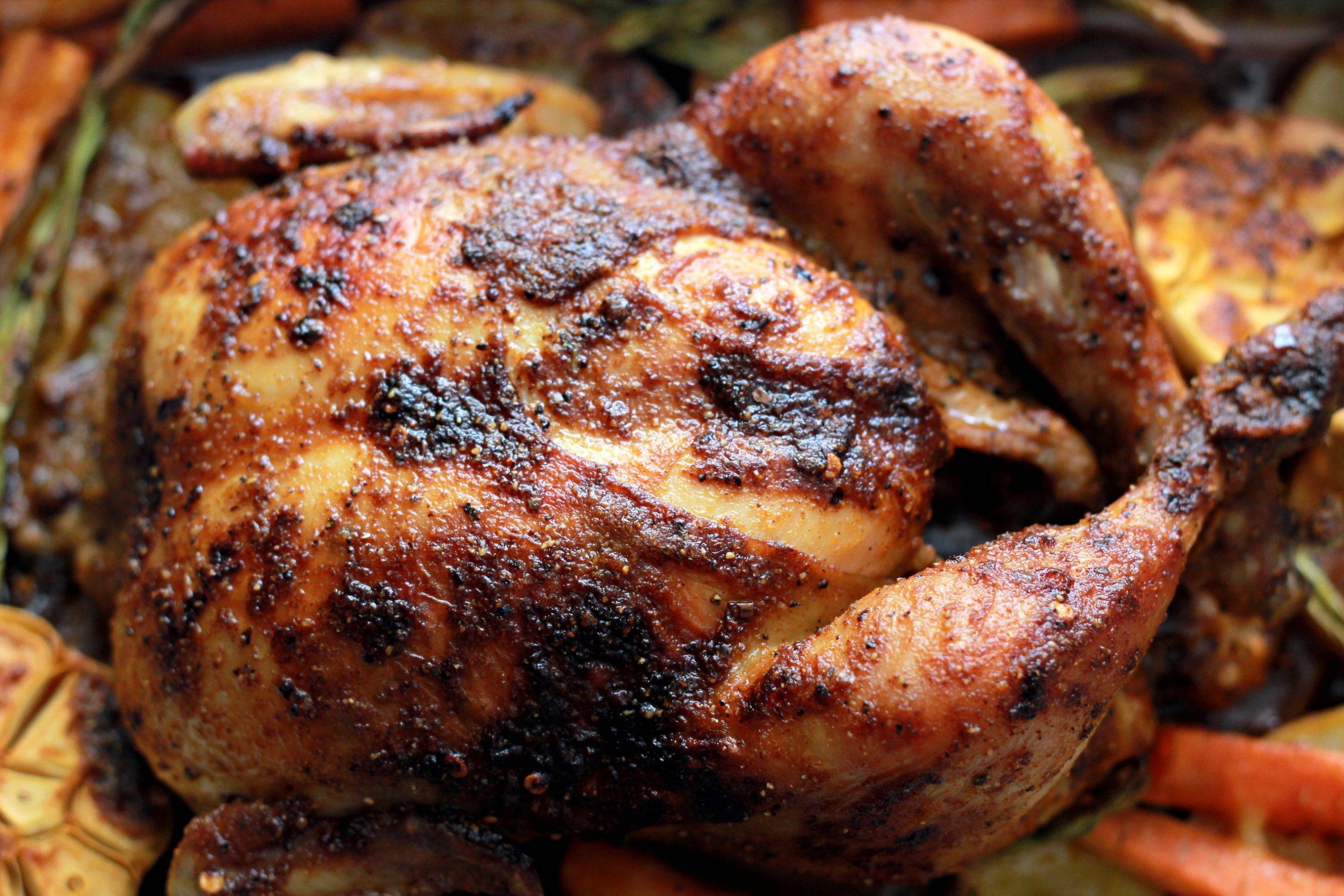 Pin
What else can I use for the stuffing? What can I serve it with?
Besides the raisins used in the recipe, you can use a bread & giblet stuffing. The recipe is here. Alternatively baby potatoes in their jackets or mushrooms also work well.
While we usually stick to mashed potatoes and vegetables such as french beans & carrots (which are roasted along with the chicken in this recipe), you can serve this roast with stir fried peas, mushrooms, cauliflower, broccoli or brussels sprout. I have even served this roast with some apple slices. Trust me, it makes for an interesting accompaniment!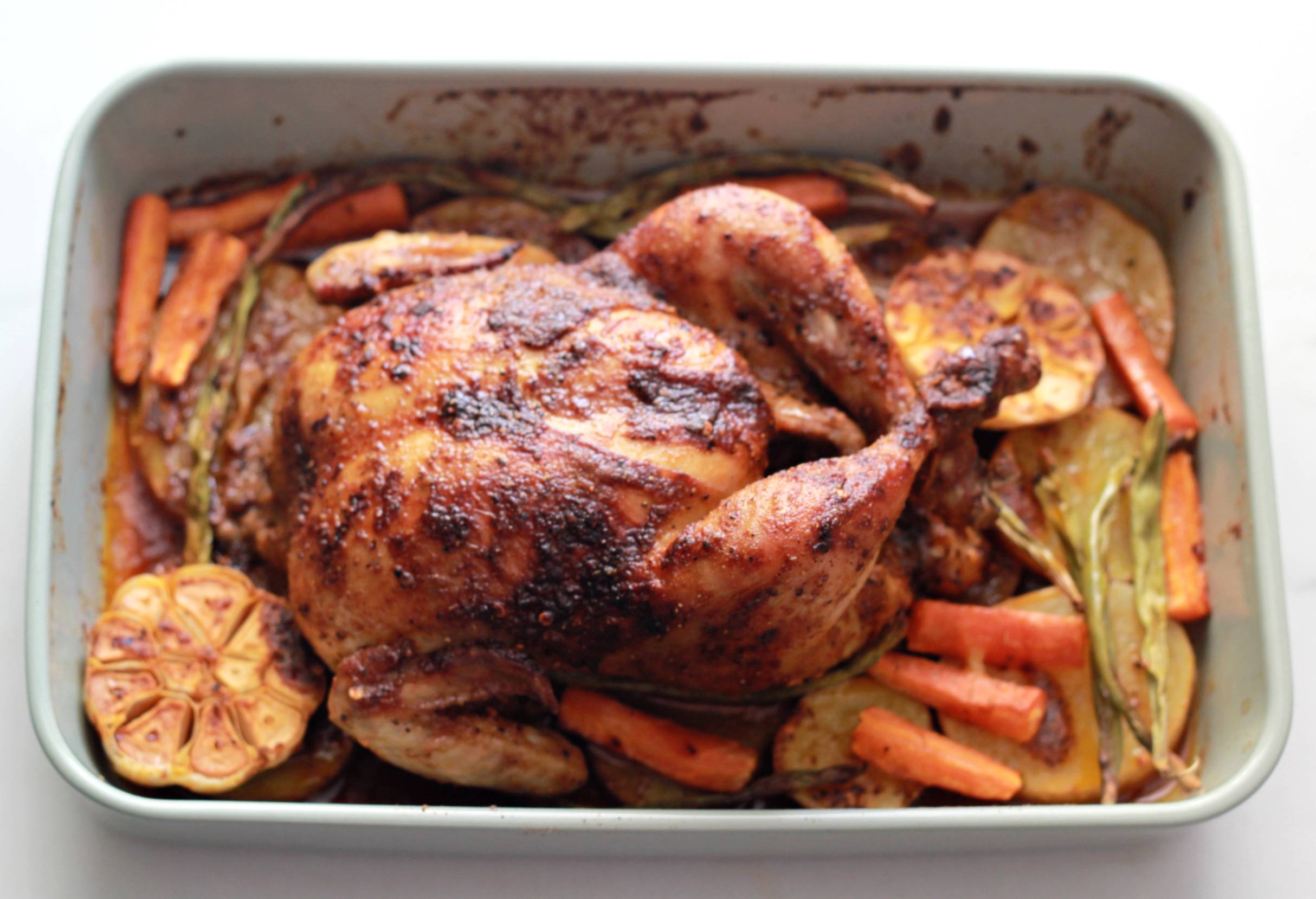 Pin
Don't forget to watch the video before you make this dish. If you like it, don't forget to let me know! I look forward to hearing from you so drop me an email on [email protected]!
Barbeque Chicken | Indian Style BBQ Chicken
Juicy & spicy roast chicken made with BBQ seasoning and a sparkle of Indian spices take it to a whole new level of deliciousness! Enjoy it with roasted veggies or mashed potatoes, rice or bread!
Print
Pin
Rate
Ingredients
1

kg

chicken with skin on
*For the marinade*:
2

tablespoons

melted butter

1-2

tablespoons

BBQ seasoning (adjust to taste)

2

teaspoons

oil

salt to taste

1/4

teaspoon

fennel powder

1/4

teaspoon

garlic powder

1/4

teaspoon

ginger powder

1/2

teaspoon

red chilli powder

1/2

teaspoon

garam masala powder

1/2

teaspoon

pepper powder, optional

1/2

teaspoon

red chilli flakes
*To glaze the chicken before roasting*
1/2

teaspoon

brown sugar

Juice of 1/2 lime
*To grease the baking dish*
2

tablespoons

oil

a sprinkling of salt & pepper
*Vegetables*
1

large potato cut into thick slices

1

whole pod of garlic, halved

10-12

French beans

1

cut cut into pieces
*To Baste the Chicken after it is roasted*
1

tablespoon

melted butter
Instructions
Mix all the ingredients mentioned under 'For the marinade' into a bowl. Mix everything together till smooth and lump free

Grease an oven safe dish/roasting pan with oil & sprinkle a little salt pepper to cover the surface. Then place a layer of potato slices, about half inch thick. Sprinkle some more salt & pepper over the potato slices

Place the chicken over the potato slices and after reserving about 2-3 tablespoons aside, rub the rest of the marinade over it and inside the cavities and under the skin.

Stuff the raisins in the cavity. Tie the legs together using a food grade twine or thread

To the reserved marinade add the brown sugar and mix well. Apply this on top of the chicken

Place the vegetables on either side of the chicken and sprinkle lemon/lime juice over the chicken and the veggies.

Cover and let the chicken marinate for at least 30 minutes, or 24 hours in the refrigerator for best results

When you are ready to roast it, preheat the oven at 180 degrees C and bake the chicken for about 50 minutes. Then change the oven setting to broil/grill mode for about 4-5 minutes till you see the skin turning into a golden brown

Remove from the oven and baste it with some melted butter and some of it's own juices. Serve hot with the vegetables and some potato mash/gravy if desired
Disclaimer
The nutritional values are only indicative.
Tried this recipe?
Please leave a comment & rate the recipe below or share a photo on Instagram and tag me @ruchikrandhap