Christmas always evokes special food memories for me. While my mum always cooked the yummiest traditional fare for Christmas lunch, my paternal aunt was famous for her most amazing Christmas Roast Chicken stuffed with absolutely delicious bread stuffing. I have vivid memories of being seated around the dining table at my uncle's place – along with my cousins and enjoying this happy meal.
While I had tasted this roast made by my aunt just a couple of times, the taste lingered on for many years thereafter. When the blog came into existence and family life demanded that I venture out of my comfort zone and try out different specialities that were worthy of a feast, I attempted to make this aided with a recipe from a book. Result – absolute disaster. The method was funny and the little voice in my head asked me not to follow it – yet I did and down went the chicken down the bin. Well, not really. We ate a nicely baked but bland roast chicken with a soggy (yucky!) bland stuffing.
A couple of years later I decided to give it a shot again – this time I was at my brother's place. Excited on learning that lil' sister was going to roast a gorgeous turkey for the Christmas lunch, off he went to buy a nice and expensive bird. The kitchen witnessed three adults toiling over a bird weighing three kilograms for three hours. The result – average. I was totally disappointed – for having let my bro and his family down as far as the Christmas lunch was concerned. Lessons learnt – 1.) Read the recipe at least thrice 2.) Plan & prepare as much as possible in advance – preferably the previous day.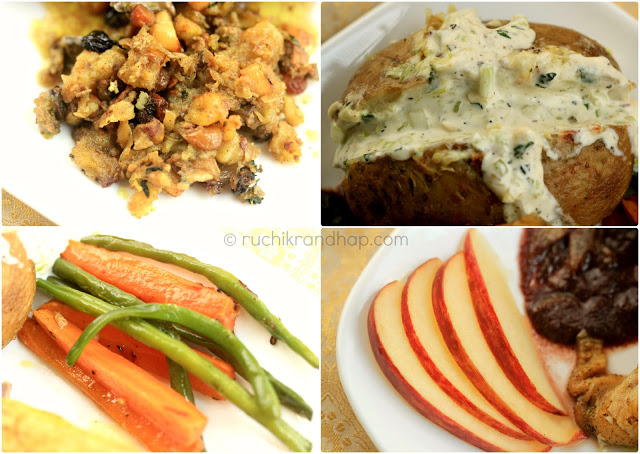 If you are planning to make this for your Christmas lunch, do plan & prepare it in advance! Good luck!
Click the image below to save this recipe on Pinterest!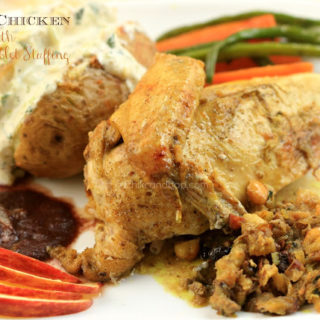 Roast Chicken with Bread & Giblet Stuffing
Succulent & delicious with a sweet & savoury stuffing made of bread & dry fruit is so festive that it must be the show stopper of your next party!
Print
Pin
Rate
Ingredients
1.5-1.7

kg

whole chicken with skin * see notes
For the marinade
1-1/2

tsp

pepper powder

1

tsp

salt

1/4

tsp

turmeric powder

1/2

tsp

garam masala powder

juice of 1 lime

1

tsp

olive oil or ghee
For the stuffing
4

slices

of bread cubed

trim & discard the hard edges

1

medium sized potato boiled

peeled and cubed

1-2

small green chillies finely chopped

adjust to taste

1-1/2

" ginger finely chopped

200

gms chicken liver & heart washed

boiled and cut into tiny cubes

25

gm

2 tbsp black currants (black kishmish)

25

gm

2 tbsp raisins (golden kishmish)

50

gm mixed nuts

cashewnuts & pistas or almonds roughly chopped

2

small onions

or 1 large finely chopped

1

tsp

stew masala powder * see notes

1

cup

loosely packed mint leaves roughly chopped

2-3

tbsp

coriander leaves roughly chopped

juice of 1/2 lime

1

tsp

sugar

or increase it upto 1 tbsp for a sweeter stuffing

salt to taste

approx 1/2 tsp

3-4

tbsp

ghee

or as required
Servings on the side (optional)
Baked Jacket Potatoes
2

large potatoes

2

tbsp

cheese spread

2

tbsp

mayonnaise

freshly ground pepper to taste

1/2

cucumber peeled and finely chopped

2

small spring onion whites finely chopped

1

tbsp

coriander leaves finely chopped

1/2

tbsp

mint leaves finely chopped

1/2

tsp

lime juice

salt to taste

olive oil
Buttered Carrots & French Beans
4-5

baby carrots peeled

or 2 regular big carrots cut into finger sized pieces

12-15

french beans stringed

1

tbsp

butter

salt & pepper to taste
Apple Slices
1/2

a medium sized apple thinly sliced

salt to taste
Instructions
Marinate the chicken
Clean the chicken, especially the stomach cavity - remove any traces of blood, wash and allow to drain completely or pat it dry. Gently poke the chicken all over with a fork. Gently run your fingers between the flesh and the skin to form pockets. Take care not to tear the skin.

In a large bowl mix the ingredients for the marinade and apply it all over the chicken, inside the stomach cavity and between the skin and the flesh (into the pockets). Cover the pan with aluminium foil or cling wrap and refrigerate for at least one hour or overnight for best results.
Prepare the stuffing
Heat 4 tbsp ghee in a non stick skillet/pan and fry the bread cubes till they are just about golden brown and crispy. Remove and keep aside to cool. Adding more ghee if required fry the roughly chopped nuts and raisins one by one and remove. Ensure that the raisins just plump up and don't burn else they will turn bitter.

In the same pan continue to fry the onions till golden brown and then the chopped green chillies, ginger and finally the chopped coriander and mint leaves for a couple of minutes. Toss in the stew powder (or the pepper, turmeric & cumin powders) and fry for a few seconds. Remove the mixture into a large pan/bowl

Lastly adding more ghee if required fry the cubed liver & heart and fry for a couple of minutes till golden brown. Transfer into the pan/bowl and mix all the fried ingredients together - bread cubes, nuts, raisins, onion mixture. Add the salt to taste, lime juice and sugar and mix gently.
Baked Jacket Potatoes
Scrub and wash the unpeeled potatoes thoroughly and prick all over with a fork. Rub your hands with a little olive oil and salt and then rub them onto the potatoes well. Bake in a preheated oven at 200 C for 1-1/4 hours.

Remove and make a cross mark with a knife and put the filling into the slits and place it back into the oven. Use the grill mode for approx 10-12 minutes till the surface looks slightly golden and the cheese filling starts to bubble.
Buttered Carrots & French Beans
Blanch the carrots in boiling water with a little salt until half cooked. Add in the french beans and continue to blanch till 90% cooked. Drain the water (don't throw it - you can use it as a stock for soups).

Heat some butter in a non stick skillet and stir fry the blanched vegetables. Add salt (sparingly) and pepper to taste and fry for a couple of minutes. Keep aside until required to be grilled along with the chicken during the final 10 minutes of the grilling stage.
Apple Slices
Soak the apple slices in salt water to prevent discolouring. You may either serve them slightly salted or fresh (in which case slice them just before serving) or you may lightly stir fry them along with pepper similar to the french beans and carrots.
Stuff & roast the chicken
Preheat oven to 220 C for 10 minutes. Cover the oven tray with aluminium foil and grease with ghee or oil.

Place the marinated chicken out of the fridge for an hour before baking. Fill the stomach cavity with the bread stuffing. Using a large needle and thick strong thread stitch the opening of the cavity carefully ensuring that the skin does not tear (or else your stuffing will fall out). Tie the wings and the legs close together to ensure evenly baked chicken.

Place the stuffed chicken on the prepared tray and roast/bake at 200 C for 1-1/2 hours (approx) - bake time will vary depending on the weight of the chicken and the type of oven used. Flip the chicken half way down the baking time - use kitchen tongs or ladles and flip carefully. Pour/baste the juices over it so they dribble all over the chicken.

Reserve the last 10-12 minutes of the bake time to switch to grill mode just to get a nice golden brown colour on the outer skin. During these last 10 minutes you may add the pre-baked jacket potato with stuffing for a nice browning on the surface and you can also add the blanched and stir fried veggies for a nice colour and flavour.
Plating & Serving
Once out of the oven, cover the chicken with aluminium foil, just to allow to it absorb the juices and rest for 8-10minutes. Then remove the covering and hold the chicken in place with a fork and a carving knife. Untie the legs and wings and preferably carve them out first. Cut out each portion of meat along with some stuffing and transfer onto a serving plate. Drizzle a ladle full of stock from the baking tray onto the meat. Place the sides (baked potato, stir fried veggies, apple slices etc) along with the meat and the Black Currant sauce on the other side. Garnish with mint leaves if desired and serve hot.
Notes
1. Chicken or Turkey: If you are using turkey instead of chicken, then chances are that the turkey weighs nothing less than 3kgs. Just double the quantities of all the ingredients especially you may want to increase the number of bread slices and boiled potato cubes as a turkey will have a larger stomach cavity. Extra stuffing won't go a waste - trust me. A turkey weighing 3-4 kilos can easily serve 6-8 people. 2. Stew Masala Powder: Is a typical Mangalorean spice blend used for meat/vegetable stews. Substitute 1 tsp stew masala powder with 1/4 tsp turmeric pwd + 1/4 tsp cumin pwd+1/2 tsp pepper pwd. 3. Sides: You may serve any kind of stir fried veggies you fancy. Throw in baby potatoes, button mushrooms, broccoli or baby corn.
Disclaimer
The nutritional values are only indicative.
Tried this recipe?
Please leave a comment & rate the recipe below or share a photo on Instagram and tag me @ruchikrandhap