In the olden days a very popular way of cooking fish/meat dishes was called the 'voir-pondha uzo' (where coals are placed over the lid of the vessel making it a two way cooking process). This particular recipe was authentically made using the same technique as per my mum-in-law. However since these days nobody really uses earthen pots (called 'Kundlein' in Konkani) in which the best tasting food used to get cooked, the technique has also become almost redundant. Who has free access to coal these days? I literally begged my isthri-wala (laundry guy) to get me some coal as they use irons boxes fuelled by coal to make clothes wrinkle free…after sometime I just stopped asking him.
However, today's non-stick pans do the same job just fine, but ofcourse, earthen pots are earthen pots – there's something totally homely about them – the earthy fragrance and flavour is something else. Personally I still prefer making
Pork Bafat
in the ek-lauta (one and only) Kundlein that my mum-in-law gave me a few years ago. I have kept it carefully & use it once in a while like a prized possession. Even when I eat out, if there's a Hyderabadi dum biryani that comes in an earthen pot – I'm sold!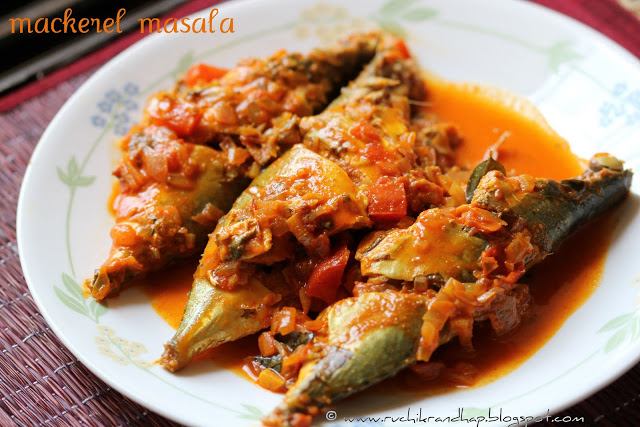 Atati is a word used to describe a very dry kind of dish with very little gravy. Atati is arrived at by 'drying up' the gravy resulting in a thick gravy with loads of shindaap (whole ingredients that form the base of the gravy). The success of this recipe also depends on the freshness of the Mackerels (ofcourse like any other fish). If you are a novice in buying fish, then here's a tip. The freshest catch they say, especially the Mackerel always reflect the colours of sunset – if they sparkle with a silverish grey shine – they are fresh. If a bunch of greyish red Mackerels give you a lacklustre look, then they are not so fresh – probably a couple of days old lying in the ice box. Fresh Mackerels should be firm to the touch, if your finger leaves a deep impression – move over to the next fisherwoman 🙂 Old Mackrels will give out an unpleasant fishy smell ('himsaan') so even if you get not so fresh Mackerels, make sure you wash them in plenty of water with salt & turmeric and leave them to drain in a slotted colander before cooking them.
Mackerel Masala


You Need:
4 big Mackrels (Bangde in Konkani, Bangude in Kannada & Tulu, Baangda in Marathi/Hindi)
For the masala
8 long dry chillies (reduce it to 5-6 chillies if you prefer less spicy although mackrels are best eaten in a spicy flaming hot gravy)
1 tsp jeera
1/4 tsp haldi/turmeric powder
1/2 tsp vinegar
1 small ball of tamarind
Note: You can replace the chillies, jeera & turmeric by just adding 2 tbsp bafat powder (preferably without the garam masala added to it)
For the shindaap/tempering (whole ingredients to be fried before the ground masala is added)
2 medium onions sliced
1 green chilli (if you are petrified with the number of chillies used, reduce the red chillies if you wish but retain this green one, it gives a nice flavour)
1 inch piece of ginger finely chopped
6 cloves of garlic finely chopped
1 large tomato chopped finely
2 tbsp finely chopped coriander leaves
1 stalk or 5-6 curry leaves (kadipatta)
Method:
1. Clean the fish thoroughly with salt and leave to drain. Then apply salt & turmeric powder and set aside
2. Heat a wok/thick bottomed pan, add oil and then add kadipatta & onion & fry lightly. Toss in the 3 G's (ginger-green chillies-garlic), fry some more and then add the tomato & chopped coriander. Reduce the flame and fry till the oil leaves the sides.
3. Add the masala & fry a little. Add 1/2 cup of water & salt to taste. Bring the gravy to a boil and then turn off the flame.
4. Slit the mackrels at the belly & stuff this masala into each fish.
5. Add the fish back to the remaining gravy in the wok and gently cover the mackrels with the rest of the masala. Cook on very slow flame for 5 minutes and then turn them over gently to be cooked on the other side for another 5 minutes.
6. Serve hot with steaming hot brown or white rice
Tip: Mackrels cooked in an earthen pot are the ultimate in taste!