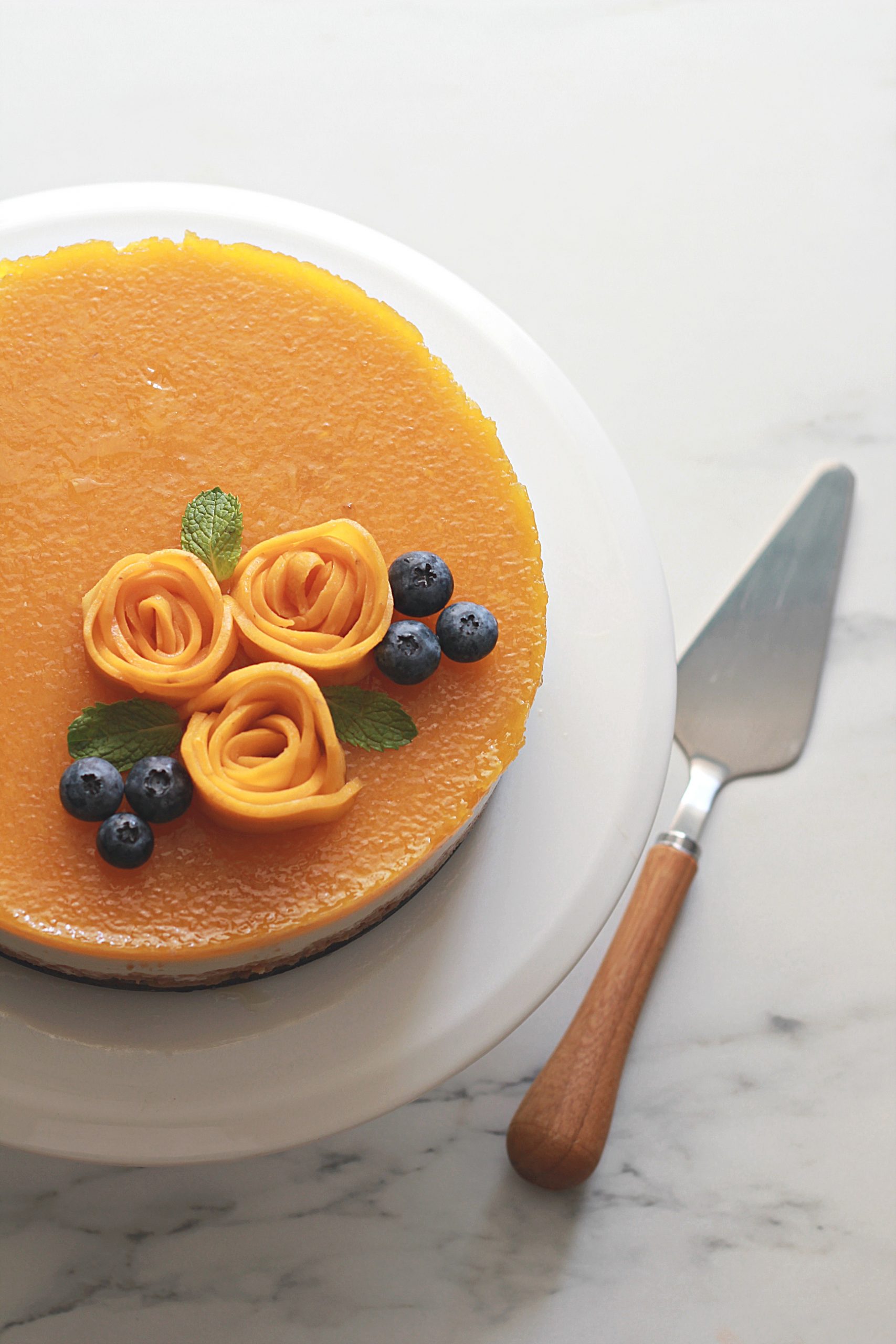 Pin
Hello my dear people! It's raining mangoes at my place. I am so thankful that now, despite the pandemic I am blessed to find good & sweet mangoes. Although they are slightly expensive, they are still making their way into my home, so I am grateful for that. Imagine watching the mango season go by without taking a single bite of this glorious fruit! Since the past few weeks I have been eating them to my heart's content and also trying out all sorts of dishes with mangoes in their raw & ripe form. I shot a couple of videos with raw mangoes and then the recent post that I shared earlier this week was for a mango chutney that was used as a marinade for chicken wings. Do check out all these recipes at the end of this post – I will share the links for the same.
So today's recipe has been on my mind since last year. My dear cousin Prema shared her recipe for baked yogurt topped with lemon curd on the food group that we manage together on Facebook. The picture of her dessert blew my mind and I wanted to try it out instantly. However, the recipe went to my ever growing list of 'recipes to try' on my phone's notepad. Within a few days another friend Shwetha tried out Prema's recipe and used a mango jelly topping instead of the lemon curd. Her picture was wow worthy too and I went on a crazy hunt for mango jelly powder (Jell-O) and didn't find any so this recipe got shelved for sometime. Last month on one of my grocery trips I found the jelly and promptly bought it. I had visions of making this dessert & could wait until this became a reality.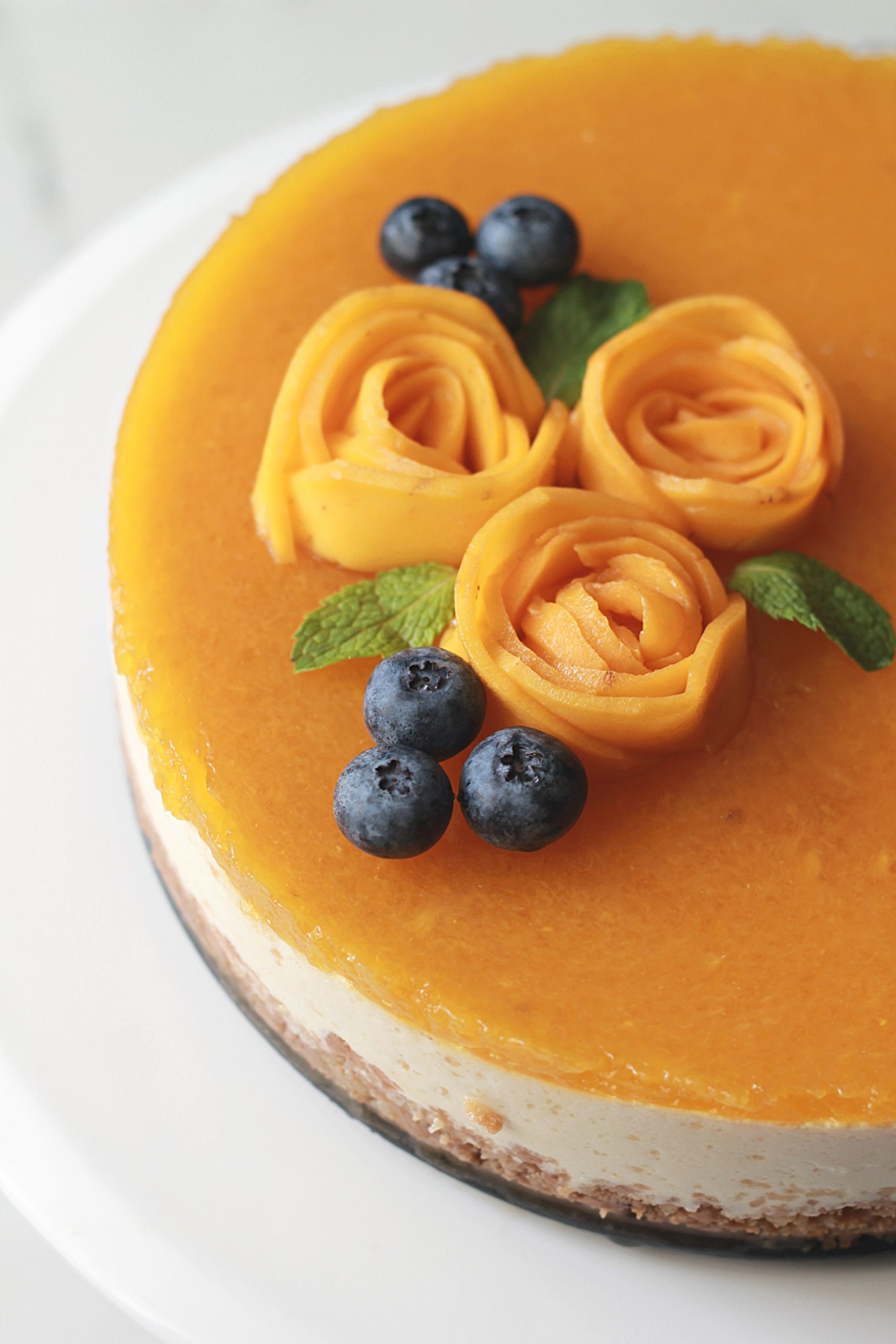 Pin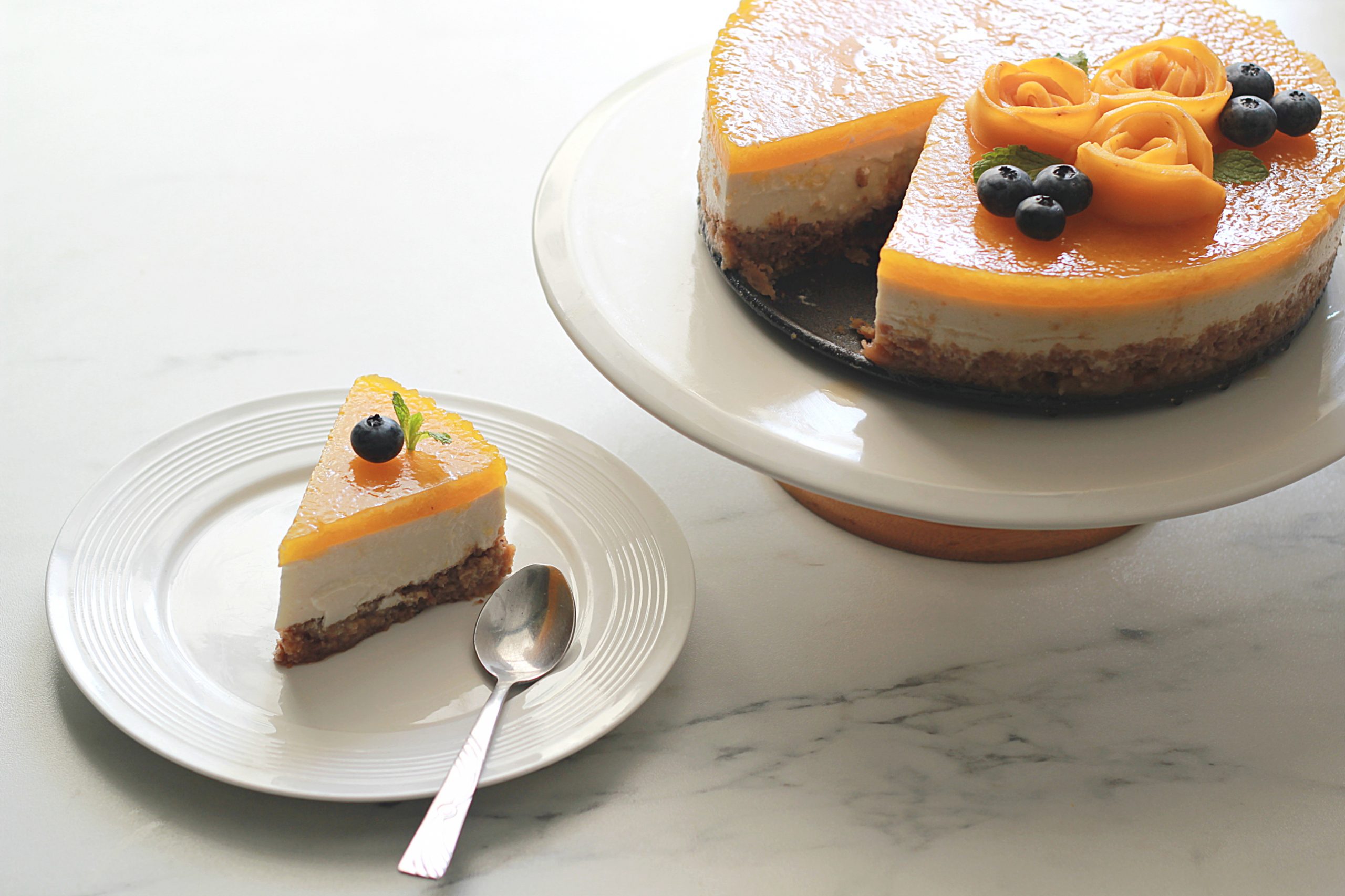 Pin
Since in her original recipe Prema mentioned that her baked yogurt was slightly thinner I decided to double the quantity of yogurt & cream in order to yield a thicker layer. Since I was doubling that, I went ahead and emptied a whole tin of condensed milk. Since I was also shooting the video I was hoping to death that I wasn't tampering with a perfect recipe to the point of creating a flop instead. It really takes the whole universe to conspire towards getting a perfect recipe for me sometimes. From sourcing the right ingredients to getting the right light to shoot the video & pictures to getting the end result as desired. This was one such recipe and I am truly grateful to Prema for her recipe and for Shwetha for unfolding an alternative way to making it.
Pin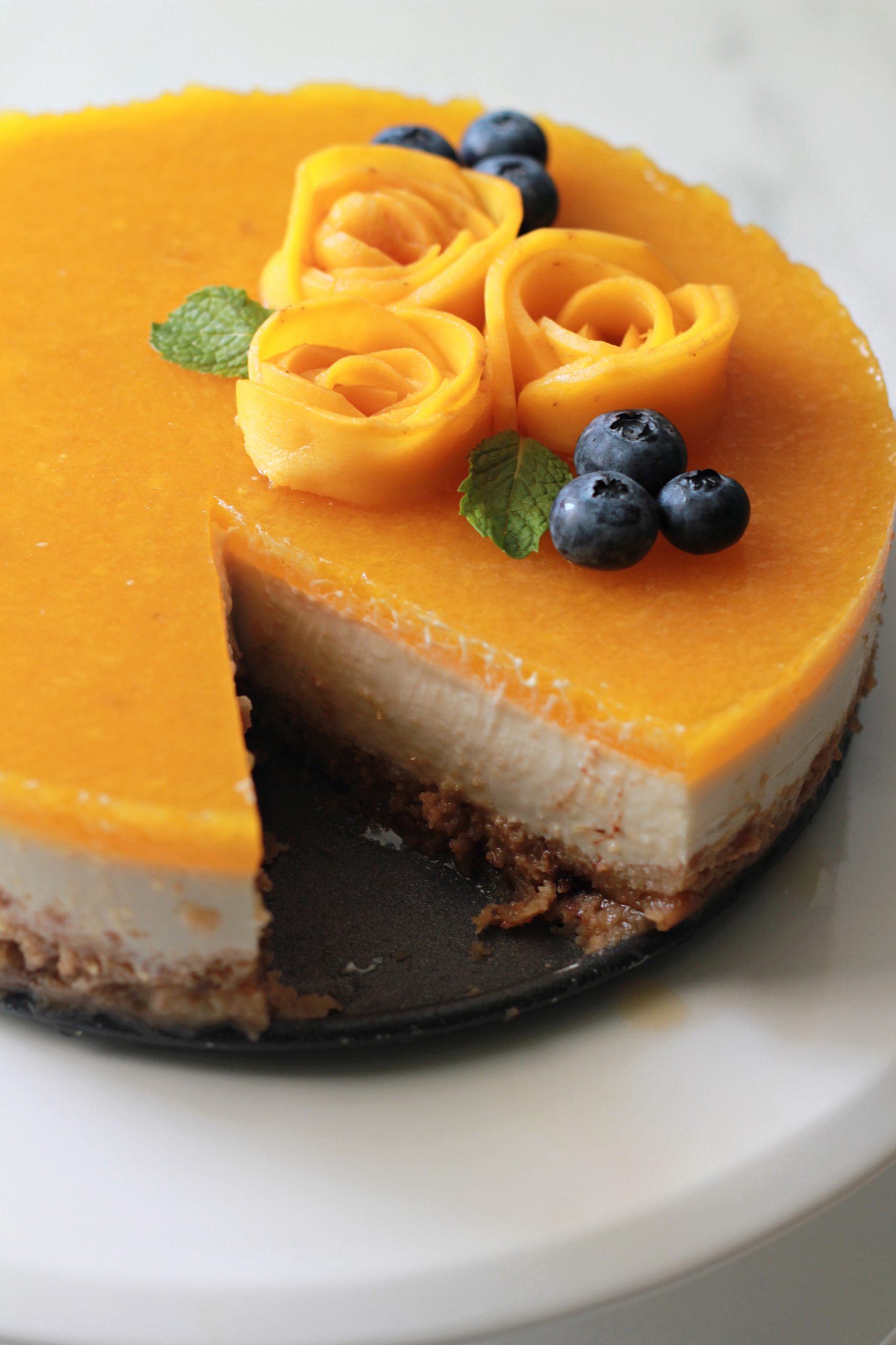 Pin
You may be wondering why I call it a cheesecake when it is technically not one. This recipe neither has any expensive cream cheese, not does it include any eggs. It is by nature a baked yogurt dessert, however, it would'nt be wrong if I said that it tastes just like a cheesecake as my brother's family mistook it for one and complimented me saying that the 'cheesecake' was delicious. Oh yes, besides my own family, they are my official tasters, the guinea pigs for all my random food experiments. I went ahead and christened this recipe as a cheesecake. Get the same results for half the cost!! Yeah, for cheapskates like me this is the perfect solution. Well, it's not really about being a cheapskate but during the pandemic it may not be possible to go hunting for cream cheese no? I am sure that yogurt is something most of us stock in our fridge. All you have to do is source some fresh cream and some condensed milk and you are good to go!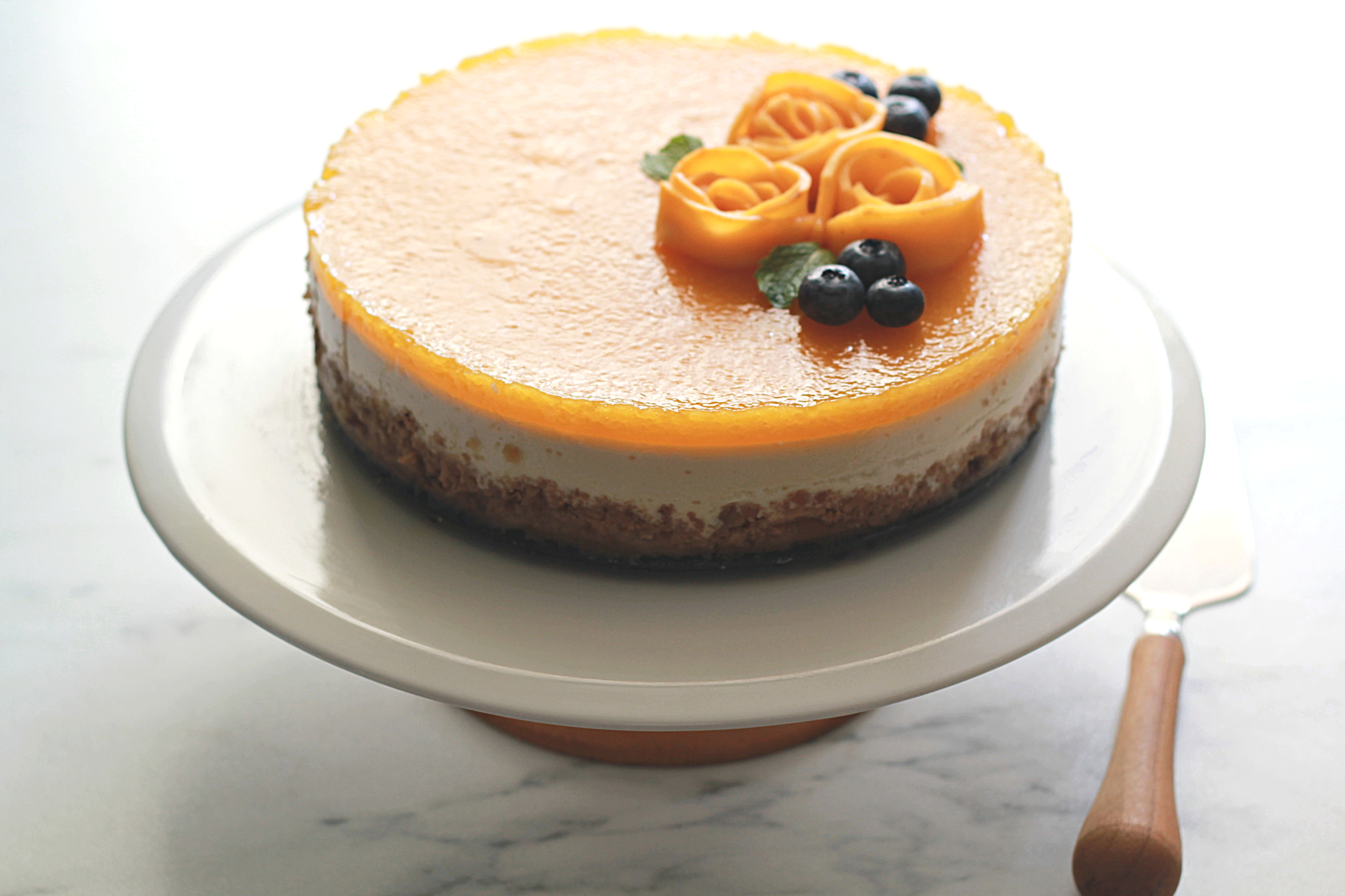 Pin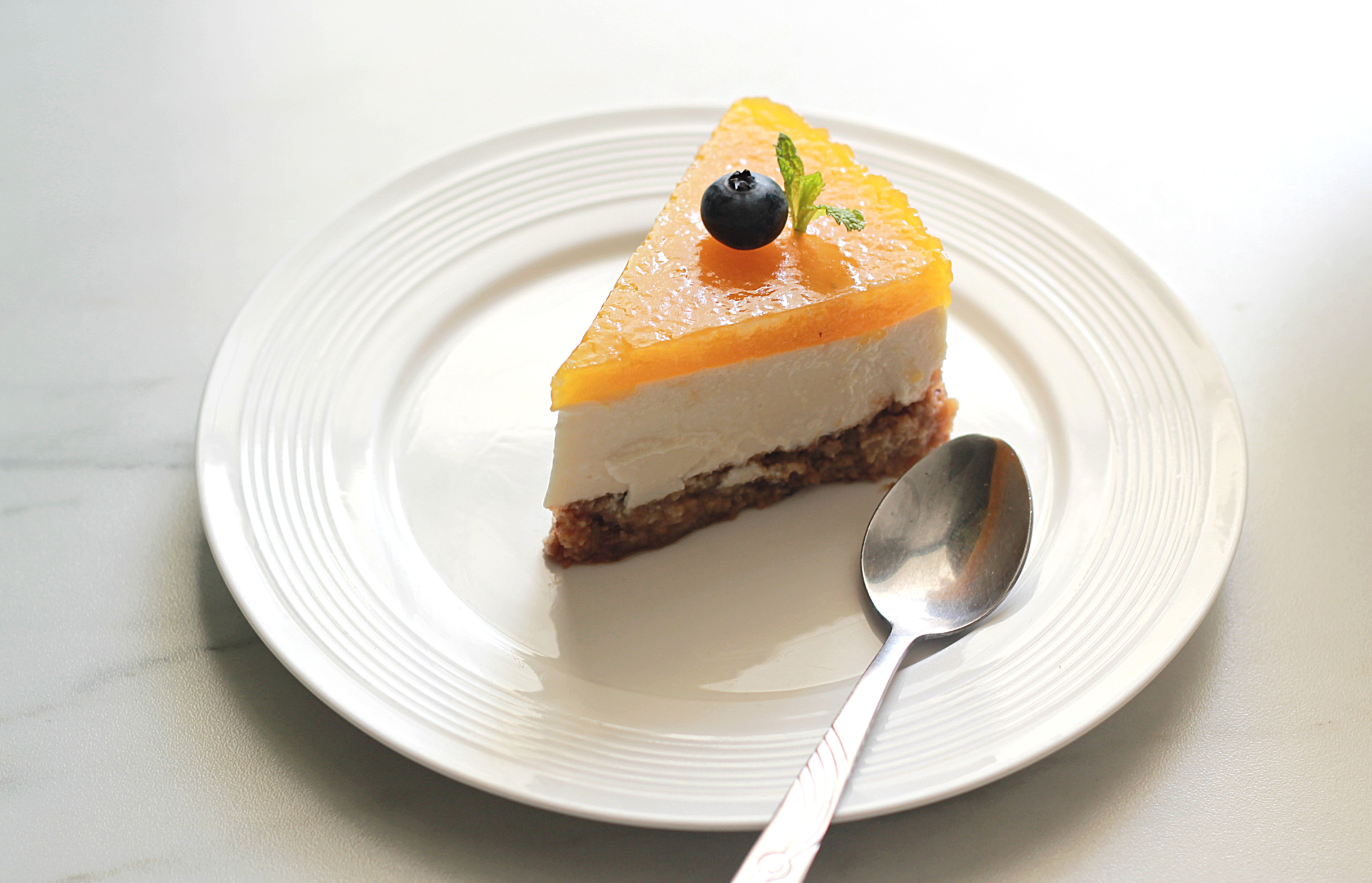 Pin
What if I don't have marie biscuits?
Well, this recipe is forgiving! If you don't have marie biscuits, use whatever you have. Just use 200 grams of whatever assortment you have. I used all the random biscuits I had at home, from the coffee flavoured ones from my son's secret stash to the marie biscuits that I bought to be dipped in milk and never did. If you have only chocolate flavoured ones like Oreo or Bourbons, those will do too.
What kind of mangoes can I use?
Well, while I recommend you to use your favourite variety you can use any sweet, fully ripened mangoes of your choice. I wanted to try this dessert with Alphonso mangoes but didn't find any, so I used a big Badami mango which worked just fine. Plus the mango jelly has a standard mango flavouring added to it. So you can tweak the end result of the mango layer by adding mango flavouring/essence of your choice too if you like. Just go with the flow!
What if I don't have mangoes? Can I use any other fruit?
Yes! This is such a versatile recipe that you can use any seasonal fruit of your choice. The baked yogurt remains the same, the topping can be made from a zillion different fruit flavours. During the strawberry season you should totally use strawberry jelly and top it with freshly cut berries. Try peaches (fresh or canned), lime flavoured jelly with freshly cut kiwi fruit, pineapple jelly with mango topping. Any good fruit combinations work well.
So, what are you waiting for? Go ahead, scroll down, watch the video and make this!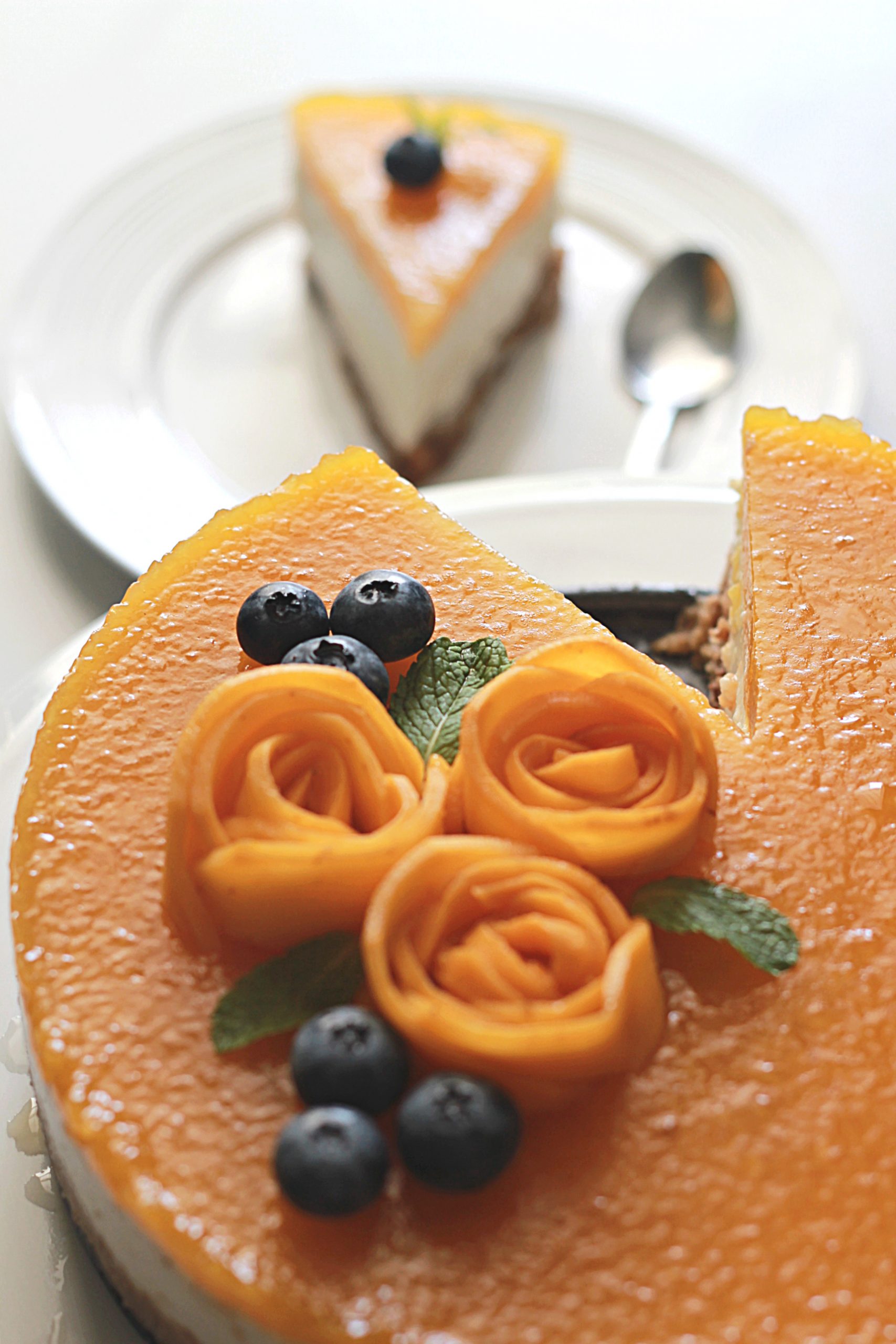 Pin
Mango recipes you should try this season!
Kosrache Lonche (Shredded Mango Pickle)
New here? Subscribe to my free newsletters with my latest recipes!
If you give this recipe a try do leave a comment on this post down below and don't forget to give it a star rating! It will really help more readers discover my recipes! Don't forget to check out my latest videos on my YouTube channel. If you like what you see, do give me a thumbs-up (like), share & comment and subscribe to my channel so that the gods of YouTube (a.k.a algorithms) recommend my channel to a wider audience with similar tastes and more & more people can discover my videos!
And while you're here, do follow me on Instagram, Pinterest,  Facebook and Twitter. If you'd like to say hello or have detailed queries do send an email at [email protected]. I'd love to hear from you!
Click the image below to save this recipe on Pinterest!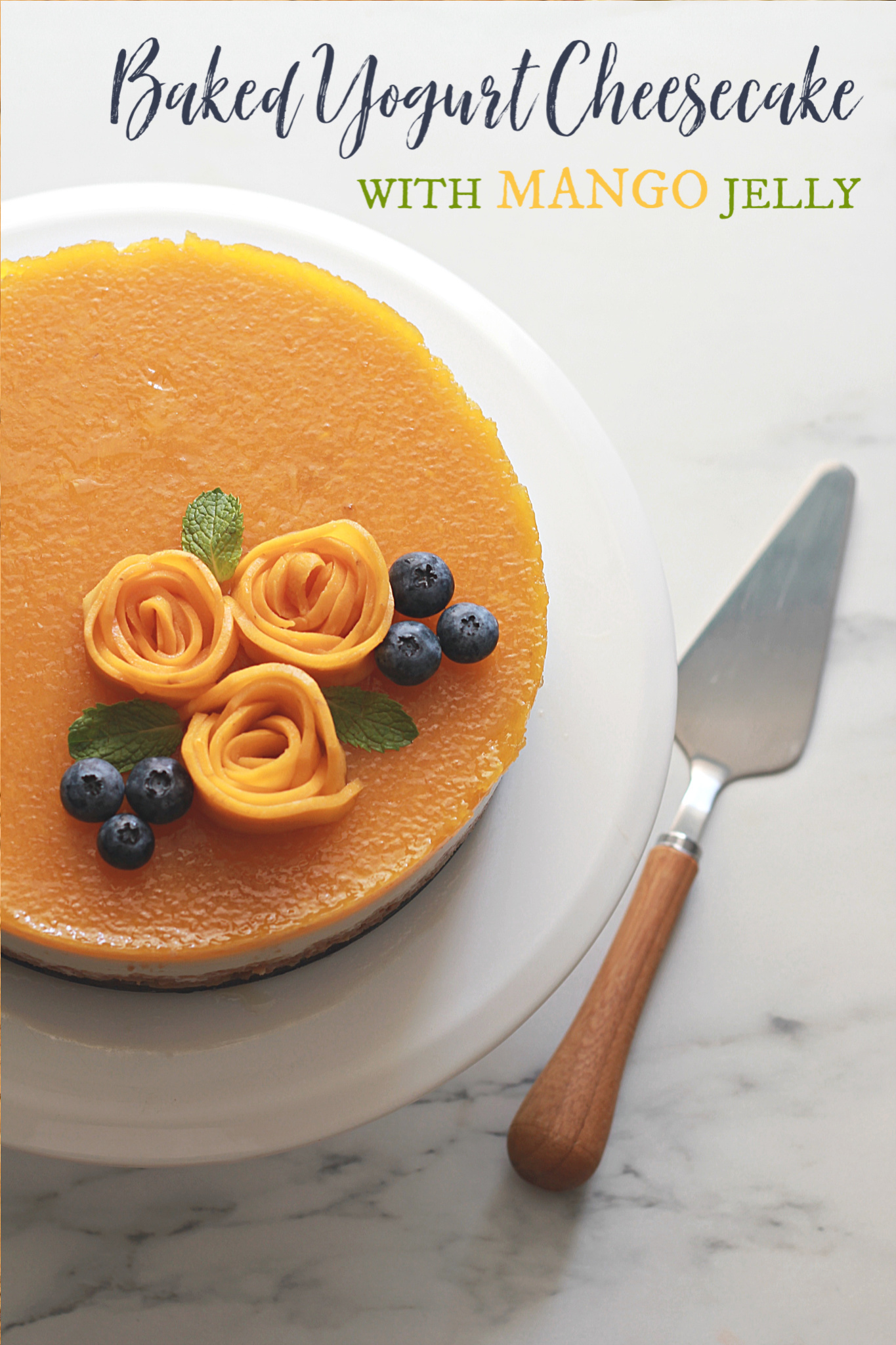 Pin
Do check out the video of how to make this!! I hope you enjoy it!</p>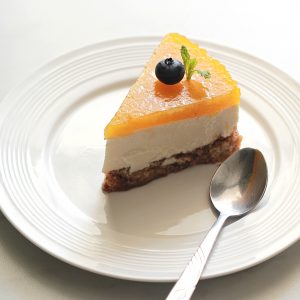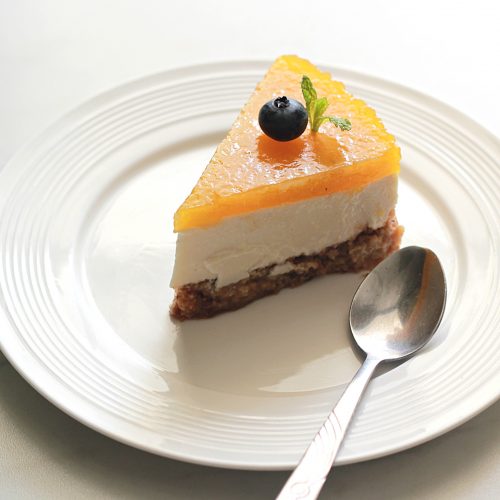 Baked Yogurt Cheesecake with Mango Jelly
Super easy & simple Indian style cheesecake without cream cheese or eggs is a real treat. Mildly sweet & delicious, makes for a perfect dessert for a party. Replace the mango flavoured jelly with any other flavour & seasonal fruit of your choice
Print
Pin
Rate
Ingredients
For the base

200

grams

40 Marie or digestive biscuits * see notes

100

grams

1/2 cup unsalted butter

20

grams

2 tablespoons sugar

For the yogurt layer

500

grams

2 cups thick curd (or hung curd is best)

250

ml

1 cup fresh cream

397

gm

1 tin, sweetened condensed milk

1-2

tablespoons

of sugar only if required

1

teaspoon

vanilla extract

For the mango jelly layer:

200

grams

approx 3/4th cup mango pulp, mashed * see notes

1

packet mango jelly

1/3

cup

hot water

For the decoration:

1

mango cheek

cut breadthwise into very thin slices

mint leaves to garnish

6-8

blueberries to decorate
Instructions
Grease a 9″ or 10″ springform (loose bottom) pan with some butter. Keep it aside

Crush the biscuits in a food processor/mixer grinder or by placing them in a ziplock bag and beating the bag using a rolling pin. Transfer this mixture into a bowl.

Add the butter and sugar to the bowl and microwave everything together for 1 minute. When the butter has melted, mix everything thoroughly

Transfer this mixture into the prepared tin and press it down firmly using a bowl or a measuring cup with a smooth base.

Preheat oven to 150 degrees C and bake the base for 10 minutes. Remove and cool for 5 mins.

Prepare the yogurt layer

Place the yogurt, cream, condensed milk and vanilla extract in a deep bowl and whisk everything together till smooth

Taste the mixture and add the extra sugar (1 or 2 tbsp) only if you need a sweeter cake. This cake is mildly sweet so it doesn't really need any additional sugar but it is upto you.

Pour this mixture over the based biscuit base and bake in the preheated oven at 150 degrees C for 35-40 minutes or till the skewer inserted right in the middle comes out clean. The cake will still be a little jiggly when you shake the pan but the liquid inside should be cooked so increase the baking time only if required, 5 minutes at a time.

Remove the pan and place it on a wire rack to cool.

Prepare the jelly layer

Place the mango jelly powder in a bowl, add 1/3 cup of hot water and whisk till the granules dissolve.

Add the mashed mango pulp and whisk again till smooth.

Pour this mixture over the baked yogurt layer. Shake the pan until the mango layer has spread evenly.

Cool for 15 minutes. Cover with cling wrap and refrigerate it for 4-6 hours or till the mango jelly has set. Overnight is best.

Serve

When the cheesecake has chilled adequately, remove from the fridge, decorate it with mango roses prepared by swirling mango slices in circles (starting from the smallest slice of the mango cheek), mint leaves and blueberries (or any fresh fruit of your choice). Slice and serve immediately
Notes
1. Since I didn't have 40 Marie biscuits required as per the original recipe, I used a mix of whatever biscuits I had – Oreo, Marie, Digestive, coffee & butter cookies
2. I used 1 big Badami mango to make the mango pulp
3. If you want a more mellow taste for the mango layer you can mix 100 gms of fresh cream into the mango jelly and whisk it all together before pouring over the baked yogurt layer.
Nutrition
Nutrition Facts
Baked Yogurt Cheesecake with Mango Jelly
Amount per Serving
% Daily Value*
* Percent Daily Values are based on a 2000 calorie diet.
Disclaimer
The nutritional values are only indicative.
Tried this recipe?
Please leave a comment & rate the recipe below or share a photo on Instagram and tag me @ruchikrandhap