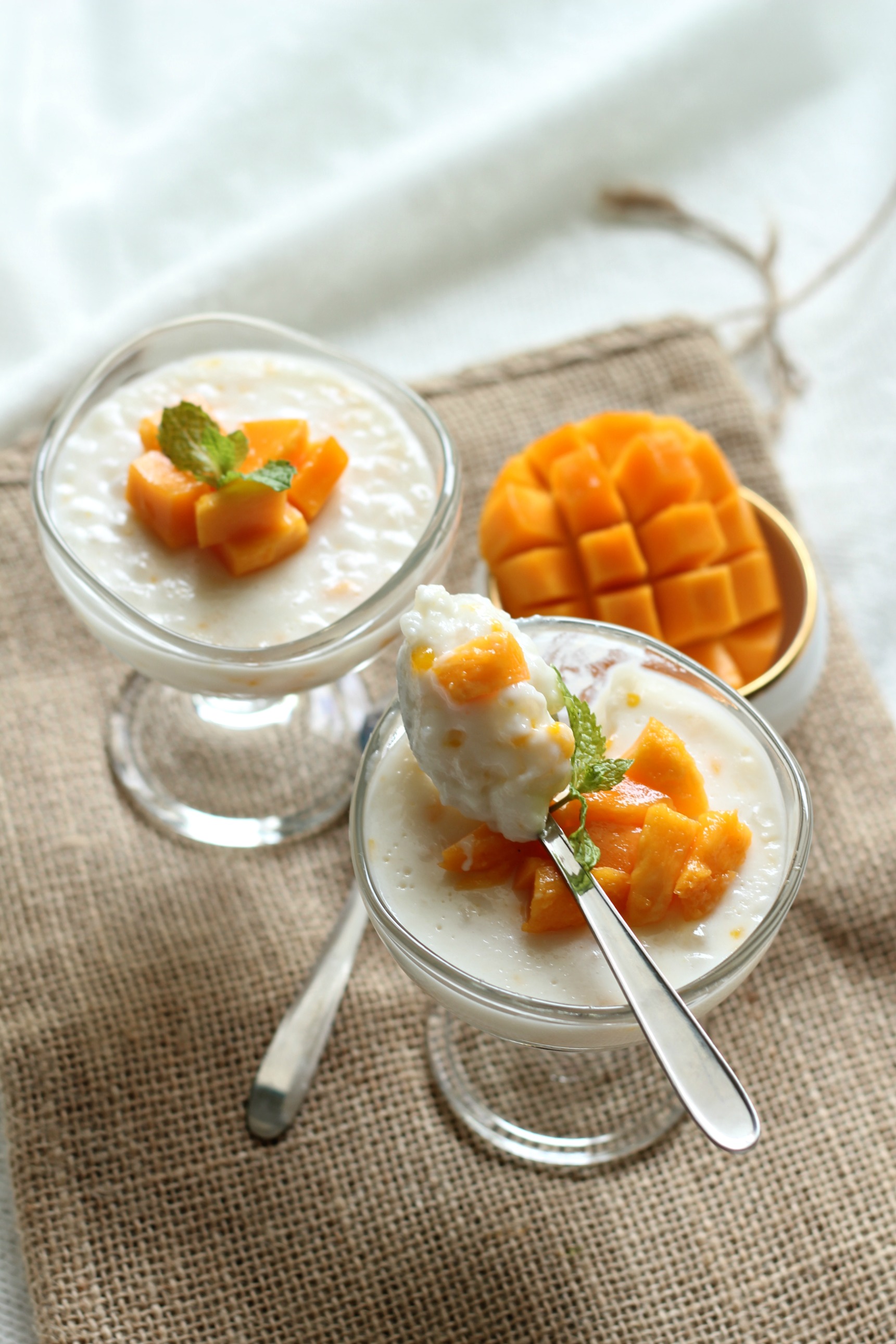 Pin
Summer vacations are finally here and so my experiments begin!! Last week most schools in Dubai closed for the summer. A week prior to that most other schools had wound up their academic year so my kids had to literally drag themselves out of the house to attend the last week of school which was nothing but fun and games. Literally. They did so without much complaint. No, I am kidding! Every morning I had to listen to them cribbing about why they had to go but then I am a little crazy about attendance. No, I am kidding! I am just crazy about keeping my sanity. I dread the harsh dessert summers and what's worse is to have kids holed up indoors driving me up the wall. Well, now that they are a little older I manage to engage them in several activities. From taking them to the park, beach, pool and other outdoorsy activities I have made a list of indoor games and fun like watching movies together to kill these two months. I do hope I am able to get everything done as per my list. This week, besides packing them off to the four week long summer camp hosted by the church, we went to the park twice, spent an entire day at the mall with some playtime at the ice rink followed by lunch at eateries of their choice, watched a French movie for kids (The Red Balloon – Le Ballon Rouge) together at home, painted some random clay pots to be used as planters and are midway through solving a 500 piece jigsaw puzzle (my favourite!). Now did I tell you that I have locked away the laptop, confiscated the iPad and put away the spare phone? The only screen time my kids are getting is the TV – which I will indulge in watching with them too as it is far more easier to control (just hide the remote or remove the batteries) than a very personal gadget like a tablet. I deal with enough aggressive behaviour when tablets are taken back so I decided to lock them away for the entire summer. I hope you are doing the same. If not, try it – it is very liberating for both the kids (after the customary meltdown of course) and parents.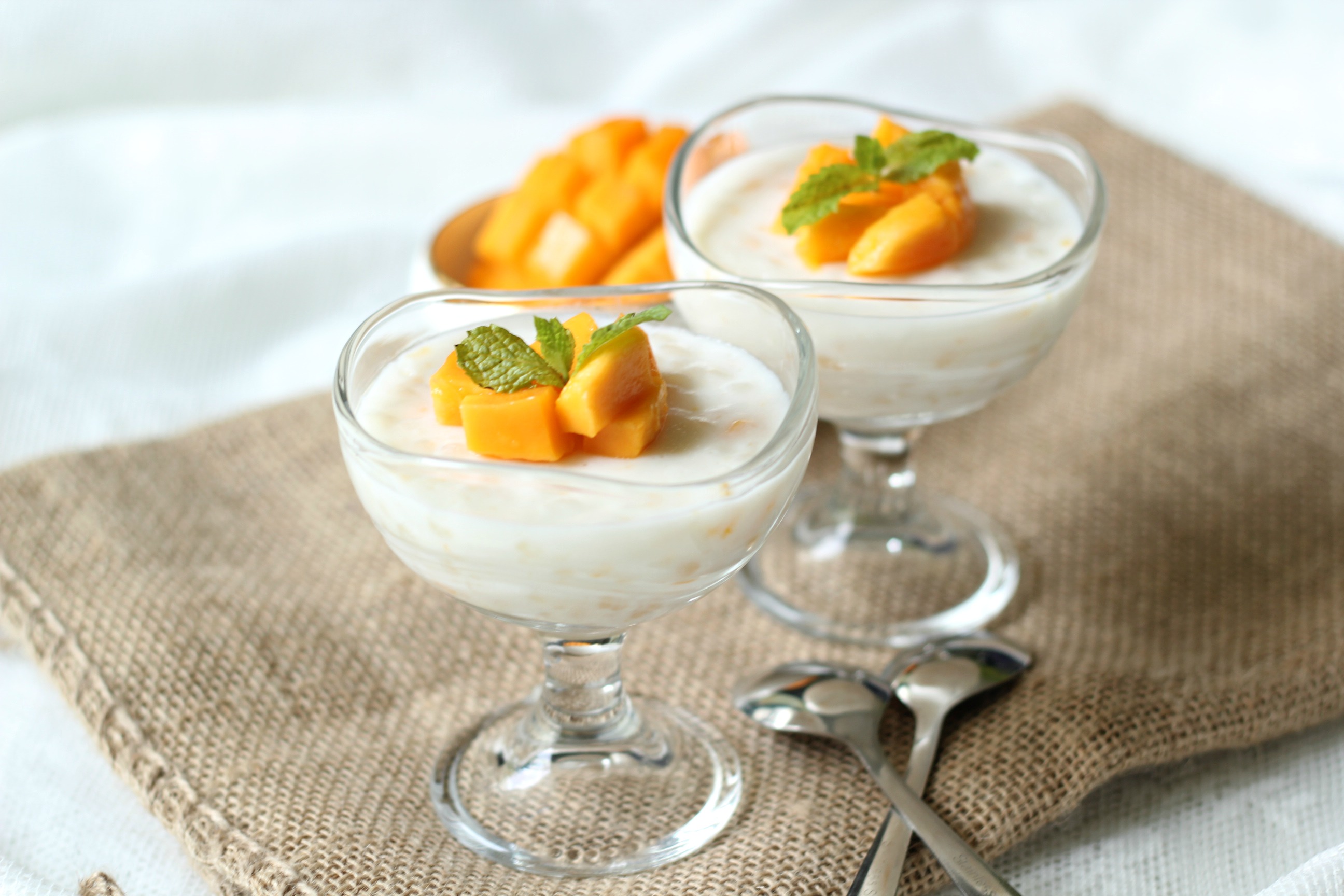 Pin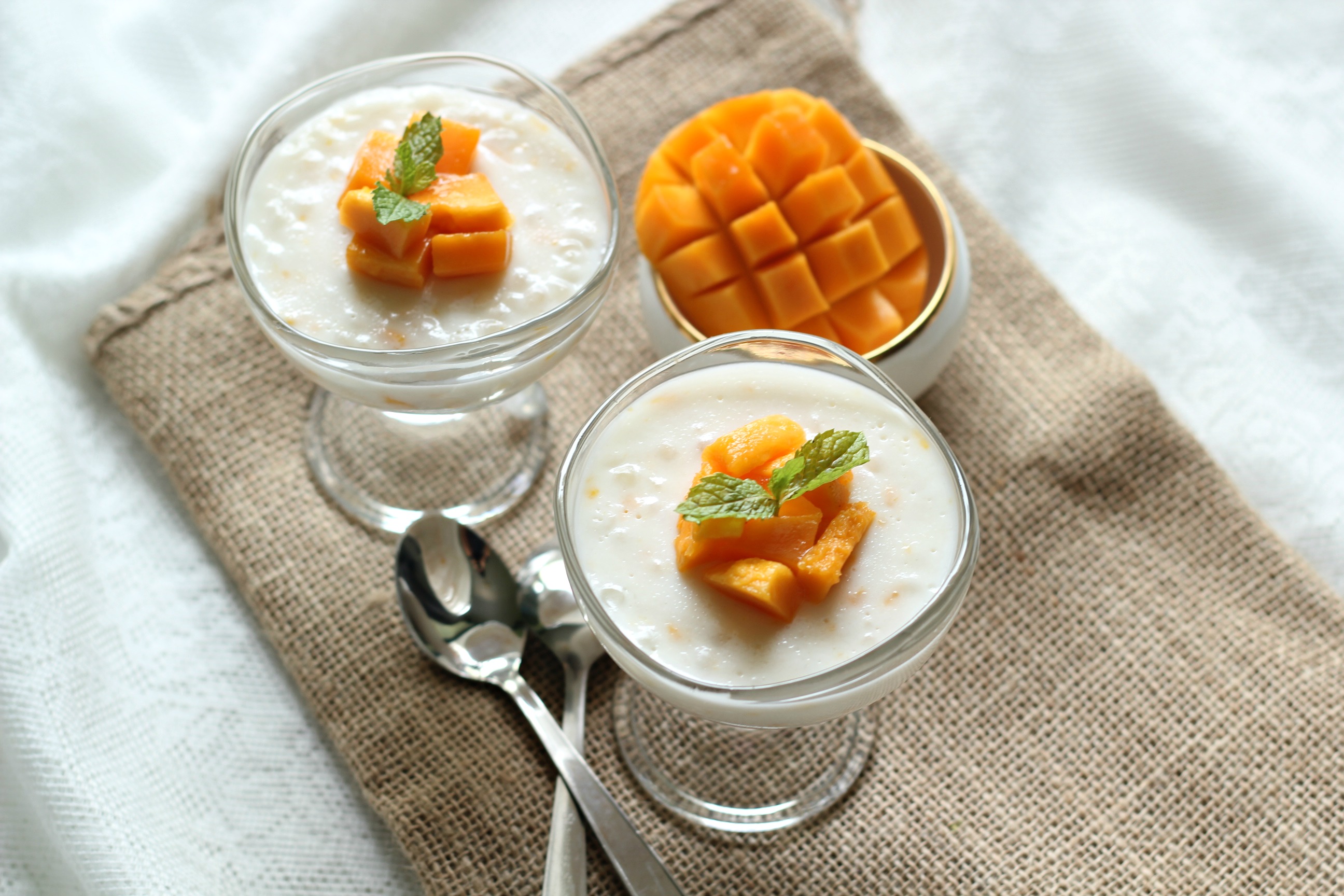 Pin
This summer I will also be teaching my son to help me with some videos that I have lined up for shooting. We both love doing this and it helps us spend more time together. He loves to experiment with ingredients and I plan to introduce him to the basics of cooking as well. Unlike the previous few years when we would spend our summer vacation in Mangalore, this time we plan to make the most of it here in Dubai. Since the mango season has just begun here, we are having a feast although I don't indulge in too many, I cannot resist experimenting with some. I am very excited to try out some recipes that I have collected over the years and I hope to share them with you. For now, I am sharing the recipe of this lovely pudding that tastes amazing when chilled. I found the recipe in the Friday magazine and decided to try it out. You can make a vegan version by replacing the milk with coconut milk or water. Technically this dessert goes very well with any fresh fruit of your choice but pairing it with mangoes is a charm in itself. Do give it a try and I hope you like it!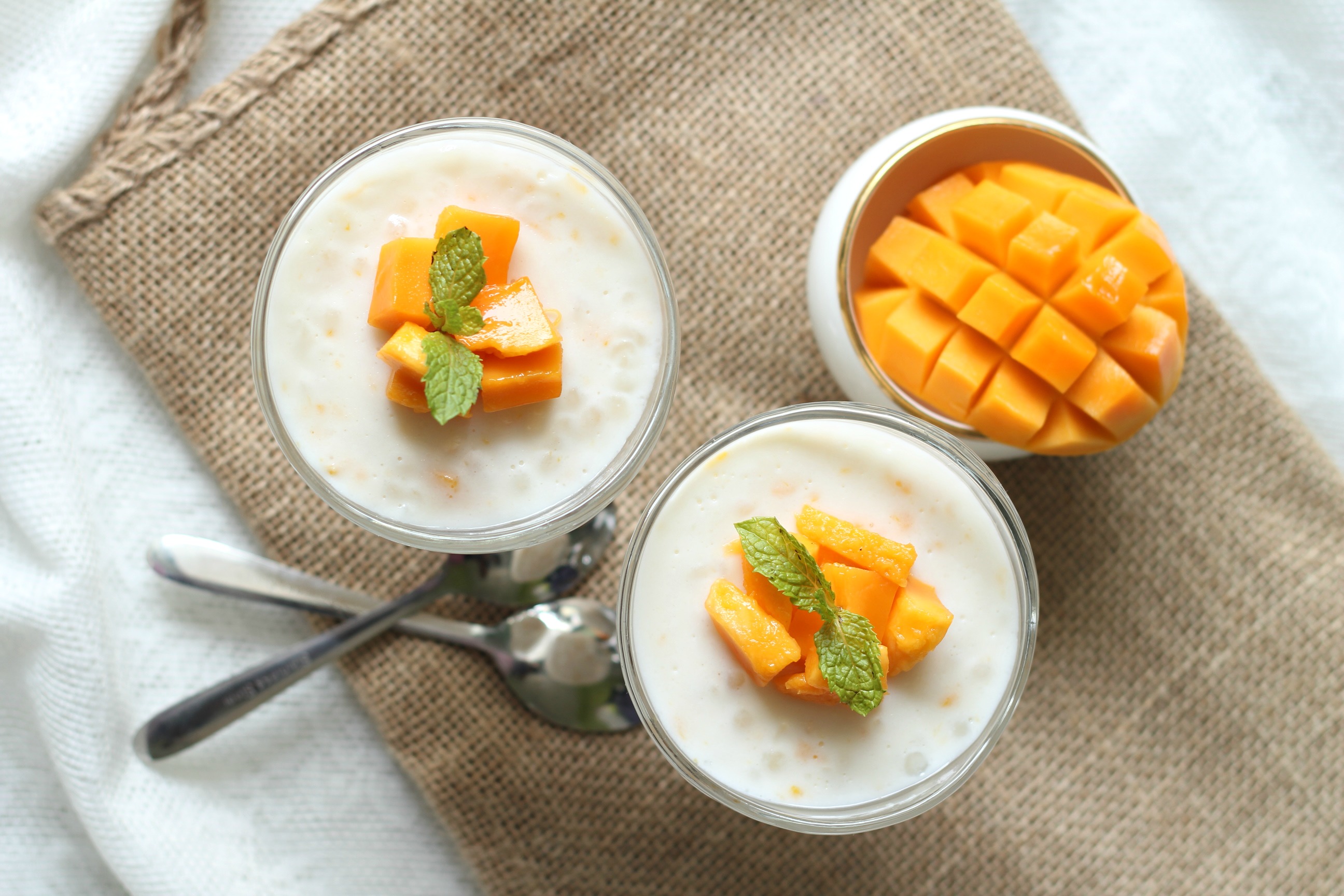 Pin
Pin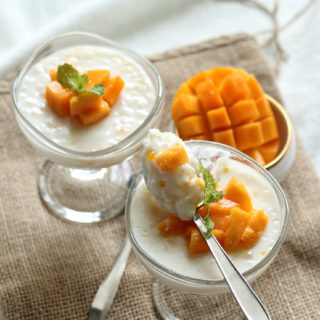 Sago Coconut Pudding
Delicately sweetened pudding with the unmatched tropical flavours of coconut & mango that come together in one single dish! Enjoy it chilled to beat the summer heat!
Print
Pin
Rate
Ingredients
1/2

cup

sago (tapioca pearls)

4

cups

water

1

cup

coconut milk

1

cup

milk

or substitute with 1 cup coconut milk for a vegan version * see note

1/4 - 1/2

cup

granulated white sugar

adjust according to the desired level of sweetness

2-3

tablespoons

finely chopped but not mushy, mango pieces

plus extra to garnish

pinch

of salt
To thicken the pudding (optional)
1

teaspoon

cornstarch

1

tablespoon

water at room temperature
Instructions
Wash the sago and soak it in ample water for about 30 minutes. Drain and keep aside.

Bring 4 cups of water to a boil and add the sago to it and cook till it turns translucent stirring every now & then to avoid scorching. Sago tends to stick to the pan very easily. Once done, drain the water and refresh with cold water. Keep aside.

Place the milk, coconut milk & sugar in a heavy-based saucepan and bring the mixture to a boil and stir until the sugar has dissolved. Turn down the heat, add the cooked sago and simmer for 3-4 minutes.

Check the consistency of the pudding. Do note that the pudding will thicken on its own due to the presence of starch in the sago. However, if you still desire a thicker pudding, add the cornstarch dissolved in the water and cook for half a minute. Optional step: Add the chopped mango pieces just before taking the pan off the heat.

Allow the pudding to cool slightly before serving if you want to serve it warm. However, it tastes better when chilled. Pour the pudding into serving glasses/bowls and cover with cling film to prevent a thick skin (cream) from forming. Once cool, refrigerate for at least 4-6 hours before serving garnished with chopped mango pieces and mint leaves
Notes
If you are using canned milk and it is too thick you can simply use 1-1/2 cups thick milk and 1/2 cup water or use 1 cup thick and 1 cup thin coconut milk if you are using homemade coconut milk. You can also make the pudding using regular (dairy) milk instead of coconut milk.
I used the cornstarch mixture as I wanted my pudding to set. The dessert tastes great even if it doesn't thicken or set.
Disclaimer
The nutritional values are only indicative.
Tried this recipe?
Please leave a comment & rate the recipe below or share a photo on Instagram and tag me @ruchikrandhap