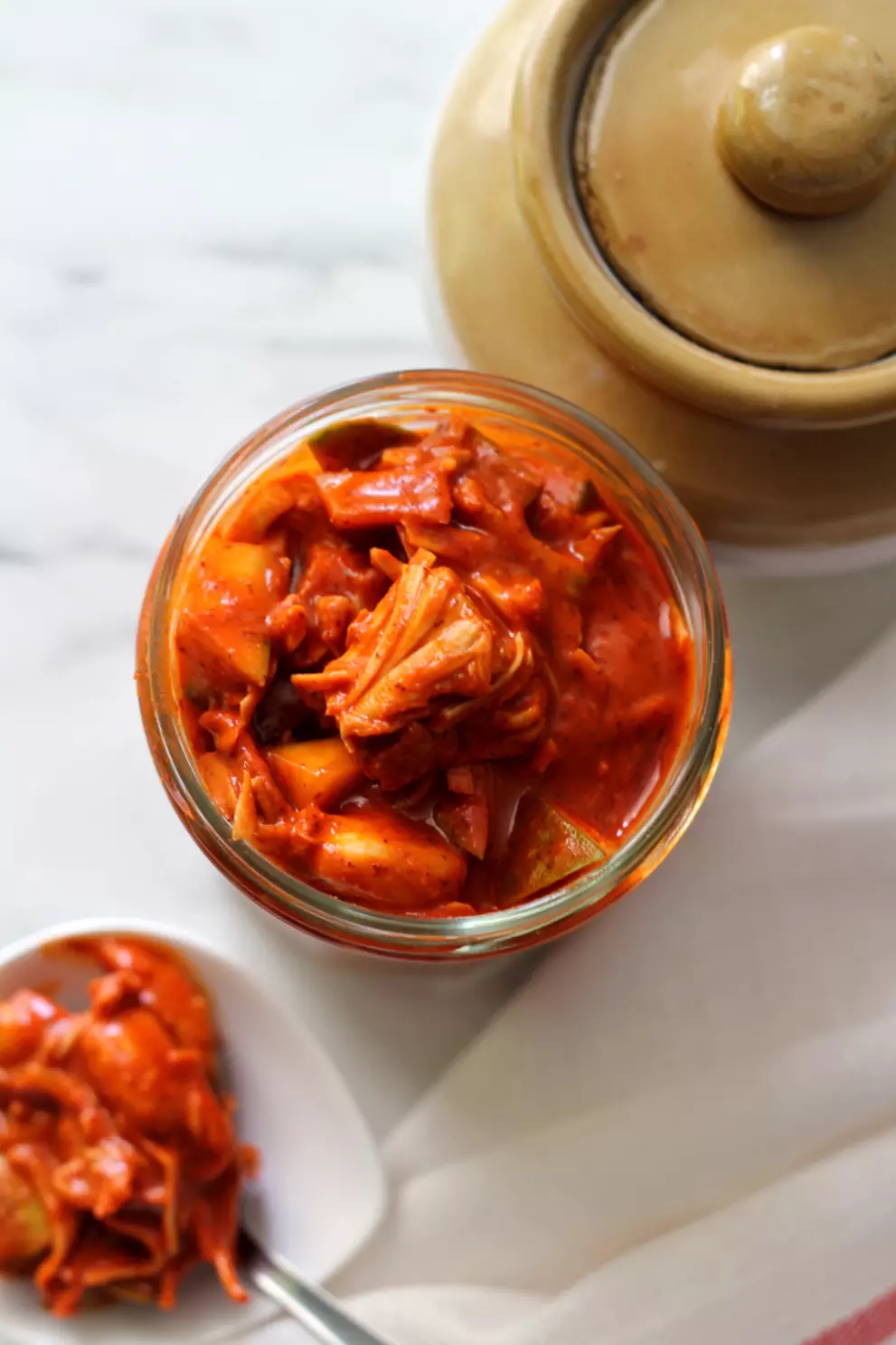 Pin
Folks, I am back with a super simple yet delicious recipe for an instant pickle. Yes! instant, because with minimal effort & time you can make some pickle without having to wait for weeks. This pickle is made using young/unripe jackfruit which we also call as 'kadgi' in Konkani. You see, like the coconut and banana trees, the jackfruit tree and its fruit are so versatile and useful for us that we make use of them to the maximum. The leaves of the jackfruit tree have culinary use too where we weave them into little baskets and steam idli batter in it. This is called as 'kottige' or 'kotto' in the local languages of Mangalore. Another similar preparations are the Itoo (corruption of the term 'hittu' which means 'batter' in Kannada). Then there's Idiyo which is sweet/stuffed rice dumplings steamed in jackfruit leaves. So you see, we don't let anything go to a waste 🙂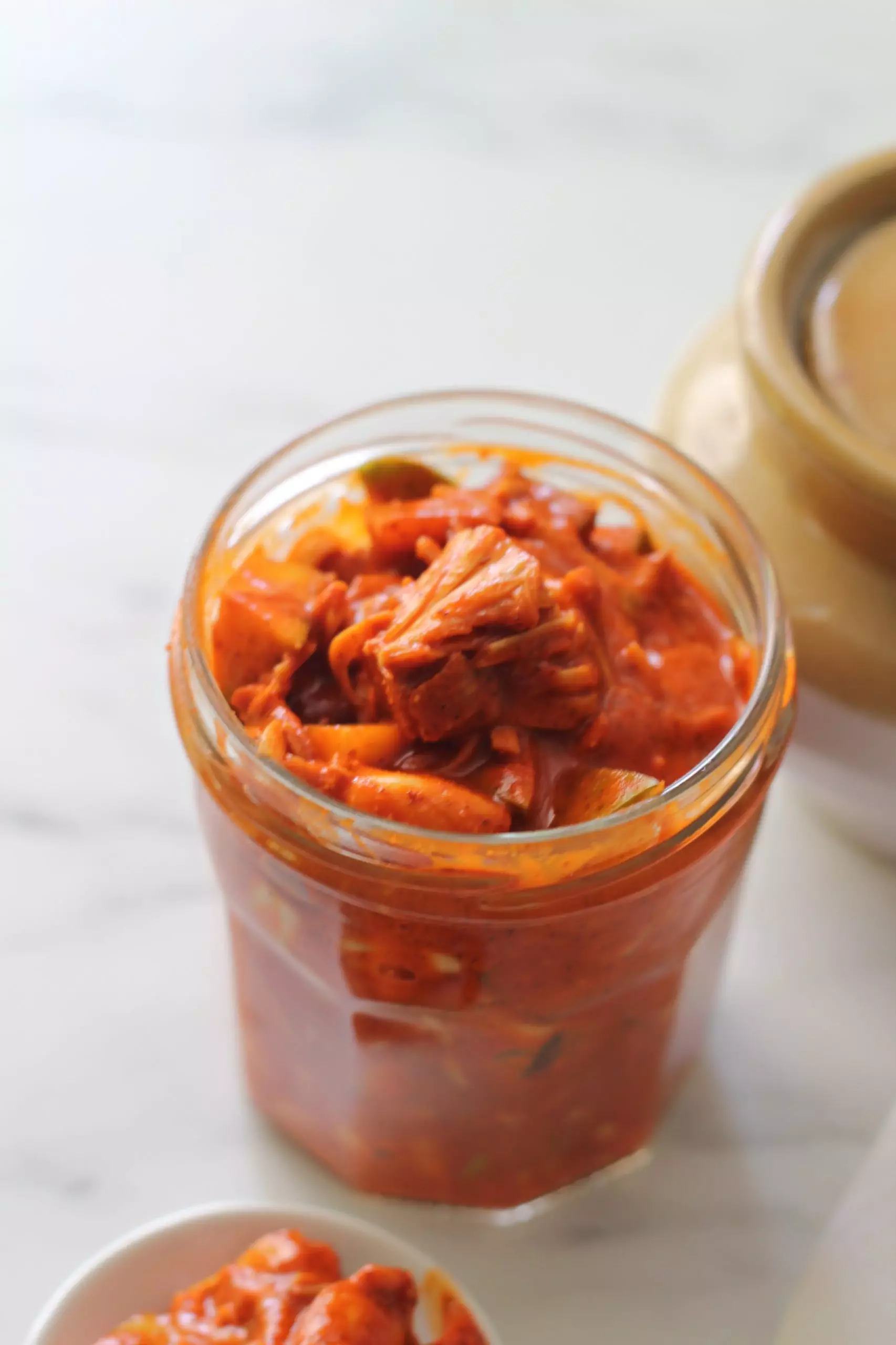 Pin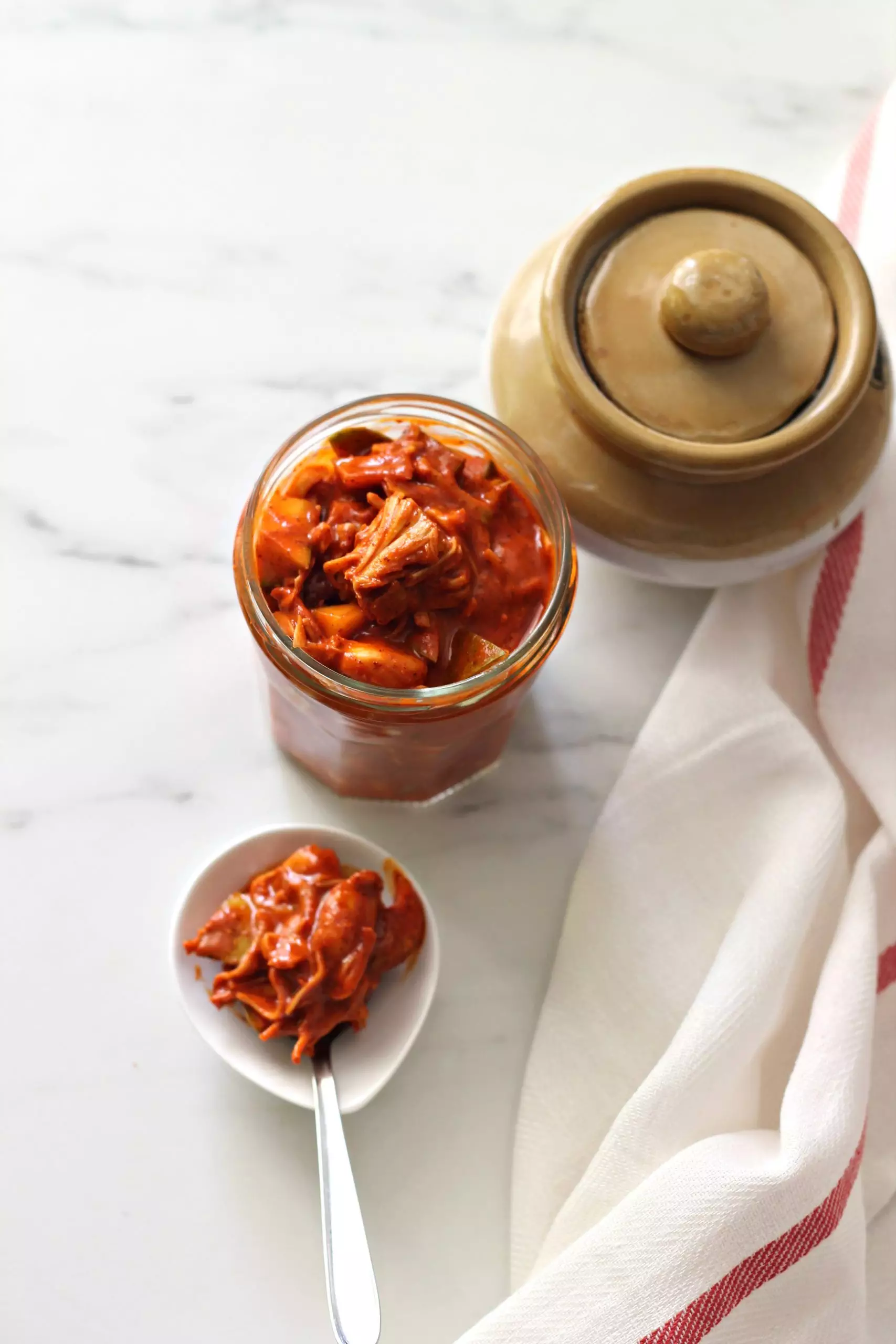 Pin
Coming back to the topic, the raw (tender) jackfruit is also a hot favourite amongst us Mangaloreans. We love to make different dishes out of it.From curries to sautes to pickles, we enjoy it in every possible way. So here's presenting the Konkani style instant pickle recipe that I found written down in an old cookbook and never got around to trying for years due to the non-availability of good 'kadgi'. I eventually found it a few months ago in the market and made it. I hope you like it!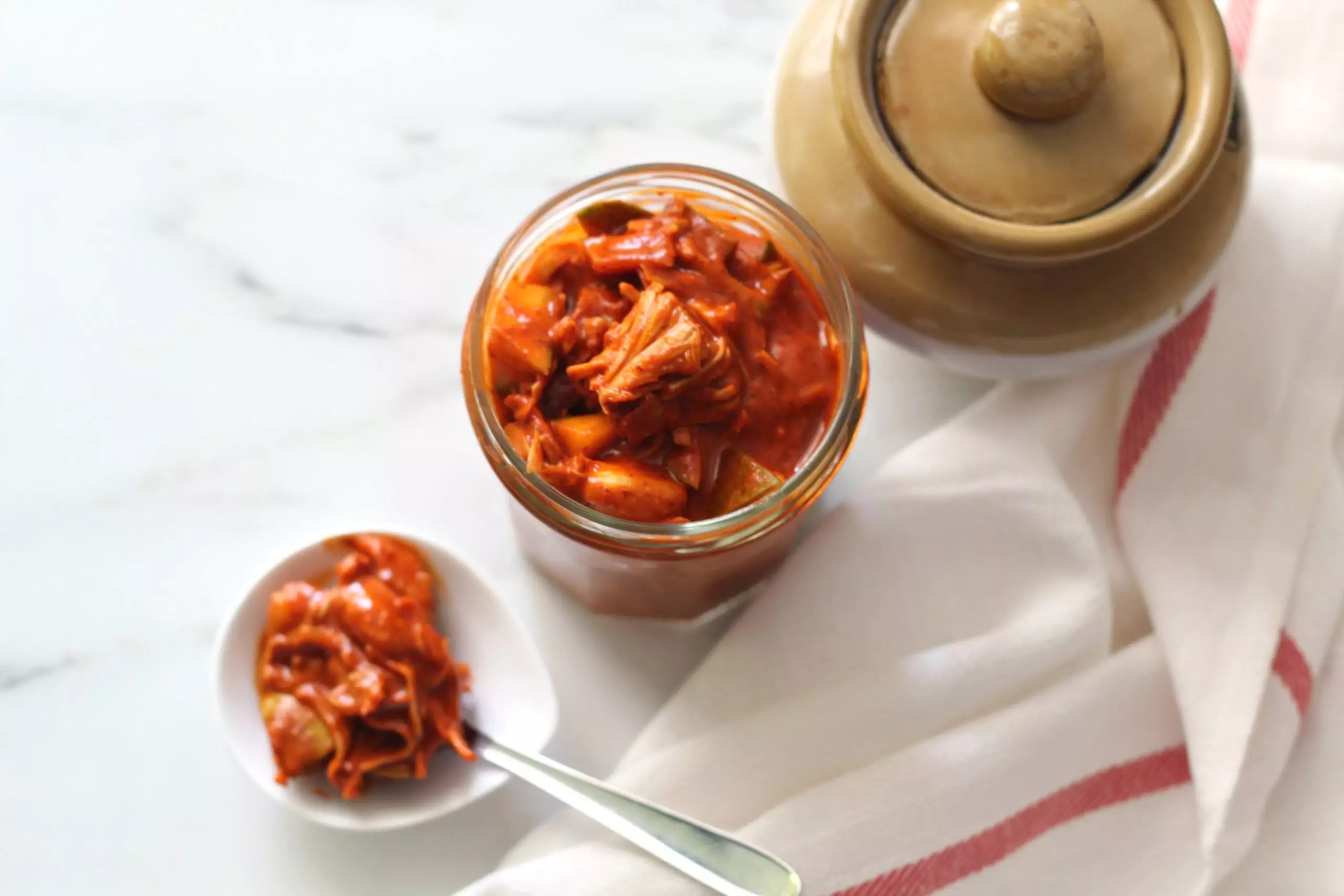 Pin
New here? Subscribe to my free newsletters with my latest recipes!
If you give this recipe a try do leave a comment on this post down below and don't forget to give it a star rating! It will really help more readers discover my recipes! Don't forget to check out my latest videos on my YouTube channel. If you like what you see, do give me a thumbs-up (like), share & comment and subscribe to my channel so that the gods of YouTube (a.k.a algorithms) recommend my channel to a wider audience with similar tastes and more & more people can discover my videos!
And while you're here, do follow me on Instagram, Pinterest,  Facebook and Twitter. If you'd like to say hello or have detailed queries do send an email at [email protected]. I'd love to hear from you!
Click the image below to save this recipe on Pinterest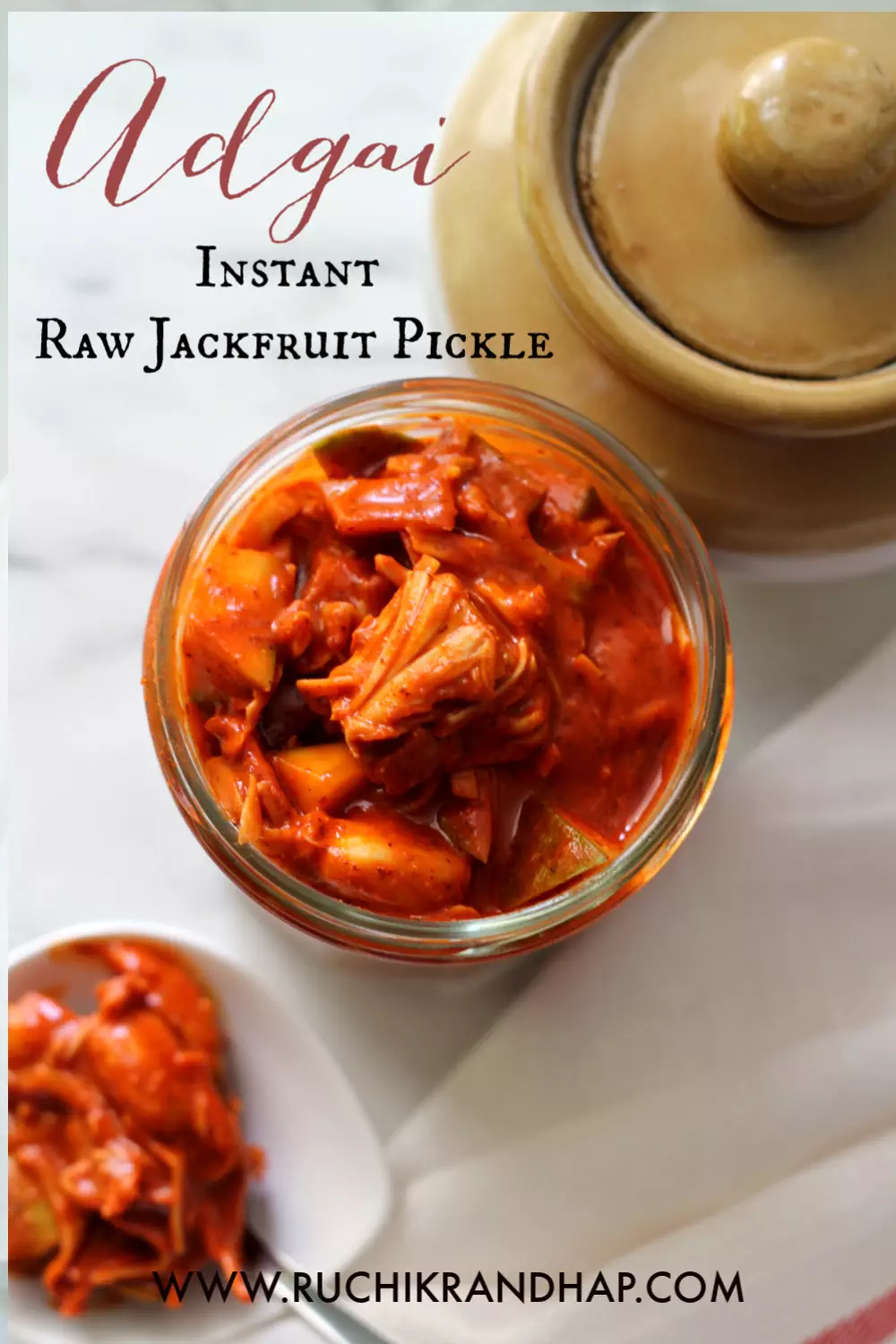 Pin
Adgai | Konkani Style Instant Young (Unripe) Jackfruit Pickle
A quick pickle made using the seasonal bounty of Indian summers - the young (tender) jackfruit & raw mango. Quick easy and wonderfully delicious!
Print
Pin
Rate
Ingredients
200

grams

young (tender) jackfruit

cleaned & cut into small cubes * see notes

125

grams

raw mango
For the salt solution:
2

cups

(500 ml) drinking water

30

grams

(1-1/2 tablespoons) sea salt (medium coarse)
For the masala:
15

grams

(15 pieces) long dry red chillies

5

grams

(1 teaspoon) mustard seeds

1

teaspoon

coriander seeds

1/4

teaspoon

fenugreek seeds

methi

lentil size piece of asafoetida or 1/4 teaspoon if using the asafoetida powder
Instructions
Before you begin, please ensure that you use dry utensils such as the chopping board and knife. Any traces of moisture can ruin the pickle.

Place the raw jackfruit in a muslin cloth and steam it for 12-13 minutes. You may also pressure cook it with enough water to cover the pieces, for 2-3 whistles, however if you are unsure of the tenderness of the jackfruit then it is better to steam it. Once done, spread it out on a clean, dry plate and let it cool down.

Wash the raw mango very well, then pat it dry. There should be no traces of moisture on it. Keep the peel on and cut the raw mango into medium sized cubes.

To prepare the salt solution, bring the two cups of water to a boil in a small saucepan. Add the salt and let it bubble away for 5 minutes. Then remove the pan from heat and add the raw mango cubes to it immediately. Keep aside till the mixture cools down to room temperature.

In a heavy based frying pan, dry roast these one by one - dry red chillies, mustard seeds, fenugreek seeds & the asafoetida. Remove and let them cool down

Grind the chillies to a fine powder, then add the rest of the dry roasted spices and the salt solution (without the mango pieces) to the grinder and grind everything to a fine paste. Add as much salt solution required to help grind the masala.

Remove only the steamed and cooled raw jackfruit pieces and raw mango pieces from the salt solution into a bowl. Don't add the salt solution yet. Add the ground masala too and then mix everything with a dry spoon. Add only the required amount of the salt solution to adjust the thickness of the gravy in the pickle. Don't add too much and dilute the gravy.

Transfer the pickle into 1-2 clean & dry, sterilized glass or ceramic jars and refrigerate. The pickle keeps well for upto two weeks.
Notes
The weight of the raw jackfruit is mentioned after it has been cut & cleaned into cubes
Disclaimer
The nutritional values are only indicative.
Tried this recipe?
Please leave a comment & rate the recipe below or share a photo on Instagram and tag me @ruchikrandhap