2012 saw me trying out a variety of international dishes – some of them tweaked to suit the Indian palate but most of them prepared in a way that retained the original charm. One such dish was the Yang Zhou Fried Rice – a recipe generously shared by one of my first reader-turned-friends- Sara Lee, a Chinese by birth, living in Singapore. During one of our mail exchanges I requested her for tips on making a good bowl of fried rice and she shared with me her favourite recipe, this fried rice that takes very little time to put together and tastes wonderful. Thank you so much Sara!
What sets it apart from other fried rice preparations is the barbecued pork that lends a lovely sweetish taste to the rice. However, since I did not have the required ingredient while preparing this rice, you may say that its a cheat's version of the authentic way of making it. I did use pork though – a small portion set aside from the
Pork Chilli
I had also prepared that day.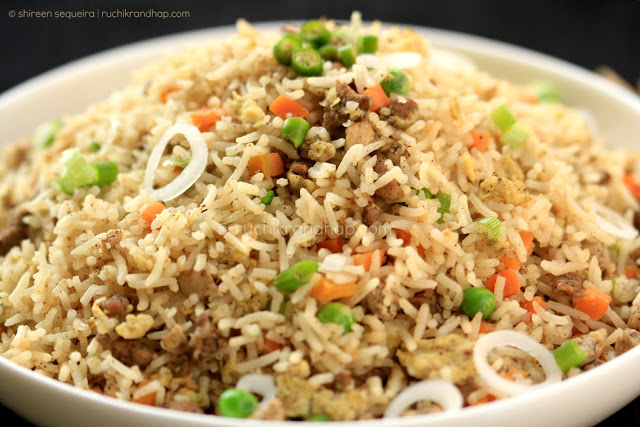 After preparing this fried rice at home, I realised how deliciously easy it was to put this one pot meal together. I did not add any ajinomoto as I had prepared this during my pregnancy and wanted to avoid it for my older son as well. It tasted just as delicious without it. The fresh ingredients and sauces made up for it.
I prepared this in a jiffy again yesterday albeit with fewer ingredients as my son has been throwing up meal time fuss since the past few months (feels like decades!) He wolfed it down in no time and his mommy was mighty pleased that after ages sonny boy had actually eaten a complete meal – veggies, protein & carbs – all thrown together in one delicious, aromatic and very visually appetising meal. I will be making this again & again.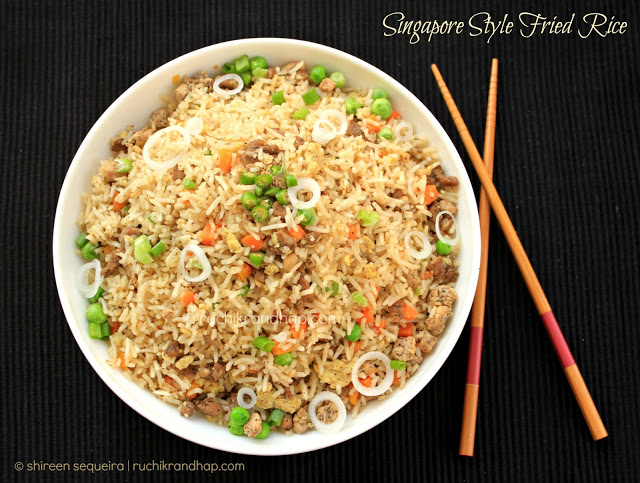 About this dish:
This dish also called as Yeung Chow fried rice is easy to prepare and tastes wonderful with all or even just a few of the main ingredients. Barbeque pork is supposed to lend the rice a sweetish flavour, however, you may skip it or replace it with fried bacon bits or just tender meat sliced, marinated in soya sauce and stir fried. Of course, the dish will deviate from the original dish, but then fried rice is all about putting a convenient meal together especially when you have leftover rice.Serve it with any oriental/Indo-Chinese side dish of your choice – with our without gravy or just as it is, looking at the number of ingredients that go into it, it makes for a complete and satisfying one pot meal!And for the record, i didn't feel the need to tweak, modify this recipe to suit my Indian tastebuds – it is not an Indo Chinese dish!
Yang Zhou Fried Rice
Prep time: 25-30mins | Cook time: 10-15mins | Serves 4
You Need:
650-700gm (approx) leftover cooked rice *see notes
2 eggs lightly beaten
150gm barbeque pork/ fried chicken *see notes
100gm prawns de veined
100 gm mixed veggies (carrots & peas go best) * see notes
1 tbsp finely chopped garlic
3-4 spring onions cut into rings
2 green chillies sliced
oil for frying
Seasoning 1
1 dtsp light soya sauce
2 tsp pepper powder
1 tbsp sesame oil (the oriental variety and not the Indian til oil used for pickles) * see notes
Seasoning 2
1 tsp salt
1 tsp chicken stock cube crumbled (I used Maggi)
1 tsp fish sauce
Method:
1. Marinate the cooked rice with seasoning 1 and keep aside for an hour.
2. In a large wide, heavy bottomed wok/kadhai heat 2 tbsp oil and stir fry the garlic lightly on a medium high flame. Add the prawns and fry till tender. Add the pork/chicken and fry till done.
3. Part the cooked meats/prawn to a side and pour the egg mixture in the centre of the wok and scramble until the eggs are cooked/firm up. Add the marinated rice and mix well.
4. Add the mixed vegetables and seasoning 2 and mix on a full flame till the rice is steaming hot.
5. Garnish with spring onions, sliced chillies and serve
Notes:
1. Ideally stale rice/leftover rice is used in the preparation of fried rice, however, if you are making it fresh then you can cool it thoroughly and refrigerate it till it is required for the final preparation. I cooked 1 cup of long grained Lal Quila Basmati rice that yielded approx 750gm cooked rice. These measures are just approximate. The quantity (yield) of cooked rice may vary depending on the type (variety) of rice used.
2. You can use a combination of meats instead of pork/prawns or even sausage bits. Ensure that raw meats are fried well and are actually cooked before the rice is added.
3. In this recipe I have used frozen carrots and peas that are pre cooked. If you are using fresh carrots you can lightly fry them after frying the meats or blanch them separately in water.
4. After mixing seasoning 2 and the rice, check salt as the stock cube contains salt in it and so does the fish sauce.
5. You can find sesame oil in the Chinese/oriental foods section of your supermarket. If you can't find it, use regular sunflower/vegetable oil. Do not use the sesame/til oil that we use in India while making pickles!