Upma – loved by some, disliked by others, happens to be my favourite form of a piping hot breakfast. My earliest recollection of having this nutritious one bowl meal was at my grandma's where almost every morning she used to make a typical Mangalorean version called as the 'Sajjige' or 'Rulaon' a mildly sweet dish made of semolina, onions, green chillies, sugar & salt to taste. Cooked with a little extra water, it would make for a hybrid between a porridge and a dryish pulao.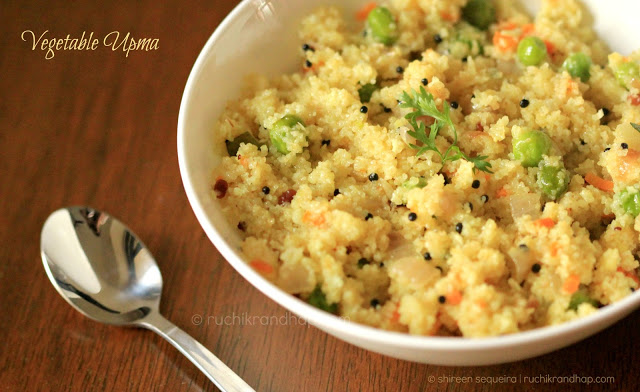 I remember eating it on so many mornings before I rushed to school that I never looked forward to it. If you ask me today, I probably would give anything to have a piping hot bowl made by my grandma.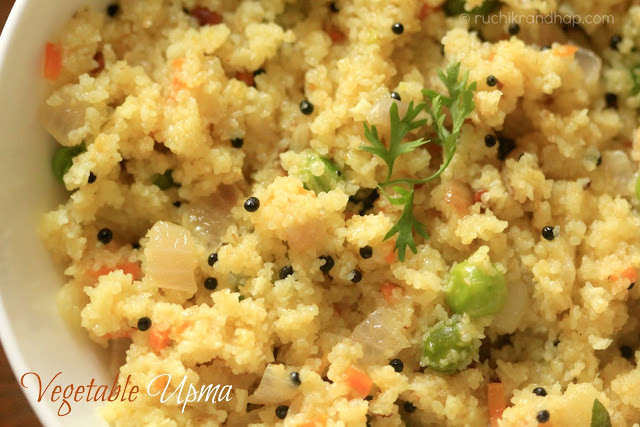 Today, upma as it's popularly known all over India makes its appearance on my breakfast table almost every week. Sometimes its
Sajjige
– a dryish form of what is made in Mangalore or this version with a few veggies thrown in to make it more colourful, interesting and definitely a little more healthy. I hope you enjoy this version as it is definitely something you can try when you run out of breakfast options
Vegetable Upma
Prep time: 10mins | Cook time: 10 mins | Serves 2-3
You Need
1 cup rawa/semolina (do not use very fine variety)
2-1/2 cups water
1/2 tsp mustard
2 green chillies slit
2 sprigs curry leaves
1 inch ginger chopped
1/2 carrot finely chopped
1/4 cup green peas (I used frozen ones)
1/2 cup chopped french beans (I skipped this)
2 medium sized onions chopped
1/4 tsp turmeric powder
2 tbsp grated coconut (optional)
salt to taste
oil for frying
Method:
1. Heat oil in a large pan or kadhai and add the mustard seeds, when they splutter, add the curry leaves and then the green chillies and fry on a slow flame for a few seconds. Toss in the chopped onions and fry for half a minute.
2. Add the chopped veggies and stir fry for a minute or so and then add the chopped ginger, turmeric powder, salt to taste and rawa and fry on a slow flame for about 2-3 minutes. In the meantime bring 2-1/2 cups of water to a boil in another pan.
3. Add the boiling water to the rawa mixture and stir gently. Let the mixture start bubbling over before you reduce the flame and cover the pan with a well fitting lid. Cook for a couple of minutes and then gently stir.
4. Turn off the flame and serve hot, garnish with chopped coriander if desired.