Mangalore's very popular (if not favourite) dish on the breakfast menu is the Sajjige, or Upma as the rest of the world
knows it.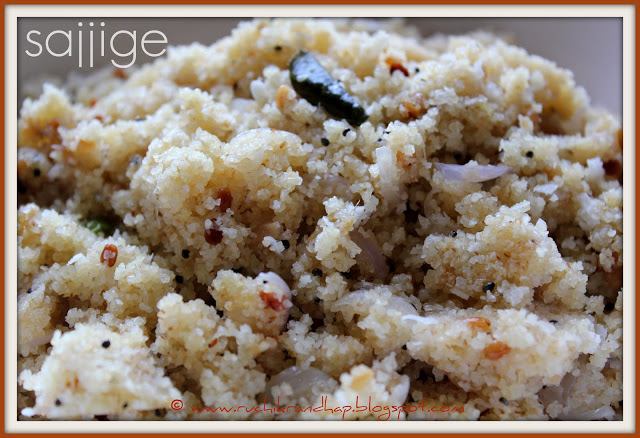 Sajjige/Upma
Prep time: 10-15 mins | Cook time: 7-8 mins | Serves 2
You Need:
3/4th cup rava/semolina * see notes
1 medium sized onion finely sliced
1-2 small green green chillies finely chopped
1 inch piece ginger finely chopped
1/2 tsp mustard
1 tsp urad dal (split black gram dal)
1 sprig or 6-7 curry leaves/ karipatta
10-12 broken cashewnuts (optional)
1 tbsp ghee
1 tbsp oil for frying
4 tsp sugar
3/4th – 1 level tsp salt (adjust to taste)
1-1/2 cups boiled water
Method:
1. Heat the ghee in a heavy bottomed kadhai & roast the rawa on slow fire for about 7-8mins till it turns turns golden (not brown) *see notes. It doesn't take long for it to burn, so be cautious. Remove from fire and keep aside.
2. In the same kadhai heat some oil & season with mustard seeds, when they crackle add the curry leaves. Reduce flame to medium, toss in the urad dal & stir for a couple of seconds. You can add the cashewnuts at this stage.
3. Add the ginger & green chilli & fry a little & then the sliced onions & fry till pale (slightly golden) They should remain a little crunchy.
4. In another pan bring the water to a boil and add the salt & sugar to it. The taste should be sweet-salty, so adjust the salt accordingly.
4. To the fried onions add the roasted rawa, mix well and then add the freshly boiling water & reduce the completely to simmer. Mix the contents to avoid any lumps. Cover the pan allow it to cook for a couple of minutes. Turn off the flame and let it sit for another minute.
6. Open the lid, mix gently. The result should be fluffy (not sticky or lumpy) upma. Serve hot.
Notes:
1. This upma needs a slightly grainy variety of rawa to be used. Not the Bombay Sooji variety which is extremely fine and used for coating cutlets/fish etc. Athough there is no harm in using the same, the result may not be fluffy and you may get a more lumpy upma. If you are in Mumbai you can ask for barik lapsi (broken wheat) or lapsi rava kansar.
2. A 1:2 (rava to water) ratio is used for upma. However in Mangalore the sajjige is made with a little extra water making it extremely mushy and of paste consistency. If you prefer it that way, you can add a little extra water to the above ratio – make sure the salt & sugar ratio is also adjusted accordingly.