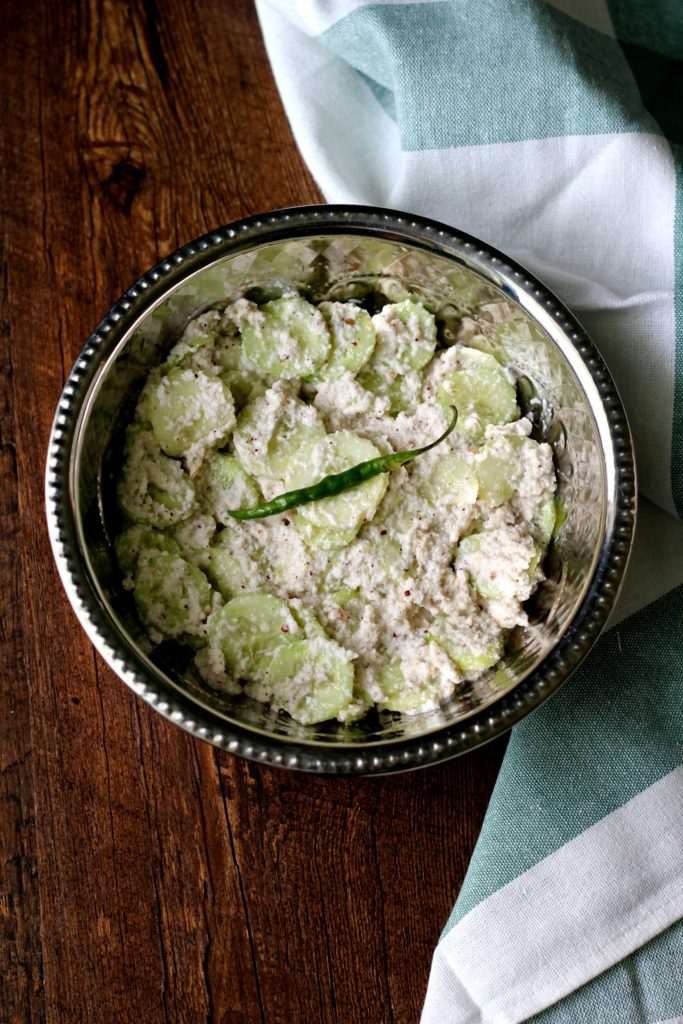 Pin
A super simple and super delicious recipe is what I am sharing today. In my previous post I have shared the recipe of how to make the very Mangalorean 'kharam' – a traditional cucumber & onion salad that is usually served all year round, especially during the Monthi Feast which is the feast of the Blessed Virgin Mary (Mother Mary's birthday). This feast which falls on the 8th of September also coincides with the harvest feast which is celebrated in Mangalore, its surrounding places and most parts of the Konkan coast.
While I have grown up eating the simpler version of this salad, this one has grown to be my favourite now. I am a fan of coconut and mustard and it is as if this recipe was created just for me! The difference between what I shared earlier and this one is that this recipe includes a basic coconut chutney to which mustard has been added. Many Catholics I know are familiar with this version and I believe that there is yet another version which calls for dry red chillies instead of green ones to be ground along with the coconut. One dish, so many versions! Isn't that fascinating?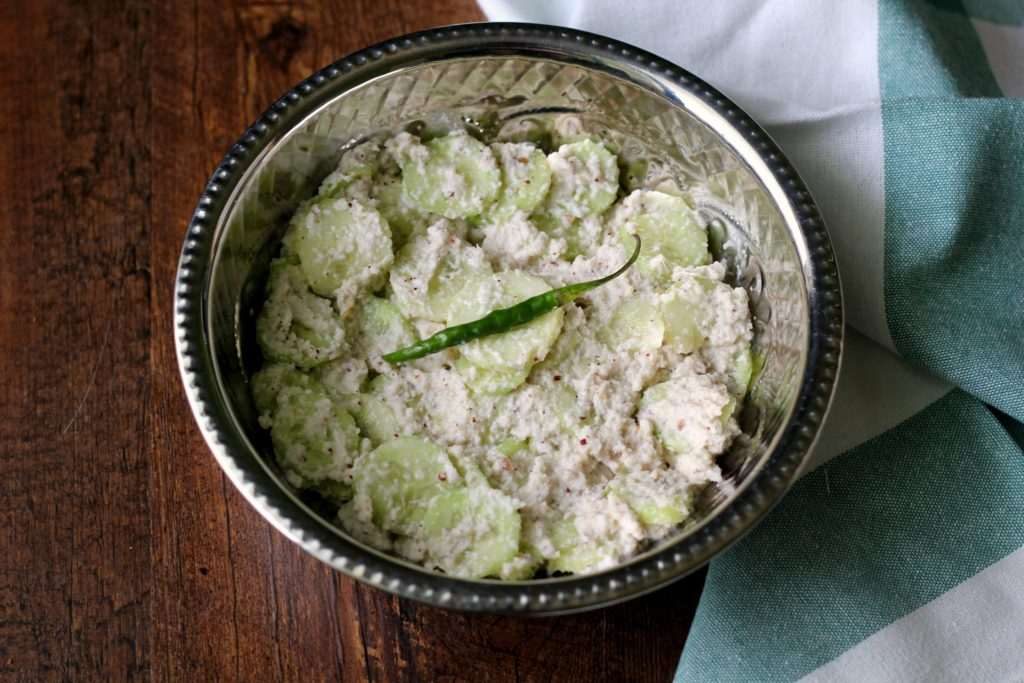 Pin
I hope you like this recipe as much as I do. Do take a look at my entire Monthi Feast collection of recipes here.
If you have tried my recipes, do let me know. Drop me a line at [email protected] If you are on Instagram, do follow me there or use the hashtag #ruchikrandhap or tag me there using the tag @ruchikrandhap. I will get instantly notified and will hop over to ogle at your delicious food pics 🙂
Wishing all my readers who celebrate, a Happy Monthi Feast!!
"Sakkad Sangatha Melya, sakkad lagin sarya, amche thaley ek keryan, Moryek hogolshiya!"
Enjoy the festivities folks!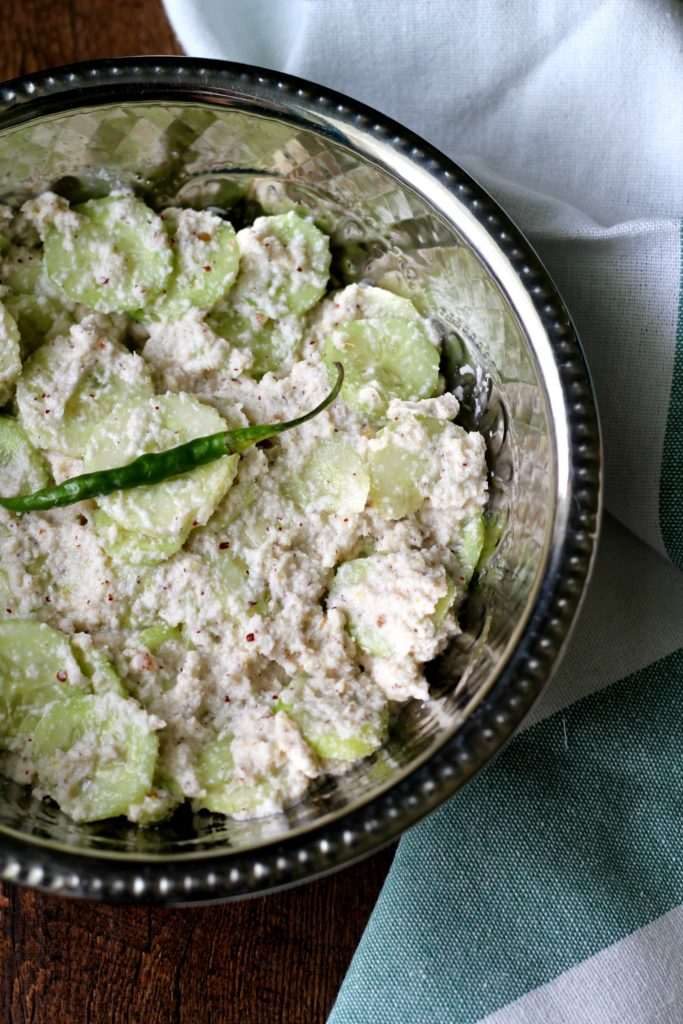 Pin
New here? Subscribe to my free newsletters with my latest recipes!
Tried my recipe? Do leave a comment on this post down below and don't forget to give it a star rating! It will really help more readers discover my recipes! Do share a picture on Instagram and tag me @ruchikrandhap and I will feature your post in my stories!
Don't forget to check out my latest videos on my YouTube channel. If you like what you see, do give me a thumbs-up (like), share & comment and subscribe to my channel so that the gods of YouTube (a.k.a algorithms) recommend my channel to a wider audience with similar tastes and more & more people can discover my videos!
And while you're here, do follow me on Instagram, Pinterest,  Facebook and Twitter. If you'd like to say hello or have detailed queries do send an email at [email protected]. I'd love to hear from you!
Thoushyache Kharam ~ Cucumber Salad with Coconut
Thoushyache Kharam is served on the festive meal platter for the harvest feast/feast of the Blessed Virgin Mary (Mother Mary's birthday)
Ingredients
2

medium sized cucumbers (approx 200 grams)

salt to taste
For the coconut chutney
1

loosely packed cup freshly grated coconut

1/2

small onion

chopped

1/4-1/2

teaspoon

mustard seeds

1-2

small green chillies

adjust to taste

1/2

inch

ginger

chopped

1/2

small ball of tamarind
Instructions
Wash & peel the cucumbers. Sprinkle salt to taste and keep aside. After a few minutes the cucumbers will release water. You can choose to discard it. I prefer to keep the water

Grind all the ingredients mentioned under 'For the coconut chutney' using 1-2 tablespoons of water. The texture should be that of regular chutney - not too coarse, not too fine. Also, keep the chutney slightly thick and don't make it too watery. When you add it to the cucumbers the consistency will adjust. Rinse the mixer jar with 1-2 tablespoons of water & reserve it (optional step)

Add the ground coconut chutney to the cucumber slices and give it a good mix. Adjust salt if required. Optional step: Add the reserved water from the mixer jar to adjust the consistency. Serve immediately

Pin