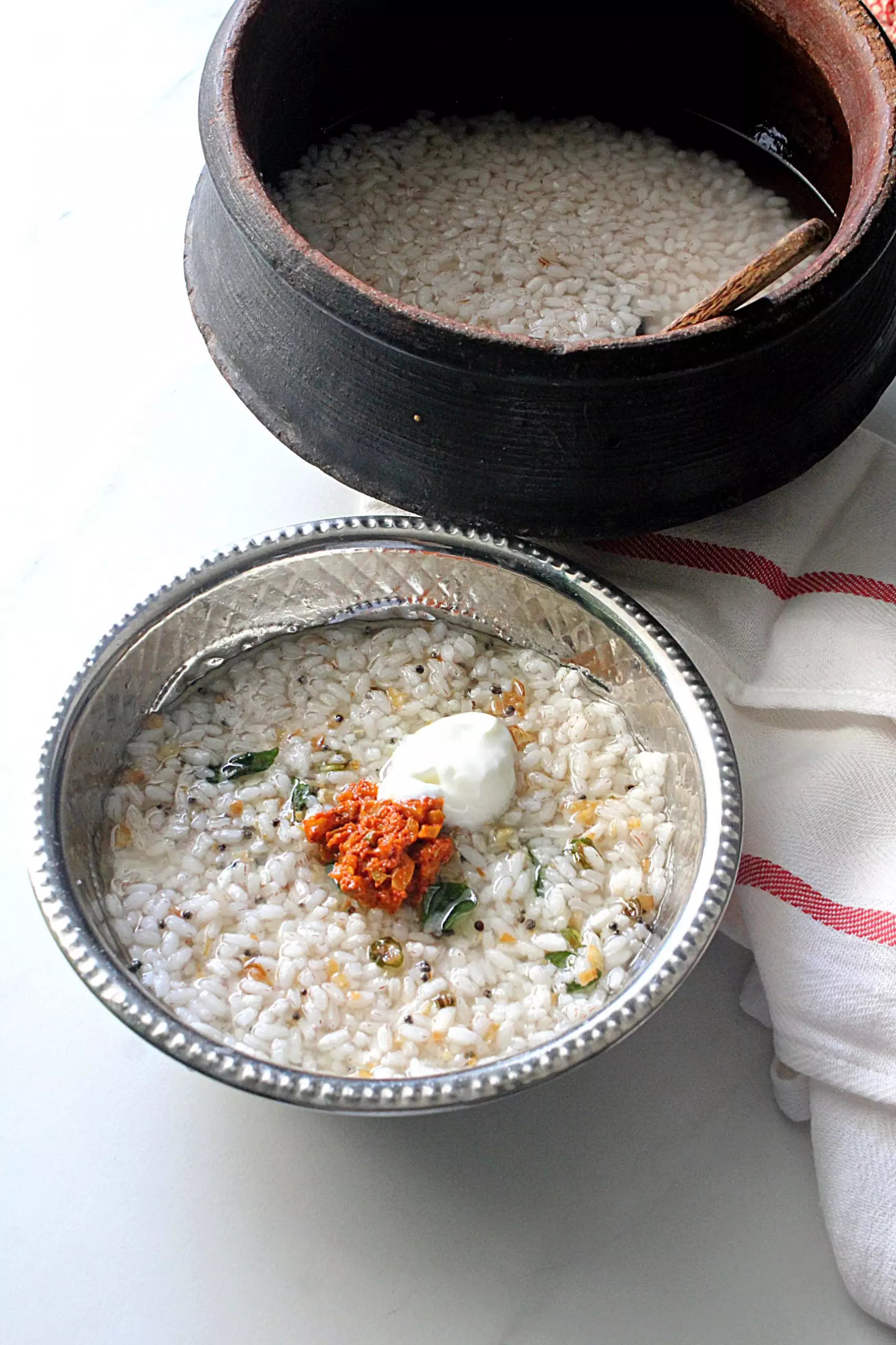 Pin
Fermented rice is a traditional yet not very popular breakfast eaten across the southern states of India. It is known by several names – Tangalanna in Kannada, Shelen Sheeth in Konkani, Pazham Kanji in Malayalam and Pazhayadu in Tamil. It is pretty popular in other rice eating countries as well and has been eaten for centuries together as a comforting, inexpensive, nutrient rich meal to start your day with. Unfortunately, many of us don't know much about it. While I had a vague idea about the fact that leftover rice was consumed for breakfast the next morning, I didn't quite know how it was fermented or served with until I casually mentioned it on my school's Whatsapp group and one of my friends, Sowmya immediately shared her way of preparing it. I then made it with white rice and enjoyed it for breakfast the next day. When I started reading more about it I was bowled over by the health facts and wondered why so little about such an inexpensive superfood was known to us. So what is so special about it? Read on!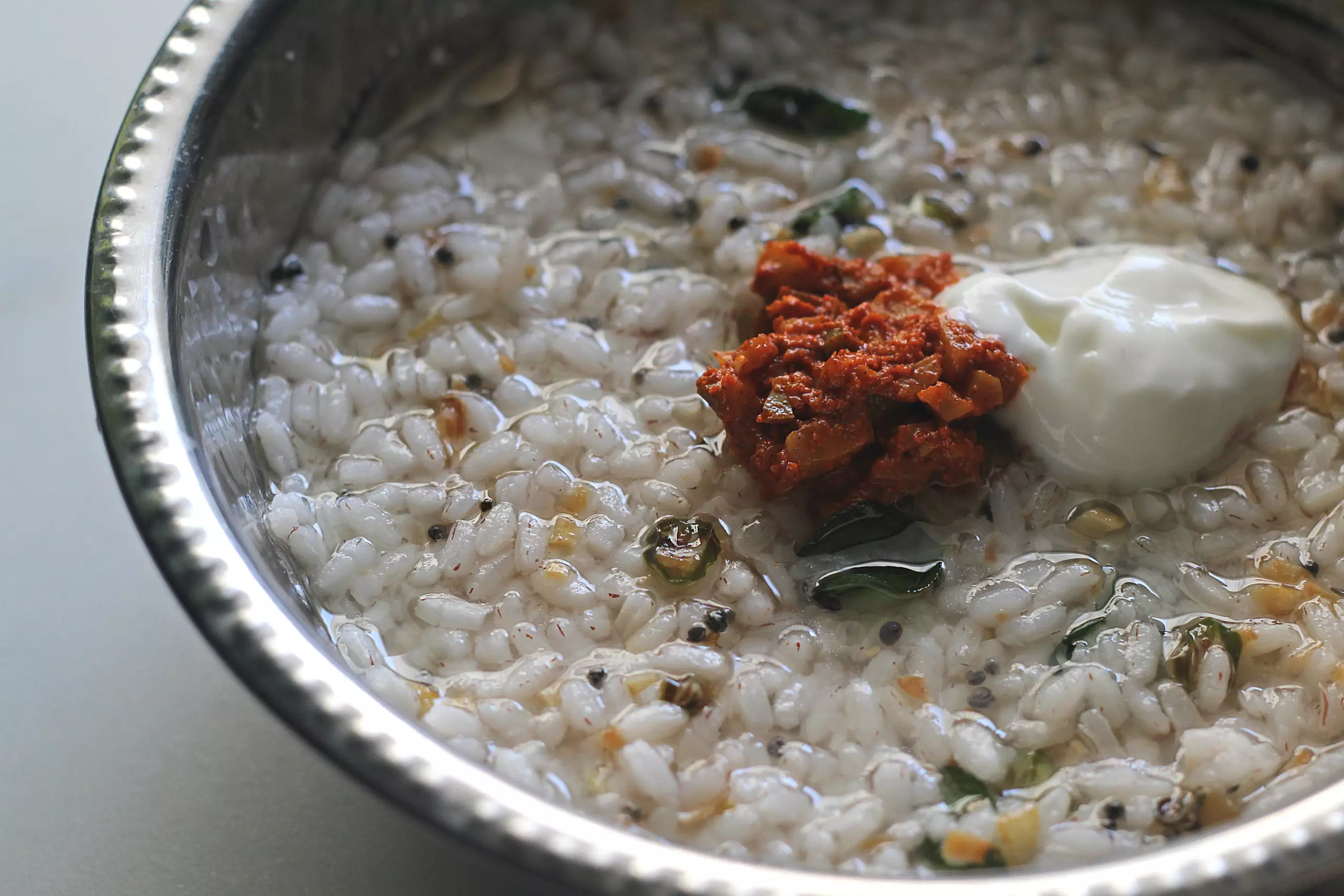 Pin
Fermented rice has been around for years, it is a pity that not everyone knows about it. Traditionally, excess rice is cooled down and covered with water. It is transferred to an earthen pot (or left in it if it was cooked in it) overnight. The next morning, the rice would have fermented, leading to the water turning slightly cloudy. It is then eaten with any leftover curry or sautéed  vegetable or pickle. Traditionally green chillies and raw onions are served in most places. From what my mother tells me, it was always served with a side of leftover vegetable or pickle as nobody really had time to cook a fresh side in the morning rush. My friend told me that some people serve it with yogurt. She also prefers to season (temper) the rice which is what I have followed. While I was quite apprehensive about the taste, I was simply amazed at the way it tasted once it was tempered. I ate it cold, served with some shredded mango pickle and store bought kefir (a kind of cultured, fermented milk, slightly thinner than yogurt) but I guess many people prefer it slightly warmed up. In my opinion, it is called 'shelen sheeth', a term that literally translates to 'cold rice' in Konkani, for a reason. Heating fermented rice would kill the bacteria or at least degenerate the health benefits they bring, so eat it at room temperature, you will love it, I promise!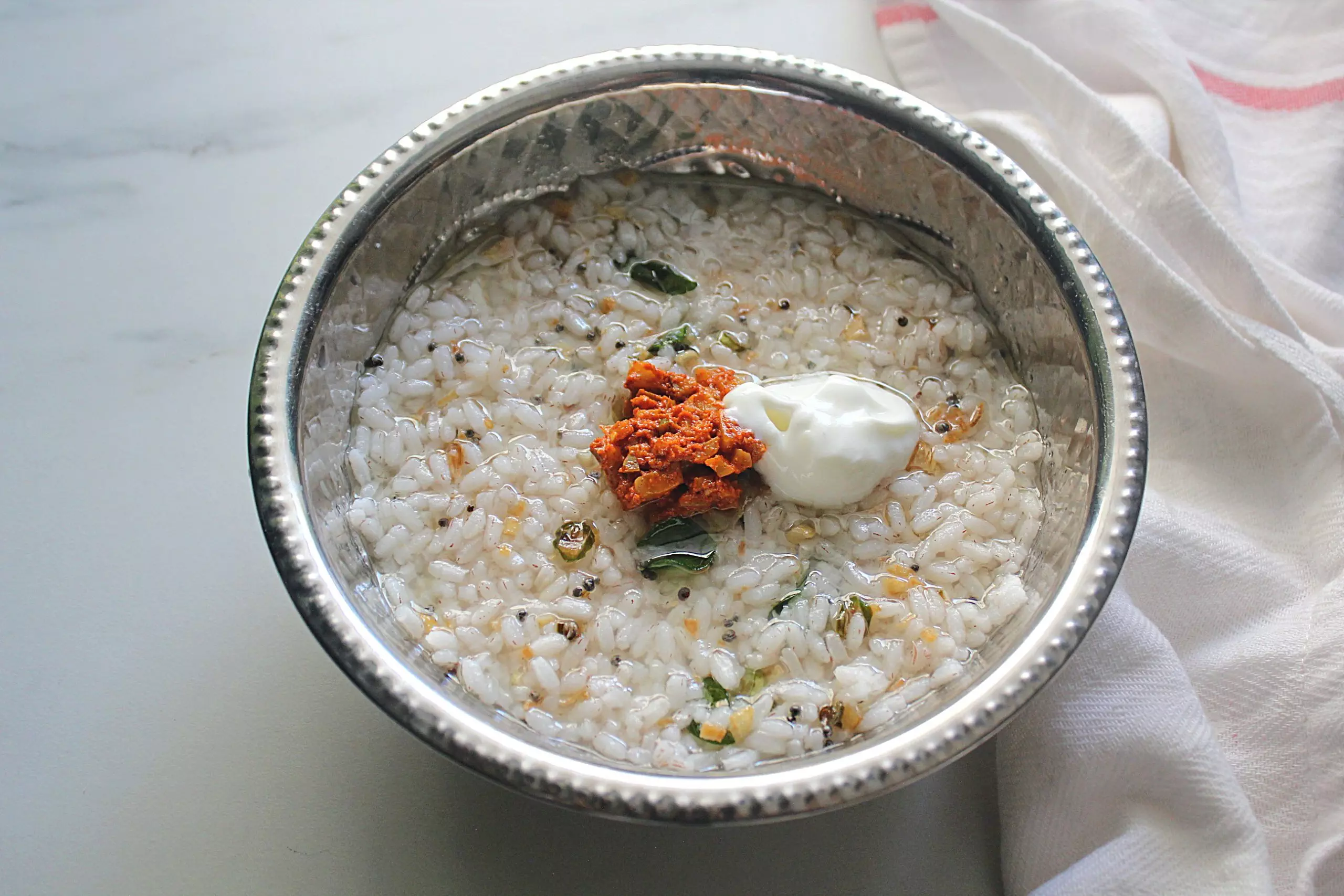 Pin
So what really happens when the rice ferments?
When the rice is left at room temperature the lactic acid bacteria present in the atmosphere act as an aide to break down the rice and increase the micro nutrients such as iron, calcium and potassium by a thousand folds. The breakfast is also rich in B6 and B12 vitamins that are not easily available in other foods. Fermented rice also generates trillions of lactobacillus (probiotics) that are responsible for digestion and maintaining good gut health besides improving immunity. As per research, fermented brown rice is rich in magnesium and selenium which help bone strength and helps prevent the occurrence of degenerative diseases such as arthritis and cancer. Besides this, the water in which the rice was fermented helps cool the body by eliminating excess heat. Consuming this rice keeps you satiated yet lets your body feel light and energetic, one of the reasons why those working in fields used to have a hearty breakfast of fermented rice before heading to their fields for a whole day of manual labour. Unfortunately as people progressed in life, they began to view fermented rice as the poor man's food and looked down upon it. Ignoring the immense health benefits of this humble dish has probably been one of the reasons why our generation is ridden with ailments.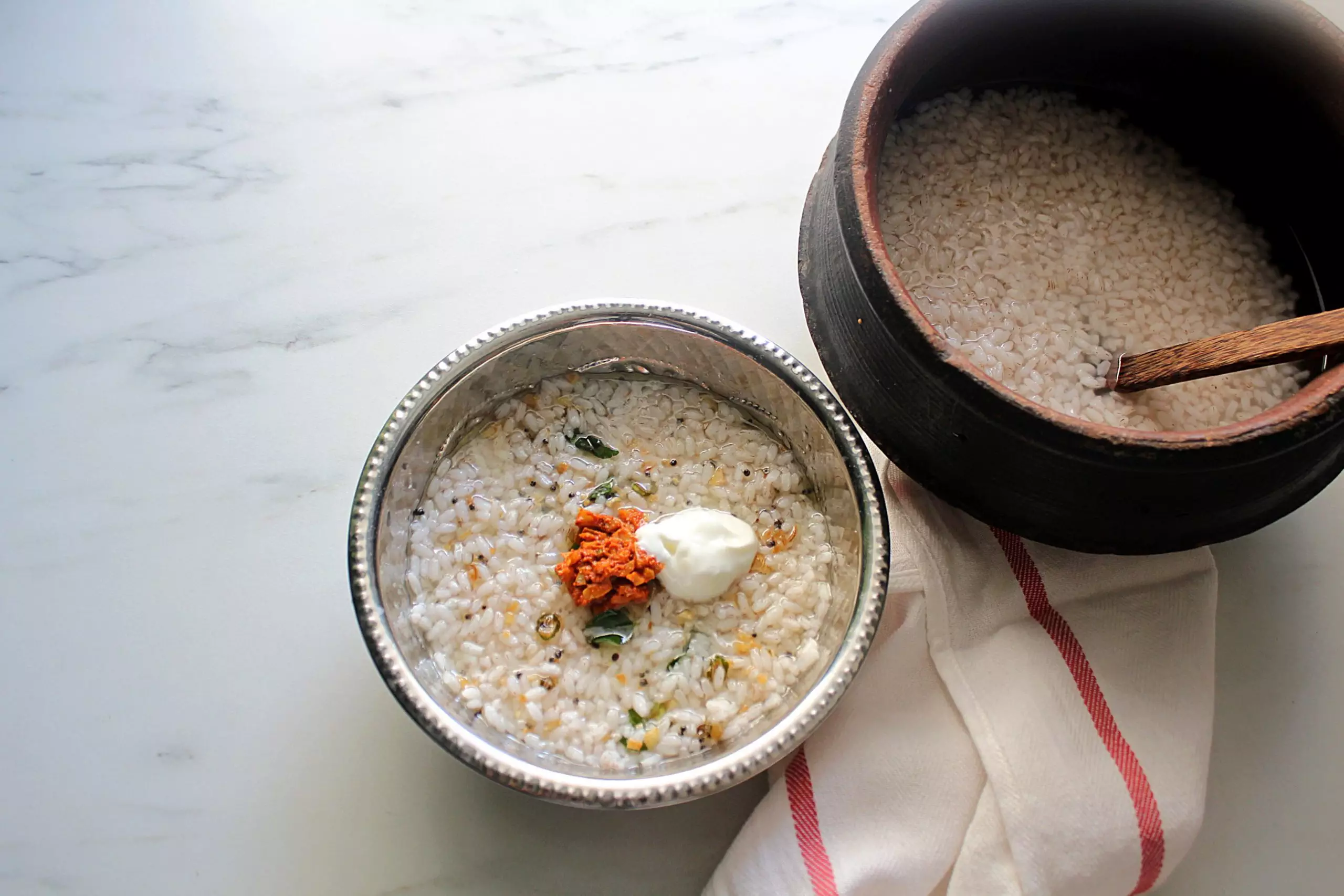 Pin
Can I use white rice to make this?
While the dish tastes great with white, polished rice, it is better to make it with unpolished, brown/red boiled rice which is popularly eaten along India's western coast – Goa, coastal Karnataka and Kerala. However, if you don't have access to it, you can make it with white rice or brown basmati too.
Do I need to temper the rice? Can I eat it plain? What can I serve it with?
Yes, you can season it with a sprinkling of salt and consume it, with or without the water in which it was soaked. You could also season/temper it as I have done in this recipe. Enjoy it with some leftover fish curry or a sauteed vegetable. Pickle and papad work well too. My favourite way of eating it is with kefir and mango or gongura pickle.
Why is it called 'fermented'
The 'fermentation' part comes into the picture when the rice is immersed in water (or in some communities, rice kanji from when the rice was strained the previous day) is added. What occurs over a span of a few hours is lactic acid fermentation whereby the bacteria present in the atmosphere converts the starch or sugars present in the rice into lactic acid. This is why the rice tends to have a very mild fermented aroma. If water is not added and the rice is just left out on the counter it will go stale and have a foul smell making it impossible for human consumption.
Is it the same as kanji/gangi/pez/paij?
No! kanji/pez/paij is essentially rice cooked fresh and to a point where it softens and where the water in which it was cooked (starch water) is retained and not drained. It is served fresh. Tangalanna on the other hand is rice that has been cooked, drained, cooled and immersed in water and kept overnight to ferment. Some people do drain this water the next day and refresh it with fresh water and warm up the rice again before eating. However, I believe this may cause a loss of nutrients that are the byproduct of fermentation over the span of a few hours.
Articles and references
At the bottom of this post I have shared links to various articles on this topic. Do scroll down and read if you are keen.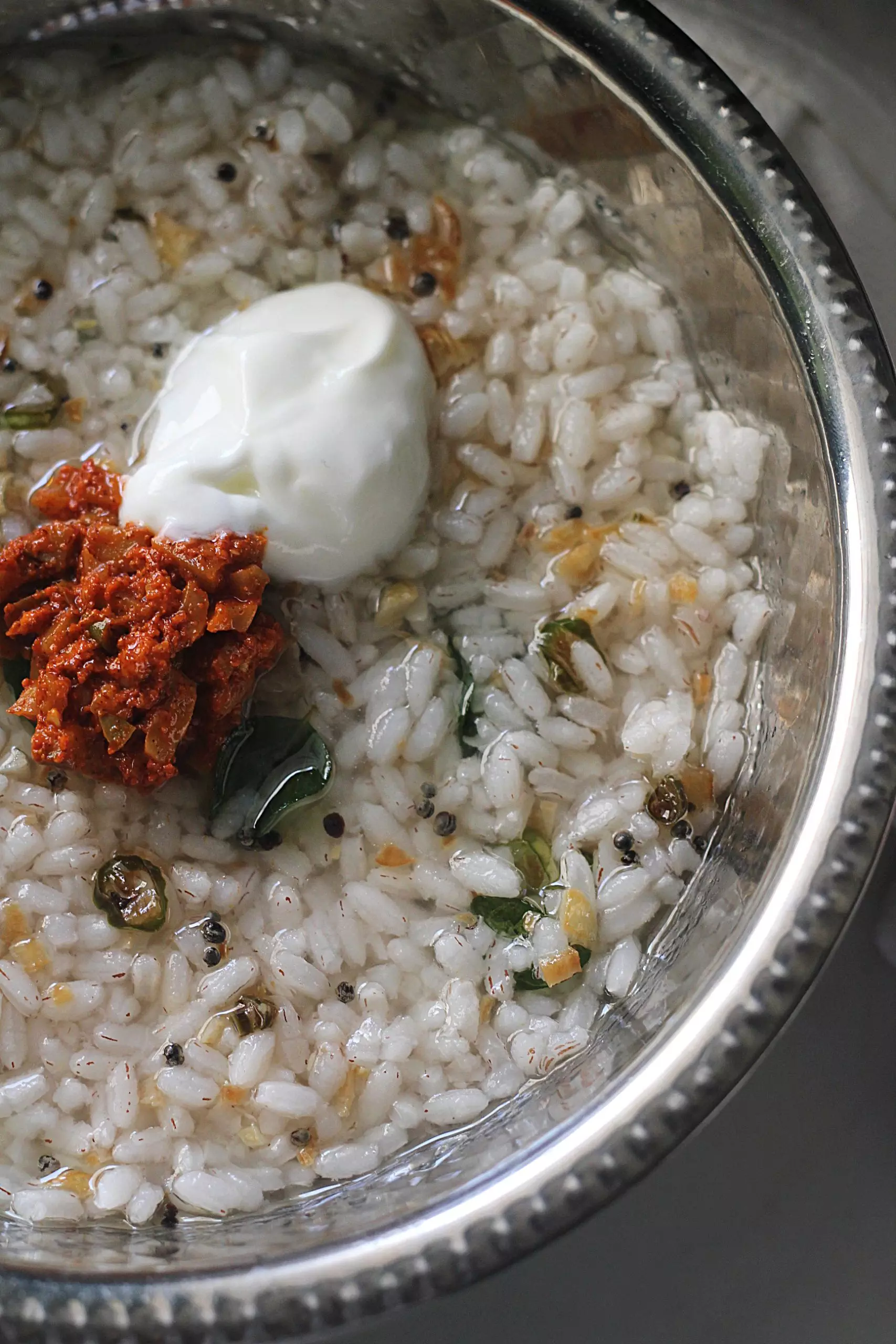 Pin
New here? Subscribe to my free newsletters with my latest recipes!
Tried my recipe? Do leave a comment on this post down below and don't forget to give it a star rating! It will really help more readers discover my recipes! Do share a picture on Instagram and tag me @ruchikrandhap and I will feature your post in my stories!
Don't forget to check out my latest videos on my YouTube channel. If you like what you see, do give me a thumbs-up (like), share & comment and subscribe to my channel so that the gods of YouTube (a.k.a algorithms) recommend my channel to a wider audience with similar tastes and more & more people can discover my videos!
And while you're here, do follow me on Instagram, Pinterest,  Facebook and Twitter. If you'd like to say hello or have detailed queries do send an email at [email protected]. I'd love to hear from you!
References:
Soul Food – The probiotic way to breaking fast
Bid Goodbye to Digestive Issues with This Simple 2 Ingredient Pro-biotic
What is the most underrated breakfast in India?
Mineral nutrients of pazhaya sadam – a traditional fermented food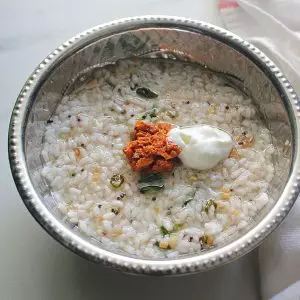 Tangalanna | Shelen Sheeth |Fermented Rice
This traditional, simple and humble breakfast option is made from fermented rice and is a powerhouse of nutrition. Rich in iron, magnesium, potassium, calcium, vitamins B6 & B12 and probiotics that keep your gut healthy & strong.
Print
Pin
Rate
Ingredients
4

cups

leftover rice

2-3

cups

drinking water

salt to taste

optional

For tempering:

1/2

tablespoon

coconut oil

1/2

teaspoon

mustard seeds

1-2

green chillies

chopped

4-5

cloves

of garlic

crushed or chopped

5-6

curry leaves
Instructions
Transfer the leftover rice in a pot, preferably an earthen cooking pot. Pour the drinking water till it all the rice is immersed in it (rice should be completely covered by the water)

Cover with a lid or tie a muslin cloth on the mouth of the pot and keep it for 8 hours or overnight in a cool place of your kitchen. Do not refrigerate as the rice needs to ferment naturally at room temperature.

Next morning you will notice that the water has become slightly cloudy. You can strain and reserve this nutrient rich water or serve some of it along with the rice. The rice can be eaten plain or mashed, sprinkled with some salt (unless there is adequate salt in the rice). You can serve it along with some vegetable or pickle or papad or you can temper (season) it as follows

To temper, heat the coconut oil in a small pan and add the mustard seeds. When they stop spluttering, add the green chillies and fry them till translucent, then add the garlic and the curry leaves and fry till the garlic turns golden. Pour the seasoning over a serving of the rice. Serve with pickle and yogurt (serving suggestion). Mix well and eat.
Notes
Many households in Mangalore have the habit of discarding the water in which the rice was immersed. They then bring the rice to a rolling boil before serving it with any leftover curry, a piece of dried fish or a serving of sautéed vegetables, pickle or papad. However since the water is rich in nutrients it can be consumed along with the rice too. Do ensure that you do not let the rice soaked in humid temperature for too long or it will begin to froth have a foul smell. 
Nutrition
Nutrition Facts
Tangalanna | Shelen Sheeth |Fermented Rice
Amount per Serving
% Daily Value*
* Percent Daily Values are based on a 2000 calorie diet.
Disclaimer
The nutritional values are only indicative.
Tried this recipe?
Please leave a comment & rate the recipe below or share a photo on Instagram and tag me @ruchikrandhap