So one more week has gone by rather uneventfully and here I am typing out the post that has been sitting in my drafts for over 2 weeks. Like I mentioned in my previous posts, the Mutton Offal Curry was the outcome of an enthusiastic discussion (between hubs and me) of Mangalorean traditional delicacies that we both loved yet were hardly prepared in Mangalorean homes today. The reason being that half of Mangalore lives outside Mangalore (including us) and the other half has either abandoned making this tedious fare because it is time consuming or just because the fast food fad has caught up with this generation sooner than they expected.
Well, a great part of why I started this blog lies in the fact that I wanted to invest my time in learning to cook Mangalorean food, traditional or not. Later, as I went along, I realised that there were so many things that I didn't know about Mangalorean food and the different varieties of food that are part of our cultural heritage that is slowly dying down. This great awakening also happened when I read an article in the paper about the
Slow Food Movement
which lays emphasis on using locally available ingredients and traditional cooking methods to preserve culinary diversity. I was very interested in contributing my bit to this movement and I started exploring everything about my culinary heritage. The Slow Food Movement was started as a resistance to the opening of McDonald's in Rome in 1986 and was officially founded in 1989 "to counter the rise of fast food and fast life, the disappearance of local food traditions and people's dwindling interest in the food they eat, where it comes from, how it tastes and how our food choices affect the rest of the world" –
read more
We all know that traditional food has being phased out as generations pass by. The recipes that were handed down from one generation to the other, often got lost as most of them were not written down. Things have gotten very simple today thanks to the internet, scores of recipes are available at the click of a mouse, but yet, many of us simply resort to fit only those foods that suit our fast paced life. Maybe it's time to wake up and smell the roses (not just the coffee), take it easy and prepare something that takes a little more time to cook, but the taste (and health benefits) of which cannot be compared with fast food.
Today's recipe is a typical Mangalorean delicacy loved by Catholics – the offal curry. I quote my friend Michelle of (Food Football and a Baby) who rightly said that we Mangaloreans are a thrifty and frugal lot when it comes to our meat. We use up all the parts (well almost!) of the sheep (mutton) or pig (pork) and the offal or boti as it's called is very popular amongst those who have eaten it. And it is not just us who love offal so much, there are a whole bunch of people and communities across the globe that eat all kinds of odd things. Well, one man's food is another man's poison!This preparation however makes use of just the heart, lungs, windpipe and liver of the sheep – one needs to book it in advance as R did when he went to buy other meat. He had to go again the next day – early in the morning to pick up the best stuff. The preparation time was not as much as I thought, infact, it was easier than making the
Botyechi Kadi (Mutton Tripe Curry)
. My mum used to make excellent offal curry and it was always made during some occasion such as a feast or a birthday. Since I totally love coconut milk based curries, this one has always been one of my favourites.
Mutton Offal Curry (Kaleez/Talvyechi Kadi)
Serves: 5-6
Recipe Source: My mum


You Need:
1 Sheep offal (only heart, lungs, windpipe and liver)
3 medium size potatoes cut into small cubes
1-1/2 coconuts (or about 4 cups freshly grated coconut) or 1 cup thick milk and 2 cups thin milk
To be pre-cooked with the meat
2 cloves garlic minced
2″ ginger minced
4 green chillies slit
1″ cinnamon
2 cloves
salt to taste
For the masala (to grind)
8 long dry red chillies (Kumti/Bedgi or Kashmiri)
10 peppercorns
1/4 tsp jeera/cumin
1/4 tsp turmeric
2 tsp coriander seeds
1-1/2″ cinnamon
6-7 cloves
6 cloves of garlic (Indian) with skin
1 large onion roughly chopped
1 level tsp tamarind paste or 2 marble size balls
For the shindaap (cuttings to be fried)
2 large onions finely sliced
12-13 flakes of garlic minced
1 big tomato finely chopped
For seasoning/tempering
1 medium onion sliced
ghee or oil
Method:
1. Wash the offal well (about 3 times) in clean water . Ensure that blood clots if any are removed (*see note#1). Allow to drain on a colander for at least 20 minutes
2. Cut into large chunks (about half a palm size) and put in a pressure cooker along with all the ingredients mentioned in the 'To be pre-cooked with the meat' section and sprinkle a little water. Close the pressure cooker and place the weight (whistle) and pressure cook on full flame till the first whistle goes off and reduce the flame to sim and continue to cook for a further 15minutes. Turn off the flame, open the cooker, mix well and keep aside till it is cool enough to be handled. Cut the meat into small cubes and keep aside.
3. Grind all the ingredients mentioned in the 'For the masala' section – to a fine paste. Retain the masala water from the mixer jar.
4. Prepare the coconut milk (*see note#2) – In a mixer jar, add the grated coconut and 1 cup warm water and grind it for a few seconds – not to a paste, but to a coarse consistency. Remove the contents onto a thin muslin or bairas cloth and squeeze out the thick milk. Keep aside. Add some more warm water to the coarse coconut and extract twice more to obtain thin milk.
5. In a large thick bottomed pan heat some ghee or oil and fry the shindaap – onions and garlic (mentioned in the 'For the shindaap' section). Allow the onions to turn translucent (pinkish and limp) – fry them on slow flame, take care not to burn them. Add the ground masala and fry for half a minute. Toss in the chopped tomatoes and add a little salt to help the tomatoes turn to paste soon. Fry this mixture on slow flame. Add the masala water from the mixer grinder.
6. Add the cubed offal/meat and mix well. Pour the thick milk milk and cook on slow flame – do not cover the pan (*see note#3). Add the potatoes and cook further. Finally add the thin coconut milk as required (as thick/thin as you need the gravy to be). Cook on medium flame till the curry comes to a full boil. Check salt to taste. Add a little tamarind juice if required.
7. For seasoning/tempering heat some ghee/oil in a small pan and when it is smoking hot toss in the sliced onions and fry till they turn golden brown (do not burn them) – Add this mixture to the gravy and close the cover immediately
8. Serve hot with rice (steamed white or brown/boiled)
Notes:
1. Ensure that while washing the heart and liver you run your fingers firmly over the surface – blood clots if any need to be removed/cleaned otherwise while you cook them, the blood will ooze out.
2. If you wish to make this curry in a jiffy you can simply substitute the whole coconuts with instant coconut milk – You will need 1 cup thick milk and 2 cups of thin milk which you can prepare as follows:
To make 1 cup thick coconut milk use 1 cup (240ml warm water)+6 tbsp instant coconut milk powder
To make 1 cup thin coconut milk use 1 cup (240ml warm water)+3 tbsp instant coconut milk powder
3. Important! While the thick milk is added, it has tendency to curdle quickly if the pan is covered. So cook with the pan uncovered (no lid).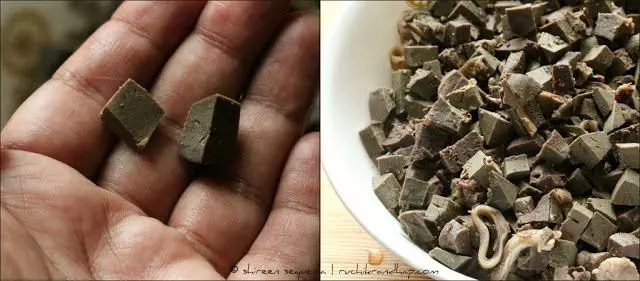 Pin