Avocados were a rare treat during my childhood as they were rarely seen at our usual vegetable & fruit stores as they were mostly sourced from Chickmangalore or Coorg (Kodagu). Whenever we bought some I'd love to enjoy them mashed up with some granulated white sugar – such a creamy treat! Today, while they are easily available in every supermarket in Dubai, my favourite (and the best in my opinion) Hass variety is super pricey. The shrivelled deep green-almost black skinned avocados are the creamiest & tastiest I've ever eaten. My son is a huge fan of them and loves to make his own guacamole (yep, he fixes himself a meal with a whole avocado+chopped onions, tomatoes, herbs, lime juice etc) and enjoys it with some corn tortillas. Sometimes we go overboard and buy a few extra avocados that ripen around the same time and since it is a shame to waste them, I look for recipes to utilize them.
Sometime last month I asked my food group  on Facebook for some mango recipes and one of the common suggestions was the 'aamras' which is nothing but thick mango puree, sweetened or not, depending on the natural sweetness of the fruit. I don't recall the last time I ate the combo of 'aamras-poori' but my mouth was salivating at the very thought of dipping piping hot savoury pooris into a thick pool of chilled mango puree. I decided to put the avocados to good use and pair the pooris with the aamras. This was such a wonderful combination!! Bite after bite after bite. There are some treats that I enjoy alone. Since my kids had enough of these (evil looking – as they put it) green pooris for breakfast, they politely declined the offer of the aamras poori as a tea time snack. Well, their loss was my gain (I know that those watching their calories should not feel so smug, but some indulgences are permitted I guess). I thoroughly enjoyed this treat and I think you should give it a try too! Enjoy!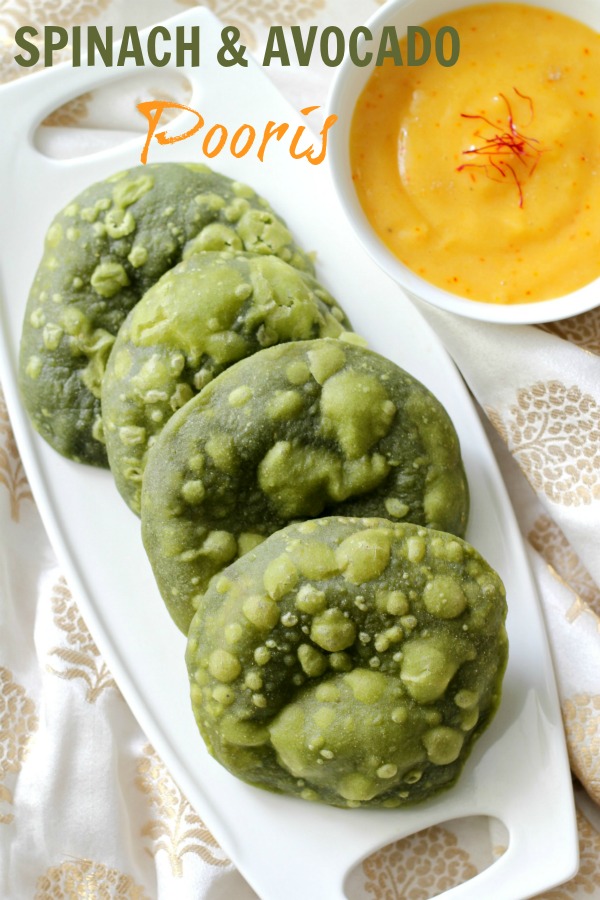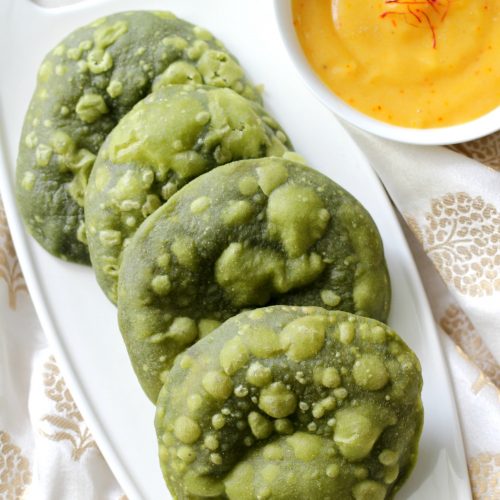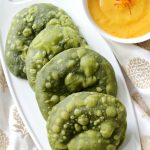 Spinach & Avocado Pooris
Incorporate the goodness of avocados & spinach into this healthy dough. You can make chapathis with it if pooris are not your thing!
Ingredients
2

cups

whole wheat flour

2

teaspoons

oil plus extra to smear the dough

salt to taste
For the puree
1-1/2

cups

shredded spinach

1

tablespoon

chopped coriander leaves

1-2

green chillies

1/2

teaspoon

cumin seeds

juice of 1/2 lime

1/2

" ginger

1/2

avocado

mashed
Instructions
Grind all the ingredients mentioned under 'For the puree' to a fine paste using 2-3 tablespoons of water only if required

In a flat bowl meant for kneading dough, add the whole wheat flour, salt & oil. Make a well in the centre and add the pureed avocado & spinach mixture.

Bring the mixture together to form into a smooth pliable dough and knead for 2-3 minutes. Dust with more flour if required. Don't add any water to knead, the moisture from the puree is sufficient and plus we need a slightly stiff dough for pooris unlike a chapathi dough which is softer.

Smear the dough with the oil and cover. Keep aside for 20-30 minutes.

To prepare the pooris, pinch out lime sized balls of dough. Roll them between your palms to form a smooth, crack free surface then slightly flatten into a patty

On a clean working surface or a chapathi board, roll out the flattened dough patty into a circular shape, leave it slightly thick. Too thin or they will turn into crisp papads when deep fried. We need them to puff up and so the thickness should be there.

Once all the dough has been rolled out into pooris heat sufficient oil for deep frying in a pan/kadai.

To check the readiness of the oil, you can drop a small ball of dough into the hot oil and if it comes up within 7-8 counts, the oil is ready for deep frying.

Gently slip in 1-2 pooris into the hot oil and leave them undisturbed for a few seconds.Then lightly press them down into the oil using a slotted spatula. They will begin to puff up. Let them cook on one side before flipping them on the other.

10. When the pooris have puffed up to full capacity, scoop them up using the slotted spatula, drain off excess oil and transfer into a hot box/casserole or a plate lined with absorbent kitchen tissue.

11. Continue frying the rest of the pooris. Serve hot with potato baji or aam ras or any accompaniment of your choice