While I am not much of a chutney-pickle-jam person, I couldn't resist trying out the Dates Pickle which I have re-christened as the Dates Chutney because of the addition of water (which is a big no-no if you are making a pickle). I bookmark one or two recipes from the internet on a daily basis, most of which are either visually appealing or having interesting names or combination of ingredients. This was one such recipe which I knew I had to try and it helped that the quantities were minuscule. I usually refrain from trying out recipes which call for ingredients in bulk or are meant to feed an army. Most times I see if it can be conveniently halved but I don't get into fractions for the simple reason that I was never good at math! 😀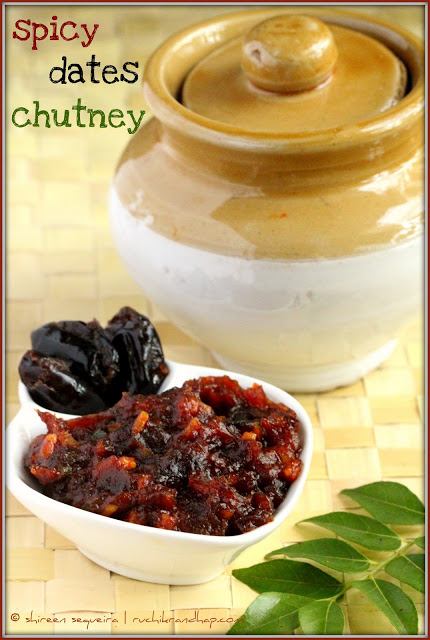 R is the complete opposite of me and loves pickles, papads & all kinds of preserves that are high in sodium chloride a.k.a common salt – I don't mind an occasional indulgence. This one however was calling out to my sweet tooth and what better than to have naturally sweet dates in your chutney?
I don't think I need to elaborate on the nutritional benefits of dates. Everyone knows that besides being a powerhouse of nutrients. fresh & dry dates instantly conjour up images of the desert for most of us. The Date palms is also probably the oldest cultivated tree by man. The desert people, the nomadic Bedouins in particular lived on dates and camel milk for months on end. It is also as per tradition that during the holy month of Ramadan, the fast is broken with dates during Iftaar
Spicy Dates Chutney
You Need:
12 seedless dates
1/2 green chilli finely chopped * see notes
1 inch ginger
4 cloves
3 tbsp vinegar
1 level tsp sugar
pinch of red chilli powder * see notes
pinch of turmeric
1/4 tsp hing (asafoetida)
1/4 tsp methi powder
1/4 cup water
salt to taste
For the seasoning
2 tbsp oil
3-4 curry leaves
1/4 tsp mustard seeds
Method:
1. Cut the dates into small pieces. Heat oil in a heavy bottom pan or kadhai and toss in the curry leaves, chopped green chillies, ginger & garlic. Saute on a slow flame for a few seconds. Toss in the dates and give it a stir.
2. Turn off the flame or reduce it to a bare minimum as you toss in the powders (chilli pwd, turmeric, hing, methi) and fry quickly taking care not to burn the powders.
3. Add the vinegar and a little water & mix well. Bring the mixture to a boil. Add the salt & sugar and keep stirring till well incorporated.
4. Serve as a chutney or refrigerate for further use.
Notes:
I call this a chutney as I added water to make the sauce. Originally this recipe is called a dates pickle and calls for 1/2 cup oil – I wanted to reduce the oil & hence used just 2 tbsp of it.
If you like more spice in your chutney/pickle, increase the green chillies & red chilli powder as per spice tolerance.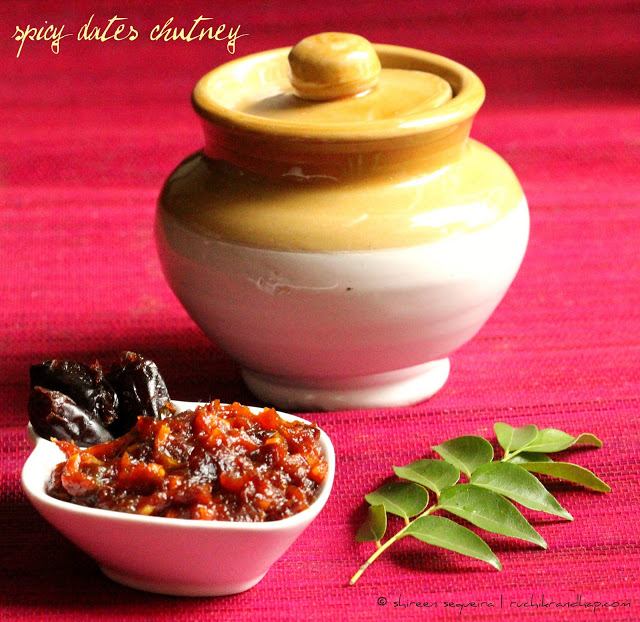 Pin
Adapted from: Spicy Chilly