Now that my little fellow has started going to school I have finally been able to establish a daily routine at home. Something I was never able to do earlier was plan my weekly meals – I knew it would make a huge difference to the way my week unfolded, but I simply could not come up with meal ideas and put together a weekly plan. However, now that I need to not only plan what we eat everyday as a family, I need to rack my brains daily to figure out what healthy stuff goes into the little fella's lunch box (or mid morning snack – whatever!) I managed the first week by being typically lazy and packing off fancy stuff like biscuits and stuff and most of it promptly came back uneaten as if to rebel against a lazy mom. I realised pretty soon that there was no way I was going to wake up at 6.30am everyday and spend those precious minutes in the morning breaking my head over what to make for the day. Thankfully, now that I have forced myself to think ahead and chalk out the weekly menu keeping in mind our diet restrictions, favourites and healthy must-have's, I am able to shop accordingly, save time & minimise wastages. Once I have planned I then go about collecting recipes for what I plan to make. When I went to the market this time, I found Clams and I knew instantly what I was going to make with them as I had already collected recipes for the way. Life is so much simpler now!
Pin
This recipe yet again is given by my dear friend Jenifer and she makes the traditional way how it is made in Mangalore by Protestant Missionary Christians. Most of their food is a notch higher on the spice meter vis-a-vis Catholic cuisine which has a large influence of Goan/Portugues food where spice ranges from mellow to moderately spicy and has many a dish which is slightly sweet or bland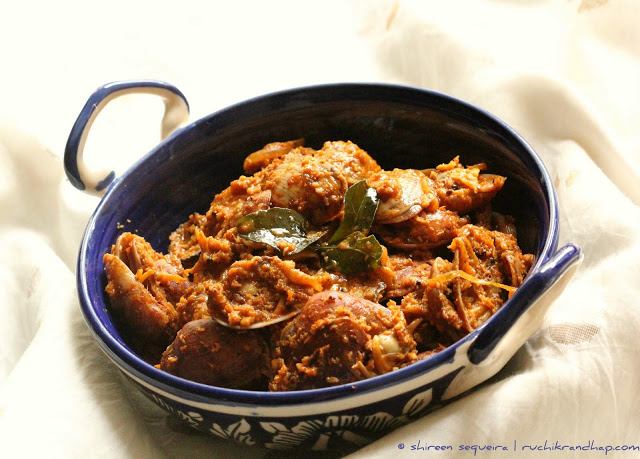 I have also mentioned in my previous posts that I do try & plan my weekly menu in such a way that I incorporate different cooking styles and cuisines, so I try & have a day for each type of cuisine. Mondays is usually a Mangalorean Food Day where I try out recipes from other communities of Mangalore – so this time it was Clam Sukka and Dalitoy (recipe to follow) which is a typical Konkani style thick Dal spiced with chillies, flavoured with asafoetida (hing) and seasoned with curry leaves & mustard – The whole combination of these two dishes was simply superb! The combo needs a standing ovation I must say. Lunch & dinner was finished off in no time – no conversations were held, none entertained – only complete concentration on what was on the plate, thorough enjoyment of a meal so simple – satisfaction guaranteed!
Spicy Clam Sukka (Kube Sukhe – Mangalorean Protestant Style)
Serves 2-3
You Need
85-100 clams/cockles
1/4 tsp mustard
1/2 onion finely sliced
4-5 curry leaves/kadipatta
oil for frying
salt to taste
For the masala
1/2 cup grated coconut
1/2 onion roughly chopped
3 tsp bafat powder (* see note)
1 level tsp tamarind paste
1/2 inch ginger
1 clove of garlic
Method:
1. Clean the clams well – If the shells are clamped up tight then just place them in the freezer for 30mins – 1hr after which bring it to room temperature and pour warm water over them. Keep aside for 15-20minutes – all of them will open up automatically. Discard the empty shell of each clam and rinse 2-3 times in clean water. Allow to drain.
2. In a non stick pan or tawa dry roast the the grated coconut, chopped onion till the raw smell goes away. Toss in the bafat powder (or spice) powders and give it a stir or two before turning off the flame. Grind these ingredients coarsely along with the tamarind, ginger & garlic and a little water (ensure that the masala is not finely ground – just a swirl or two for a few seconds and its done)
3. In a pan heat the oil and toss in the mustard, when they splutter add the curry leaves and stir it once before adding the sliced onions. Fry them till golden brown and add the coarsely ground masala and fry for another 2 minutes on a slow flame.
4. Add the clams and mix well.  Then add the masala water (from the mixer jar) and check salt to taste – be moderate with salt as clams are usually salty. Cook on slow flame for 10-12 minutes adding the small quantities of water as required.
5. Serve hot with rice and dal
Note:
If you do not have bafat powder you can use a blend of red chilli powder (abt 1 tsp)+ coriander powder (3/4th tsp) + 2 pinches each of cumin powder, pepper powder & turmeric powder