I have just survived a crazy weekend. Crazy in terms of how busy I got and having had absolutely no time to do anything but just go with the flow. Was almost out of the house for 3 consecutive days, only returning to eat and sleep. I wonder how working parents manage their homes. A big salute to all of you. Having said that stay at home parents have their share of woes and a big salute to all moms and pops who stay at home to make lives better for their little ones. Anyway, before I go blabbering some more, I better get to the recipe of the day. The last that I tried soya chunks was years ago when I was still in Mumbai. Since we are hard core non vegetarians I didn't really see the need to cook soya as a source of protein – we get plenty of it from fish, poultry, meat and legumes. Now that I am planning meals that revolve around Lent and eating more foods that fall in the 'pure veg' category are taking center stage I have bookmarked a few soya and paneer recipes.
It has been fun experimenting with each recipe and watching the family gobble up my creations. Some recipes are scrapped right away while the others are a major hit. I am glad that I found this recipe in J.B Lobo's Home Encyclopedia, a book I had long forgotten but managed to flip through it in search of new recipes. While there were no recipes for soya (the book was written a few decades ago before soya became popular) I did manage to find some mouthwatering meat recipes. Knowing that soya chunks if cooked the right way could put meat dishes to shame I set out to create a curry that would replace meat on our menu today.
Initially I was aghast at the laundry list of ingredients to be ground. I was skeptical too – should I skip this, or that? I thought to myself. But I went ahead and ground all the listed things anyway (except the poppy seeds ofcourse as we don't get them here in Dubai). Towards the end of the grinding session I was actually wishing I had made mutton with this masala as it was simply stunning! A nice thick reddish brown curry was in the making! Prepping up the soya was a breeze and before I knew it the curry was ready – pressure cookers are such a blessing I tell you!
To accompany the dish some quick chapathis were rolled out, a few thousand pictures were clicked and here I am posting it for my readers to try it out quick! If you are not fond of soya or are skeptical to try it out, make this curry with mutton (goat meat) or beef – it will taste just as great! I am not sure how it will taste with chicken though you could give it a try – maybe you won't require pressure cooking it. Go enjoy!
Have you tried these soya recipes?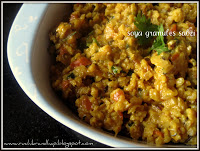 Pin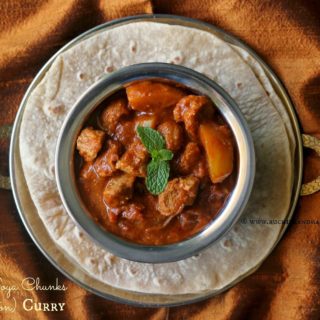 Special Soya Chunks and Potato Curry
An aromatic & flavourful coconut based curry made out of soya chunks/meal maker is a perfect vegan dish to serve alongside rice or chapathis
Print
Pin
Rate
Ingredients
2

cups

soya chunks

1

large potato

peeled and cubed

boiling water

1/2

cup

milk

1

medium sized onion finely sliced

2

medium sized tomatoes chopped

salt to taste

ghee or oil for frying

chopped coriander or mint to garnish
For the masala:
3

cloves

1

cardamom

1

" stick of cassia bark or cinnamon

1/2

teaspoon

shahjeera

1/2

teaspoon

cumin

1

tablespoon

coriander seeds

3-4

peppercorns

6

Kashmiri chillies

de seeded

1-2

green chillies

de seed if you wish – adjust to taste

3-4

fat cloves of garlic

1

inch

piece of ginger

1

medium sized onion chopped

1/2

cup

coriander leaves

2

tablespoons

chopped mint

3

tablespoons

grated coconut

1/2

tablespoon

poppy seeds

1

tablespoon

roasted bengal gram

(hurikadale)

3-4

whole cashewnuts
Instructions
Place the soya chunks in a deep bowl and pour boiling water over them, about 1 inch above the chunks. Add salt (1/2 teaspoon), mix, cover the pan and keep aside for 15 mins. After 15 mins discard the water, squeeze out each chunk gently to remove as much water as possible, refresh with plain water and soak again in warm water and milk. Cover and keep for 15 mins or till required.

OR – if using mutton, cut it into small pieces, wash and drain well. Keep aside

Using very little water, grind all the ingredients mentioned under 'For the masala' to a fine paste. Transfer masala into a bowl and rinse the mixer jar with 1/4 cup of water. Reserve this water.

Heat ghee or oil in a pressure cooker and fry the sliced onions till golden, then add the ground masala and fry until the oil/ghee separates.

If using soya, then squeeze the chunks gently before adding to the masala. If mutton is being used, then add the washed and drained pieces. Add the chopped tomatoes and potatoes and give it a quick mix.

Add the reserved 1/4 cup of water and maybe a little more if you want more gravy (add upto 1/2 cup water if you are using mutton instead of soya). Check salt to taste, adjust seasoning as required. Cover the lid of the pressure cooker and cook on full heat until one whistle is released (for mutton, after the 1st whistle, reduce the heat to a sim and continue to cook for 12-15 minutes). Remove from heat and let the cooker cool down to room temperature.

Open the cooker, stir gently and garnishwith chopped mint or coriander and serve hot with chapathis, pulkas or rice
Notes
1. Soya chunks are available in different sizes. Buy the larger, chunky variety. Do note that soya chunks and granules are different. The latter is like small grains.
2. The cooking time for mutton (as mentioned in step#5 above) may vary depending on the quality of meat used. Do check after the said time and place the cooker back on the heat if the meat is undone.
3. If you wish you can make this curry with beef or chicken. While the latter won't require any pressure cooking (as chicken is tender)
4. If desired you can add a lot of flavour to this dish by using chicken or mutton stock (homemade) or stock cubes (Maggi) – dissolve one cube in the 1/4 cup of water and add it to the masala (see step#5). However, if you do add the stock cube your dish will have a non veg element in it.
Nutrition
Nutrition Facts
Special Soya Chunks and Potato Curry
Amount per Serving
% Daily Value*
* Percent Daily Values are based on a 2000 calorie diet.
Disclaimer
The nutritional values are only indicative.
Tried this recipe?
Please leave a comment & rate the recipe below or share a photo on Instagram and tag me @ruchikrandhap