We all need to break away from routines don't we? Whether it's a vacation or just a switch from the usual menu, we need something fresh to tingle the senses and bring in a breath of freshness into our lives. While there is no vacation for me on the cards as yet, I did break away from my usual Mangalorean cooking and tried making Spaghetti and Meatballs for the first time after scouting for some recipes online. My little fellow was ranting this morning about meatballs as the pack of spaghetti was lying for a long time in my pantry and I thought this was the right opportunity to make this yummy Italian dish.
Spaghetti has always been my favourite – infact, I love the noodle family a lot whether it is the Italian Spaghetti, Chinese noodles or the Indian Sevai (or
Sheviyo
which is totally Mangalorean) and who doesn't like Meatballs? This time I thought of adding some leftover spinach leaves into the meatballs as I got myself a large bunch of Palak which found its way into all kinds of soups and dosas that I made over the past few days and the last few leaves were begging for redemption – so in they went. The meatballs tasted gorgeous and I am thinking of adding some more veggies into meatballs the next time I try them. It's always good to sneak some veggies into little tummies (and big ones too) isnt it?
I have made several attempts at meal planning, none has lasted too long, but I think the good habit is getting inculcated. I have been trying to introduce international cuisine on one day of the week – Thursdays. Since  my hubby and I have been hard core Mangaloreans when it comes to food (at least home cooked) for a while it was hard to break out of that 'bondage' – since we are both foodies we do love to try out new cuisines as often as possible when we eat out. However, there's a lot you can do to international cuisine if you have the opportunity to try it at home, barring the expensive ingredients – most of which can be substituted with local fare, the rest is upto your creativity – meddle around and create something exotic whilst retaining its authenticity. With the below recipe, I did play around with the ingredients – definitely the spices as I doubt the Italians add so much pepper/paprika – anyways, it was a lovely experience.
By the way, Italy is on my bucket list – the places I want to visit before I die. I do hope I get that chance someday and get to taste some Spaghetti and Meatballs dripping with authenticity…..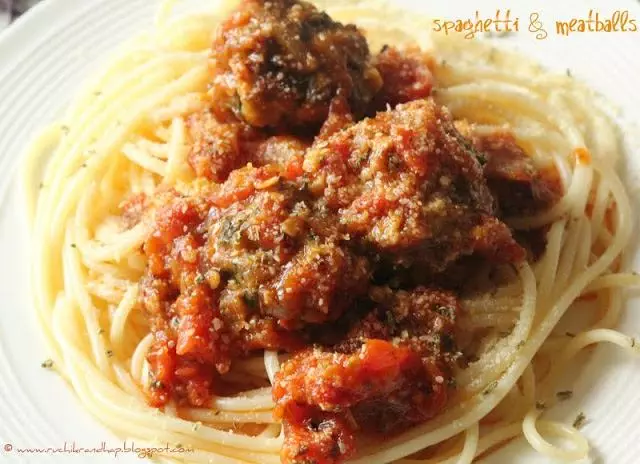 Pin


Spaghetti and Meatballs
print this
Serves: 4
You Need:
For the meatballs
400 gms chicken mince (kheema)  (makes around 24 lime size balls)
1 egg lightly beaten
2-3 slices of bread (preferably dryish)
1/4 cup chopped onion
1 tbsp coriander leaves
2-3 cloves garlic chopped fine (Indian garlic)
1/4 cup grated parmesan cheese (you can even use sharp cheddar cheese)
pepper to taste (about 1 level tsp)
salt to taste
1 tsp olive oil to grease the baking tray or some cooking spray
1 loosely packed cup of chopped spinach (optional) *
For the sauce
1 tbsp olive oil
350gms tomatoes (about 5 medium ones)
2-3 tbsp tomato paste
3 cloves garlic chopped fine (Indian garlic)
1/4 cup chopped onions
1/2 tsp oregano
1 tsp paprika (chilli flakes)
pinch thyme
1/4 tsp pepper powder
2 tsp grated parmesan cheese
2 tbsp grated cheddar cheese
1 cup chicken stock (or 1 stock cube dissolved in 1 cup of warm water)
Method:
To make the meatballs:
1. Wash and drain the mince. In a large bowl mix all the ingredients except the olive oil and make lime size balls.
2. Preheat oven to 230 degree C and place the meatballs on a greased tray and bake for 20minutes. Once done, remove the tray, allow to cool. Alternatively you can heat some oil in a non stick wok and gently fry the meatballs on slow fire instead of baking them.
To make the sauce
1. Place some water in a pan and when it comes to a boil, add the tomatoes and cook for 7-8 minutes. Transfer to a bowl of cold water and then remove and discard the skin and mash the tomatoes to a pulp. Keep aside.
2. In a wok, heat the olive oil and toss in the garlic and chopped onion and fry for half a minute. When they turn pale, add the tomato pulp and fry for half a minute. Then add the remaining ingredients and the stock and simmer for 5 minutes. Add the baked meatballs and simmer for 10minutes
To make the spaghetti
Cook spaghetti as per instructions on the packet or take 1 litre water for 100gms spaghetti and when the water comes to a rolling boil add the spaghetti and about 7gms salt. Cook for 8 minutes stirring in between. Drain on a colander *
To serve:
Place a portion of spaghetti and pour the sauce and meat balls over it. Garnish with grated parmesan cheese and a few flakes of oregano.
Serve hot!
Notes:
If you are using spinach make sure it has been washed, drained and completely dried and you make the meatballs immediately after preparing the mixture. Spinach leaves some water and you dont want a soggy mixture
Make the spaghetti just before you are ready to serve. Do not make it too much in advance or else it will dry up a little.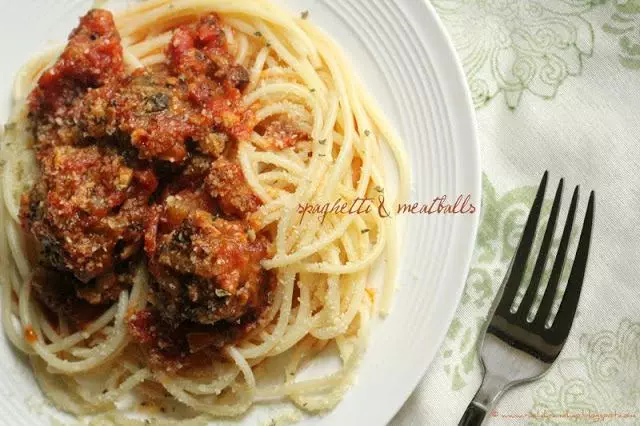 Pin