A weekend special just for you all – a fiery red spicy curry that is so typically Mangalorean and so perfect for  sardines (or mackerels), so perfect when the weather outside is bleary and dull. I know it sounds a bit odd when I say this – but eating this curry with fresh, piping hot rice actually refreshes me! Oh the joys of having a simple meal consisting of fish curry, rice and a vegetable on the side! I bet every Mangalorean will agree with me on this one – that there is nothing as lovely as a satisfying afternoon meal on an uneventful day. A meal that will lure you into snoozeville.
In my personal opinion sardines are best eaten when you have like minded company and when you have the time to leisurely pick through the bones and enjoy every bit of the meal. This fish is certainly not for the unadventurous, not for those who cry at the thought of picking through fish filled with bones – so I think most of the current generation of people can safely skip this fish although I would urge you to try it – Sardines are rich in nutrients that are essential for good health. They contain Omega 3 fatty acids that reduce the occurrence of cardiovascular disease and the likelihood of developing Alzheimer's disease. Fatty acids may also help lower blood sugar levels and because they are lower on the food chain, sardines are very low in contaminants. So the next time you visit the supermarket do buy yourself some canned sardines or better still if you can bargain them off a fisher woman at your local market.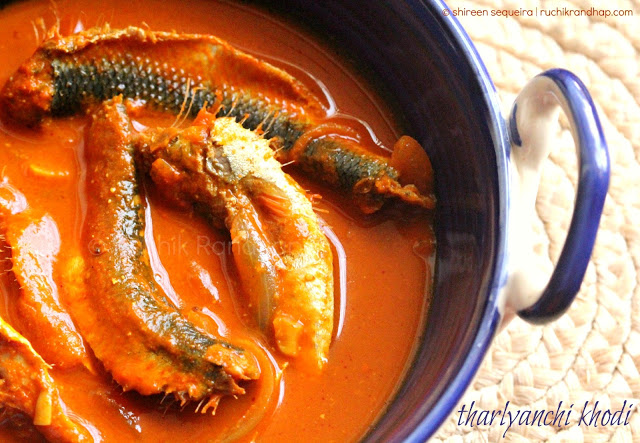 I know that come monsoons, Mangaloreans in Mangalore often crib about the non availability of other types of fish and end up buying only sardines or mackerels. "Bangude bale, boothai bale" (meaning Come! mackerels and sardines on offer!) often rings in one's ears when you step into the typical Mangalorean fish markets. The whole experience of wading through the icky muddy rain water and finding the best bargain whilst holding onto the umbrella in a downpour is something else. Then to come home, clean the fish and quickly cook them in a fiery hot curry or marinate them to be fried on a hot griddle while the rain continues to pour outside with vengeance is something that only a few people from my generation will ever experience. Really, there is something charming about tile houses in Mangalore with kitchens that smell divinely of sardine curry and freshly boiled brown rice.
The best way to eat sardines they say is to fry them – crisp or not so crisp its your call. R likes them crisp and I like to dig into the flesh. But best of all is the red curry that creates perfect harmony with the flavours of the fish.
Note: The same curry can be made in the preparation of Mackerels (Bangde in Konkani/Bangude in Tulu), Pony Fish/Silver Belly (Khampi in Konkani), Hilsa (Pedi in Konkani /Sodi in Tulu)
Tharlyanchi Khodi (Sardine Curry)
Prep time: 15mins | Cooking time: 10mins | Serves 2 *see note#1


You Need
14-15 medium sized sardines
1 tbsp oil
vinegar to taste *see note#2
salt to taste
For the masala
6 long dry red chillies (Byadge) *see note#3
4 peppercorns
1/2 tbsp coriander seeds
1/4 tsp cumin/jeera
1/4 tsp turmeric powder
2 cloves of garlic with skin
1 small onion
1 marble size ball of tamarind * see note#2
1/8th tsp fenugreek/methi seeds (optional)
1 tbsp grated coconut (optional)
For the seasoning/shindaap *see note#2
1 medium sized onion finely sliced
2 cloves garlic roughly chopped or left whole
1/2 inch ginger finely chopped
Method:
1. Descale and clean the sardines thoroughly and drain on a colander.
2. Grind all the ingredients mentioned under 'For the masala' to a fine paste. Reserve the masala water.
3. In a heavy bottomed pan heat the oil and if you using the seasoning, add them at this point and fry for a couple of minutes.
4. Add the ground masala paste and fry for half a minute and then add the reserved water and a little more to achieve desired consistency. Add salt to taste and add a few drops of vinegar if required. Bring the gravy to a boil
5. Gently drop the sardines into the curry and simmer for a half a minute *see note#4. Turn off the flame and serve hot with rice.
Notes:
1. Preparation & cooking time mentioned above pertains only to the curry and doesn't include time taken to clean the sardines
2. You may make the curry without the seasoning/shindaap – in this case use the tamarind while grinding and skip the vinegar. The Shirko-Shindaap method of making fish curry involves the items for seasoning and also uses vinegar instead of tamarind as a souring agent. If you wish to use both, use them according to taste. You may also use green chillies in the Shindaap – I have skipped it in this recipe.
3. Adjust the dry red chillies as per taste. This kind of curry doesn't yield in a lot of gravy, so if you wish to reduce the spiciness, just use the same number of chillies without their seeds and a bigger onion instead of a small one – this will give you sufficient gravy for 2-3 people.
4. Use your judgement while simmering the curry once the fish has been added. Depending on the variety and size of the fish used you may be required to adjust the cooking time. Do not over cook fish as the flesh of fish is very delicate and continues to cook in its steam well after the flame has been turned off.
5. The same curry can be made in the preparation of Mackerels (Bangde in Konkani/Bangude in Tulu), Pony Fish/Silver Belly (Khampi in Konkani), Hilsa (Pedi in Konkani /Sodi in Tulu)