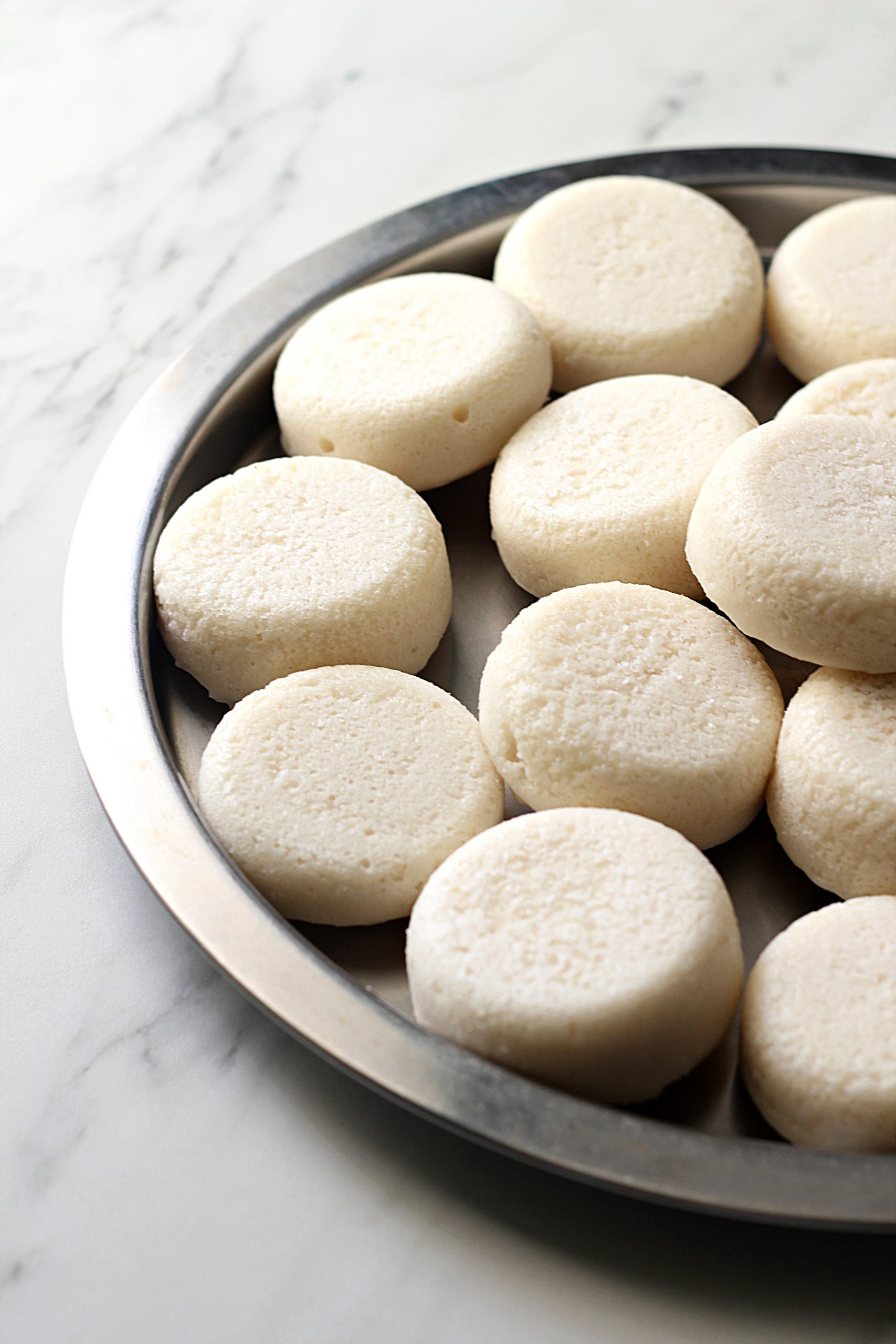 Sanna! If you are a Mangalorean/Goan you can conjour up the best of memories when you see a plate of steaming sanna
, isnt it? Picture this – a bowl of piping hot Pork Sorpotel or Pork Bafat with some steaming fresh from the tondor Sanna
– Bliss! Being a Mangalorean Catholic, the deep rooted love for Sanna came naturally and even the thought of Sanna
brings to my mind a sweet fragrance of fermenting rice batter that attaches itself to everything from the steam to the kitchen walls and also to those who are preparing them.
Sanna used to be a grand affair when I was little. They were always made to mark some celebratory occasion – feasts, festivals and birthdays, when it was made in abundance to cater to a large number of guests who poured into our homes. My fondest memories are of my mum hurriedly pouring batter into ramekins, batch after batch and trying to finish off just in time to attend the midnight Mass on Christmas Eve. We would then return from Mass and have a second round of dinner – Sanna with Pork. Yum!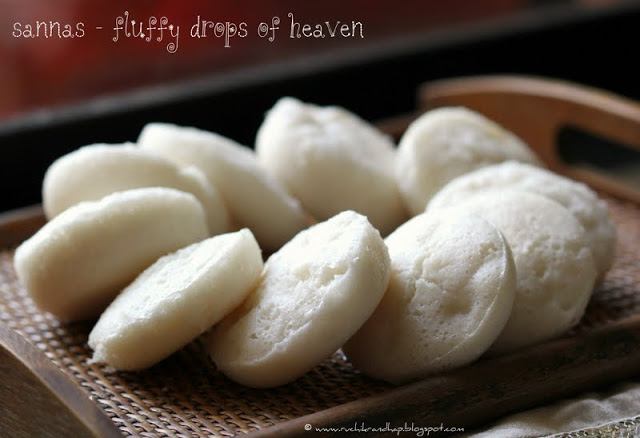 Pin
I think, most Mangaloreans I know would have eaten Sanna with Dukramaas (Pork Bafat) on Christmas day – year after year. This is like the Christmas Day staple diet. When I was in Mangalore, many churches/schools, especially St. Agnes Special school used to host the 'Christmas Tree' celebrations or 'Fancy Fetes' on Christmas day or the day after (usually during the Christmas week). It was impossible not to bump into a hundred relatives, friends and those you met last year on the same date during the same fete 🙂 And it was impossible to avoid the standard question "Christmas gammath gi? Kalein special?" (Did you have a jolly good time for Christmas? What was special for lunch?) and yeah – the most standard answer would be "Sanna ani Dukramaas". Although there would be other special items on the menu in every house, it went without saying that 'Sanna & Pork' were the highlight of the day.
While the world famous South Indian Idli is undoubtedly one of my most favourite breakfast items, the Sanna – the cousin of the Idli, is a class apart and wins hands down. While the Idli is fermented with the use of Urad Dal  (Black Gram Dal) (original method) or the instant versions use a combo of baking soda/fruit salt & yogurt to give it the 'fermented' feel and make it double in quantity instantly, the Sanna use the traditional method of fermenting the batter with the use of Toddy/Arrack (fermented coconut/toddy palm fruit water which miraculously transforms itself into cheap liquor) or in modern times – yeast (usually dry yeast). The texture of the Idli is slightly coarse as one needs to grind the batter to a 'rawa' like (grainy) consistency and the colour is a cloudy white owing to the comparitively larger proportion of Urad Dal used. The Sanna are fluffier and whiter and every housewife will claim that she holds the recipe to Sanna that are 'Kapsa Bori' (as fluffy as Cottonwool!)
Sugar is also added to the batter before it is poured into 'gindul (singular) /gindlaan (plural)' (ramekins) and steamed in a steamer (tondor – similar to the dhokla maker) which gives the Sanna a sweeter taste than regular Idlis.
The Sanna also score over the Idlis as you can eat Sanna for breakfast – with Chutney and/or Sambhar,  for lunch & dinner as an accompaniment to Chicken/Pork/Mutton/Beef/Vegetable curries/gravies. During teatime one can savour them with a little Sweetened Roce (coconut milk) or by simply dipping them in Tea/Coffee. Leftover Sanna are also deep fried and eaten as a pakora (but I would never recommend it as the Sanna absorb a lot of oil!). Infants and toddlers often love the Sanna dipped in milk or ghee and sugar – crunchy & yummy. If you are bored with the regular Sanna, you can make sweet or savoury stuffed Sanna too! How versatile!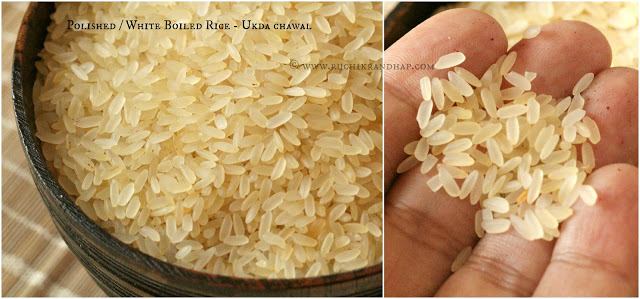 Although Sanna were traditionally made in every Mangalorean/Goan home, it is available in bakeries today. Some housewives take regular/seasonal orders and have them home delivered. It is considered cost effective by many people including office goers and senior citizens who are in no position to dabble with the whole Sanna making process. However, Sanna taste best when they are fresh and warm – right out of the 'tondor'!
I think I should stop rambling about the Sanna and give you a chance to try them out! If you have made Idlis before, this should come easy, if not, don't worry, there's always a first time 🙂 – the one you wont regret!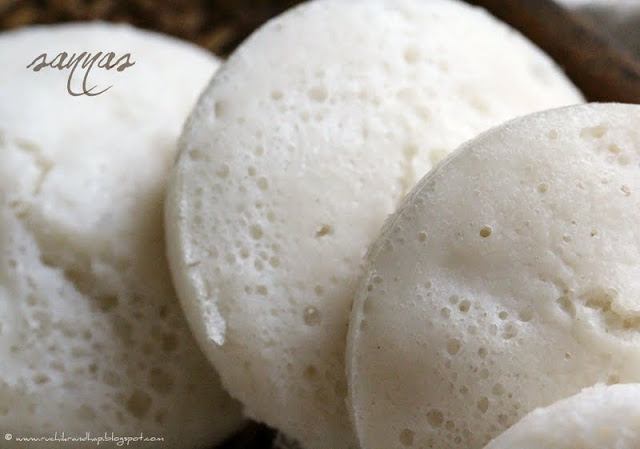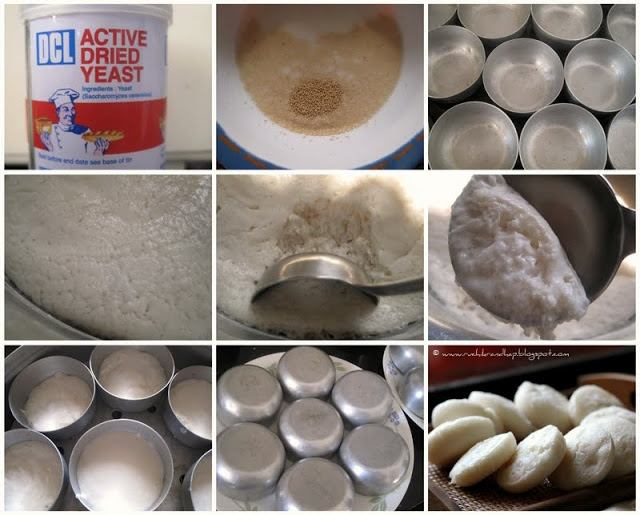 New here? Subscribe to my free newsletters with my latest recipes!
Tried my recipe? Do leave a comment on this post down below and don't forget to give it a star rating! It will really help more readers discover my recipes! Do share a picture on Instagram and tag me @ruchikrandhap and I will feature your post in my stories!
Don't forget to check out my latest videos on my YouTube channel. If you like what you see, do give me a thumbs-up (like), share & comment and subscribe to my channel so that the gods of YouTube (a.k.a algorithms) recommend my channel to a wider audience with similar tastes and more & more people can discover my videos!
And while you're here, do follow me on Instagram, Pinterest,  Facebook and Twitter. If you'd like to say hello or have detailed queries do send an email at [email protected]. I'd love to hear from you!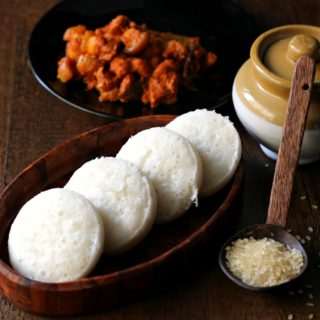 Sanna ~ Mangalorean Catholic Style Steamed Rice Cakes
Sanna ~ Delicious, pillowy soft & mildly sweet steamed rice cakes to mop up your favourite veg or non veg curry with these for lunch or dinner or dunk them in a bowl of sambhar and relish a hearty breakfast.
Print
Pin
Rate
Ingredients
1-1/2

cups

Boiled rice

also called as Parboiled rice/Ukda Chawal/Idli Rice/Ukdo/Katsambar

1/2

cup

Raw rice

smalled grained rice such as Kolam in Hindi/Surai in Konkani/Belthige Akki in Kannada - I use Satyam brand Kolam rice which is really nice

1

fistful Urad dal

Split Black Gram Dal (about 1/4 cup)

1

heaped tsp yeast

1

tsp

sugar

to prepare the yeast solution

3-4

tbsp

tepid water

to prepare the yeast solution

salt to taste

about 1 level tsp for the above mentioned quantity

sugar to taste

around 2-3 tsps
Instructions
Wash and soak the two types of rice and Urad dal separately (in separate vessels) for at least 3 hours in plenty of water

First grind the Urad dal to a fine paste and remove it - this helps in making the Sannas fluffy. Next, grind both types of rice together to a fine thick batter (not as coarse as Idli batter). Try to use as little water as possible to grind. It should be of dosa batter consistency but not too thick. Transfer to a wide, deep pan large enough to accomodate batter that will double during fermentation.

Prepare the yeast solution by mixing the yeast and sugar in a bowl of tepid water. The sugar helps the yeast to dissolve faster. Allow to stand for 10 minutes, the yeast will ferment and turn frothy. Stir to ensure that all the yeast granules have dissolved and what you have is a thick solution.

Mix the yeast solution into the batter until completely incorporated. Add sugar to taste (batter can be mildly sweet like appams - but it's upto you how sweet you want them). Add salt to taste (around 1 level tsp) Mix well and cover with a thin muslin cloth and place it undisturbed in a warm place to ferment for about 2 hours (during really hot weather, the batter will ferment in just about 1-1/2 hours)

The batter would have doubled - for fluffy Sanna do not stir the batter or it will go flat. Place sufficient water in the steamer (tondor) and bring the water to a boil. Keep ramekins greased and ready. Pour batter into them half full. Place these ramekins into the steamer, cover the lid and steam for 15-20 minutes. Remove the lid carefully so as to prevent the vapour from falling on the Sanna (making the surface slightly soggy) and the steam from burning your hands/face. Carefully remove the ramekins and place them face down on a large plate. Allow to cool (to speed up this process if you need the ramekins for the second batch, place cold wet towels over them to speeden up the cooling process).

Once cool, remove carefully and serve ! enjoy!
Disclaimer
The nutritional values are only indicative.
Tried this recipe?
Please leave a comment & rate the recipe below or share a photo on Instagram and tag me @ruchikrandhap