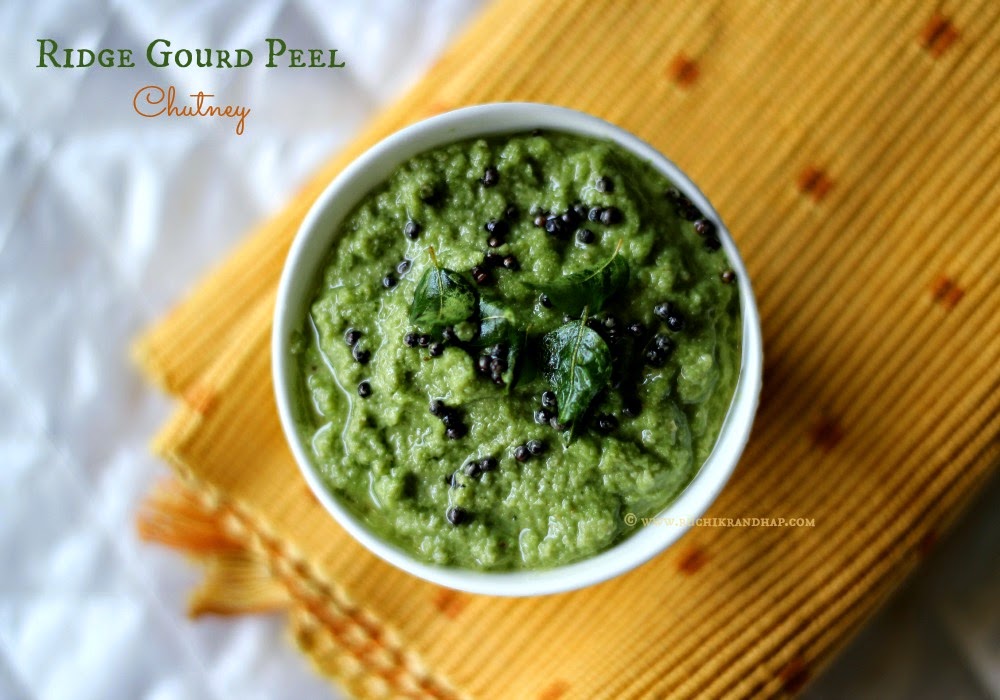 Hey guys! It's time for another chutney! I don't remember the last time I posted a chutney recipe and I think its been a while. Actually I am terrible at making chutneys, Roshan is a champion at that so I usually make him do the honours or simply make sambhar to go with idlis or dosa. A while ago I was going through my recipe index and realised that I didn't have many chutney recipes and it is always a delight to have a different chutney to relish along with neer dosa or idli – something that we have almost every week for breakfast.
I had seen so many recipes of the ridge gourd peel chutney on the various food groups on Facebook that I was always keen to try it out. It is such a great way of saving and utilizing peels of vegetables as they are packed with nutrition. So far I have tried only the ridge gourd peel chutney amongst the many chutneys that one can make out of vegetable peels. They are not only a great accompaniment to rice breads such as idlis, dosas, neer dosa and sanna but also go well as a side dish to a simple meal of rice gruel and perhaps a papad on those days when you don't feel like cooking/eating anything elaborate. So go ahead and give this chutney a shot. I am sure you'll like it!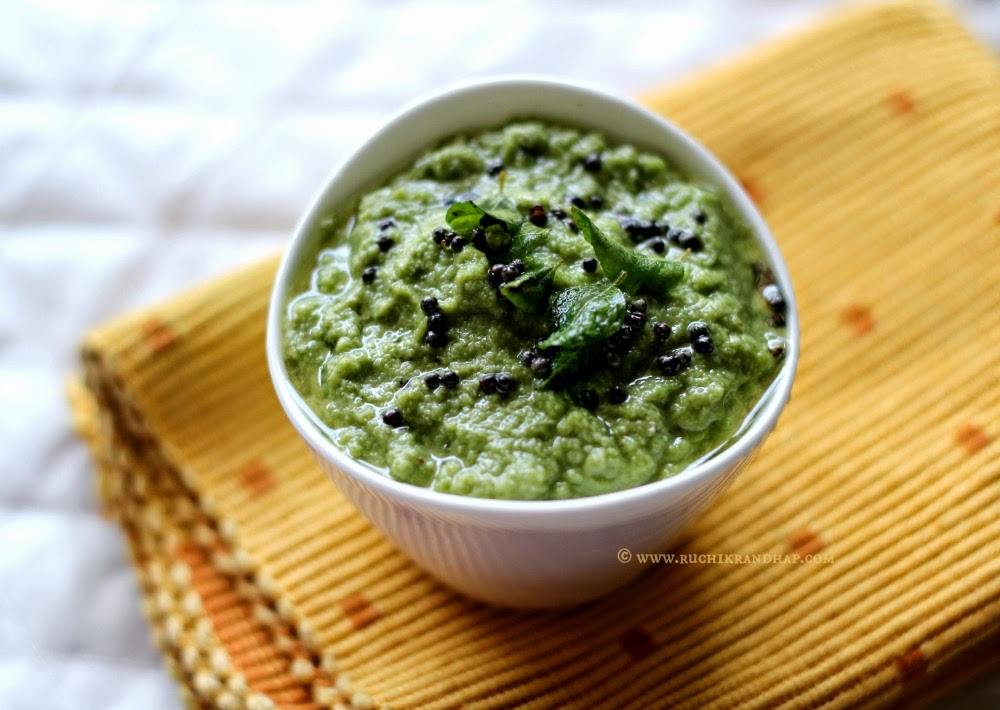 Ridge Gourd Peel Chutney
Prep time: 5mins | Cook time: Nil | Serves 2
You Need:
3/4th cup firmly packed ridge gourd (sponge gourd/gosale/hirekai/turai) peels * see notes
1 small onion chopped
3-4 tablespoons grated coconut
1-2 small green chillies (adjust to taste)
1/2 inch ginger
1/2 tsp cumin seeds/jeera
2 tablespoons finely chopped raw mango or tamarind/lime juice to taste
salt to taste
For the tempering:
1/2 teaspoon mustard
3-4 curry leaves
1 tbsp oil
Method:
1. In small pan/wok heat some oil and saute the ridge gourd peels for 2-3 minutes. Remove and allow them to cool. Once cooled, grind them along with the rest of the ingredients to a thick paste. Use approx 2 tablespoons of water to grind it. Transfer into a bowl.
2. In a small pan heat the oil and toss in the mustard seeds, when they pop, add the curry leaves and toss for a couple of seconds. Turn off the flame and immediately pour the chutney into the seasoning – this will slightly heat up the chutney which will help remove the raw taste of the peel and at the same time retain the nutrients/vitamins.
Note:
1. I used 2 medium sized ridge gourds weighing approx 450-500 grams that yielded approx 3/4th cup
2. Ensure that the ridge gourd is properly washed before peeling. Run your fingers through the ridges
3. I have made this recipe in two ways – by lightly sauteing the peels before grinding and without sauteing (grinding them directly). You can try either way, but if you are using the peels directly, unless they are ground nicely there are chances that you may get some coarse fibre that remains unground so it is better to saute them before grinding.