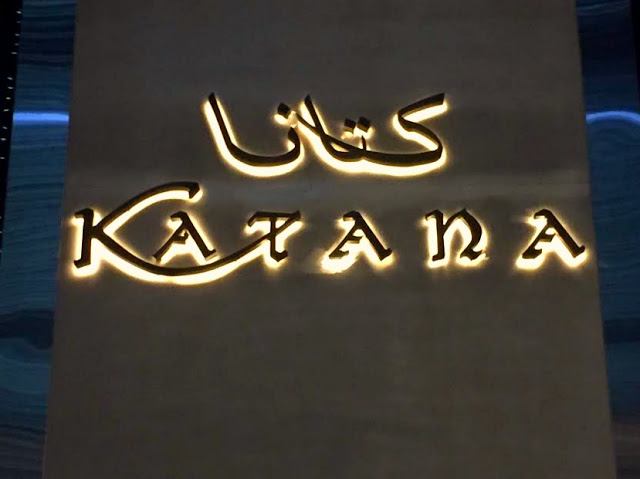 Restaurant: Katana Robata & Sushi Bar, Dubai
Location: The Address Roundabout, The Promenade, overlooking the lake, Downtown, Dubai
Cuisine: Japanese – Robata & Sushi Bar
Price Range: AED 180-200 for two (without alcohol)
Date of Dining: 28th Sep, 2016
THE PLACE
Last week I was invited to the launch of 'Bubbles, Bites & Beats' which takes place every Wednesday at the uber chic and elegant Japanese restaurant, Katana Robata & Sushi Bar. In Japanese, the term 'katana' stands for the traditional, single edged and slender sword used by the samurai (a member of a powerful military caste in feudal Japan). The restaurant that originated and is frequented by celebrities in Los Angeles has now opened its doors to Dubai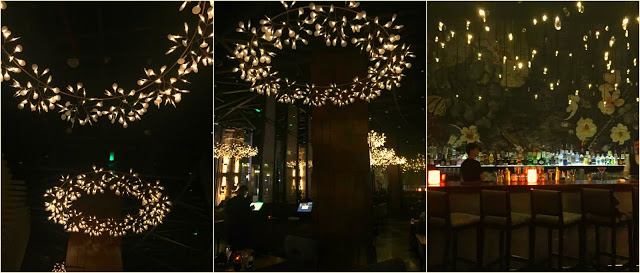 The ambience is very stylish and perfect for a romantic dinner for two or when you just want to unwind with your buddies. The icing on the cake is the view that overlooks the Burj Khalifa, the tallest building in the world, standing majestically, in all its glory – the LED display shimmering and mesmerizing you while it stands tall, reaching for the skies.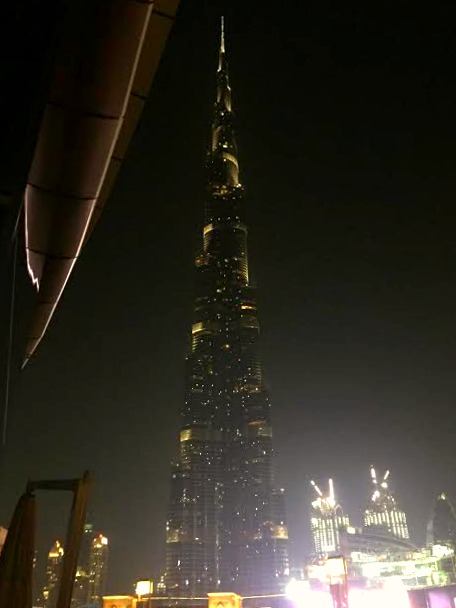 The interiors are beautifully and tastefully done up with wreaths of little lights suspended from the ceiling which is truly a sight to behold. There is a separate bar section for those who prefer to enjoy their drinks away from their tables but for the rest of us, the drinks were served at our tables. The decor also includes beautifully hand painted walls and floors, not to mention the walls of the women's washroom (we took the maximum number of selfies here!). There is also the robata grill area where you can watch the skewered meat being grilled over live coals.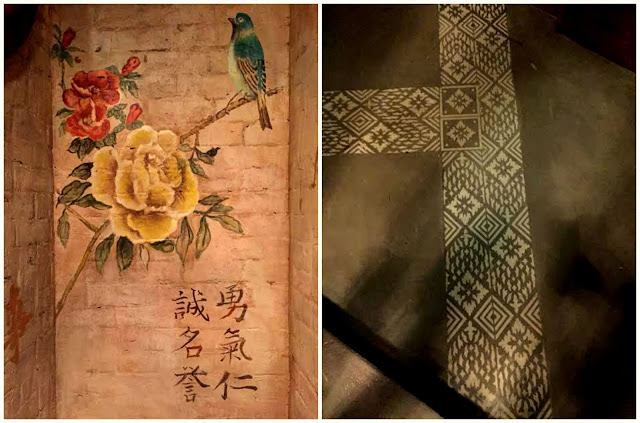 Left: Handpainted wall. Right: Handpainted floor
Robata Grill Area
————————————————————–
Bubbles Night Menu
** Bubbles **
Andre Brut California Champagne
** Starters **
Tuna & Salmon Sashimi
** Entrée **
Garden Salad
(Baby mixed greens with soy ginger dressing)
** Salmon Carpaccio **
(salmon sashimi with shimeji mushrooms, feta cheese, edible kiko flowers, daikon leaves)
** Hamachi Diced Chilli **
(yellow tail sashimi with green Jalapeno. garlic, ginger, red bell pepper, spring onions seared with olive oil with yuzu ponzu sauce)
** Robata **
Sea Bass
(suzuki with yakitori sauce)
Ebi
(shrimp in tarragon butter)
Negima
(chicken scallions with yakitori sauce)
** Sushi **
Katana Maki
(signature roll with spicy tuna and shrimp tempura inside with tuna and salmon (or yellowtail) on top, garnished with spicy mayo)
** Dessert **
Choice of one
Lime, Lychee or Madarin Sorbet
————————————————————–
DEMYSTIFYING JAPANESE CUISINE
For those of you who are not very familiar with Japanese cuisine here's what you need to know!
'Sushi' is a type of preparation that consists of small rolls or balls of vinegared rice topped with meats, vegetables or raw seafood. Sushi is often mistakenly understood as 'raw seafood', however it technically means 'sour' as traditionally (thousands of years ago), sushi was fermented fish with rice preserved in salt. The fermented fish thus gave its name to the term. Sushi is usually eaten as a snack or part of the main meal and hence is served in bite sized portions that can be eaten with the hands.
There are different types of sushi to delight the sushi lover.
The 'makizushi' which means 'rolled sushi' is generally wrapped in 'nori' (seaweed) or sometimes wrapped in thin omelette or cucumber slices or perilla leaves. These are made with the use of bamboo-sushi rolling mats and then sliced into rolls that we see. Then there's 'nigirizushi' meaning 'hand pressed sushi' which is essentially, oblong shaped mounds of rice topped with a swipe of wasabi (a paste made from a plant that is popularly known as Japanese horseradish) and garnished with a single slice of raw fish or egg omelette. 'Chirashizushi' which means means 'scattered sushi' pretty much resembles a salad. It is served in a bowl with sushi rice covered with various toppings. 'Inarizushi' are little deep fried parcels of tofu filled with sushi rice (something like fried wontons but made with thinly sliced tofu for the wrappers). 'Oshizushi' which means 'pressed sushi' or 'box sushi' is made with the use of a wooden mould which is lined with toppings, covered and compressed with sushi rice that results in a rectangular box which is then cut into squares before serving, a pleasing sight for the perfectionist!
'Sashimi' which means 'piecered body' is extremely fresh and thin slices of meat or seafood (usually raw) served on a bed of shiso (perilla) leaves or daikon (white radish shredded into long strands). The basic difference between sushi and sashimi is that sashimi is served without the rice.
Sashimi is traditionally the first course of the meal as it is considered to be the finest dish in Japanese cuisine and is recommended to be eaten first, before the palate is taken over by other stronger flavours. Traditionally it is eaten with chopsticks.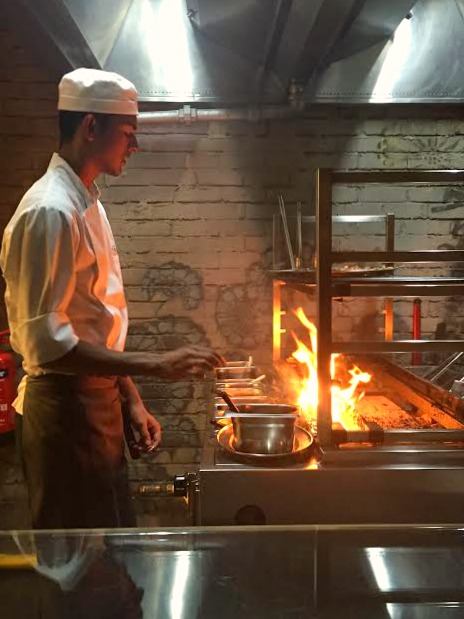 While I was familiar with sushi and sashimi, robata was something new to me. 'Robatayaki' (shortened to 'robata') which means 'fireside cooking' or 'cooking with open flame' is a technique where skewered food is slow cooked on hot charcoal. It is a centuries-old cooking technique that revolves around a communal hearth, adopted by the Northern Japanese fishermen who were required to cook on the boats without letting the intense heat affect the boats so they would encase 'binchōtan' coals (also known as white charcoal, a special Japanese charcoal from the seaside village of Wakayama) in a stone box over which food was slowly grilled. This technique soon gained popularity and spread to the rest of Japan.
Now that we know a few things about Japanese cuisine let us dive straight into the food!
THE MEAL
The tasting included a pre fixed menu consisting of traditional Japanese delicacies with a modern touch. This was accompanied by two glasses of champagne which we enjoyed while some upbeat, contemporary numbers played in the background. The drinks are available for AED 20 per glass or AED189 for a bottle. The drinks menu changes every week. While I am not connoisseur of wine I can safely say that the sparkling glass of bubbles was a great accompaniment to the gorgeous food without the risk of getting tipsy by the end of the evening 🙂
Andre Brut California Champagne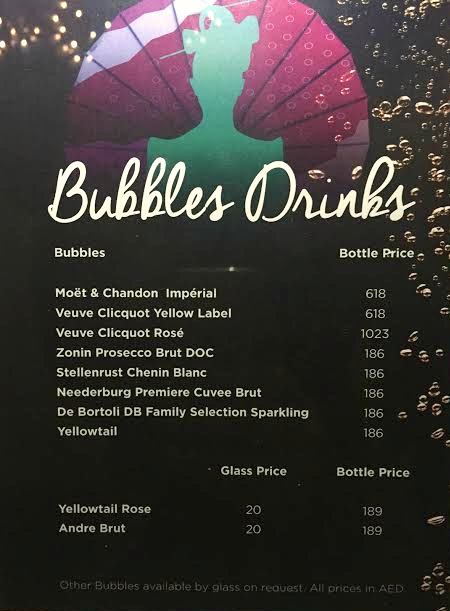 The very friendly and well groomed staff assisted us with our meal and offered us tidbits about the cuisine while we tried to get a hang of eating with chopsticks – an art that I managed to master midway during the meal 🙂
———*———-

Tuna & Salmon Sashimi


Japanese food is light on the palate as it is on the stomach and the first course consisted of Tuna & Salmon sashimi, served on a bed of ice and a garnish of daikon and perilla leaves. Gari (pickled ginger) and a slice of lime adorned the presentation. On the edge of the serving box was a dab of wasabi, a very spicy paste that is to be served in miniscule portions. The fish was absolutely fresh (a prerequisite for sashimi) and melt-in-the-mouth delicious! To be honest, while I had eaten sushi before, this was my first experience with sashimi but I totally loved it.
Sashimi is recommended to be eaten without being drowned in sauces as you want to tantalize your tastebuds with the experience of eating something fresh and in its original, raw state thus taking in the flavours of the ocean.
While we were still enjoying it, the Garden Salad was served. Despite its simple name, this bowl of baby greens was bursting with flavours brought in by the soy ginger dressing. The taste was more promising that the way this humble dish looked.
———*———-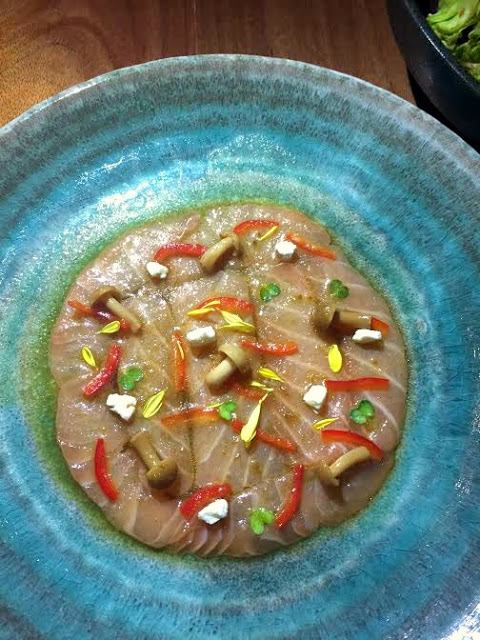 Salmon Carpaccio


The Salmon Carpaccio which is salmon shashimi topped with shimeji mushrooms, feta cheese, edible kiko flowers & daikon leaves was a delightful combination of paper thin salmon and a variety of textures and flavours.
———*———-
"Hamachi do you love me?" asked the fish to its citrusy soymate 🙂 The Hamachi Diced Chilli that was served in quick succession was my favourite as it had a great combination of flavours that sparkled with the ponzu sauce, a citrus and soy based sauce that was drizzled all over it.
The choice of robata included Negima (chicken scallions) with Yakitori Sauce, Ebi (shrimp) with Tarragon Butter and Sea Bass with Yakitori Sauce. If you ask me, each one was better than the other but I loved the Ebi, ebi't more than the rest 🙂
Each of these skewered foods had a dipping sauce to go with it. My favourite was the ginger sauce (topmost in the picture below). The whole combination of flavours is very different from your usual experience with skewered foods. If you like the Asian satays then you will love the robata even more.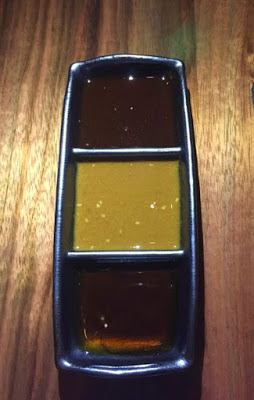 Sauces:
Top: Ginger (for veg), Centre: Soy Mustard (for meats) and Bottom: Ponzu (for seafood)
———*———-
Sushi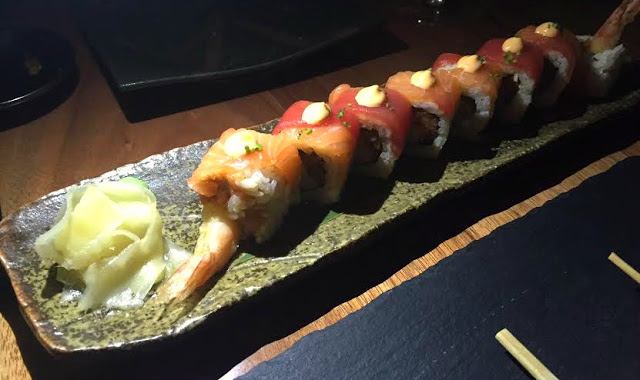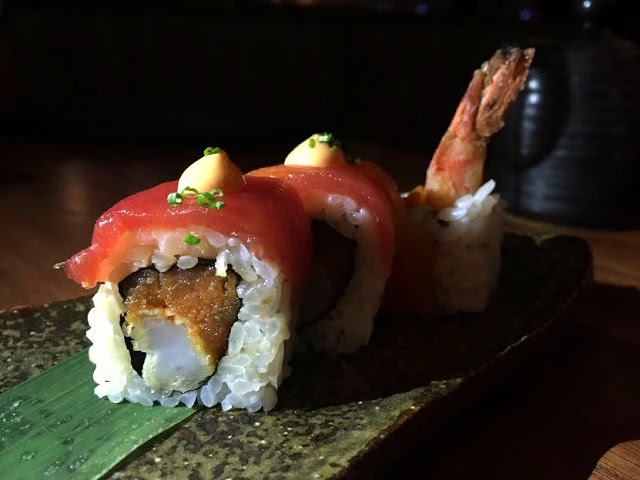 Katana Maki


Everything was going great at this point. The mood was right. The tempo of the music – great! The divine seafood was devoured – perfect! Suddenly, 'rice to meet you' said the sushi! and there it was! Katana's signature rolls, the Katana Maki – sushi rolls with spicy tuna and shrimp tempura inside, tuna and salmon on top with a dab of spicy mayo garnish. The maki was served with gari (pickled ginger slices) and soy sauce. A dream come true! Super delicious and pretty filling as the portion size was very good for two. I was literally on a 'roll' as I surely didn't want it to be a tempura'ry feeling! I am definitely going back for more sometime in the future!
———*———-




Dessert
Lychee & Mandarin Sorbet
Finally, the very elegantly crafted meal came to an end with a choice of dessert. I picked the Mandarin Sorbet while my sister-in-law chose the Lychee version. A sorbet (pronounced as 'sor-bay') is essentially a frozen dessert made from sweetened & flavoured water (usually with fruit juice or wine). Refreshing, light and very summery is how I would describe both of these desserts. A perfect end to a lovely night at Katana.
THE VERDICT
A visit to Katana is a wholesome experience. Not only did I get to know a lot about Japanese cooking techniques, but also got to enjoy some very fresh and delectable seafood, my favourite kind! The ambience accompanied by lovely music is great. The serveware is classy and the seating, comfortable.
The staff is very pleasant & helpful and greet you in unison as you enter the place with 'Irasshaimase' which means 'come on in/welcome' and 'Arigatou' which means 'thank you' as you leave.
This place is worth your time and money if you want to savour great food in a calm atmosphere. If you want to treat someone to a special dinner then Katana Robata & Sushi Bar should be on top of your list of places to dine at!



Full Disclosure: I was invited for a tasting at Katana Robata & Sushi Bar, Dubai. All opinions expressed above are my own.