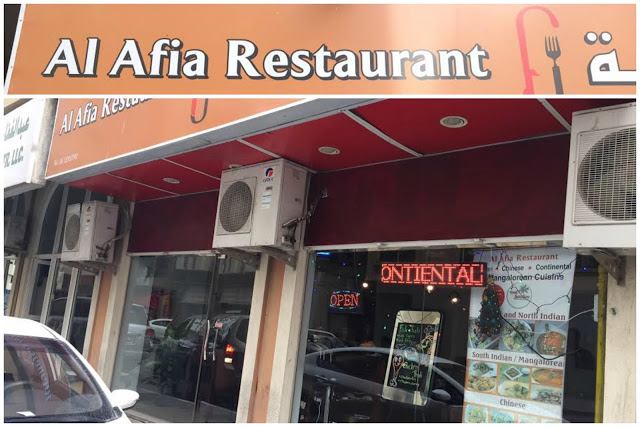 Restaurant: Al Afia
Location: Opposite Wardah Hotel Apartments, Near Mahatta Park, Al Qasimia, Al Mahatah, Sharjah
Cuisine: Mangalorean cuisine with a good mix of multi cuisine dishes
Price Range: AED 80-100
THE PLACE
Al Afia restaurant which was started in January 2016 is primarily a Mangalorean restaurant that also serves multi-cuisine food. Incidentally, they have been in the restaurant business for years. If you are from Mangalore and have frequented restaurants in the mid 90s then you may remember a tikka joint named 'Susata' located at Attavar, Mangalore.A couple of months ago one of my relatives happened to tell me about the restaurant that belonged to her friend and I was invited to do a food review. I gladly accepted this offer as I am so passionate about Mangalorean food and I am sincerely pleased that I got to taste some fabulous food over the weekend!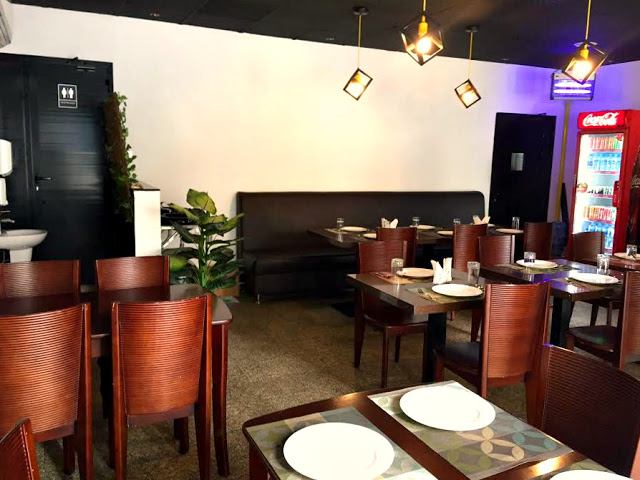 To be very honest the hubby and I went with a very open mind, without any expectations. Something told us that we would not be disappointed and our feeling was so right! We were warmly welcomed by the proprietor Sunil and his family and made to feel completely at home. I believe this is how he generally greets his customers too which is a wonderful quality. I personally feel elated when I am treated with care and promptness at a restaurant.
The dainty little place is simple, neat, very clean and can comfortably seat 28 people. The chefs who are also Mangalorean are old hands at this and have previously worked with their establishment in Mangalore. Each dish was presented so beautifully, more of which I will talk about in a bit.
ON THE MENU
The best part about the menu card of Al Afia is that unlike menus of most restaurants I've been to in Dubai, it is not cluttered with a whole laundry list of dishes. The crisp and concise menu card includes traditional Mangalorean breakfast (poori bhaji, neer dosa, goli baje, sheera, sajjige bajil and the like), desserts & beverages, rolls & sandwiches, appetizers, soups & salads, rice, roti & biryani, Mangalorean specials, South Indian meals, North Indian, Chinese and other continental dishes
The restaurant also caters to home parties (approx 50-60 people or upto 100 depending on the space available) and outdoor parties (up to 100 people). They deliver the food to Dubai as well (yay!) and also have breakfast and lunch 'on-the-go packs' where the food is packed in microwaveable containers. So if you live in Sharjah and anticipate a busy week ahead where cooking at home seems impossible you can try out their meal-on-the-go options! And hey, if this is not enough, they also have marinated meat (chicken, mutton chops) and seafood (fish & prawns) for barbeques so the next time you plan your picnic you may want to try out one of their BBQ pre-marinated options! If you want to enjoy a nice stuffed roast chicken or turkey in the comfort of your home, you can order that too! See, you are spoilt for choice 🙂
To place your orders you may contact Sunil D'Sa: +971553285260
THE MEAL


Now, join me for the meal, won't you? Where do I start? Being a foodie, I made sure that I didn't eat a fat breakfast. I didn't want to be stuffed to the gills before I even made it past the starters so I prepped myself for a grand Mangalorean fare by arriving with an almost empty tummy and I was so glad I did that.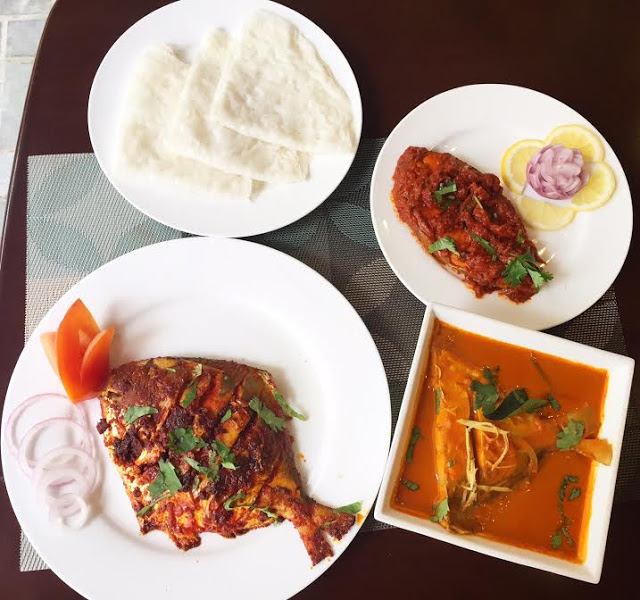 While we had an option of selecting the dishes of our choice we placed our trust in Sunil's choice of food that he wanted to serve us. I got busy with my camera as and how the food arrived and like I always believe in the adage, that we eat with our eyes first, so it was in this case too. The food was not just delicious it was presented so beautifully. I have this thing for food that is served in simple and pristine white serve ware, you can never go wrong with (also the reason why I use white dishes to display my food on the blog). Each dish came decorated with a vegetable garnish or some sauce placed artistically on the plate. Full marks for presentation I'd say.
DRINKS
For the drinks we were served the simple lime soda and mojito. Both tasted very good, a boon for parched throats.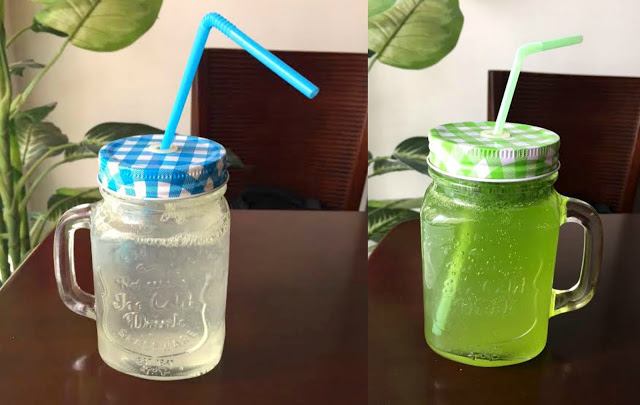 STARTERS
The starters arrived in quick succession of each other. The Chicken Hara Bhara Kebab was boneless chicken marinated in green masala and grilled to perfection. So also the Chicken Tikka in a red masala and the Malai Chicken Tikka in a pepper-cream marinade. Succulent, bite-sized pieces of chicken can never go wrong, can they?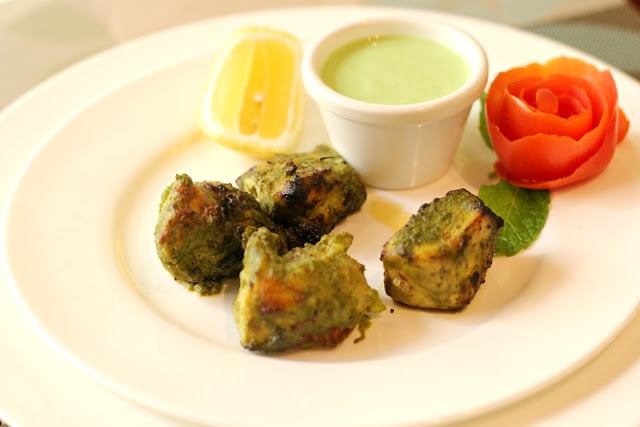 Also, I noticed that these tikkas were tender and juicy even after they went cold (as I spent a lot of time shooting pictures) unlike many that I've eaten that turn into rocks when cold.
The Grilled Chicken Tikka (1/4 chicken/with bone in) was just as juicy as its other chicken counterparts. I was surprised when I was told that they cooked it on a tawa grill and not a traditional tandoor. The result looked and tasted the same, maybe even better!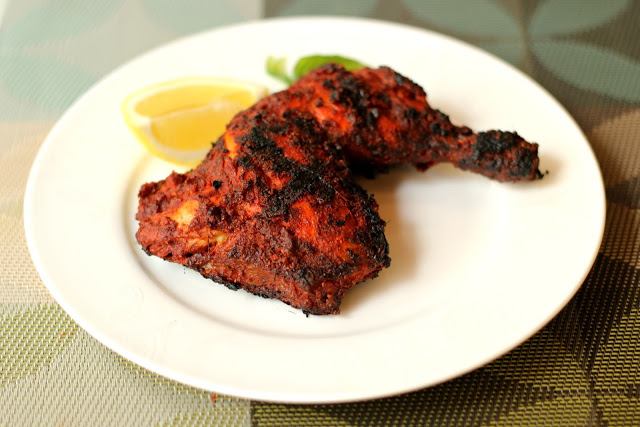 The Breaded Chicken Rolls (also called as spring rolls at Al Afia) were perhaps the best I'd ever tasted. The filling inside was very tasty and the rolls very appetizing, a must have if you are super hungry!
MAIN COURSE
If you want to tantalize the tastebuds of any seafoodie (seafood lover) impress them prawns and squid. Two variations of ghee roast were served to us. The prawn ghee roast had large, juicy prawns cooked in a semi-sweet thick masala paste and the squid ghee roast had a mild hint of caramelised onions to it. Both of these were fabulous! Ghee roast, by the way, is a preparation that originated in Kundapur near Mangalore and consists of a thick masala that is made up of spicy Byadgi chillies, garlic, coriander, peppercorns and fenugreek and fried in oodles of ghee (clarified butter). Chicken, prawn or squid ghee roast tastes wonderful with neer dosa if you ask me but we just ate them like starters.
Waiting patiently in line were the Surmai Masala Fry (seer fish marinated in a thick coating of spice paste and shallow fried) and Pomfret Tawa Fry (pomfrets marinated lightly with a spice paste and shallow fried) both of which were par excellence! Sunil makes sure that he personally buys the fish everyday so you can be assured that what is served to you is good quality food.
Now the same goes for the meat as well. Good quality meat that was cooked till tender is what we found in the Mutton Green Masala. This dish helped evoke a lot of memories for me. The aroma reminded me of the gravy I always enjoyed having at Mangalorean weddings. It had that signature blend of warm spices (garam masala), teamed with a coriander & mint leaves, all ground together in a mildly spiced, delicious curry that I quickly mopped up with the neer dosas.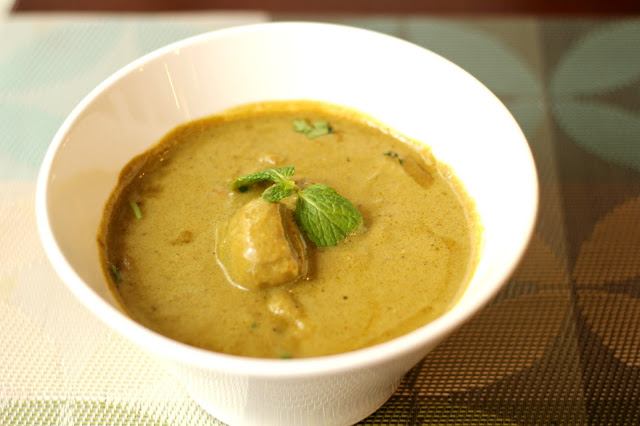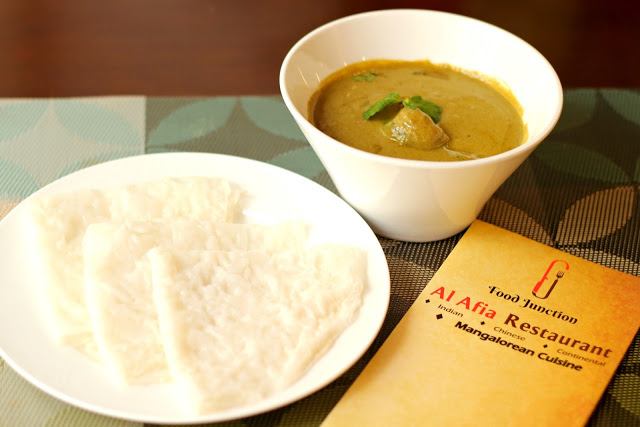 No Mangalorean meal is complete without the quintessential sukka preparation. Sukka technically means 'dry' where coconut is slow roasted along with a blend of various spices and cooked along with the meat of choice (chicken, mutton or beef). The Chicken Sukka that was served to us was aromatic, with a hint of badishep (fennel seeds) which I found to be an interesting twist to the usual way we make it.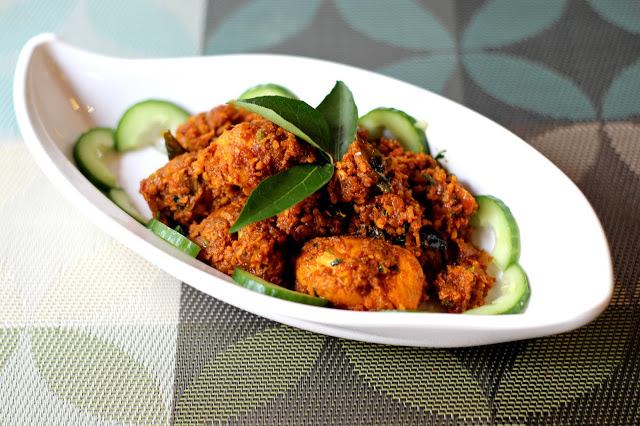 The last dish to arrive in this culinary repertoire of Al Afia was the pomfret curry – a creamy, coconut milk based curry that had the right combination of spices that make Mangalorean cuisine so distinctly different from the others. The pomfrets dunked in this curry were fresh and we ate them with great difficulty as by now we were truly stuffed to the gills (pun unintended)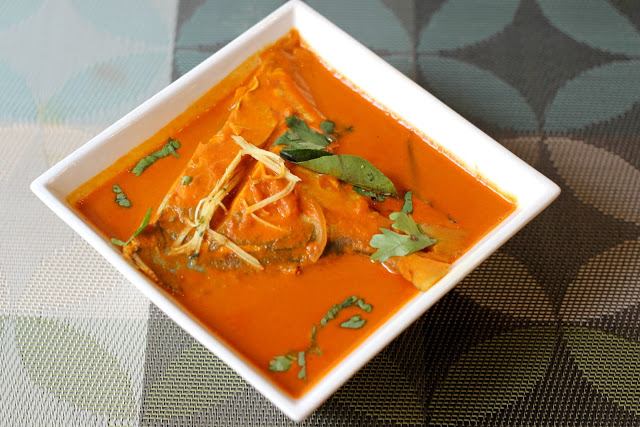 DESSERT
By the time we finished the main course R and I looked like two overfed cats from my grandma's backyard ready to be serenaded into a sweet afternoon nap. However, since we also have Mangalorean blood running through our veins we gushed and drooled at the sight of the Gadbad that came walking towards our table. After the initial ooh's and aah's subsided (and a few hurried shots were clicked with trembling hands) two hopeless foodies gluttonously dug into the typically tall glass filled with a medley of scoops of different flavoured ice creams, strawberry jelly (Jell-O), dry fruits, fruits, nuts and yes, chocolate chips! And then the bell rang, an imaginary one one that resounded from our bellies, begging us to stop for we could eat no more. The gadbad truly was the grand finale, least expected but thoroughly enjoyed! If you are missing gadbad, you know where to head 🙂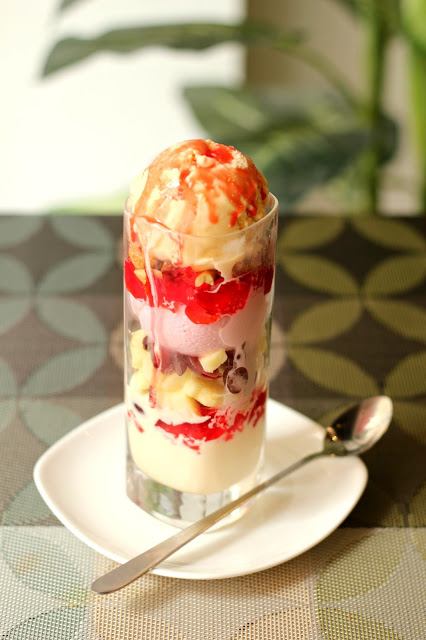 THE VERDICT
By now you may know what my verdict is. The food was truly superlative – from its quality to its taste, everything was up to the mark. All the dishes had this signature aroma that is so typical of Mangalorean food if prepared the right way (this is what my mum always told me, to look for the aroma and not just the taste – something that is hard for me to explain at the moment). What I liked most was that apart from the fact that we ate too much (seriously!) we didn't feel heavy as the food wasn't too oily. Also, none of the kebabs had any food colouring added to them – so very important for me as I hate to finish any meal with stained fingers! This is particularly important when I take my kids to eat out. The only thing that we felt could be improved was the number of vegetarian dishes served which we felt could greatly increase his clientele. All in all, it was a great dining experience with every dish created with care. I wish Sunil D'Sa and his team all the best!
For orders please contact Sunil D'Sa
Mobile +971553285260
Facebook or Instagram 
I was invited to try out the food at Al Afia, Sharjah. The meal was complimentary. All opinions expressed above are my own.