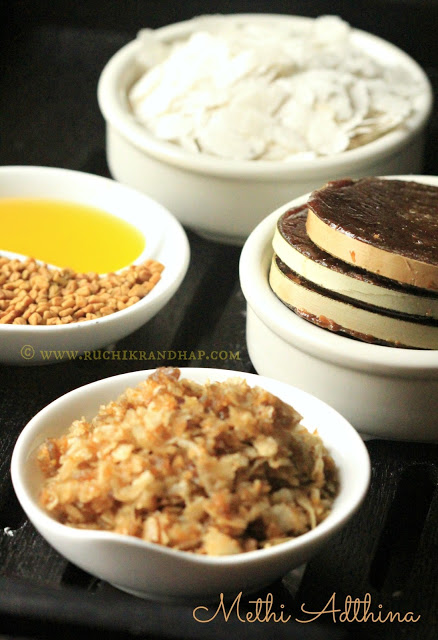 Sometimes I wish there were more than 24 hours in a day. This is only from the blog point of view – I wish I got more time to spend writing down recipes that I've tried and posting those that I have 
accumulated
 amassed in the past few months. I remember that last year this time I was anxious & eager to deliver my baby and had made a mental note of all the recipes I wanted my balnti posteli (post delivery care giver) to make for me. Like I had mentioned in my introductory post, new moms in Mangalore are given special post natal care for 40 days post delivery by specially trained (not certified though) women, homegrown nurses who look after the mother & baby. These ladies, apparently great cooks
are experts at preparing all the necessary health foods that help the new mom regain her health & in turn is beneficial for the well being of the baby.
My care giver made a host of essential dishes that I cheerfully ate – at the bottom of this post I will provide links of those recipes, in case you have missed reading them. However, I found today's recipe on a food group on Facebook and made it myself and enjoyed as well.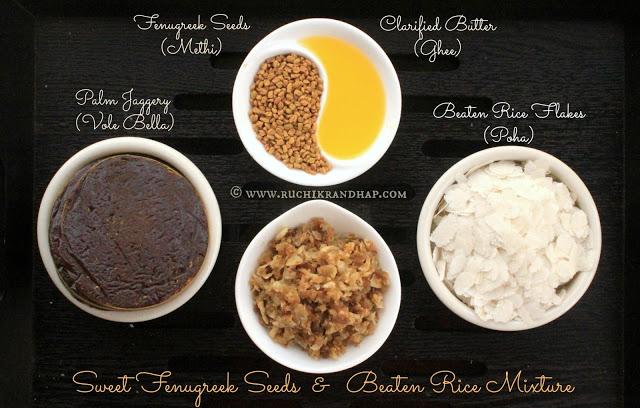 Methi Adthina or Methi Halwa is a simple & light snack that can be enjoyed by new moms anytime during the day. Methi (fenugreek) is a known herb that aids lactation and hence both the seeds and leaves are given in various forms to the new mom.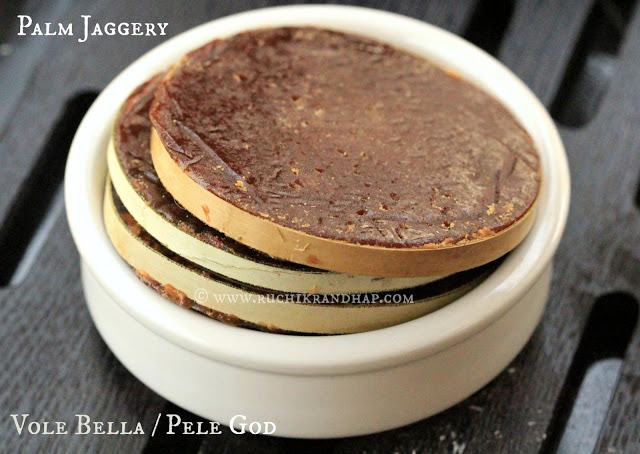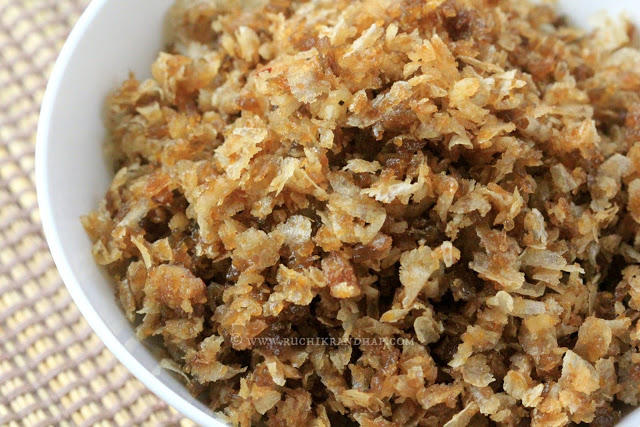 My dietician & friend Anjum Shaikh says " This recipe is good in fiber, calcium, phosphorus, folic acid , iron and gives energy. It is low in vitamin C and protein though, so this recipe can be supplemented with fish and eggs and it can be very healthy or it can be consumed with a glass of milk and 1 boiled egg that will do wonders to the nursing mother.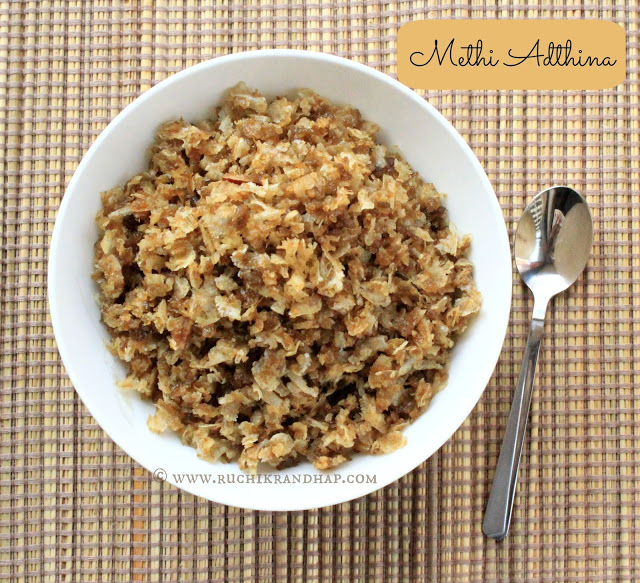 Ingredients
100

grams

(1/2 cup+ 1 tablespoon) fenugreek (methi) seeds

100

grams

(1/2 cup or 120ml) ghee (clarified butter)

200

grams

(1-1/3 cups) jaggery powdered (see notes)

100

grams

(2 cups approx) grated coconut

200

grams

(4 cups) beaten rice (poha/avalakki)
Instructions
Wash the fenugreek seeds a couple of times and transfer into a pressure cooker. Add 2-1/2 to 3 cups of water and a pinch of salt and pressure cook for about 6-7 whistles or till the seeds are tender. Allow to cool a bit and then grind to a paste. Keep aside.

On a griddle/tawa dry roast the beaten rice till the flakes shrink a bit. Remove and keep aside. When they cool, the flakes will turn really crispy and you should be able to crush them to a powder. Add the coconut to the same tawa and roast until it turns pale golden brown (don't brown it too much) - just until you get a nice aroma. Remove.

In a large heavy bottomed wok/kadhai heat the ghee and add the ground methi paste and fry for 7-8 mins on a medium flame or until the ghee separates from it. Add the powdered jaggery, combine and stir till the jaggery melts and then bring the mixture to a boil.

Add the roasted coconut & beaten rice and mix well. Allow to cool before serving. Store in an airtight container when the mixture has cooled completely.
Notes
I increased the jaggery to approx 300 gm (total) which is about 2 cups grated/powdered jaggery. I used palm jaggery discs available in Mangalore - they are called as Pele god in Konkani & vole bella in Kannada/Tulu.
This preparation can be made in advance (before delivery) and stored in the fridge. Just microwave for 30 seconds before serving. A bowlful of this mixture eaten daily will aid lactation.
Disclaimer
The nutritional values are only indicative.
Tried this recipe?
Please leave a comment & rate the recipe below or share a photo on Instagram and tag me @ruchikrandhap
Standard measure used – 1 cup = 240ml
If you liked this post you may also like the other recipes in this series:
Jeeryaso Kasai(Cumin Tea)
Kaljiryaso Kasai(Herbal Kashayam / Decoction of Ironweed Seeds)
Nivole(Aromatic Coconut & Carom Seeds (Ajwain) Curry)