Contrary to what I thought, this time around life post delivery appears a lot easier than my first time. Being an experienced mom has helped a lot and the fact that I have additional pair of hands to help me at home. So now here I am, relaxed and checking mails and blogging during the evening hours, the cool breeze keeping my room well ventilated and mind free to type as I please. However, the sleepless nights have shut down my brains and I can't think of anything brilliant to write about, so let me quickly jump to this recipe. Thanks to dear Michelle Noronha whose recipe I mildly tweaked, here's my version of the Pork Chilli which can be aptly called as an Indo-Chinese dish.
Catholics in Mangalore get to eat such Indo-Chinese dishes during weddings and such occasions where the local caterer can whip up anything you fancy. Most of these dishes are so lip smacking good that you can rarely replicate them at home. Anyway, this recipe is not an attempt to recreate any such dish. I can say that it is a by product of my own experiment. It was part of the 'Chinese' food menu that Roshan & I created last month – (before I delivered – cuz I was simply dying to eat Chinese food). We kept it simple and satisfying. The recipe for Chicken Manchow soup has already been posted on the blog and I have one more recipe to follow. So do watch this space for the upcoming recipe. For now, I hope you try and like this dish!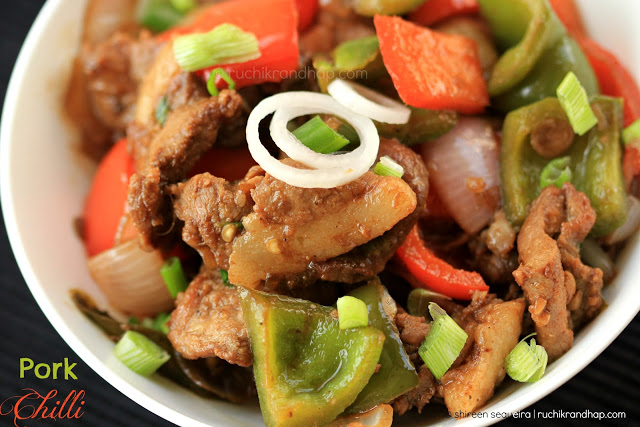 Pin
Pork Chilli
Prep time: 20mins | Cook time: 20 mins | Serves 4
You Need:
500gm pork thinly sliced
1 green & 1 red capsicum (bell pepper) deseeded and cubed * see notes
2-3 green chillies slit (adjust to taste)
4 medium sized onions cubed
1 inch ginger chopped fine
1 small pod garlic (about 10-12 small flakes)
a sprinkling of freshly ground pepper powder
1 tbsp soya sauce
1 tbsp sesame oil
1 tsp rice vinegar (or regular white vinegar)
1/2 tsp sugar
oil for frying
2-3 tbsp chopped spring onion greens for garnishing
For the marination
2 tbsp dark soya sauce
1/2 tbsp green chilli paste/sauce (adjust to taste)
1 tbsp ginger garlic paste
salt to taste
Method:
1. Marinate the pork with salt, ginger garlic paste, 1 tbsp soya sauce and the green chilli sauce/paste and keep aside at least for an hour.
2. Heat oil in a wide heavy bottomed pan or skillet and fry the slit green chillies, chopped ginger and garlic lightly and then add the marinated pork slices and fry till golden brown on both sides.
3. Add approx 1 cup of water and cook covered on a medium flame till the pork is tender. In the meanwhile spread out the cubed onions and capsicums on a microwave safe plate, drizzle some oil over them and microwave on High (100% power) for 3 minutes. Remove and keep aside.
4. When the pork is cooked add the remaining soya sauce, chilli sauce if required, sugar, sesame oil, pepper powder, vinegar and mix well. Add the microwaved onions and capsicum, mix and cook on a medium high flame for just a minute.
5. Turn off the flame, garnish with spring onion greens and serve along with fried rice.
Note:
Instead of red and green bell peppers/capsicums you may use both green ones or as desired.
If you require gravy for the pork, then dissolve approx 1 tsp cornflour/cornstarch in 3/4th cup of warm chicken stock (or 1 stock cube dissolved in water) and pour this into the pork. Adjust the thickness/consistency of the gravy accordingly – This is just an approximation, not absolute measurement – please use your judgement here.