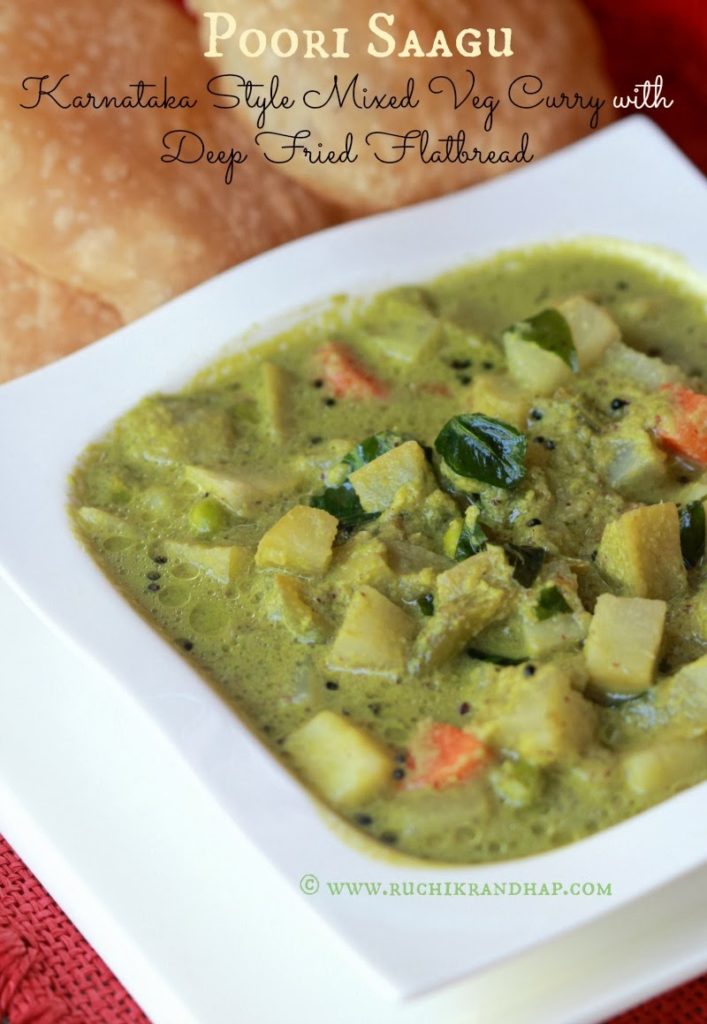 Now that we have settled down in our own home I have started trying out dishes, the recipes of which have been bookmarked ages ago. Last year when I had a temporary help hired during my delivery I had the opportunity to taste some Karnataka style food which I thoroughly enjoyed. Poori Saagu was one such dish which was prepared many times for breakfast. Although all of us at home enjoy eating piping hot pooris with any accompaniment I don't make them often due to the fact that it is not the healthiest because of the deep frying that is involved. I limit deep fried food to once in 2-3 months and when I do make it, we indulge. To make it healthier I prepare pooris with whole wheat flour (which is like the norm these days) to all purpose flour/maida.
When I was introduced to Saagu I instantly fell in love with it. The mixed vegetables with a special addition of the chayote made it all the more delicious although chayote by itself is a bit bland and doesn't have a very distinct flavour. To top it, my favourite herb, coriander leaves are added to the ground masala, so not only does it lend a lovely pista colour to the dish but the flavour is unmatchable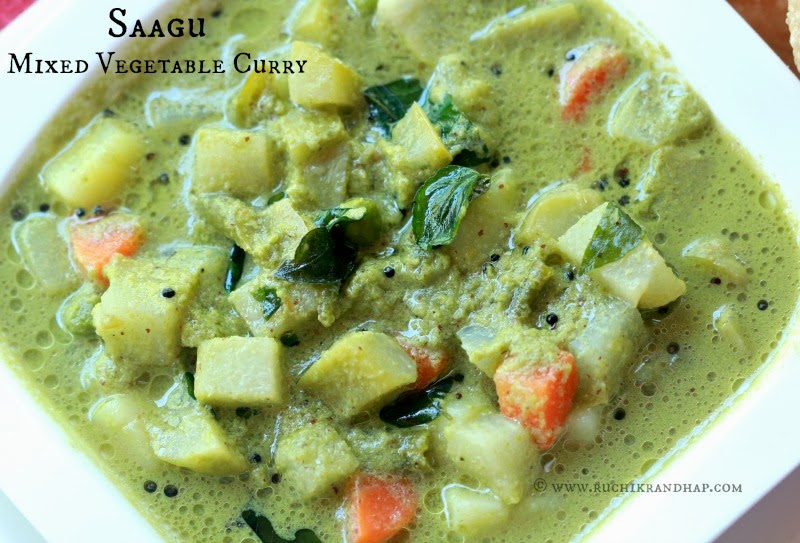 When I saw the chayote on one of my trips to the supermarket here I was more than thrilled. In Mumbai it used to be available only with a certain vendor selling slightly exotic vegetables (or so we thought!) and it wasn't available always.
You can prepare this dish without chayote as well. Just add whatever vegetables that are handy. French beans, peas, potatoes & carrots are more than enough.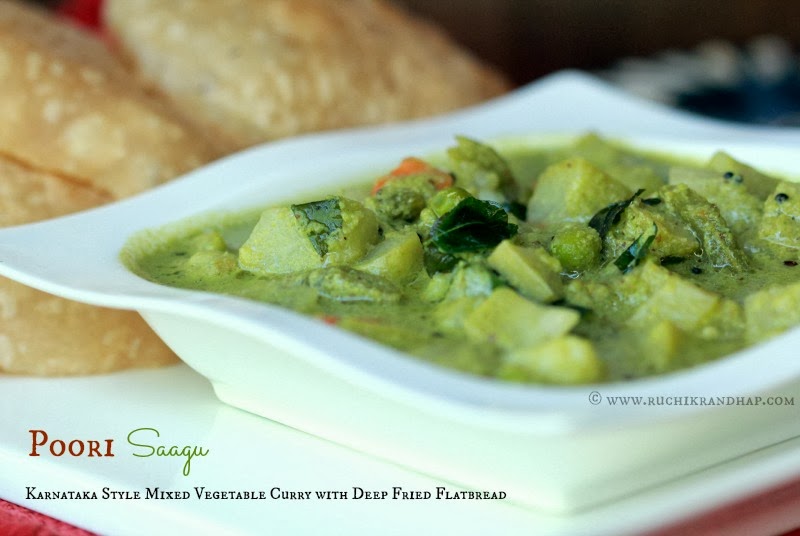 Poori Saagu (Karnataka Style Mixed Vegetable Curry with Wholewheat Flat Bread)
Prep time: 20 mins | Cook time: 15 mins | Serves 4


Ingredients:


For the Saagu:
1 medium sized (300gm) chayote (chow chow/seeme badanekai/christophine) (approx 2 cups of cubes)
1 medium sized carrot cubed (approx 3/4 cup)
1 medium sized potato, cubed (approx 1 cup)
7-8 french beans cut julienne (1/2 cup)
1/2 cup frozen green peas
A marble size ball of tamarind soaked and thick juice extracted
Salt to taste
For the masala (to be ground):
3/4 cup grated coconut
2-3 small green chillies (adjust to taste)
3-4 peppercorns (adjust to taste)
1 loosely packed cup coriander leaves
1/2 inch ginger
1 teaspoon mustard
1/4 teaspoon garam masala powder
For tempering/seasoning:
1 sprig curry leaves ( about 7-8 leaves)
1/2 teaspoon mustard
A pinch of asafoetida (hing)
1-2 teaspoons oil
For the Pooris:
2 cups whole wheat flour
water to knead (approx 1 cup)
salt to taste
oil for deep frying
Method:
To make the Saagu
1. Place all the cubed vegetables in a heavy based pan, add enough water to cover it, add salt and tamarind juice and cook the vegetables till they are tender (don't over cook)
2. Grind all the ingredients mentioned under 'For the masala' to a fine paste and add this to the cooked vegetables and simmer without covering the pan – do not let the mixture boil as the coconut may curdle. Do a quick taste check & add salt & tamarind if necessary (simmer for another couple of minutes if changes are made) otherwise remove from heat.
4. To temper, heat oil in a small pan and toss in the mustard, when they stop spluttering add the curry leaves and asafoetida and stir for 3-4 seconds, pour into the prepared curry and cover the pan immediately to retain the aroma of the seasoning
5. Serve hot with pooris, chapathis or rice
.
To make the Pooris:
1. In a flat dish used to knead dough, mix the wheat flour and salt to taste and add enough water to knead it into a soft pliable dough. Cover and keep aside for 15-20 mins.
2. After 20 mins, pinch out lime sized balls of the dough, flatten and roll them into pooris of 2 -3″ diameter. While you are rolling out the pooris heat the oil for deep frying in a heavy bottomed kadhai/wok.
3. When the oil is hot, but not smoking, slip in one poori at a time and gently hold it down with a slotted ladle, if there were no cracks in the dough at the kneading & rolling stage, the pooris will puff up to their full size. Flip them until fried till golden brown on both sides.
4. Use the slotted spoon to drain off excess oil & remove onto a plate lined with kitchen tissues.
5. Serve hot with the Saagu or any accompaniment of your choice.
Liked this recipe? Do check out the other Poori combo recipes!
Poori Baaji
Poori Ghashi