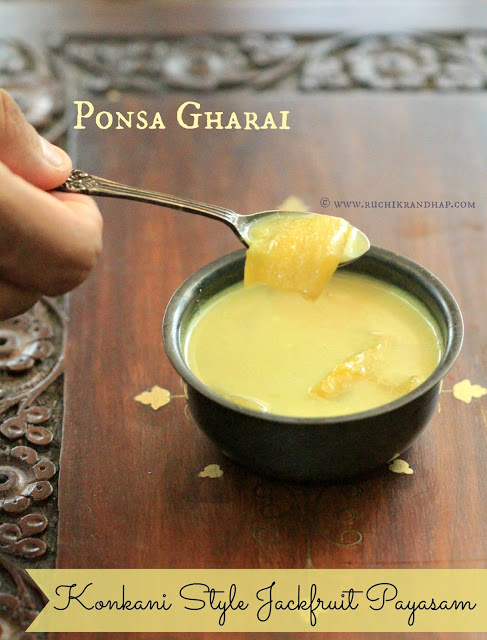 Yesterday during lunchtime my niece asked me to list my favourite fruits and I was in a fix. I am not as much a fruit person as I love my veggies. Give me fruits and they will sit on the table for a week. Untouched. Give me veggies and I will eat them in the place of chicken, fish or meat. I totally love my vegetables. So I had to actually rack my brains to come up with a good list of fruits that I liked to eat. I surprised myself when my niece suggested 'jackfruit?' and I said 'yes!' immediately!
I never thought I liked this humble seasonal fruit until recently – when I actually craved for it so much that I asked my brother to get some from his recent trip to Mangalore.
When I was living in Mangalore I had the good fortune of tasting two varieties and its various qualities of jackfruit. Almost every household I visited had jackfruit trees that were heavily laden with the season's fruit that would be painstakingly plucked & feasted upon. A huge jackfruit weighing anywhere between 18-20 kilos was enough to serve the entire family with fruit & its various delicacies and there was always enough to distribute amongst close family & friends. As I mentioned earlier the two varieties that I have eaten are called as 'rosaal' (konkani term for 'juicy') or kaapo/kaapu (I am clueless why its called so – maybe because it was found in Kaup, a place close to Mangalore – again I have no clue why Kaapu is written as Kaup). The 'rosaal' variety is a pain to eat – I don't know about you, but I found it impossible to chew or swallow it. The pods are oh-so-delicious but slimy in a sense that you are worried when its time to swallow it lest it gets stuck in your throat! (How many of you have had this experience?). This variety is usually utilized in the preparation of sweetmeats like the
ghariyo (jackfruit fritters) or patholiyo (steamed rice & jackfruit cakes)
although you may use any variety.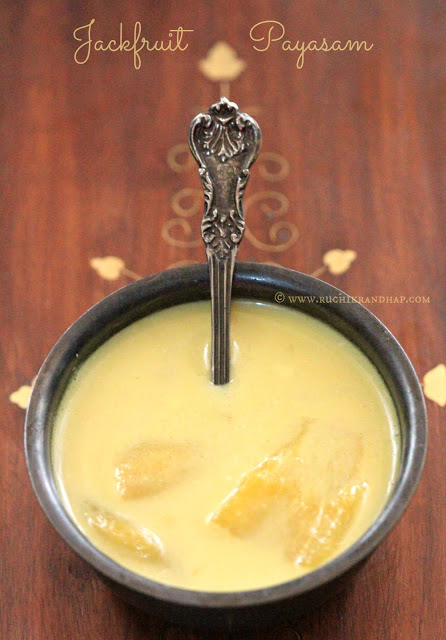 It was just recently that I came across the very Konkani style preparation of a payasam made with jackfruits and I was so fascinated by it that I had to make it right away. My brother had brought a little over a kilo of jackfruit pods – cleaned & ready to be eaten and I set right away in the preparation of patholiyo and this payasam. We had a jackfruit feast at home despite the fact that the kids didn't want to sample anything because they were put off by the aroma of the jackfruit. I just hope that their taste buds are more forgiving as they grow up & they are able to appreciate & enjoy the fruit that their parents grew up eating.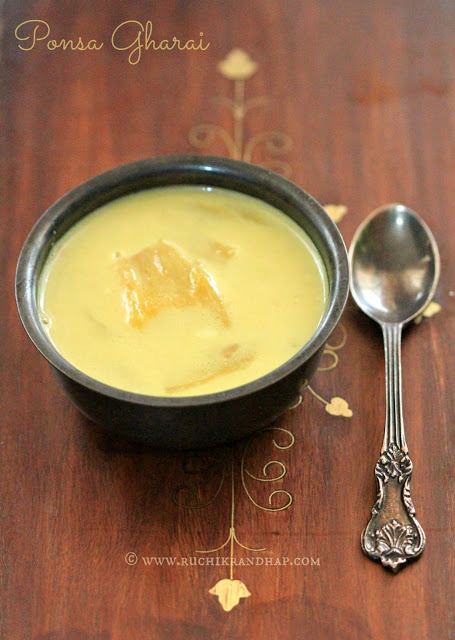 What's the difference between the kheer & payasam you may ask. While the kheer is pan India (made across the whole country), the payasam was (if not is) predominantly a sweet dish savoured by South Indians alone. The simple reason being that the kheer is a milk based sweet dish while the payasam is made of coconut milk and flavoured with crushed cardamoms. Coconut milk, cardamoms & cashew nuts are almost a common trio in the making of a payasam.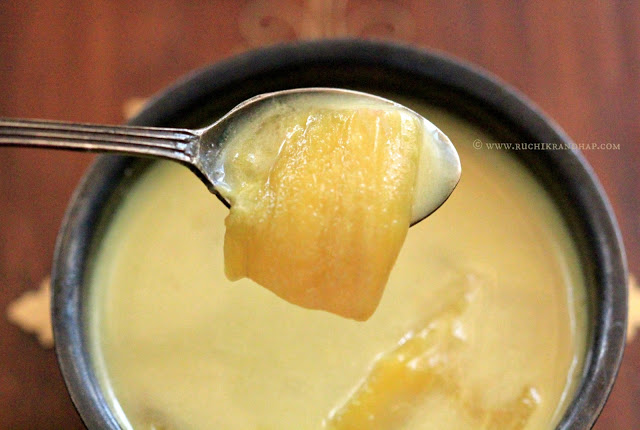 Ponsa Gharai – Konkani Style Jackfruit Payasam

Prep time: 20mins | Cook time: 15 mins | Serves 4
Ingredients:
1 cup (200 grams) jackfruit pods/segments – cleaned & deseeded
2 cups (480ml) thick coconut milk * see notes
1/2 cup (100grams) jaggery (adjust to taste)
2 tablespoons rice powder
1/2 teaspoon turmeric powder
1 cup water
5-6 pods of cardamom, husked & powdered
1/4 cup broken cashewnuts (optional)
pinch of salt
Method:
1. Mix the rice flour & turmeric powder in 1 cup of water and keep undisturbed until the flour settles & you have clear water on top. This could take about 30 mins. In the meanwhile cut the jackfruit pods into quarters (square pieces). Cook them (along with cashew nuts if using) in 3-4 tablespoons of water till tender. Keep aside.
2. In a heavy pan melt the jaggery with 2-3 tablespoons of water & strain through a fine sieve – this is to remove any sand or dust particles from the jaggery. *see notes
2. Bring the strained jaggery to a boil, simmer & add the soaked rice & turmeric paste – this will help to thicken the mixture. Add to it the cooked jackfruit pieces, pinch of salt and simmer for another minute.
3. Pour in the coconut milk, powdered cardamom and simmer just until you see the bubbles appearing. Remove from flame.
4. Serve hot or cold & enjoy!
Notes:
1. You can use coconut milk powder to make instant coconut milk instead of extracting fresh coconut milk which can be time consuming. Just mix 6-7 tablespoons of coconut milk powder (I used Maggi) to 1 cup warm water and mix to dissolve. Add more powder to achieve the desired thickness.
2. You may skip the step where you melt the jaggery & strain it and proceed to cook the jaggery pieces directly in the jaggery (with a few tablespoons of water if required).
3. The consistency of the payasam should be similar to custard (medium thickness). If you feel you have not achieved this you can add 1-2 teaspoons of cornflour (cornstarch) dissolved in a 1-2 tbsp warm water.