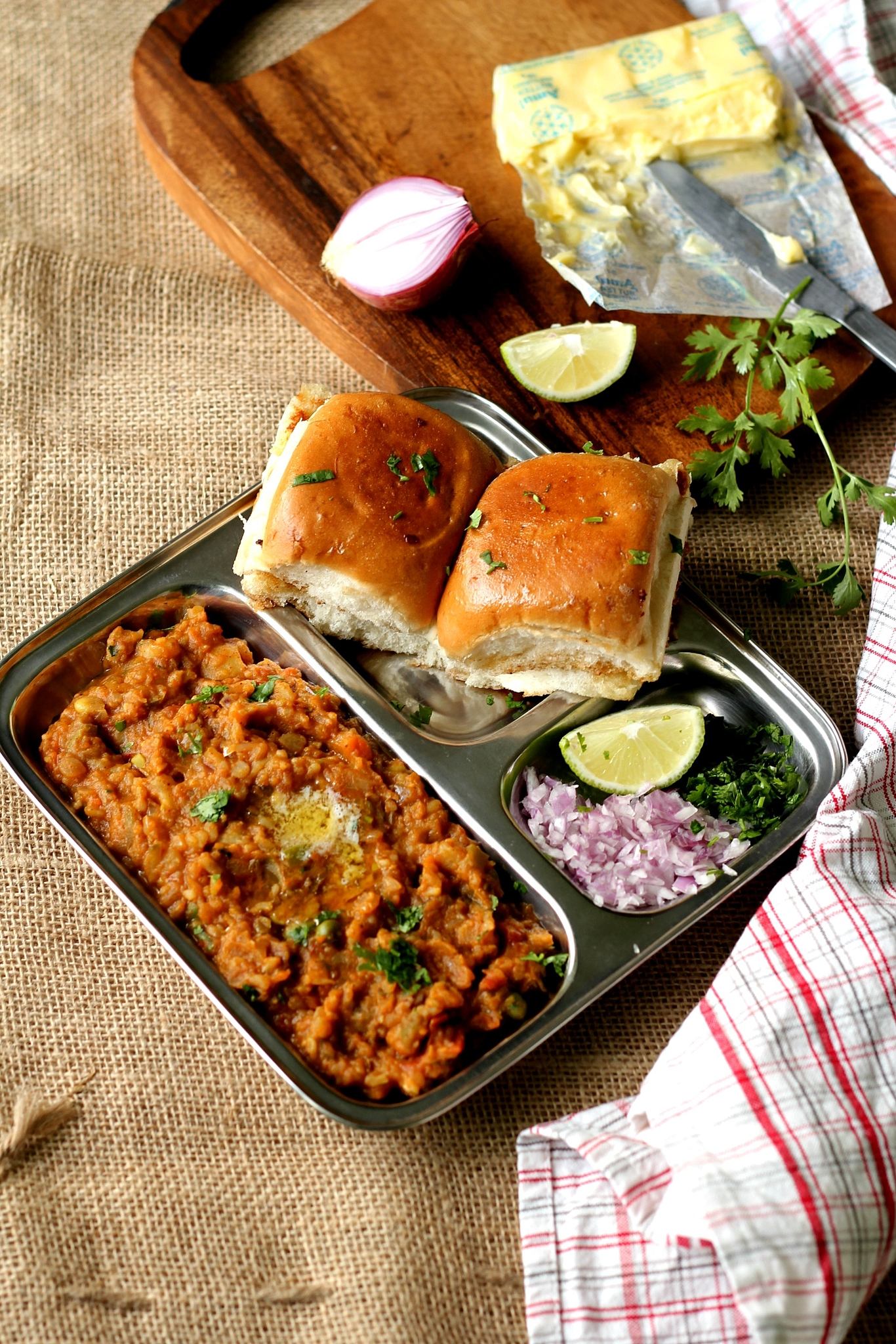 Pin
Pav Bhaji ~ Who can resist it? I have been an ardent fan of this delicious mixed-vegetable mash that can be mopped up with some soft, buttery, toasted pav which is essentially pull-apart dinner rolls. What is believed to have originated on the streets of Mumbai, one of the most populated cities in the world, this quick grab & go, meal of sorts that was cheap yet satisfying and catered to the low income, busy, working class folks is now a popular item on the menu of most Indian eateries across the globe. Pav Bhaji is made with boiled & mashed potatoes and a mix of vegetables such as peas, beans, carrots, capsicum etc which are fried along with onions, ginger & garlic. Most importantly, the typical taste comes from a blend of spices that give it that signature aroma & flavour. Garnished with freshly chopped onions, coriander leaves, a drizzle of fresh lime juice and a dollop of butter this delectable & mouthwatering mash is served with fresh pav bread heavily toasted in butter. Amul, the very Indian brand of salted butter is what keeps us going, is added generously to this mish-mash all throughout.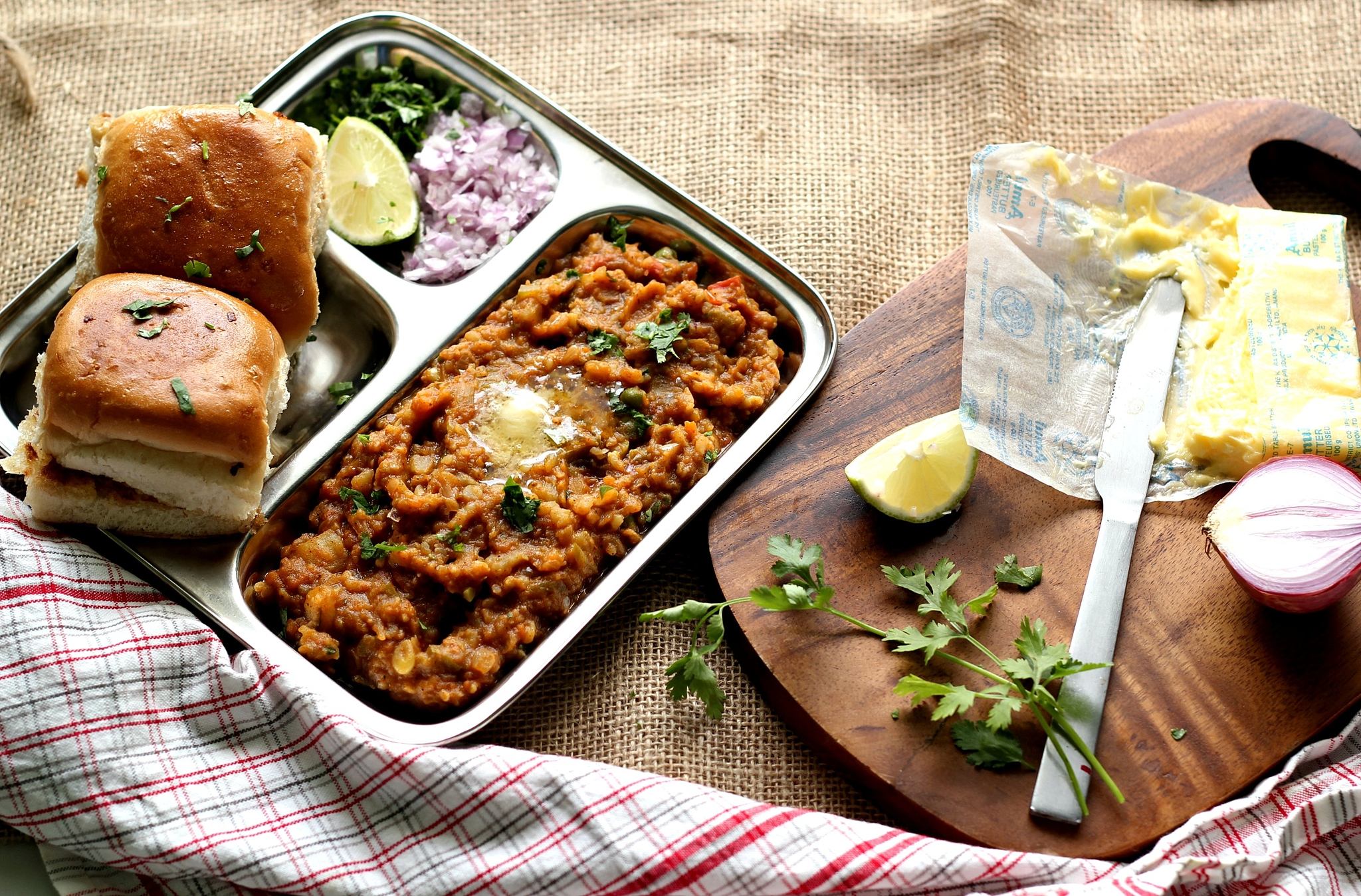 Pin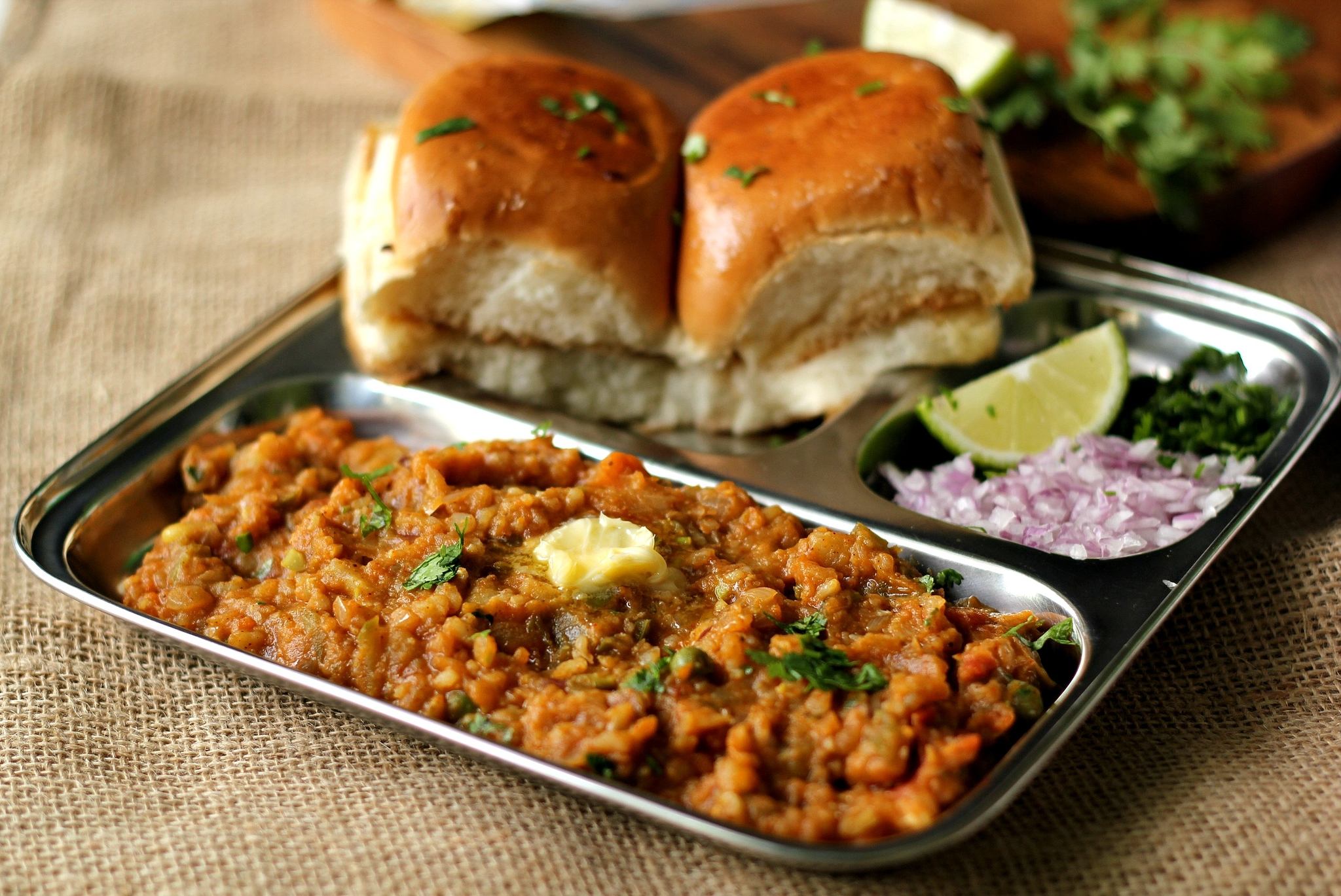 Pin
Since my almost vegetarian son loves street food he was pestering me to make the pav bhaji for him. After several attempts, I managed to get the exact taste. I stuck to what worked best for me – store bought pav bhaji masala. Although I did try a couple of pav bhaji spice blend recipes borrowed from the internet, nothing came close to the taste I got when I used the store bought masala. While my quest for the perfect homemade spice blend is on, I thought I should record this recipe for my own purpose as well as for anyone who loves it. During a couple of tries, I also served the dish with fresh homemade pav. I need to perfect the recipe a bit before I share it, but it will happen soon, so do come back for it. Updated: The recipe of Pav/Pao is here! 
The taste of eating everything homemade was simply unbelievable and contrary to popular belief, Mumbai street food should not be classified as junk food at all. This particular dish at least has a healthy dose of vegetables and carbs. Perfect for growing kids. However, if you are watching your weight then don't overdose on the amount of butter used. Leaving a dollop or two only for garnishing is a good idea. In my opinion, this is one of the best things to serve your kids. And adults who salivate over street food. And guests at your next party. Take your pick. The recipe is here for you. What are you waiting for?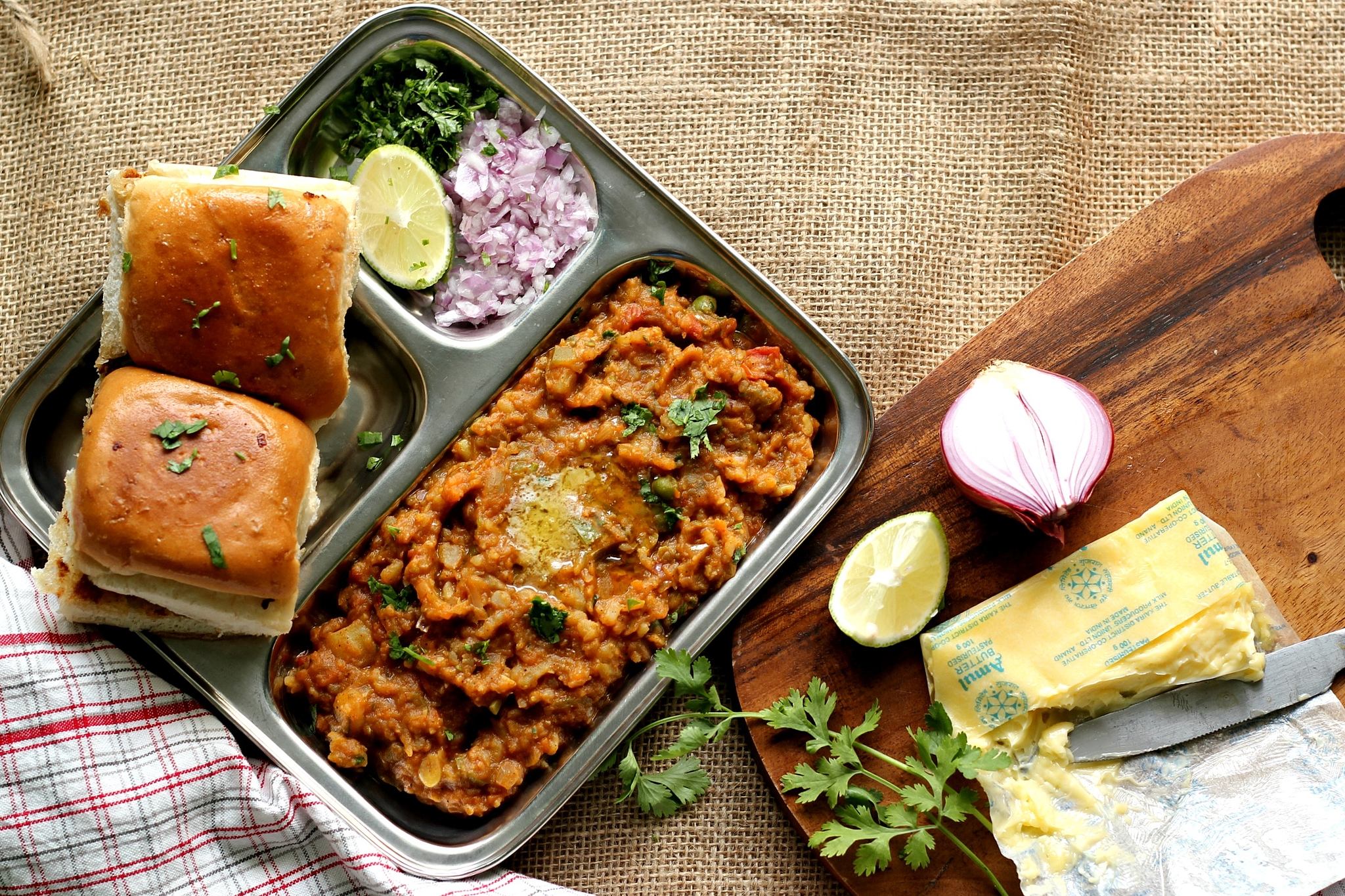 Pin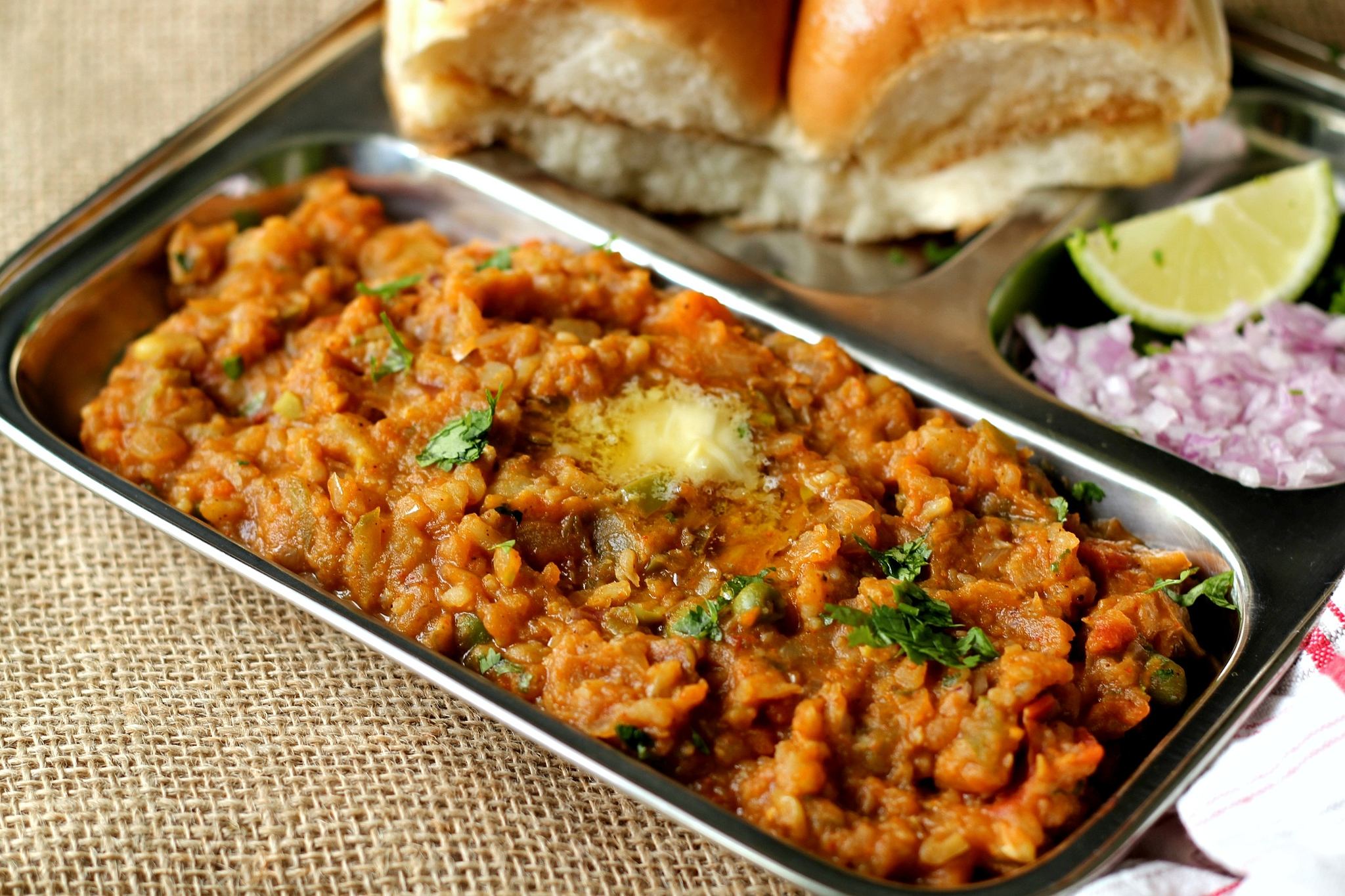 Pin
Save this recipe on Pinterest!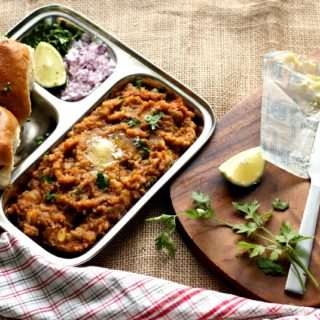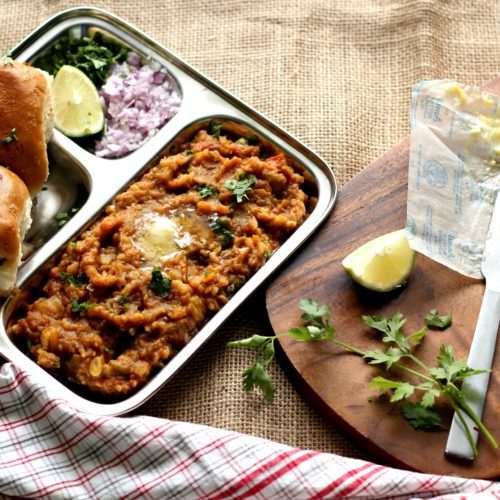 Pav Bhaji ~ Mumbai Street Food
Mop up some delicious potato & mixed vegetable mash with some aromatic, buttery toasted pav bread for an amazing meal experience. The pav-bhaji, a quintessentially Mumbai street food can now be recreated in your kitchen!
Print
Pin
Rate
Ingredients
For the vegetable mash
2

big

(500 grams) potatoes, peeled & cubed (approx 3 cups)

10

(75 grams) French beans, chopped (approx 3/4th cup)

1

medium

(60 grams), carrot, cut into small cubes (approx 1/2 cup)

150

grams

cauliflower, cut into small florets (approx 1-1/2 cups)

60

grams

green peas, approx 1/2 cup
Other ingredients:
2

medium-big

(250 grams) onions, finely chopped

2

medium

(250 grams) tomatoes, finely chopped

3

teaspoons

ginger & garlic paste

1/2

(100 grams) green capsicum, finely chopped (approx 3/4th cup)

2

tablespoons

chopped coriander

2

teaspoons

pav bhaji masala * see note

1

teaspoon

kitchen king masala * see note

1/4

teaspoon

dry mango powder (amchur)

1/2 - 3/4

teaspoon

Kashmiri red chilli powder, adjust to taste

oil for frying

2-3

teaspoons

of butter for frying

if desired
To garnish the bhaji
1

medium-sized

onion, finely chopped

1/4

cup

fresh coriander, finely chopped

lime wedges

generous dollops of butter
To serve
pav bread as required (approx 2 big pavs per adult)

salted or unsalted butter to toast it
Instructions
Place all the vegetables mentioned under 'For the vegetable mash' in a steel bowl or vessel. Do not add any water to this vessel. Instead, bring enough water to the pressure cooker to a boil and place this vessel of vegetables into the cooker. The water in the pressure cooker should not be more than half the height of the vessel. Cover and cook for 7-8 whistles. Turn off the heat and let the cooker cool down for 15-20 minutes or until the weight (whistle) can be removed easily. Then mash all the vegetables and keep aside. See note

In a wide based kadai/wok, heat the oil and/or butter and fry the onions till they turn translucent. Next, add the ginger & garlic paste and fry for about a minute. Add in the chopped capsicum and fry until translucent.

Add the tomatoes and a little salt and fry until they turn mushy. Now reduce the heat and add the spice powders - pav bhaji masala, kitchen king masala and amchur powders. Add half of the red chilli powder, check the taste and add more only if required.

Mix in the mashed vegetables and add about 1/2 to 3/4th cup of water or the stock in which the vegetables were cooked. Simmer & cook for about 5 minutes, stirring every now & then. Do a taste check and add more of red chilli powder or salt or amchur powder as need be. Turn off the heat.

To serve, slit the pav breads halfway horizontally. Apply butter lavishly and fry them on both the sides on a hot skillet/tawa. Place on a serving plate, preferably a sectioned one. Place a portion of the vegetable bhaji, garnish with the chopped onions & coriander leaves. Sprinkle some lime juice & enjoy!
Notes
This technique of placing food inside a container before pressure cooking will preserve the nutrients and make the veggies less soggy. You may also steam the vegetables. If you wish, you can boil the potatoes separately and use only as much as required. I used store-bought Badshah (brand) Pav Bhaji masala and Kitchen King masala which added to the taste. Everest & MDH are the other brands that sell good Pav Bhaji masala. You can skip the kitchen king masala and use 1/2 teaspoon of garam masala instead. Use very less red chilli powder to begin with as many pav bhaji masala blends will have a lot of red chillies in it, so use according to taste.
Do check the Pao/Pav recipe here
Disclaimer
The nutritional values are only indicative.
Tried this recipe?
Please leave a comment & rate the recipe below or share a photo on Instagram and tag me @ruchikrandhap