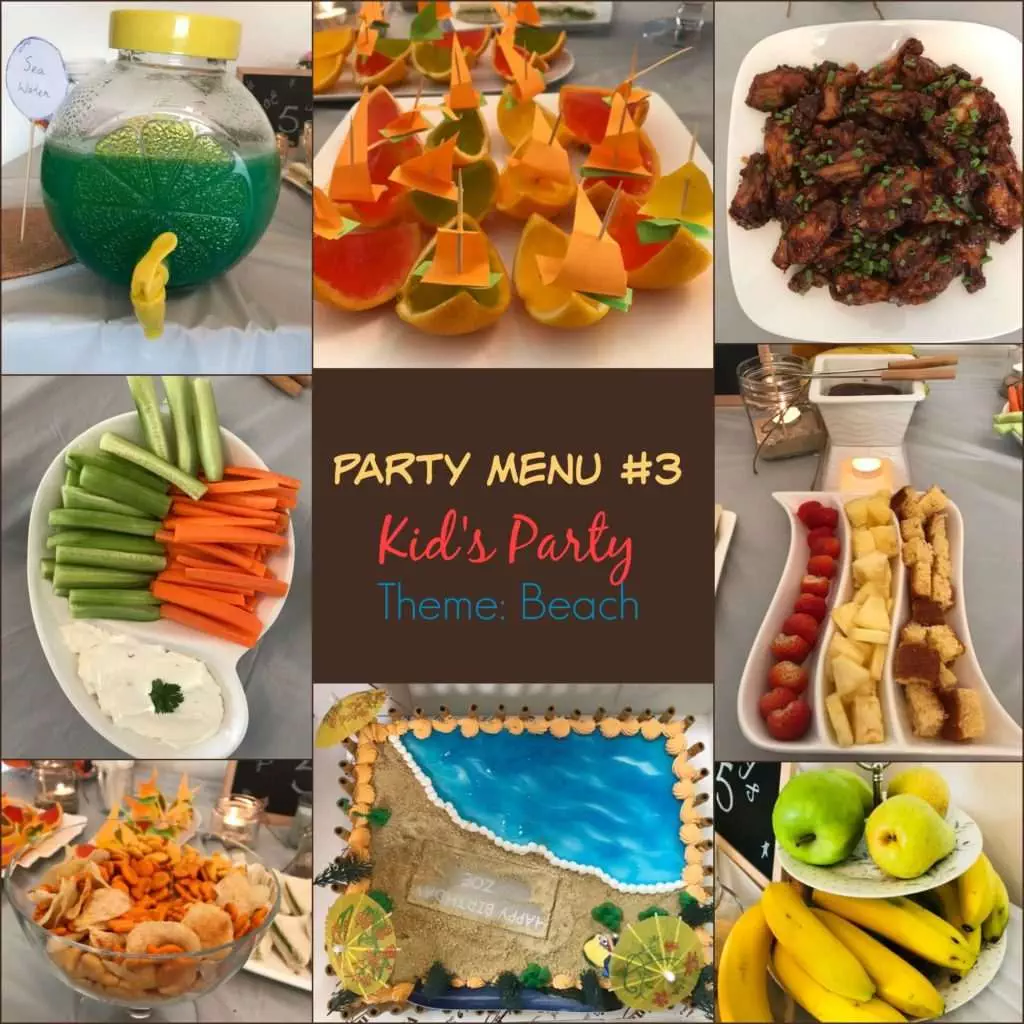 Pin
A couple of years ago I had posted pictures of the food prepared for a small gathering at home on Instagram and since then I have been received a lot of requests to continue this series. So last year I started the Party Menu series wherein I share pictures of the food and its recipes. Since I don't have a lot of parties at home, this hasn't been an ongoing series obviously as I prefer sharing details of stuff that actually gets created at home for a party. However, since the requests are many, I may continue to share ideas of the possible party items and perhaps share a tip or two as far as planning, organizing & executing a party is concerned. Please note that I am not an expert or a flawless hostess when it comes to parties. I get all jittery and have butterflies in my stomach as there are a dozen things to be thought of and done but I have realised that with proper planning and doing things well in advance one can be in control and sail through the day smoothly.
Today I will share pictures and food ideas (followed by the recipes in my upcoming posts) for the beach themed party that we hosted at our home over the weekend. My daughter turned 5 and since she loves the beach/sea I thought it fit to throw her a party that she would thoroughly enjoy. From ensuring that the guests were taken care of to conducting the games with help from my sister in law, I was caught up in several moments where I wished I had 10 hands and 5 brains but that's just wishful thinking! I am so grateful that my sweet niece managed to grab pictures of the dishes using a phone and that really helps preserve memories and document this post!
So without further ado let's dive straight in!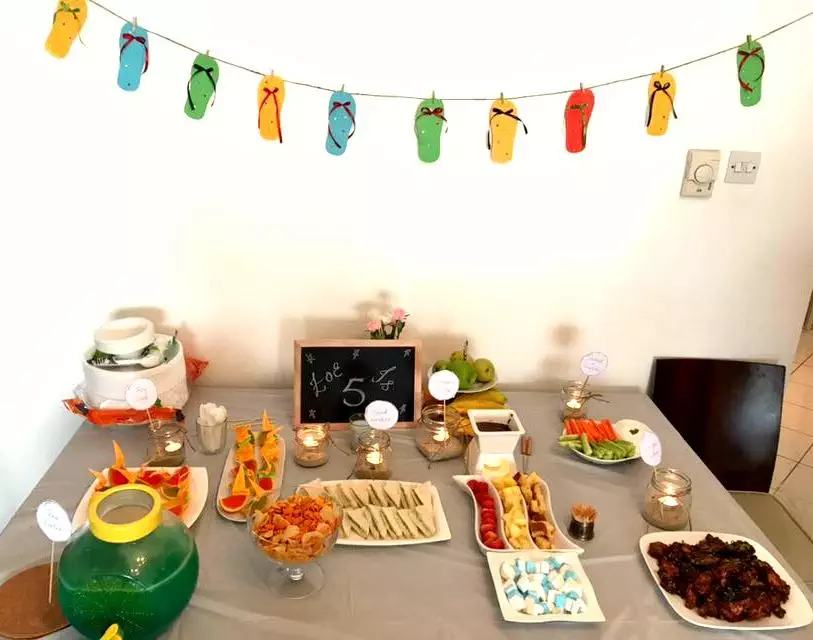 Pin
So, we decided to host a simple tea time party where I would make some of the food at home, serve some packed goodies and order some pizzas. So while the hubby made his famous chicken wings in a new avatar, I made my famous chocolate fondue (recipe coming up), butter cake (to be cubed and served as a dipper for the fondue) green chutney sandwiches, jelly boats and freshly cut carrots & cucumbers served with a labneh dip. The fruits, fish-shaped biscuits, chips and marshmallows are store bought. For the drink I wanted to serve something blue but in the end, it didn't taste out of the world, so I just added the syrup (Blue Lagoon by a brand called Monin – available at Carrefour, Mall of the Emirates, Dubai) to fresh lemon & mint juice by Al Ain fresh juices. Everyone loved it and I wish I had made more of it! So let's head to each and every item that was served
1. Chocolate Sludge (a fancy name I coined for the chocolate fondue): 
Chocolate fondue is a fabulous party item which requires minimum effort to put together and delights people of any age. All you need is good quality dark chocolate, some fresh cream and a fondue set. There are a dozen different things you can serve as dippers and my favourite ones are what you see below : strawberries, cake, marshmallows and chips! Yes! Something savory must always be served – says me ofcourse. Try bacon, fried to a crisp – tastes ravishing! I will share the recipe of how to make chocolate fondue in the days to come .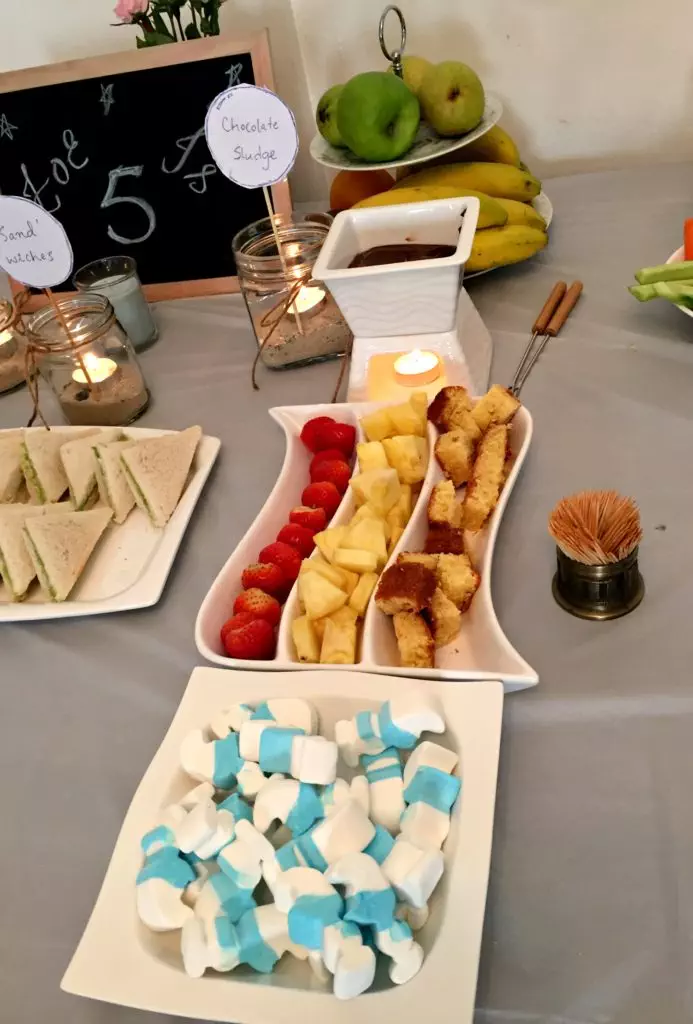 Pin
2. Buffalo Wings:
A small starter works very well at parties, something that you can serve once all the guests have arrived and have settled in. You can serve it to adults just when the games for the kids have started, because before you know it, folks will be idling away their time on their phones 🙂 So keep them happy.
Making a nice starter is always the hubby's task in my house and this one was a rockstar! Recipe coming up soon!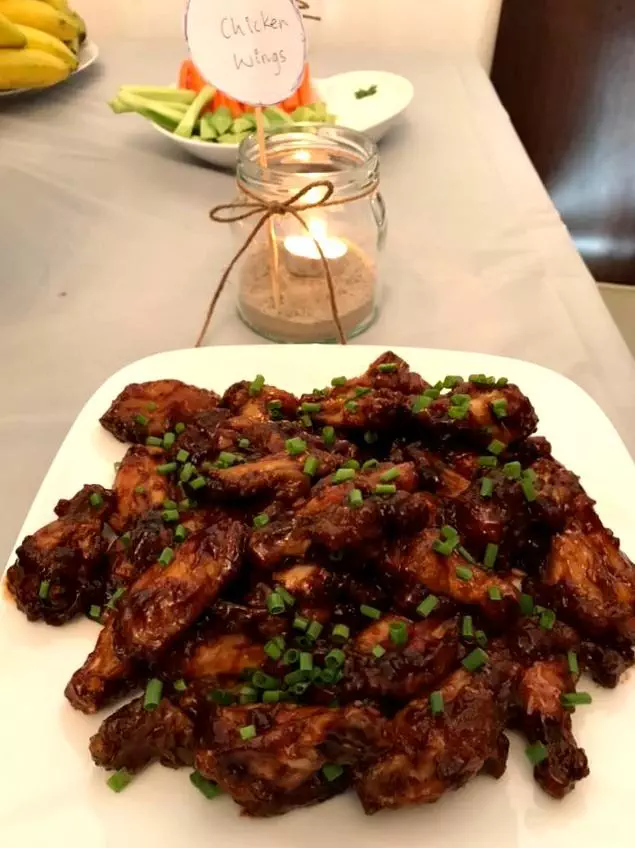 Pin
3. Sea Water 
As unappetizing as it sounds, believe me, it was the yummiest item on the menu. Like I said in the beginning, I had bought a blue coloured syrup to be dissolved in water and served to the kids but I didn't check the flavour till the last minute and it was rather bland. My son came up with the idea of adding it to a fresh lemon & mint flavoured juice we had bought for the party and it was such a hit!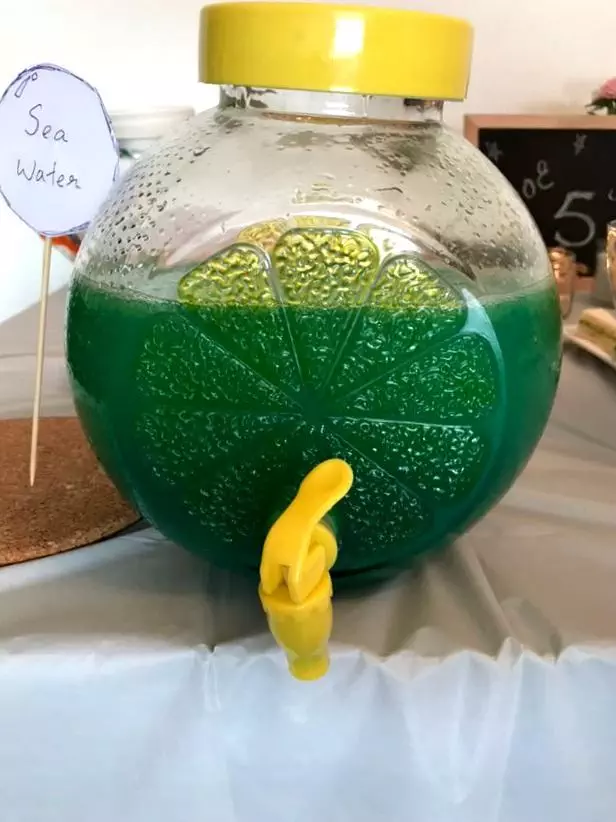 Pin
4. Fish n Chips
Don't let the name fool you folks! This is not your usual fish n chips that Englishmen swear by. My son came up with this idea during our menu brainstorming and he was the one who put it together :-). Tiny fish served with potato chips (wafers as we call in India).
The little savory fish biscuits come in various flavours. The brand is Pepperridge Farm for anyone who's interested. This is available at Carrefour too.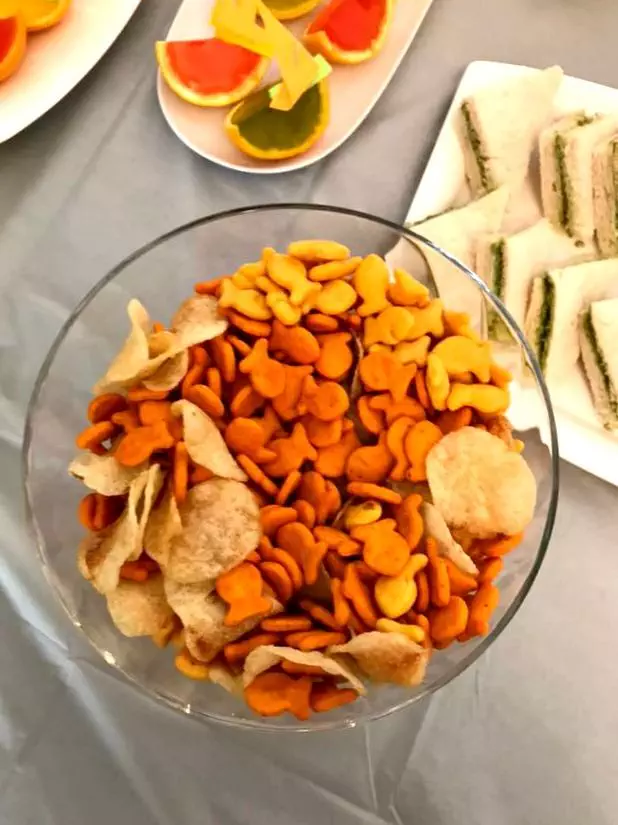 Pin
5. Jelly Boats
I found this idea on Pinterest (4thsensecooking.com) and found them absolutely cute and perfect for our beach/sea theme. All you need is some oranges with a thick skin, like navel oranges (mausambis work great too), some packs of gelatin or agar agar based jelly/Jell-O and some patience and you are ready to go. I made these sails over the span of a few days. Recipe will be posted soon.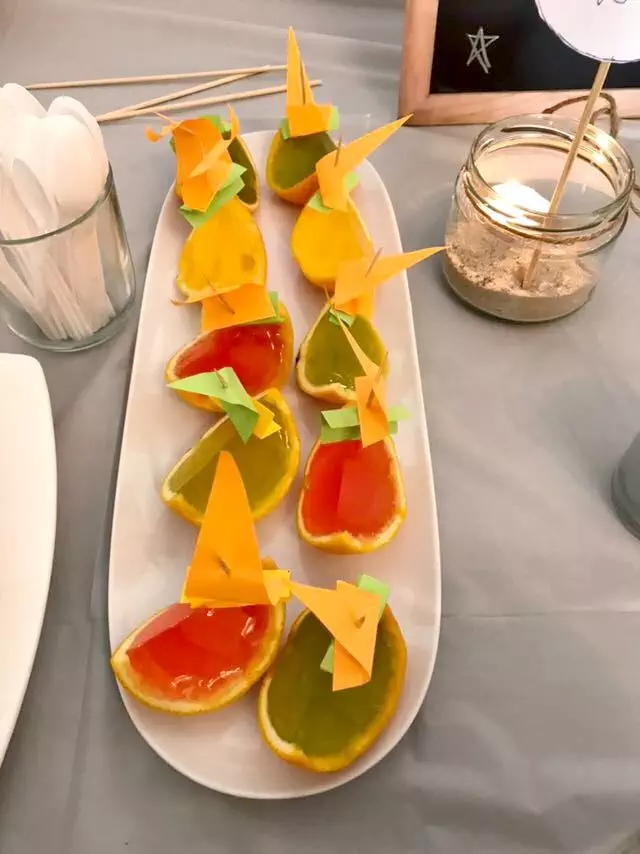 Pin
6. 'Sand'wiches (Green Chutney Sandwiches)
One more favourite on my party menu are these simple and yummy green chutney sandwiches. You can use this recipe here. I just mixed salted butter (like Amul) with very little garlic paste (that you get with Arabic food) before spreading it on the bread. The green chutney contains coconut, my favourite way of eating it but you may use your favourite green chutney recipe.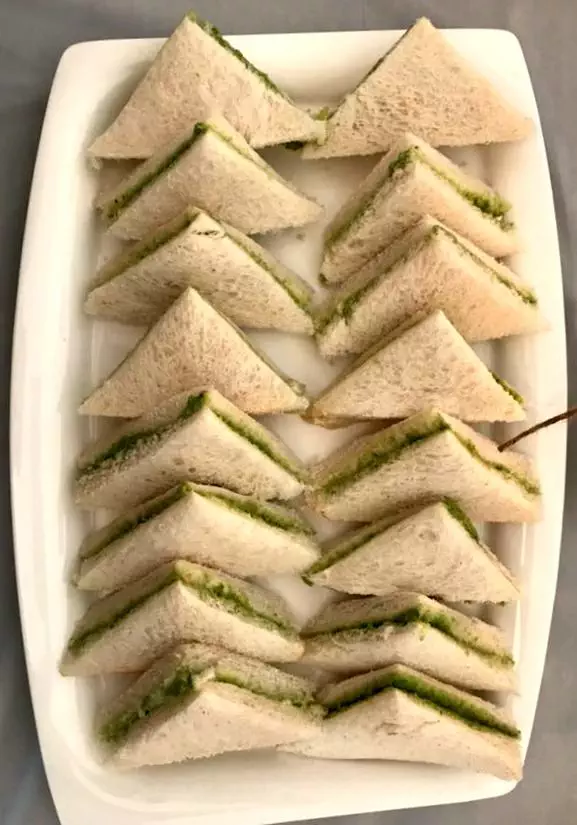 Pin
7. Carrot & Cucumber Sticks (for want of a better name)
So this is another standard kids party item I make cuz who doesn't like carrots and cucumbers? Serve it with a cheese or mayo or labneh dip and you are all set to go. This is something that anyone can enjoy especially if they have dietary restrictions. To the labneh I simply added some pink salt & dried oregano to make a super yum dip.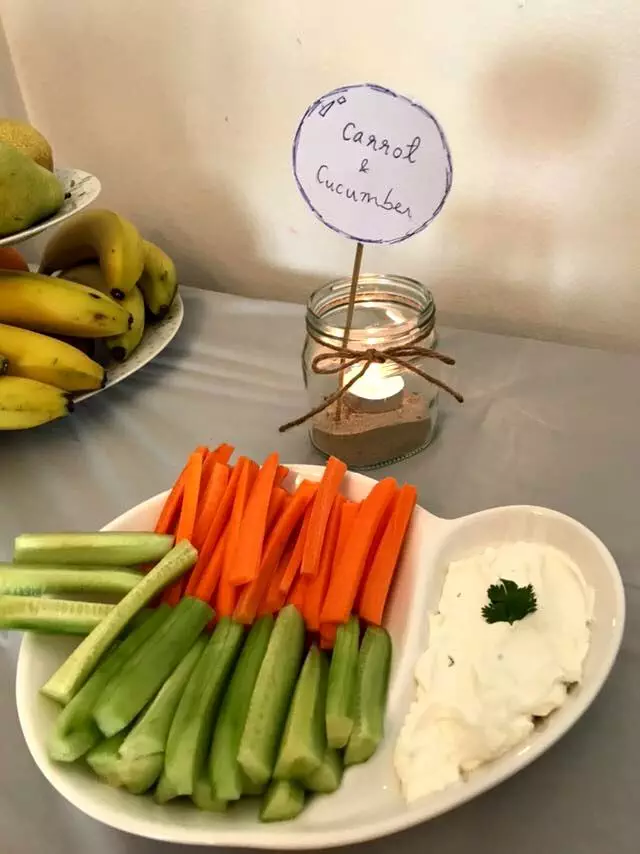 Pin
8. Bowl of Fruits
'nuf said!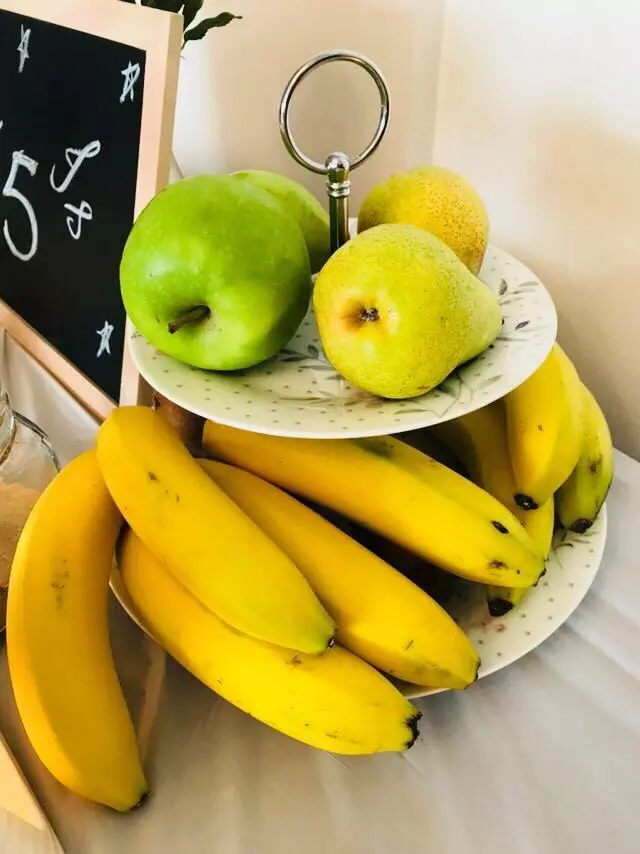 Pin
9. Cake
Since I had already made a small cake for my daughter on her actual birthday (which fell during the week), we just ordered a bigger one for the party. Since my family no longer enjoys cakes laden with fondant we went for a simple fresh cream, layered rainbow cake. The edible sand and water completed the look. The cute umbrellas and trees were a delight!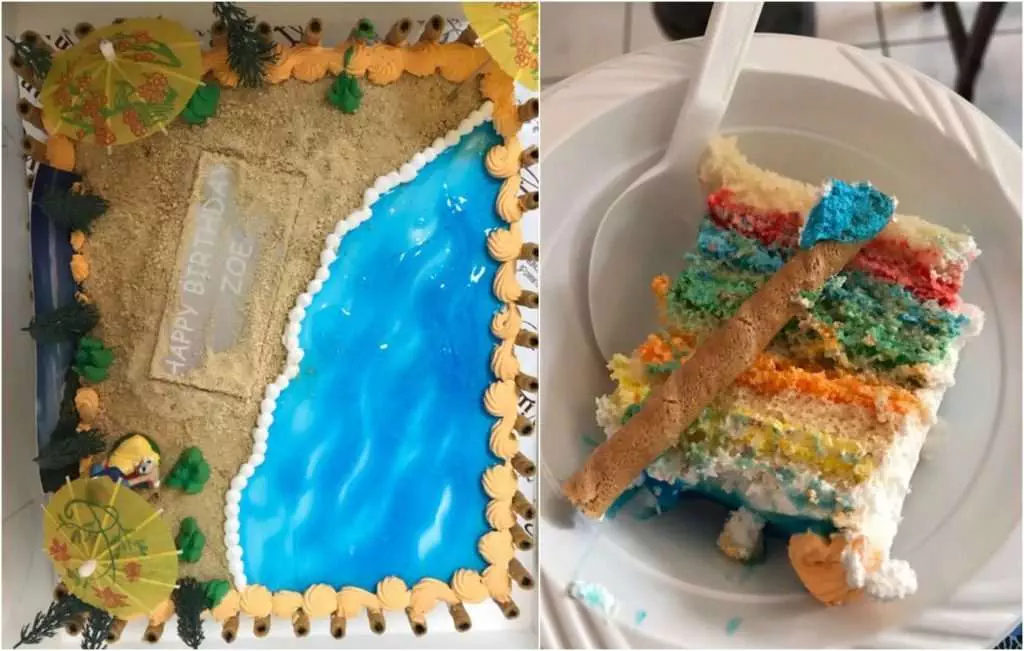 Pin
10. Pizzas
I don't have a picture of the pizzas but they were ordered from out although a couple of years ago I had made the pizzas at home for a birthday party. You can get the recipe here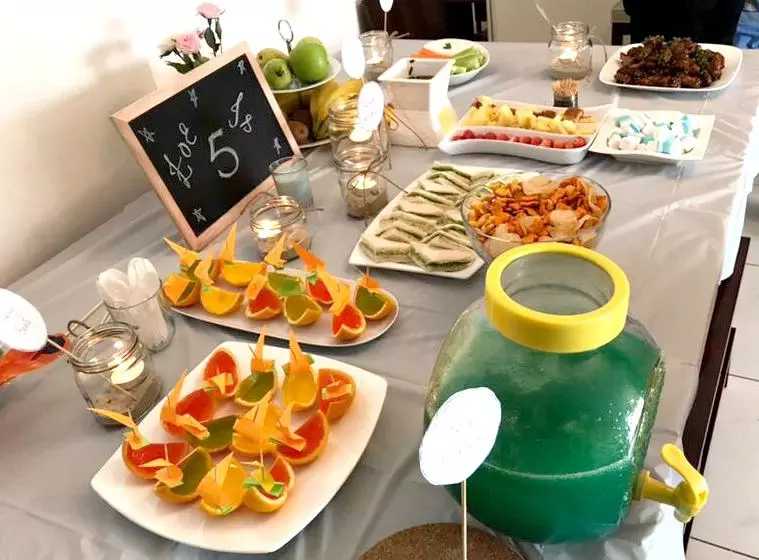 Pin
DECOR
I thought I'd also share some pictures of the decor I made for the party. Nothing fancy, just simple stuff that didn't cost much. I used coloured card/chart paper from old art books of my kids school to make these cute flipflops. I made them on a whim when I spotted an idea on Pinterest and my kids joined me in decorating them. I just strung them on a thin rope with wooden clothesline clips and stuck the whole thing on the wall.
I had a boat-shaped clock cum key holder that I just kept for its aesthetic look. A few candles made it look pretty. Then there were blue and green streamers (crepe paper decoration) that I bought from a 'Day 2 Day' store and cut out some fish to give it an underwater look (again, idea from Pinterest). White and blue balloons blown into different shapes and hung from the ceiling gave it a water bubble look.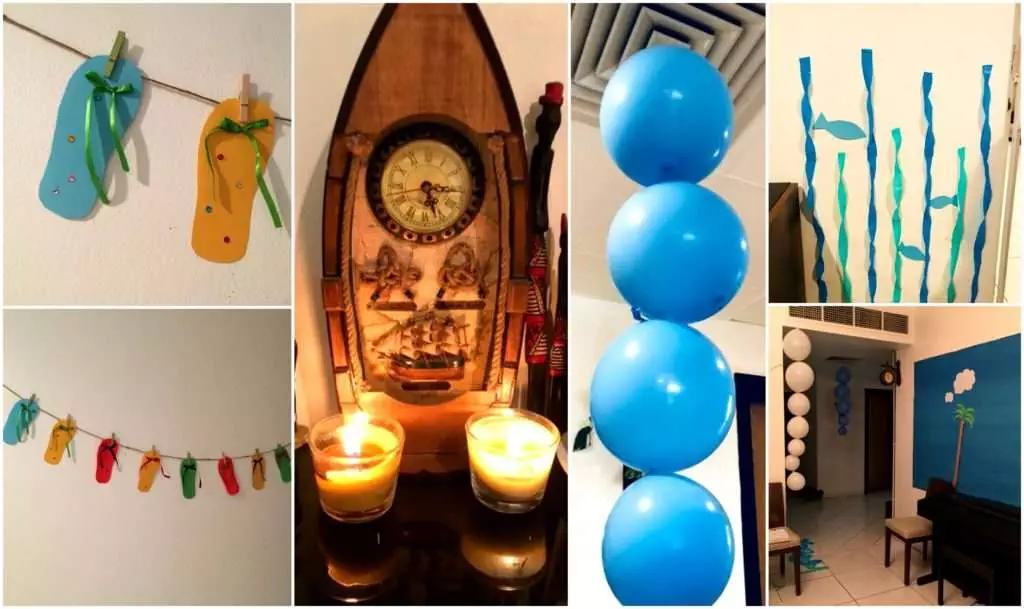 Pin
For the place card holders I just used empty jam jars filled halfway with sand and tied with string. I then placed a tealight candle in the middle and stuck the cardholders that my son prepared right in the middle. Do be careful with the way you place the cardholder so that the candle doesn't burn it.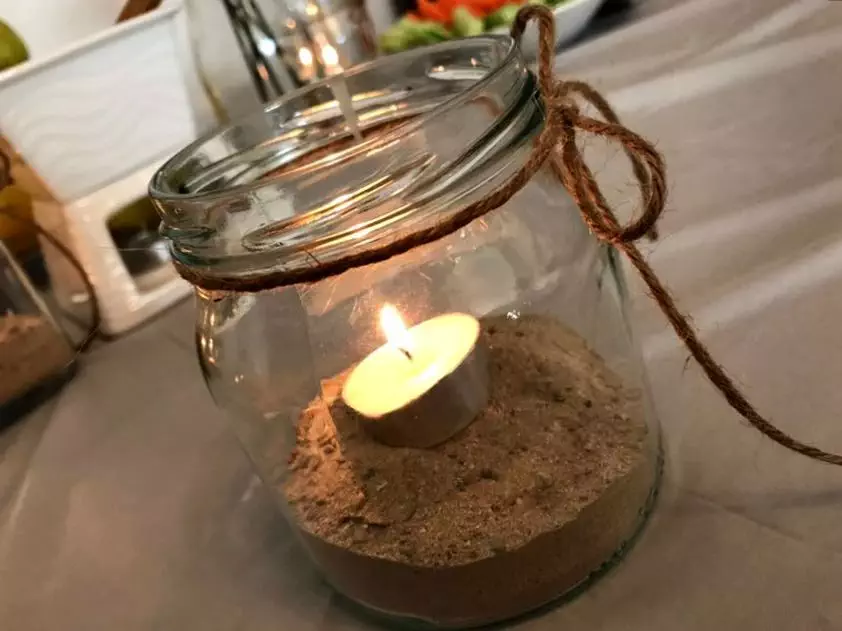 Pin
Last but not the least, just the previous night of the party I decided to make a backdrop using a disposable plastic tablecover (available at Day 2 Day) as I wanted a 'selfie corner' near the piano. I have a few props and a selfie stick that I bought a few years ago. I just placed it in a jar filled with real sea shells that we have a tradition of collecting from various beaches we visit (locally or while on a holiday across the globe). Again, without spending a penny I just cut out 'clouds' from A4 size paper and the sun and tree from my kids chart papers. My family had loads of fun getting silly with the props  and taking pictures of themselves with the blue sky, sun peeping out of the clouds and a coconut tree for company. Life is bliss 🙂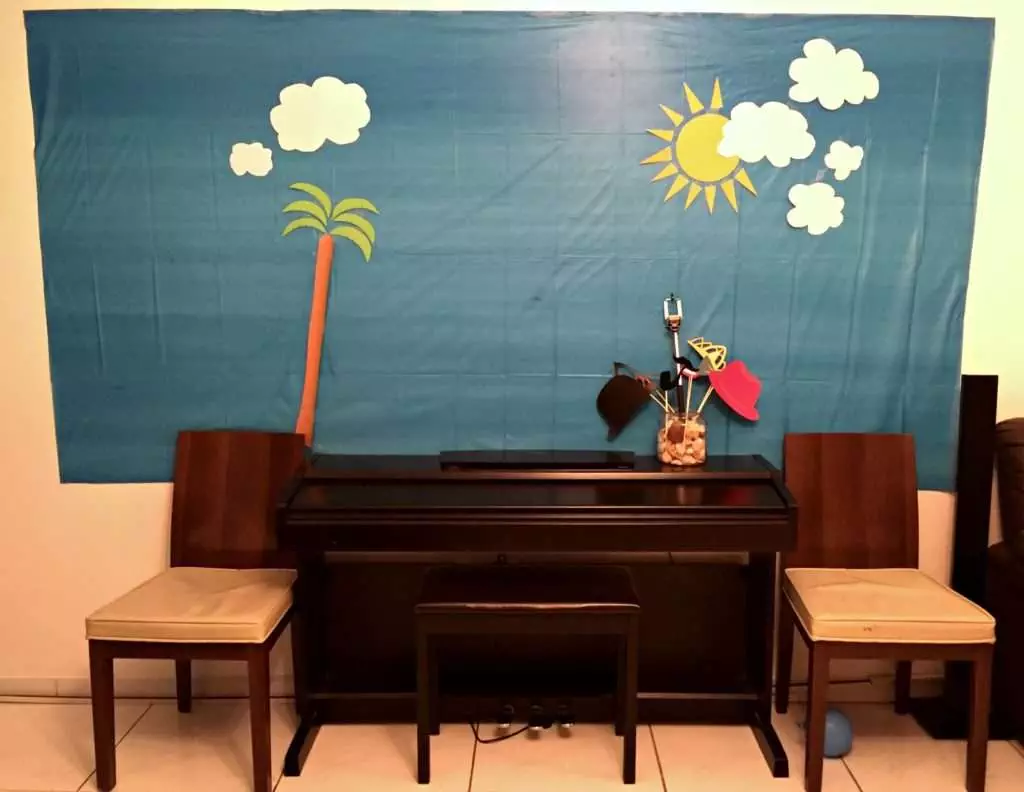 Pin
I do hope you enjoyed this post. If you did, do write in at [email protected] and let me know!