Hello my lovelies! I'm back after a much needed break a.k.a sick leave as I was a bit under the weather and busy too with everything and nothing. While I am glad that I've been able to get back to blogging after such a long time, I feel sad that I missed publishing a post on the 2nd blogversary of my blog. Yess! 21st of April was the birthday of my blog – so while I did wish Ruchik Randhap a very happy birthday, I was sad that I couldn't manage to write a special post to commemorate 2 years of the existence of a blog that is dedicated to my favourite cuisine of all time – Mangalorean food!
Although I wanted to bake a nice cake, I thought i'd leave it for later when I am completely able to enjoy every bite of it – and since it was Lent at that time I was abstaining from a few luxuries (baking included – cuz it invokes a lot of tempations and gluttony – my weakest points). So here's a simple post of one of the most simple 'broths' or 'kadi's' as they are called in Konkani – The Nivole – Granma's own magic potion to drive away a bad cold or the devil himself. Although many households make it by skipping the key ingredient – the Vovo (nasally pronounced as Vonvon – except that the 'n' is silent) also known as 'Oma' in Kannada, 'Owa' in Marathi, 'Ajwain' in Hindi and 'Carom Seeds' in English.
Ajwain (pronounced uj-wine) is rich in Calcium and Iron and almost smells exactly like Thyme as it contains 'Thymol' but is more aromatic and less subtle in taste. It is slightly bitter and pungent than Thyme or Caraway seeds. A few grains of Ajwain will dominate the flavour of a dish and is quite unpalatable if you pop in a few seeds into your mouth.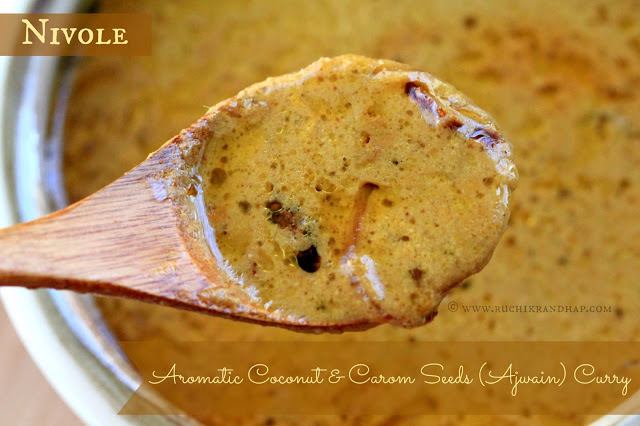 My earliest association with Ajwain has been in the form of 'Oma water' which was stocked up in every home and given to children from time to time to tackle basic stomach ailments. The Oma Water is a traditional concoction of Ajwain and water brewed together & bottled with a shelf life of like forever (we used to always have a bottle or two safely stowed away in the kitchen cabinet). Mum used to buy two or three bottles at a time from a door to door salesman selling homemade Oma Water. I swear by this magic potion even today as I purchase a branded one from Konkan Traders, during every trip to Mangalore. It's called the 'Omam Water' marketed by 'Western Ghats Pharmaceuticals' – the makers of Cinth (the wonder oil for aches & pains), Cons and Cold Drops (their most famous products).
The Omam Water was omni present during my childhood although I didn't take too well to its strong taste. But now my little one loves it although the taste is a little pungent – it can purge your tummy problems in no time. Why I thought of posting the recipe of the Nivole was because not only is it quintessentially Mangalorean in nature, it was also a staple on Good Fridays at my mum's place. Mum used to make Nivole and a vegetable on a Good Friday as it was a day of penance and prayer and abstaining from eating meat.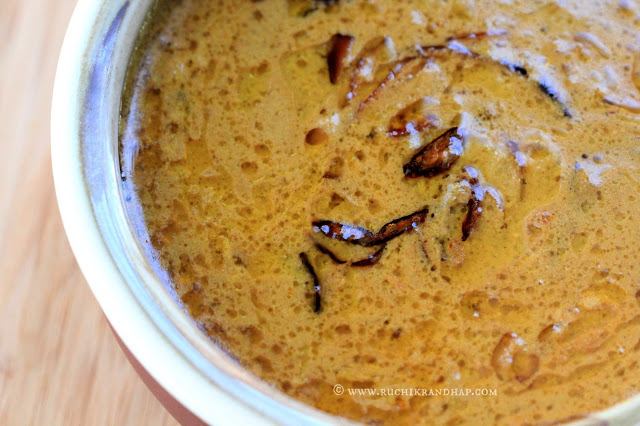 Nivole was also given to me in plenty after I delivered my son obviously for it's medicinal benefits and to speed up my recovery. It's best eaten with steaming rice or if you wish, just sip a bowlful of piping hot 'Nivole' complete with Ajwain, Peppercorns and Red Chillies ground to perfection. Yum! – enough to banish your ailments and bring you back on your feet in no time!
Nivole was a forgotten recipe for a few years till I got married and my hubby's friend, a non Mangalorean, who couldn't remember its pronounciation used to call it
New-Old
. So I guess this is it – I'm starting a brand 'New' month of May with an 'Old' recipe – some fresh beginnings to the past I've left behind…..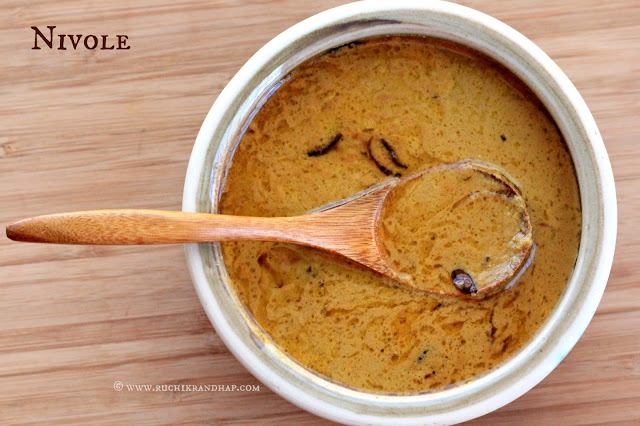 Nivole (Aromatic Coconut & Carom Seeds (Ajwain) Curry
Serves 4
You Need:
1-1/2 teaspoons of carom seeds (bishop's weed/omam/ova/ajwain)
12 -15 peppercorns/kali mirch
1 long dry red chilli (Bedgi/Kumti)
1 tsp cumin/jeera
2 tsps coriander seeds/dhania
4 pieces of Vonti sol (dried skins of a sour fruit called Dheu * see notes) or 1 small ball of tamarind
1/2 cup grated coconut
1 medium onion roughly sliced
3 cloves garlic (with skin)
1/2 medium onion sliced (for fon/tempering)
salt to taste
oil
Method:
1. Heat a tawa/non stick pan and dry roast all the ingredients one by one (except the kokam/tamarind and the onion for tempering)
2. Powder all the dry ingredients and then add the grated coconut, onion and garlic along with the tamarind/kokum and grind to a fine paste.
3. In a pan heat some oil and fry the masala lightly (as they are already pre roasted) and add sufficient water to form a medium thick gravy (not too watery). Add salt to taste, stir and bring it to a boil
4. Simmer for two minutes and in another pan heat some oil and when it is hot, toss in the 1/2 sliced onion and fry till golden brown.
5. Temper the gravy with the onions and your Nivole is ready! – Have some right away!Notes:
Vonti Sol are dried skins of a sour fruit also named as Dheu/Monkay Jack/Lakoocha/ Jaregay Puli