The last couple of months saw a 'mooli' obsession in me. A vegetable that never makes its appearance on my dining table was given a chance – by all three of us. I had found a nice recipe for a paratha (flatbread) that is a great way to disguise veggies that have no takers. It makes for a great breakfast option too – nutritious, delicious and quick. It is fairly mess free and keeps longer (in terms of shelf life) – a great option for those who want a snack on the move.
Parathas are a much loved breakfast option in my home – we just wolf them down with a generous layer of mayonnaise or cheese spread. However, I had never tried making these before and was quite apprehensive as both Roshan and I have never liked this vegetable especially because of its pungent smell and mediocre taste (which I now realise was mainly because of the way it was prepared).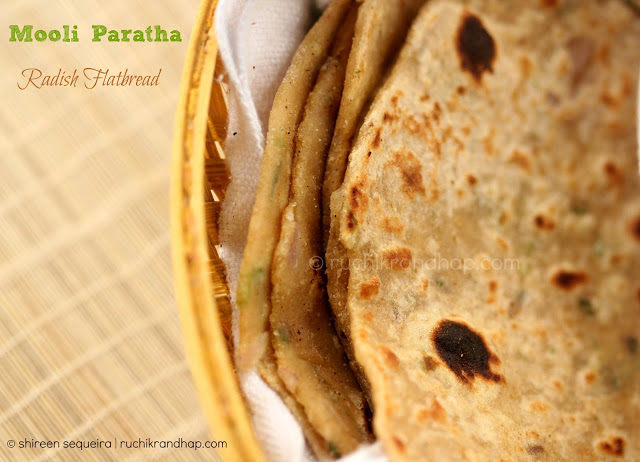 Post mooli paratha I have decided to give every vegetable a second chance. If something is prepared differently – in at least 3-4 different ways and still doesn't get any 'likes' we will then veto it. I am glad I tried out this recipe and have one extra option for breakfast. Thanks to my friend Anupama Michael from a food group on FB for this lovely recipe!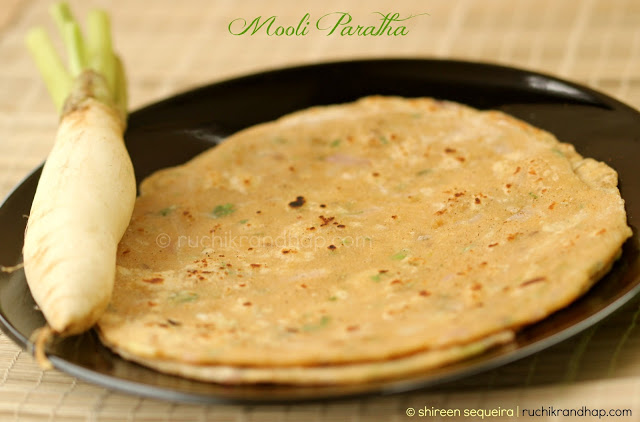 Mooli Paratha
Prep time: 5 mins | Cooking time: 10-12mins | Yield 6-7 medium sized parathas | Serves 2 (or 3)


You Need:
1-1/4 cups whole wheat flour * see notes
1/4 cup grated radish
1/4 cup finely chopped onions
1 tbsp finely chopped coriander leaves
2 small green chillies
1/2 tsp cumin seeds/jeera
1/2 tsp garam masala powder
salt to taste
water to knead the dough (approx 1/2 cup)
oil or ghee for frying
Method:
1. Place all the ingredients in a large flat bowl (meant for kneading dough) and mix to resemble bread crumbs. Keep aside for a few minutes as the radish and onions will leave some water.
2. Using sufficient water knead into a soft dough. Dust with some extra flour if the dough is too sticky. Keep aside for 5 minutes
3. Pinch out lemon sized balls of dough and on a clean working surface roll out each ball into a flat paratha. Fry on a hot skillet/tawa till golden brown on both sides. Drizzle ghee or oil to aid frying.
4. Serve hot with thick curds or pickle (traditional serving suggestions) or cheese spread or mayonnaise.