I don't think I have eaten as much mutton in my whole life as I have eaten in these past 8 years in Bombay. I can vouch for the excellent quality of meat we get here in Andheri W – rarely has the butcher cheated us with  stale cuts. It's money's worth through & through and one has the satisfaction of having enjoyed the dish thoroughly owing to the quality of the meat.
When I was little, my mum used to make it only during important occasions and feasts especially during Easter as good mutton was hard to come by in Mangalore. If you knew the butcher really well, you could request him in advance to reserve the best meat for you. But this 'best meat' would also come with unwanted meat portions and plenty of bones and my memories of having eaten mutton in Mangalore revolve around a lot of skimpy pieces of bones! This was the reason why probably beef was more popular in Mangalore as it was cheaper than mutton making it a more wholesome, cost effective source of protein for a large family.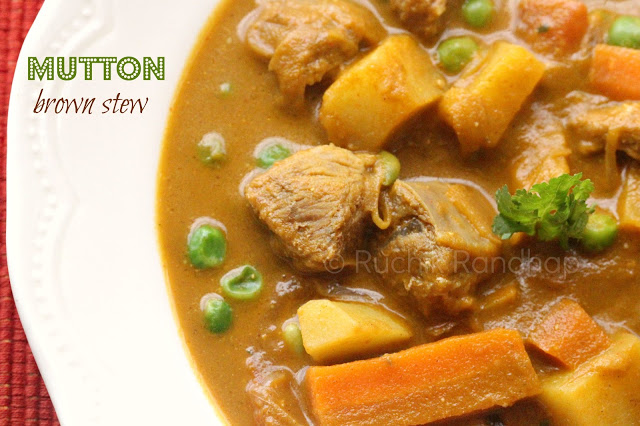 This curry/stew is perfect if you don't want to use coconut and also want to throw in some veggies which makes it such a wholesome meal. And colourful too! My son loved the bits of green and orange peeping through a mutton curry that he doesn't have much liking for. He loves his chicken curries. I loved this and so did R. I hope you enjoy it too! Make sure that your masala has been ground really well to a very fine texture and consistency.
Mutton Brown Stew (Without Coconut)
Preparation time: 20mins | Cooking time 25mins | Serves 4
You Need:
1/2 kg boneless mutton (or beef)
2 medium sized potatoes skinned and cubed
2 medium sized carrots skinned and cut into 1″ strips
12 french beans stringed and cut into 1cm pieces
1/2 cup peas (optional)
1 medium sized tomato chopped or sliced
1 medium sized onion finely sliced
2-3 tsp ghee or oil
salt to taste
For the masala:
3 dry red chillies (I used Byadgi)
3/4 tsp cummin/jeera
8 peppercorns
2 cloves
1/2 inch cinnamon
a marble sized ball of tamarind
3/4th tsp poppy seeds/khus khus
1/2 tsp turmeric powder
2-3 small green chillies (adjust to taste) *see note
1/2 inch ginger
2 big onions roughly chopped
12 sprigs (1/2 cup approx) of coriander leaves
Method:
1. Cut the mutton into medium sized pieces, wash and drain. In a pressure cooker add enough water to cover the mutton pieces and salt to taste. Pressure cook on a full flame till one whistle goes off. Reduce the flame completely and cook for another 10-12 minutes if the meat is tender. (Note: Cooking time depends on the quality of meat). Wait for the whistle (weight) to loosen up completely before opening the lid. Stir the contents and keep aside.
2. Boil the cut vegetables (minus the tomato) in sufficient water (add salt to taste) till it is almost tender. Keep aside.
3. In a heavy bottomed pan/kadhai heat 1tsp ghee and toss in the 2 big chopped onions and coriander leaves and fry for a couple of minutes until the raw smell of the onions vanishes. Grind these along with the rest of the ingredients mentioned under 'For the masala' to a fine paste. Retain the masala water from the mixer grinder.
4. In the same pan/kadhai heat the remaining ghee and fry the sliced onion till golden brown. Add the tomatoes and fry till its mushy. Add the ground masala and fry on a slow flame till the ghee separates (this will take 5-6mins). Add the masala water and a little water or stock from the boiled mutton. Adjust consistency of the gravy, check salt and bring it to a boil.
5. Add the meat, boiled vegetables and simmer for 4-5 minutes. Turn off the flame, garnish with chopped coriander and serve hot with rice, Neer Dosa or Appams
Notes:
The original recipe asks for 10 green chillies, I have reduced it to 3 small ones and found it a tad spicy. Do adjust all the spice elements (red chillies, peppercorns & green chillies) as per your tolerance to spice.
If you wish you can dry roast (without ghee) the onions. I tossed in the coriander leaves as well as it adds a wonderful fragrance to the dish.
You may boil the tomato along with the other vegetables or the mutton. You can add it to the gravy as it boils or fry it along with the onions – its your choice.