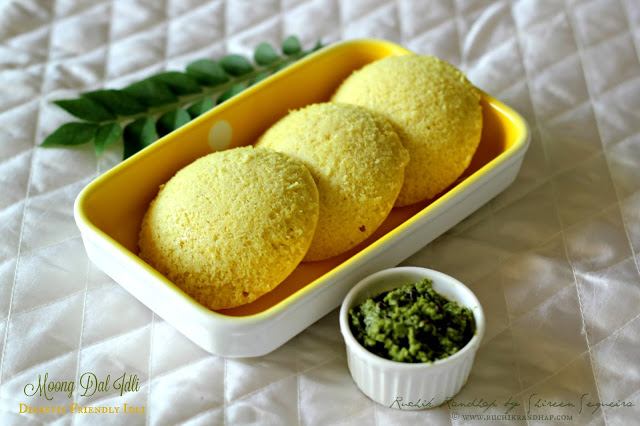 Folks I am back with another healthy recipe for you. I am taking my resolution of posting recipes that are as healthy as possible, a bit too seriously 🙂 This is not a New Year's resolution. I decided to do this late last year and I hope to keep at it as much as possible.
When I was going through my archives I realised that I posted 60 odd recipes which is pretty low as compared to the other years. A few months from now this blog will celebrate its 8th birthday! Time simply flies, doesn't it. So this year's actual resolution from a blogging point of view is to post a 100 recipes by the end of 2017. Will I be able to do this? I do not know but putting it down on paper makes it impossible to squirm out of the deal for me. I also follow the videos of a motivational speaker Jay Shetty on Facebook who also asked for an affirmation to be added along with every challenge taken. So I will now aim to post at least 25 health recipes (out of the total 100) that are aimed towards helping those with special dietary needs/restrictions. There! In the days to come I will also share my experiences with the monthly challenges I plan to start taking this year.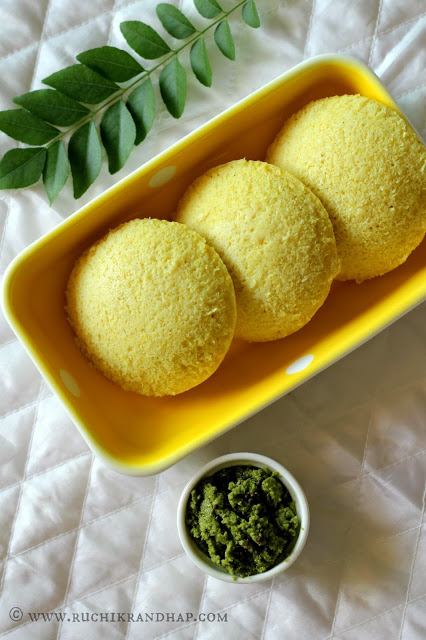 So coming back to today's recipe, idli is one of our favourite breakfast options. Most times I stick to making them the traditional way – I haven't perfected the ratio for the rice and urad dal and sometimes I have trouble getting the dough to rise so I use store bought batter. Sometimes I make the
rava idli
and on days when we are in the mood to eat
sanna
(Mangalorean/Goan idlies made with batter fermented with yeast) I make those or on rare occasions its the
ragi idli
that makes its appearance. Now the moong dal idlies are added to my idli repertoire! I got this recipe from Sanjeev Kapoor's book on Healthy Tiffins.
These idlies taste best when eaten fresh and hot. Some coconut chutney or sambhar are perfect accompaniments. Owing to the fact that the batter does not call for any rice, these are perfect for diabetics or anyone who is on a rice-free diet. However if you have an extreme health condition please consult your doctor before making this.
If you have tried this recipe do let me know how you liked it! Write to me at ruchikrandhap@gmail.com and let me know if you have any recipe requests for this year! I'm waiting to hear from you!
Moong Dal Idli ~ Diabetic Friendly Idli
Prep time: 3 hours | Fermenting time: 4 hours | Yield: 8 medium idlis

Ingredients:
1/3rd cup dhuli moong dal (split green gram without skin)
1/3rd cup urad dal (split black gram)
1/2 " ginger
1 small green chilli (deseeded to tone down spice) * adjust to taste
pinch of asafoetida (hing)
1/4-1/2 teaspoon turmeric powder
salt to taste (approx 1/2-3/4th teaspoon)
Method:
1. Wash the two types of dals in 2-3 changes of water until the water runs clear. Soak for 2-3 hours in ample amount of water. If you are using rice rava, soak it separately * see notes
2. Discard the water and grind the dals along with the ginger and green chilli to a smooth paste using water sparingly. Keep the batter thick.
3. Add the asafoetida, turmeric powder and salt to taste and keep covered in a warm place of your kitchen to ferment, about 4 hours
4. Bring water to a rolling boil in an idli steamer. Grease 8 idli moulds with some oil and pour tablespoonfuls of batter into the moulds.
5. Steam for 12 minutes or till skewer inserted comes out clean. Remove the moulds and let them cool completely before gently removing the idlis out (run a knife along the edges to loosen them up)
6. Serve hot with chutney or sambhar
Notes:
1. If you are not looking for a diabetic friendly version of these idlis you can add 2 tablespoons of rice rava (cream of rice/idli rava) to the batter, just soak it separately but do not grind it. Add it to the ground dal batter and then proceed as per step#