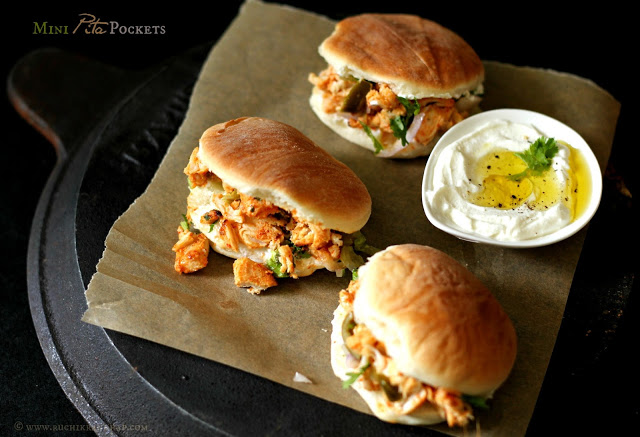 Sometimes some experiments turn out to be big hits and so it was in the case of the innocent pack of mini pita breads that the hubby got sometime last month. Since my little fellow loves snacking on anything that is not Mangalorean he enjoys little tid bits like this. I decided to marinate some chicken and grill it in my Air Fryer and the meal was ready in less than 30-40 mins. The only thing that took time was to patiently fill up each of the pita pockets. I decided to make it a tad healthy by replacing the cheese with labneh (thick, strained yogurt) and it was simply yum! Do give this a try as it tastes really nice and light. It makes for a delicious party snack option, especially for kids parties.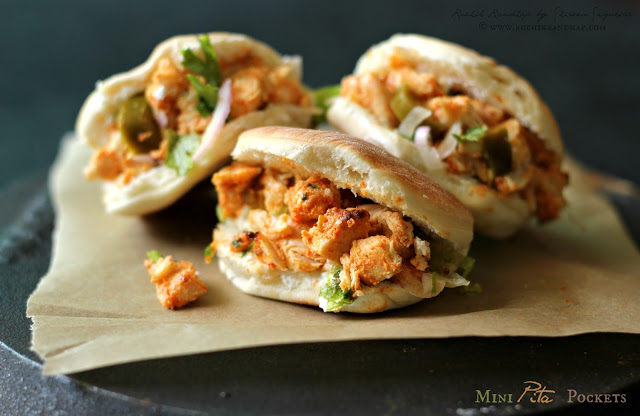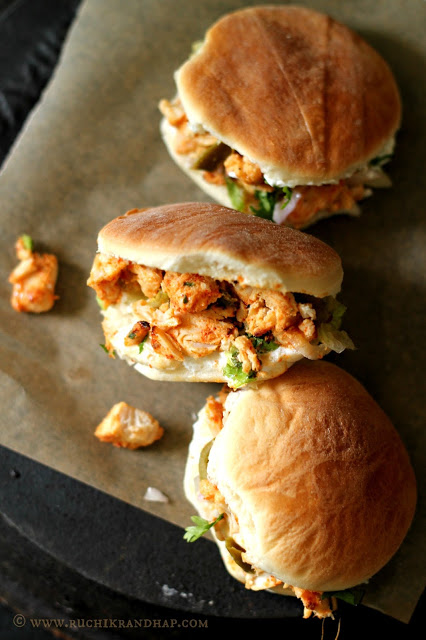 Those of you who have no access to commercially available pita bread can try your hand at making some at home. But if baking breads is not your forte, feel free to use mini buns or even pav bread that should be available with any grocer/bakery.
Sky is the limit for the kind of filling that goes into these pita pockets. If you want, use your favourite leftover meat from kebabs, mince or go vegetarian. Use grilled paneer or a filling of veggies. Enjoy!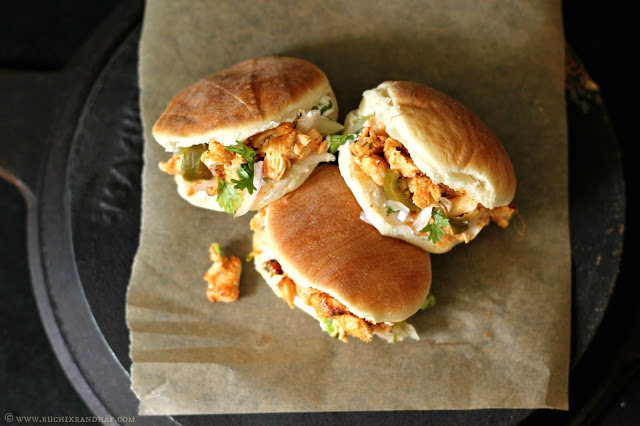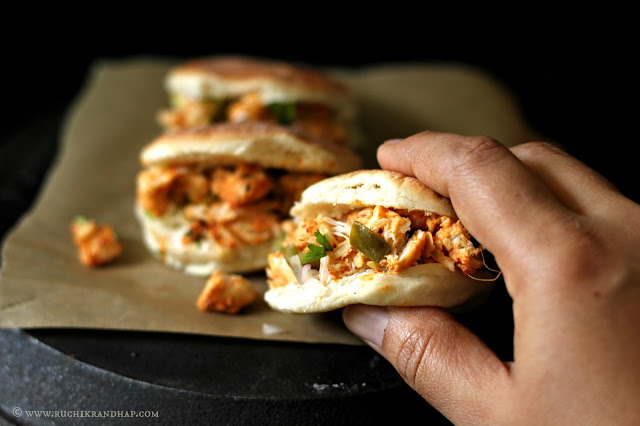 Mini Pita Pockets
Prep time: 15 mins + 1-2 hrs marination time | Grilling time: 15 mins | Serves 3-4
Ingredients:
12-15 mini pita/Arabic breads
labneh/hung curd/cream cheese/mayonnaise or any flavoured dairy spread of your choice
2-3 spring onions or shallots, finely chopped
2-3 lettuce leaves, cleaned and finely chopped
1 medium tomato, deseeded and thinly sliced (I skipped this)
4-5 (or to taste) pickled jalapeño peppers, chopped
For the chicken:
500 grams boneless chicken
3 tablespoons thick yogurt (curds)
1 tablespoon lime juice
1 teaspoon plain red chilli powder
1 small green chilli deseeded and finely chopped
1 teaspoon ginger and garlic paste
2 teaspoons sunflower or mustard oil
2 tablespoons finely chopped coriander
salt to taste
Method:
1. Wash and cut the chicken into bite sized pieces. Drain/pat dry the excess moisture and place into a bowl
2. Add the rest of the ingredients mentioned under 'For the chicken' to the bowl and mix well to coat all the chicken pieces well with the marinade. Let it rest under refrigeration for 1-2 hours (if you are in a hurry, 30 mins will do)
3. When the chicken has marinated well, grill it till golden (see notes for tips on grilling the chicken in an oven and air fryer). Lightly shred the chicken when it has cooled a bit.
4. Slit the pita breads half way taking care not to divide them into two parts. Fill the pockets with half a teaspoon of labneh or dairy spread of your choice and then add some shredded lettuce
5. Proceed to fill the pockets with chopped onions, coriander, shredded chicken and finally top with some pickled jalapeño peppers.
6. Serve immediately (especially if you have used the dairy spread). If you intend to serve after sometime it is preferable not to use onions as they could turn smelly.
Notes For Grilling Chicken
Oven Method:
Preheat oven to 200 degrees C on 'Bake' mode for 15 mins. Thread the chicken pieces on wooden skewers that have been soaked for at least 20 mins (so that they don't catch fire) or you can use metal skewers. Place the skewered chicken placed over an oven safe baking dish or roasting tin and bake first for 6-7 mins. Then change the oven setting to 'Grill' mode and continue grilling for another 5-6 mins or till it turns golden and black marks appear (time may vary according to the tenderness of the chicken). Do not over grill as the chicken may turn dry and chewy.


Air Fryer Method:
Preheat air fryer to 200 C for 6 minutes. Place the marinated chicken cubes directly on the metal mesh in the basket provided. Cook for 5-6 minutes, then remove the basket and shake it well so that the pieces flip. Continue to cook for another 4-5 minutes or till done. Do not over grill.
Other Notes:
The use of a dairy spread is optional but adds to the taste. If you want this snack to be really nice and light (to be eaten during summer) then use fresh labneh or hung curd. This tastes awesome!